Italy's Amalfi coast is home to the idyllic turquoise seas and pristine sandy beaches that we so often drool over in photographs and dream of visiting. It's known to be a somewhat luxurious and romantic place, but if we move the candlelit dinners and hand-holding to one side, you'll actually find that with an abundance of dramatic coastal hikes, you're just as well coupled up with your walking boots. So, don't cross it off your adventure bucket list just yet.
Many people choose to drive the 25-mile Amalfi coast, zooming around in small Fiats, but, the best way to absorb the exceptional scenery, beat the crowds and find the hidden gems, is to take to hike the impressive coastal paths. One of the best trails, which is just begging to be explored is the Path of The Gods.
Path of The Gods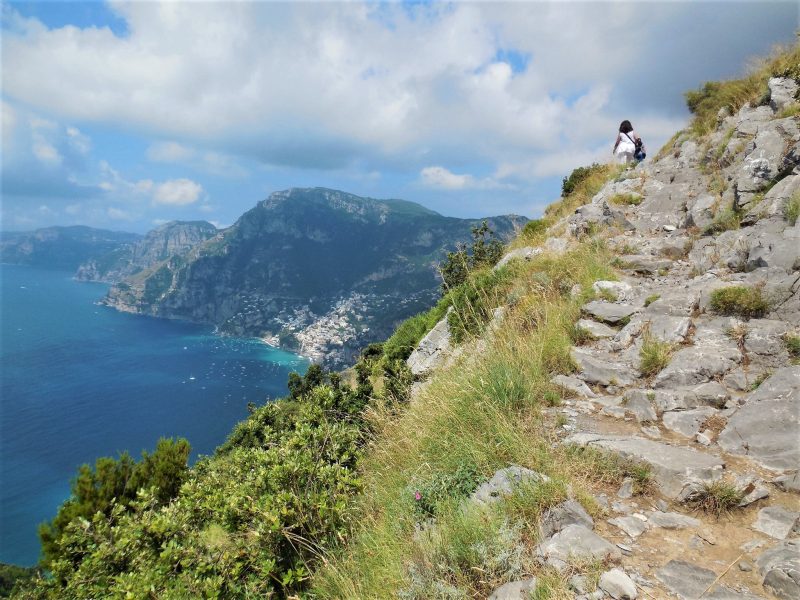 Photo: Ken Mayer
You know a hiking trail is going to be pretty darn epic when it dons the name 'Path of The Gods' ('Sentiero degli Dei' in Italian) and well, this trail certainly lives up to its expectations. In fact, it would not be bold to say it exceeds them. Not only will you be given spectacular sweeping views of the Almafi coast glimmering in the warm Italian sun, but it also boasts an abundance of grand limestone mountains, quaint orchards, expansive forests and vibrant meadows buzzing with wildlife. The trail is roughly eight miles (there and back), is easy to navigate due to clear signposting and should take roughly half a day to explore and soak in all of the views.
The Path of The Gods runs from east to west, from the town of Praiano to Positano, but can be walked in either direction. Beside the rocky cliff paths and gorges, you'll find many hidden caves which are just begging to be explored. As the trail zigzags you down a network of ancient staircases which criss-cross you to the connecting picturesque villages, you'll find idyllic spots that are the perfect place to refuel with a glass of fresh lemonade with locally grown lemons.
The pathway was built out of necessity for the farmers who needed to walk their livestock to the small villages scattered across the coastline, before the roads were built in the 20th century. This ancient pathway is still used today by shepherds and farmers who walk the route to access their vegetable gardens, woodlands, lemon groves and vineyards.
Want to hike the Amalfi Coast's Path of The Gods?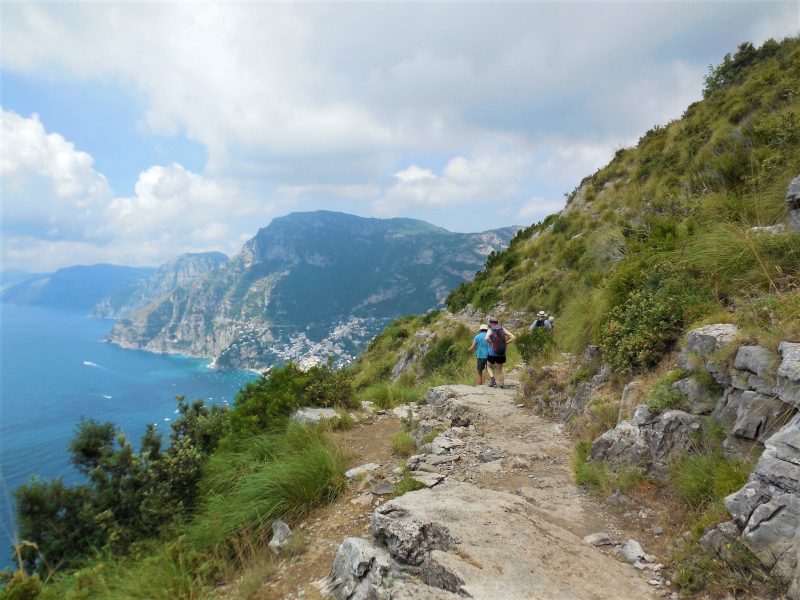 Photo: Ken Mayer
Get here: Capodichino airport.
Eat this: Scialatelli – a seafood and pasta dish.
Stay here: Amalfi town.
Drink this: Limoncello – a lemon liqueur.
Spot this: Peregrine falcon.
Thinking of heading to Italy this year, but can't decide where to go? If so, you need to check out our ultimate adventure guide to Italy.
GET WIRED FOR ADVENTURE TODAY
Life's great adventures always start with an idea. And Wired For Adventure magazine is where you'll find them.
Inside Volume 11, read about Elspeth Beard's 35,000-mile solo trip round the world on two wheels, visit the Land of Volcanoes in El Salvador, and meet the gardener turned daredevil photographer who's capturing Hawaii's waves like never before. Order your copy here and get FREE UK delivery.