Editor Rob Slade hits the open road on a journey of discovery and returns having devised what might just be the ultimate UK adventure road trip.
For all of the rugged beauty of the world's grandest mountain ranges and wildest landscapes, you can't quite beat exploring your own nation. Living in Britain, we're blessed with an incredible mix of terrain, from the iconic peaks of the Scottish Highlands to the dramatic Jurassic Coast, and the great thing is, you simply need to jump in a car and hit the road to explore them. So, in partnership with TomTom's new GO Premium sat nav, we decided to embark on the Great British Adventure Road Trip.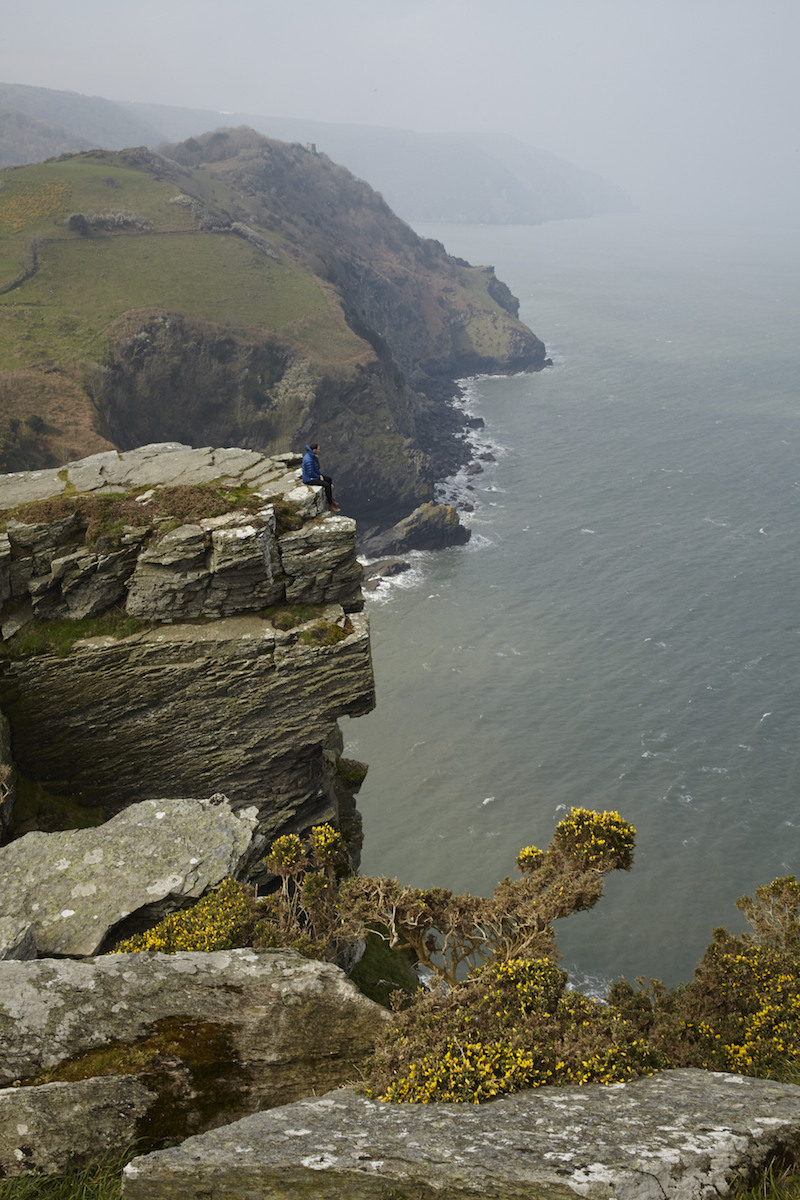 The premise was simple. We wanted to create a route that you could do with just one week off work. That means nine days, from Saturday to the following Sunday, to fit in as much adventure as possible. Our adventure began on the south coast of England with a journey along the Jurassic Coast, before taking us into Devon and up into Wales, passing through the Gower, Brecon Beacons and Snowdonia, where we took on classic peaks such as Pen y Fan and Tryfan. From here, we journeyed further north via the Lake District, where we tackled the stunning scramble along Striding Edge to Helvellyn.
Our journey then took us into Scotland, through the breathtaking jaws of Glen Coe, and beyond to the beautiful Isle of Skye. Legs suitably weary after some exploring on the Inner Hebrides' largest island, we then headed further north to Torridon via some of the best roads Britain has to offer. Once there, we tackled a classic Munro with some of Scotland's finest views, which truly was a fitting end to such a fantastic tour.
But don't worry if you can't take an entire week off work, as we've broken our UK adventure road trip down into three sections that you can easily do in a long weekend. In this issue, we'll be delving into the first leg of TomTom's Great British Adventure Road Trip, which kicks off on the sunny south coast of Dorset, from where we venture west into Devon, and gradually up into South Wales. Along the way, we've identified a series of spectacular sights and activities that you should seek out. You simply need to pop each waypoint into your sat nav, hit the road and enjoy the adventure.
The route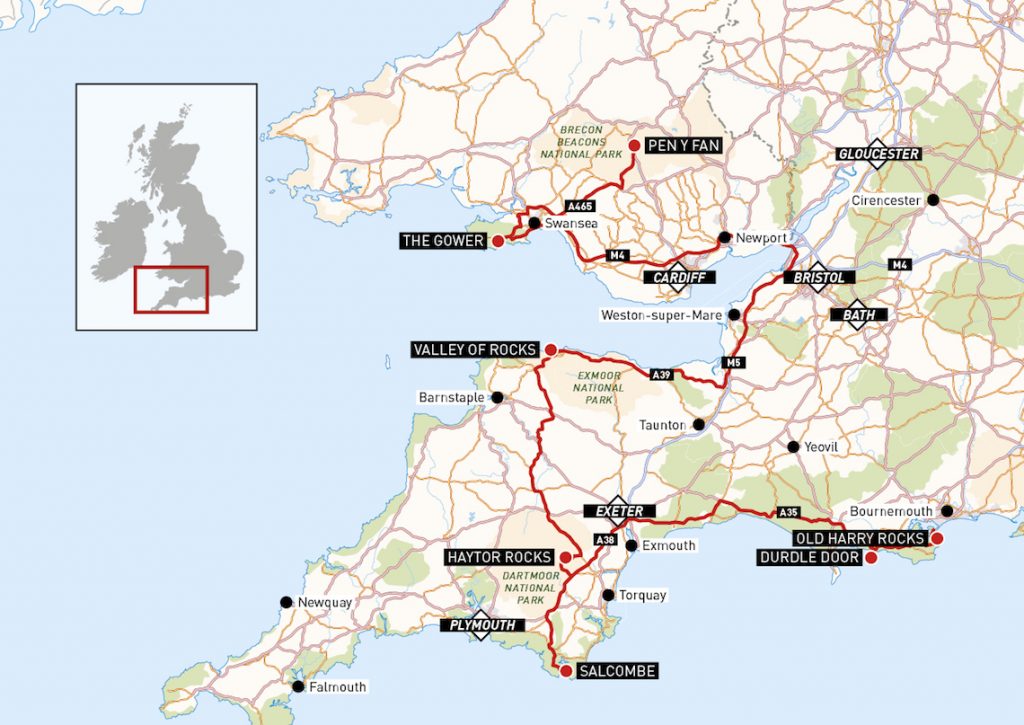 Hop onto the TomTom MyDrive app or head to the MyDrive website and plug in the following waypoints to follow the Great British Adventure Road Trip. Once you've got the route mapped out, simply send it directly to your TomTom and you're off.
Studland
West Lulworth
Salcombe
Haytor
Valley of Rocks
Three Cliffs Bay (via Porlock)
Rhossili
Pont ar Daf Car Park
Old Harry Rocks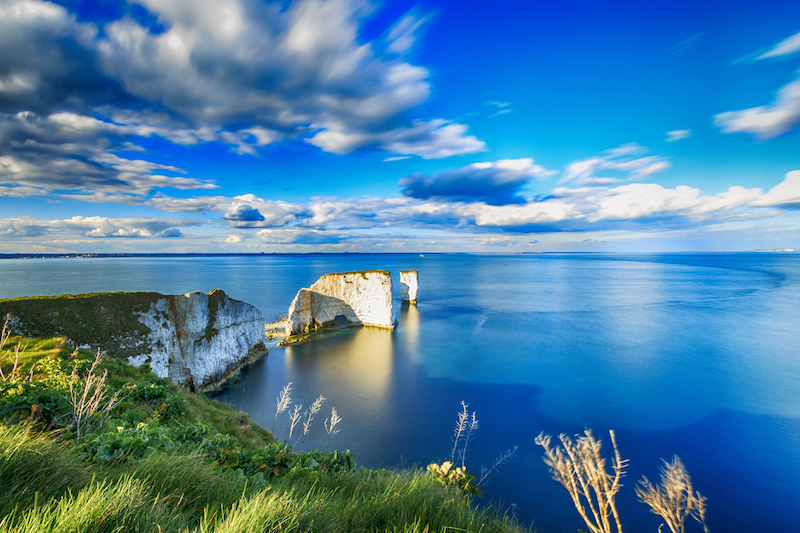 This is the first stop of the ultimate UK adventure road trip, and what a start it is. Thousands of years ago, these chalk formations would have been joined with The Needles on the Isle of Wight (which are normally visible on a clear day), but today all is left is a series of impressive, towering sea stacks. It's a fantastic place to visit no matter the weather, but catch them on a sunny day and you'll be left in awe, as the vibrant white chalk cliffs stand in stark contrast to the deep blues of the sea below.
The best way to see Old Harry Rocks is to park up in the village of Studland, from where you can walk along the coast on a circular walk, following part of the South West Coast Path, before turning inland for the stomp back to your car. The walk can be done in an hour or two, leaving you with enough time to venture further along the stunning Jurassic Coast to the next stop.
Durdle Door and Lulworth Cove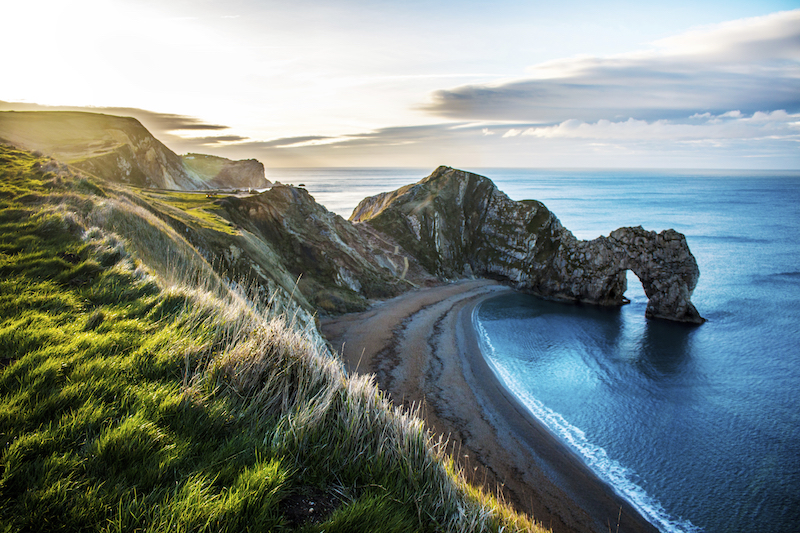 There can't be many other places along the Jurassic Coast that have been photographed so much. But there's a reason for that. Durdle Door and Lulworth Cove show just how undeniably beautiful the power of nature can be. It can get pretty busy here in the holidays, so it's definitely worth trying to get here early or late in the day, or go on a weekday. With a sweeping white pebble beach and alluring blue waters, Lulworth Cove is a stunning work of natural art, and things only get more impressive as you walk westward along the coast.
Take on this section of the South West Coast Path and you'll be in dreamland, as towering white cliffs give way to the inviting waters of St Oswald's Bay, while a patchwork of greenery works its way inland. Soon enough, Man O'War Beach comes into view, followed by the jaw-dropping Durdle Door. Spend a bit of time soaking everything up here, as it's one of southern England's true beauty spots.
Salcombe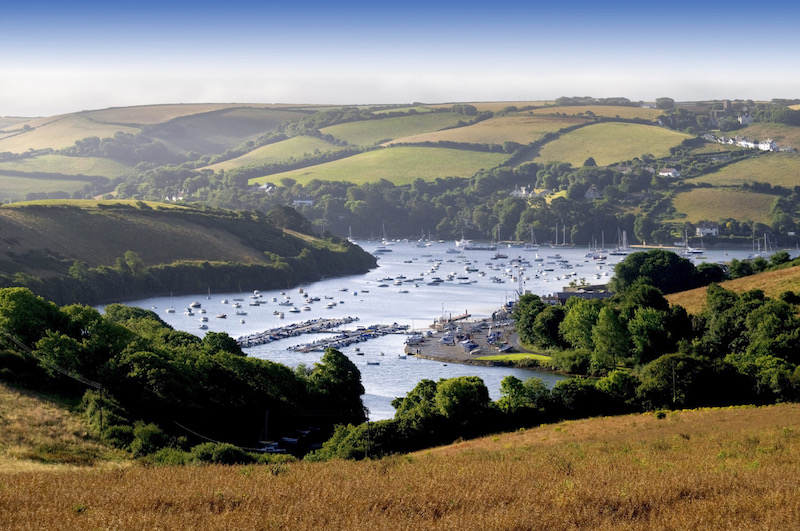 You won't find any mountains or tors in Salcombe, nor any imposing sea stacks. But you will find a vibrant town nestled alongside a beautiful estuary and surrounded by rolling green hills. It's a stunning area, and its one that makes for a great overnight stop, with some fantastic pubs and restaurants ensuring the evening will go down extremely well. The local area is a perfect place to go for a wander, and each hill you crest will give you a different view that is only more beautiful than the last.
One of the best ways to explore Salcombe and the South Devon Area of Outstanding Natural Beauty is to take to the sea. Sea Kayak Salcombe (seakayaksalcombe.co.uk) offer a range of tours, as well as kayak and stand-up paddleboard rentals, giving you the opportunity to see this stunning region from a new perspective entirely. On a sunny day, there's surely no better way to pass the time?
Haytor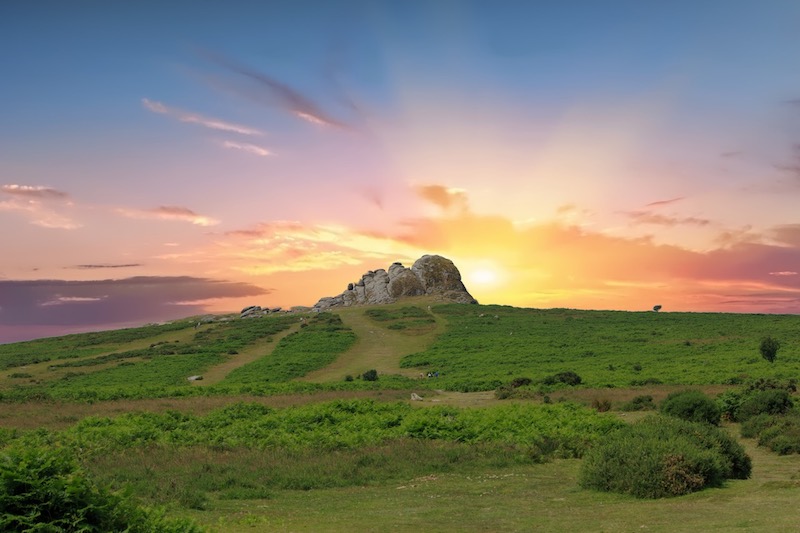 Now, you couldn't go to Devon without going through Dartmoor National Park, could you? Just driving across the wild, rugged moorland is an experience, with craggy tours rising and falling alongside quiet roads. It's a beautiful place, particularly in spring, when the landscape is waking up with the promise of summer, or in autumn, when swathes of scarlet and gold light up the countryside. You'd be hard pushed to fit in a long Dartmoor hike into the UK adventure road trip, unless you decided to sacrifice one of the other stops, but you can easily sample the area from the road.
We'd recommend stopping at Haytor, where you can stretch your legs for a bit and go for a scramble onto the imposing granite rocks that mark this tor's high point. From the top, you'll be able to enjoy wide-ranging views across Dartmoor and South Devon, and you may even see a few people taking the hard way up, with the aid of a climbing harness and ropes.
Valley of Rocks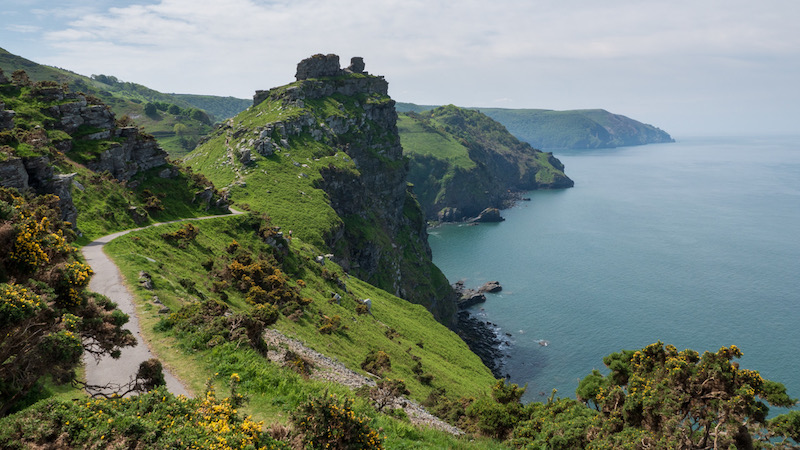 Driving into the Valley of Rocks is quite the experience. As the road crests a hill and starts to descend into this fascinating place, steep valley walls rise up on either side, with huge boulders strewn across their narrow tops. It's a striking place, and sometimes even an imposing one. This is particularly the case when you look up to the higher reaches of these rocky ridges and spot the silhouettes of a dozen or so goats watching your every move.
It's worth pulling up in the car park here and going for a walk. Go exploring on these rocky ridges and it's easy for a couple of hours to slip by unnoticed, especially when you crest the ridge and see the sea stretching out before you. This part of coastline, which forms part of the South West Coast Path, is stunning, and you won't be disappointed if you decide to go for a walk along the seafront.
The Gower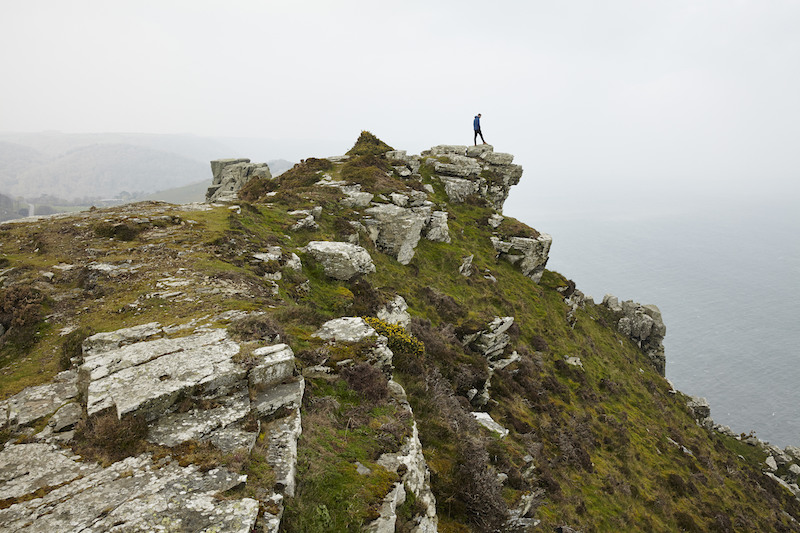 Arriving on the Gower Peninsula, you'd be forgiven for thinking you were still in Devon, such is the landscape. Quiet, narrow lanes take you winding through beautiful countryside, with rolling hills suddenly giving away to rugged cliffs and vast, golden beaches. The Gower might only be a stone's throw from the urban metropolis of Swansea, but it couldn't be more different. It's easy to spend a day here, hopping from beach to beach, exploring panoramic clifftops and stopping at some incredible pubs or cafes.
When we were mapping out our UK adventure road trip, we began our morning at Rhossili Bay, where you'll find a huge pristine beach perfect for chilling out or taking to the water on a surfboard. Any visit here would be incomplete without a walk along Worm's Head, a distinctive slip of land that juts out into the sea. If you've got time and don't mind getting wet, there's some fantastic coasteering here, which you can arrange through local companies. We also stopped at Three Cliffs Bay, where we explored the rolling sand dunes and fascinating rock formations.
Pen y Fan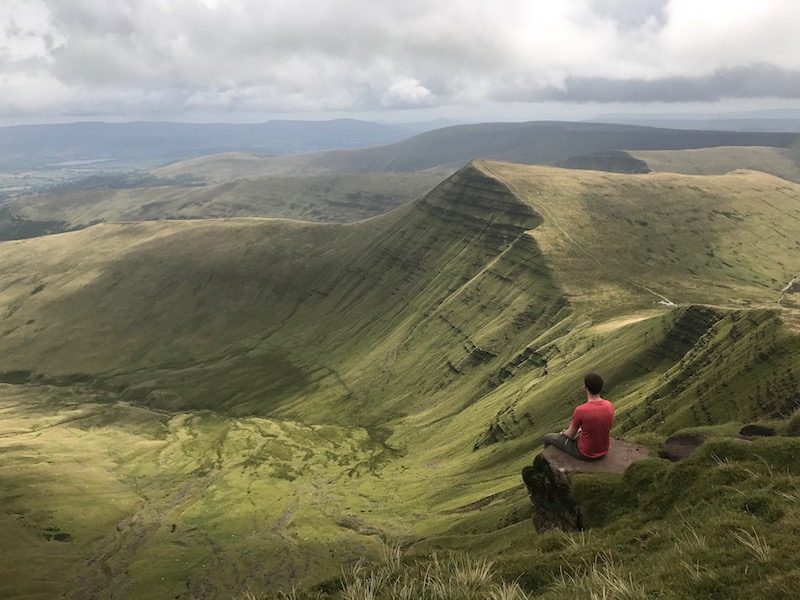 Sure, I know what you're going to say. Pen y Fan is hardly an unknown, and the hordes of people walking up from Storey Arms on a nice day is testament to that. But the fact is, this is the highest mountain in the south of Britain and it's very accessible. There are multiple routes to choose from, so you can easily escape the crowds, and the view from the summit at 886m is incredible, no matter how many people you share it with. If I'm honest, the view of those glacially formed valleys, with their vibrant green slopes and lofty ridges, is one of my favourites.
As it happened, when we were passing through we were in the midst of an unusually late cold snap, which had dumped a huge amount of snow all over Wales. With low cloud and a white blanket covering the Brecon Beacons, we decided to take the main track to the summit, which was really quite peaceful without the usual numbers heading up. Upon gaining the main ridge, we found ourselves in a complete whiteout, with strong winds driving snow and hail ferociously against our faces and knee-deep snow. Needless to say, we didn't get to enjoy that classic view, but the experience was exhilarating nonetheless.
Getting around
Over the course of the Great British Adventure Road Trip we covered 2,000 miles, many of which were away from towns and mobile phone signal. Google Maps just won't cut it on a trip like this. TomTom's new GO range of sat navs does, though, with lifetime maps, updates via Wi-Fi, lifetime traffic updates and smartphone integration.
The TomTom GO Essential, which has six months of speed camera warnings, retails at £179.95. The GO Premium, meanwhile, comes with lifetime speed camera warnings, trip statistics and TomTom services via a built-in SIM, and is available for £299.99.