Sabah, in the north of Borneo, is a state of extremes. From the staggering vistas of Mount Kinabalu (4,095m) to the mysterious jungle basin of Maliau, a world of adventure awaits those brave enough to explore it.
Located deep in the heart of Sabah's interior, the Maliau Basin is 227 square miles of prime rainforest encircled by a formidable escarpment that reaches 1,675m at its highest point. Its isolation – coupled with the fact it was unexplored by outsiders until the 1980s – have earned it a reputation as 'Sabah's Lost World.'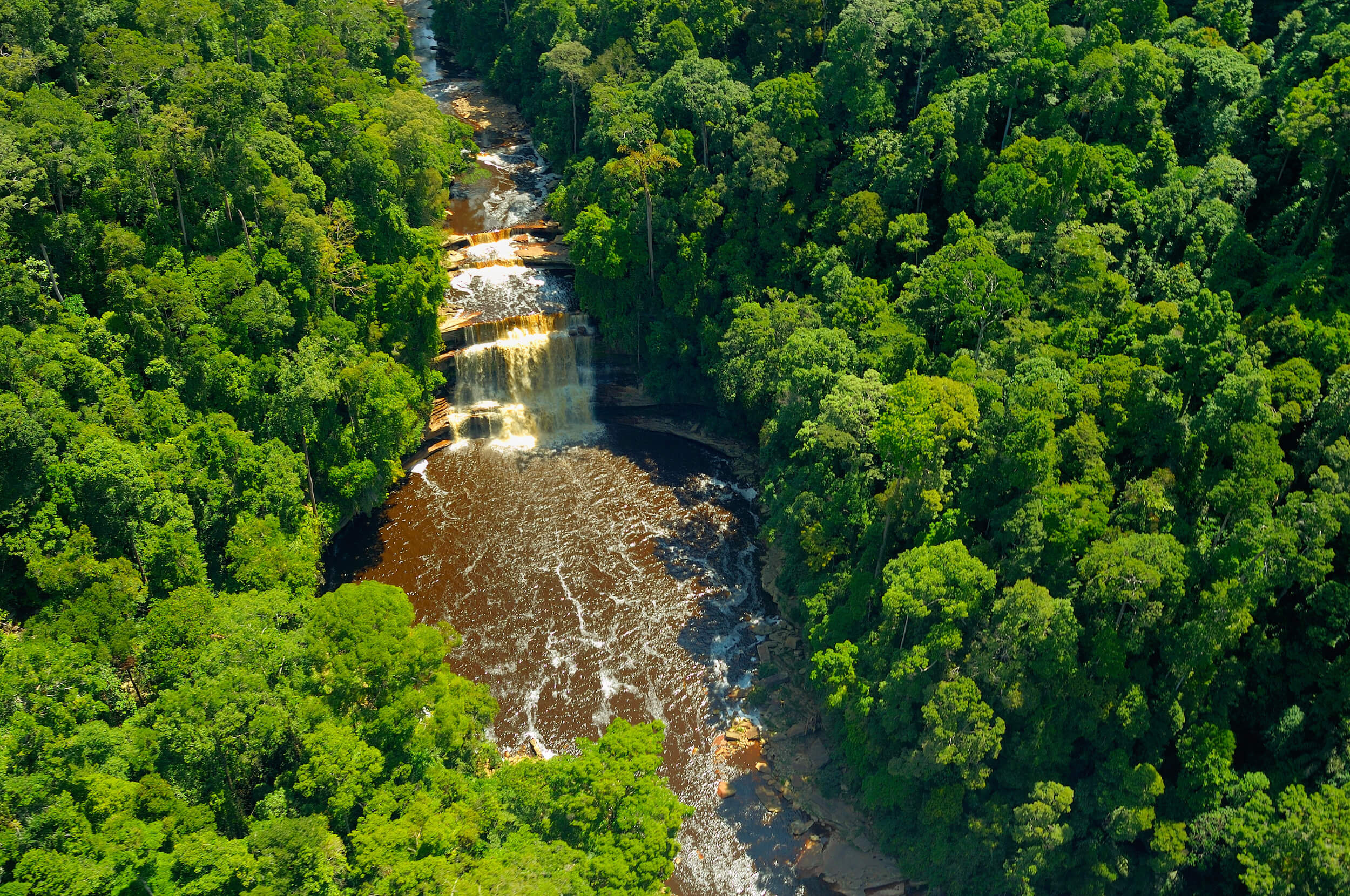 There are various ways to explore this hidden gem, deep in the forests of northern Borneo. Organised treks ranging from 4-5 days are available and include guides, accommodation, and food. These are physically demanding days in the jungle, covering over 6 miles of challenging terrain and steep inclines. But the rewards are unforgettable.
Picture a remote jungle camp, waking to the sound of exotic bird calls and screeching gibbon. Stepping out of your accommodation into a totally immersive jungle experience. Spend the day exploring the unique flora and fauna of this exceptional place, before taking a dip in the cool waters of the spectacular seven-tiered Maliau Falls (pictured below).
High times
If the promise of a heart-pumping climb and panoramic views are more your kind of adventure, Mount Kinabalu (4,095m), nestled in UNESCO World Heritage Site Kinabalu National Park, is another way to explore Sabah and its endemic species. The landscape supports six different levels of vegetation: from rocky alpine to bonsai trees and an abundance of wildlife. Over 320 species of birds and more than 100 species of mammal have been identified here.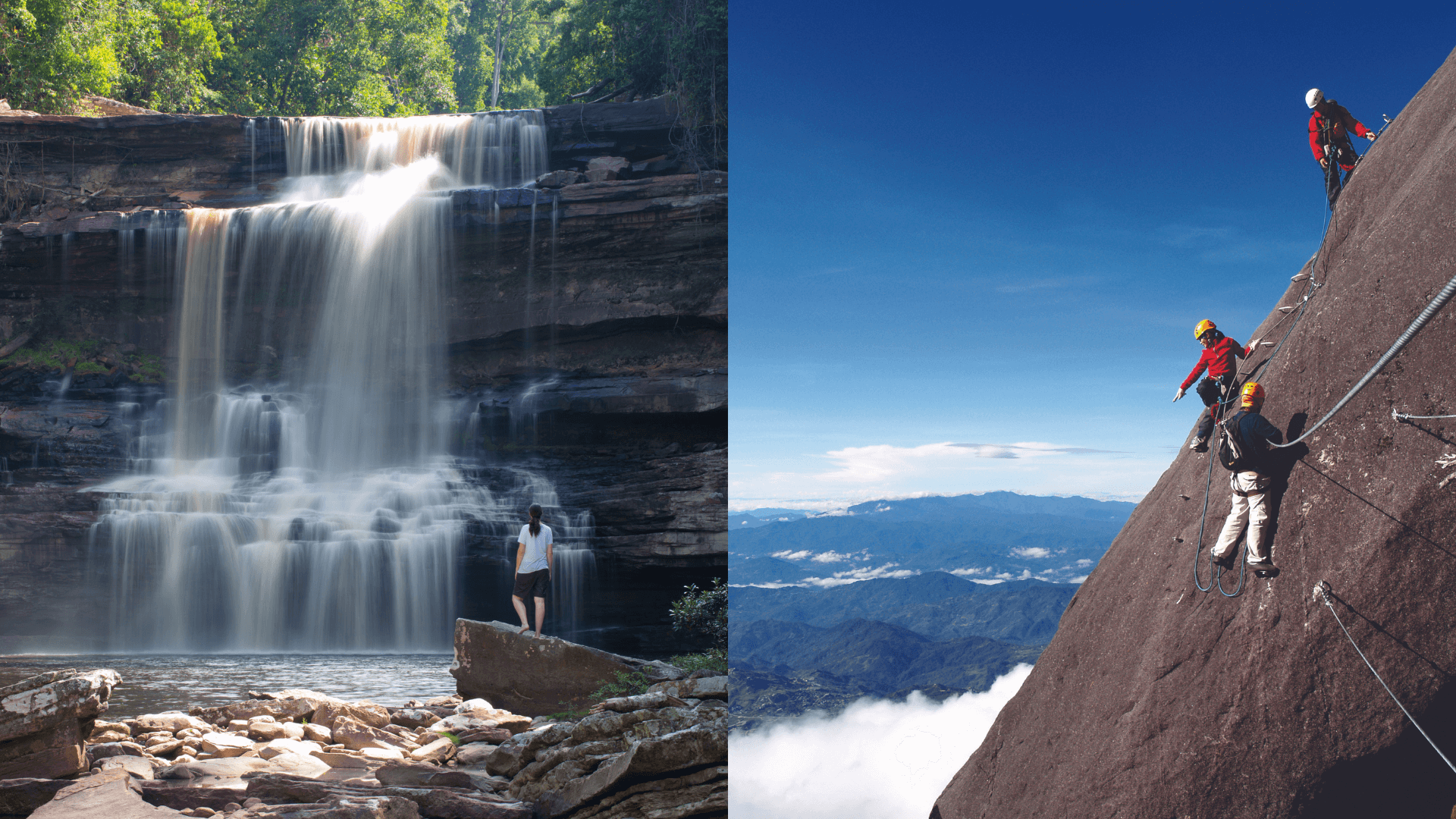 There are two ways to take on Mount Kinabalu: Ranau Trail or Kota Belud Trail. Ranau Trail is a two-day, 5.3-mile trek to Lows Peak and requires a good level of fitness. Guides are a must, and porters are available if you choose to seek help carrying your pack. The first leg of the climb covers 3.7 miles from Timpohon to Panar Laban, where you'll stop for a meal and a few hours' kip near the Sayat Sayat checkpoint. From there, you'll push on a final 1.55 miles to the summit. 
Another option is the more advanced Kota Belud Trail. This follows the same route as the Ranau Trail, but takes you on a more demanding way up from the rest stop at Sayat Sayat. The trail incorporates steep sections, steps, and ropes and requires a high level of fitness.
For real adrenaline junkies, there's Mountain Torq Via Ferrata (see above), which starts at Mount Kinabalu Panar Laban Rock Face and reaches heights of up to 3,800m. You can also enjoy a spot of sports climbing and abseiling here, too.
Visit Sabah's Lost World today
In the north-western part of Sabah, you'll find the aspiring Kinabalu UNESCO Global Geopark (aKUGGp). The area covers three districts: Kota Belud, Kota Marudu, and part of Ranau, a total of 1,834 square miles that are ready to be explored.
Start planning your own adventure in Sabah. Head to sabahtourism.com. You can also find out more by clicking here.