On a Munro with royal connections, it's third time lucky for Colin Henderson as he checks out Lochnagar's mighty cliffs.
Lochnagar, a 1,155m Munro in the Cairngorms National Park in Scotland, is a mountain with royal connections. The peak is near Balmoral Castle, the summer home of the Queen, and Prince Charles has been known to climb the hill when the family is in residence. I had made two attempts to climb Lochnagar before this image was taken. Both times were in the depths of winter and on neither occasion did I meet another soul on the hill, royal or not.
On my first attempt, I didn't get past the bealach (mountain pass) beneath Meikle Pap, regularly unable to stand on two feet due to strong winds, and on my return I was thwarted at Cac Carn Mor, a giant cairn on the plateau at 1,150m, just 5m shy of summit height but 0.5km away of the true summit, Cac Carn Beag. Not because it is slightly confusing (I believe a Mor is 'bigger' than a Beag so you would be forgiven for thinking it would be the summit) but again because of the weather.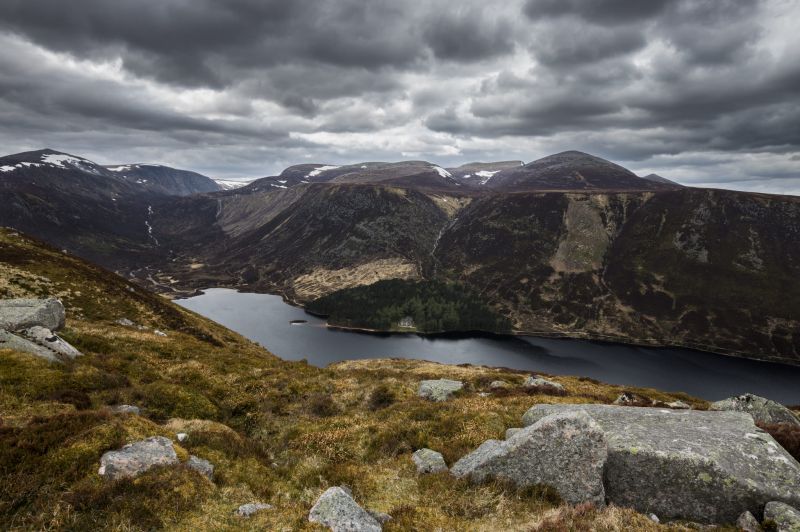 Photo: Neil Williamson
Great gusts of wind that had built speed over the surrounding rolling hills swept across the plateau and threatened to launch me off the top of Lochnagar's spectacular cliffs. These cliffs, some 200m high in places, hold lots of summer rock climbs and winter ice climbs. I don't believe they are appropriate for base jumping (even with a parachute) so, after a few calls that were too close for comfort, I half walked, half crab-crawled my way back to the relative shelter of the approach path and returned as third timewith a friend in more amenable weather.
Getting there and around: Lochnagar is usually climbed as a day trip from the Spittal of Glenmuick. For added spice, head in from the north near Invercauld Bridge on the A93 and climb the great Stuic Buttress, a grade one scramble that takes you out on to the plateau near the summit of Carn a' Choire Bhoideach. From there, it's a simple 2km stroll across the plateau to Lochnagar. Alternatively, to enjoy the peak during an overnight trip, walk along the shores of Loch Muick and camp beneath the great cliffs near the Dubh Loch. You can tick off four Munros as you make your way back across the plateau to Cac Carn Beag and your fifth Munro of the day.