Torridon is a gloriously remote slither of the Highlands. Kerry Christiani hikes its Holy Trinity of Munros…
Out on its lonesome in Wester Ross, Torridon is a gloriously forgotten slither of the Northwest Highlands. Its remoteness and raw wilderness makes this one of Scotland's finest off the-radar adventures, with Inverness being the nearest access point, 60 miles east. The lanes are single track and sheep-patrolled, the trails are little trodden and wildlife abounds – deer are prolific and sightings of golden eagles, otters and snow-white mountain hares are not uncommon.
Though little known to many, Torridon wields serious pulling power with hikers and mountaineers, who adore its spectacularly buckled and contorted peaks. When it comes to Munro bagging in Scotland, this is as good as it gets – many of the region's peaks hover around the 1,000m mark but they feel significantly higher, rising sheer and rugged above frigid sea lochs. Sitting above some of the oldest rock in the world, Lewisian gneiss, these denuded, reddish brown mountains lay bare starkly eroded slopes with near-horizontal strata. This makes for some rough terrain and exhilarating scrambles among boulders and scree in gullies and along vertiginous ridges.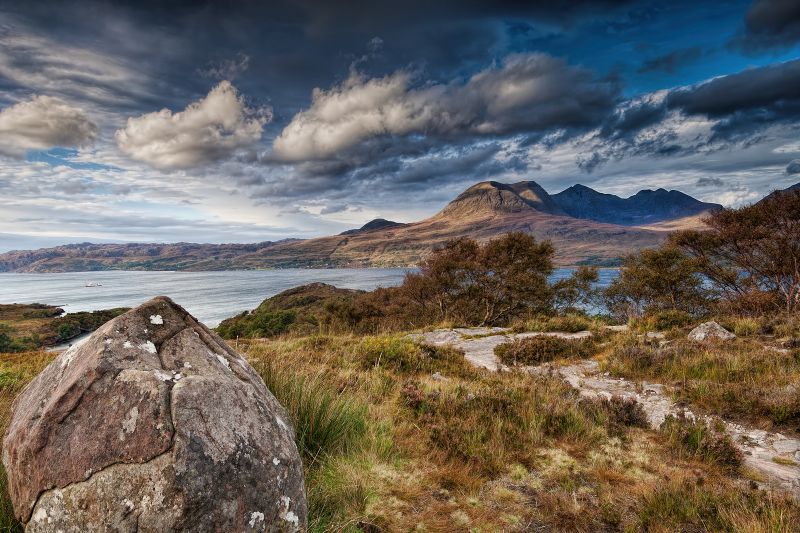 Photo: Oliver Clarke
During the months I lived in Torridon this spring, I devoted the crystal-clear days to hike the Holy Trinity of Munros. Snow still frosted the highest peaks when I tackled the steady, zigzagging ascent up a corrie to Beinn Alligin's lesser summit, 922m Tom na Gruagaich. Here the views are something else, reaching up to the 1,110m dome of Sgùrr Mòr and over to the dark mountains of Skye and shimmering sea to the Outer Hebrides. Equally dramatic and challenging is the day trek up to 993m Spidean Coire nan Clach atop bulky Ben Eighe. Perhaps even tougher and more rewarding is the stiff ascent of mighty Liatach, which translates as 'the grey one' in Scottish Gaelic. I'll never forget cresting the exposed, knife-edge ridge to the summit and descending as a fiery sunset burnished the tops of the Munros.
Stay there
Torridon has a basic campsite, a youth hostel and, at the other end of the scale, the plush Torridon Hotel. Holiday cottages are also available.
Eat and drink
Torridon Stores is a good pit-stop for toasties, homemade cakes and groceries. The Torridon Hotel has an inn serving decent pub grub and a fine-dining restaurant. Better still is lochside Gille Brighde in Diabaig.
Maps
OS Explorer Map 433: Torridon – Beinn Eighe & Liathach. Cicerone's Walking in Torridon has 52 day walks, including nine Munros.