To me, the ideal weekend adventure is something that takes you as far away from the drumbeat of a nine-to-five as possible. It's got to be something that satisfies a craving to explore an unknown, or to take you somewhere that's just so damn beautiful that the stresses of the week melt away as you gaze upon a picture-perfect landscape.
So, when Rab, the British gear manufacturer, approached us and said they'd like us to detail the ideal adventurous weekend, with the above considered, there was only one thing on my mind; Wolf tracking in Central Italy.
Sitting in an office in Stratford upon Avon, it's hard to imagine that there are still wild wolves roaming around Europe. It's even harder still, to grasp that you can be working at your desk on a Thursday afternoon and then hiking through the snow-covered peaks of the Abruzzo National Park while trying to spot them on a Friday evening.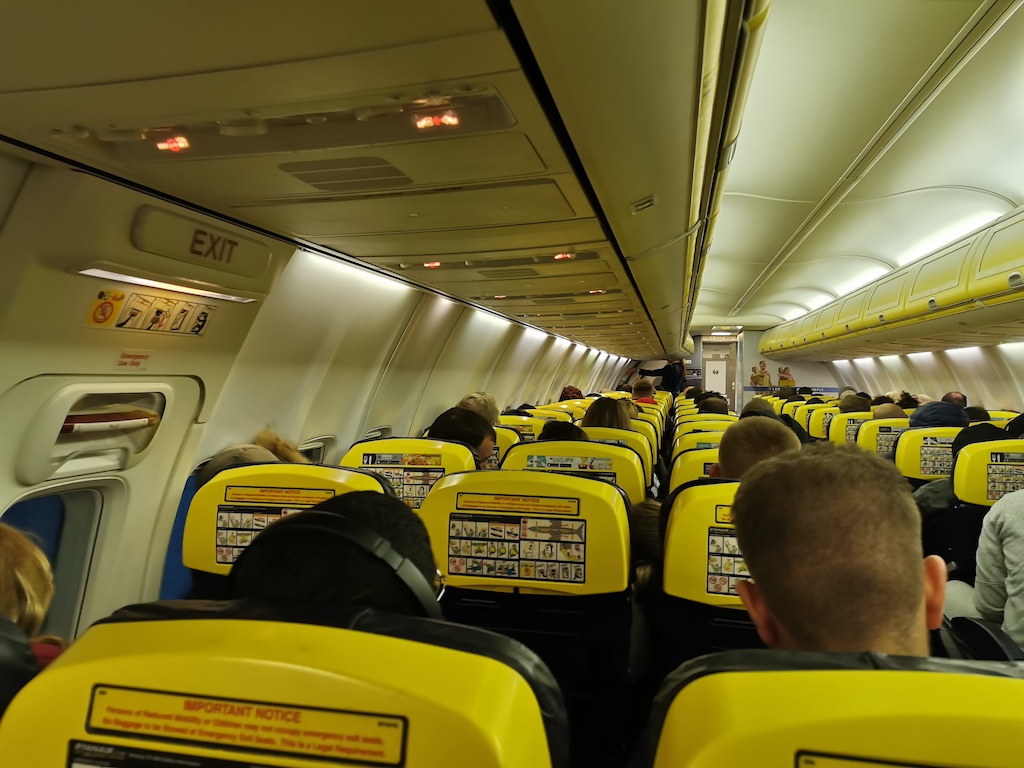 Add in the fact that you'll be back in time for work on Monday, and the ingredients are there for one of the most adventurous weekend breaks you can have.
After being given the green light by Rab, Naomi and I left work on Thursday evening and headed to Stansted airport. Our early-morning flight to Naples had us in Italy before 10am and we were soon on the road, our SatNav set to Civitella Alfedena, a small village in the heart of the Abruzzo National Park. Two hours and a few winding mountains roads later, we had arrived.
As we drove through the narrow streets of the village, a man and a woman strolled past the car, walking what looked like two huge wolves. Naomi pointed in delight while I thought to myself that this was the perfect way to be introduced to a weekend of wolf tracking.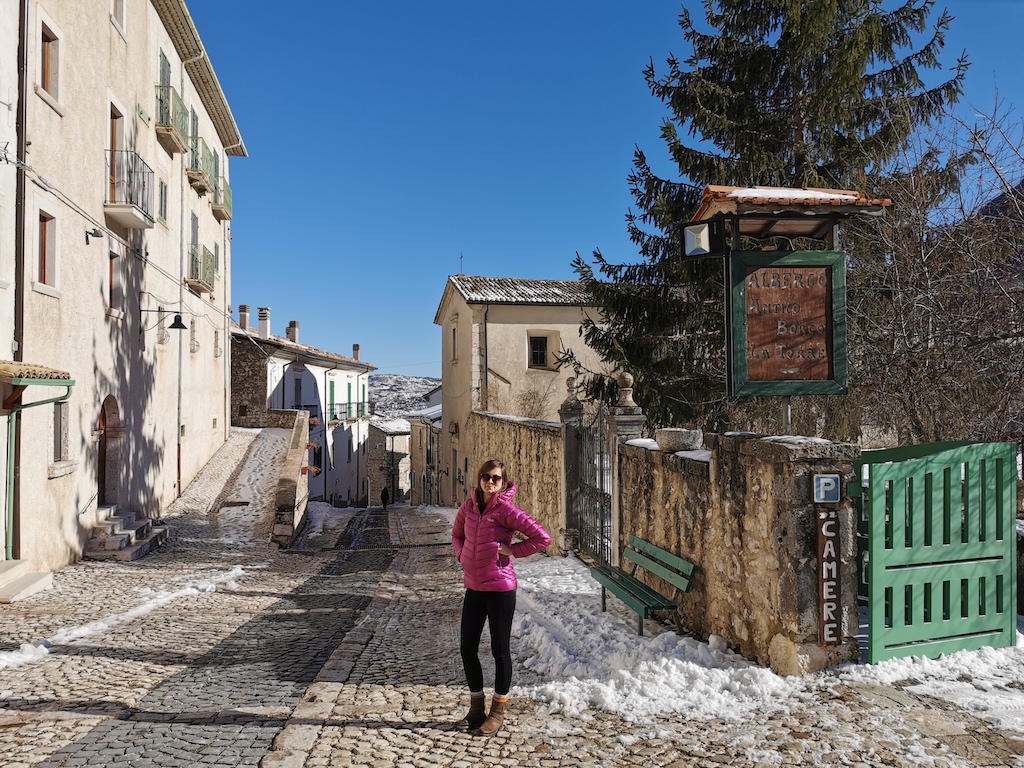 The 'wolves', as we later discovered, were really Czechoslovakian wolfdogs, the result of breeding German Shepherds with Carpathian grey wolves.
Shortly after, we reached our hotel, the Albergo La Torre. We checked in, dumped our bags in our room and headed to the hotel dining room for a briefing with the rest of the group; five Dutch, two Belgians, and two Italians.
Fortunately, everyone, including our guide, Valeria, spoke excellent English. Over the next 30 minutes, we were briefed on what to expect from the area, the history of the wolves, and what the itinerary for the weekend was.
We would leave at 6am on Saturday morning for a hike to a high meadow. After that, we'd return to Civitella Alfedena to visit the wolf museum. Then there would be an evening hike, followed by another 6am start the following morning.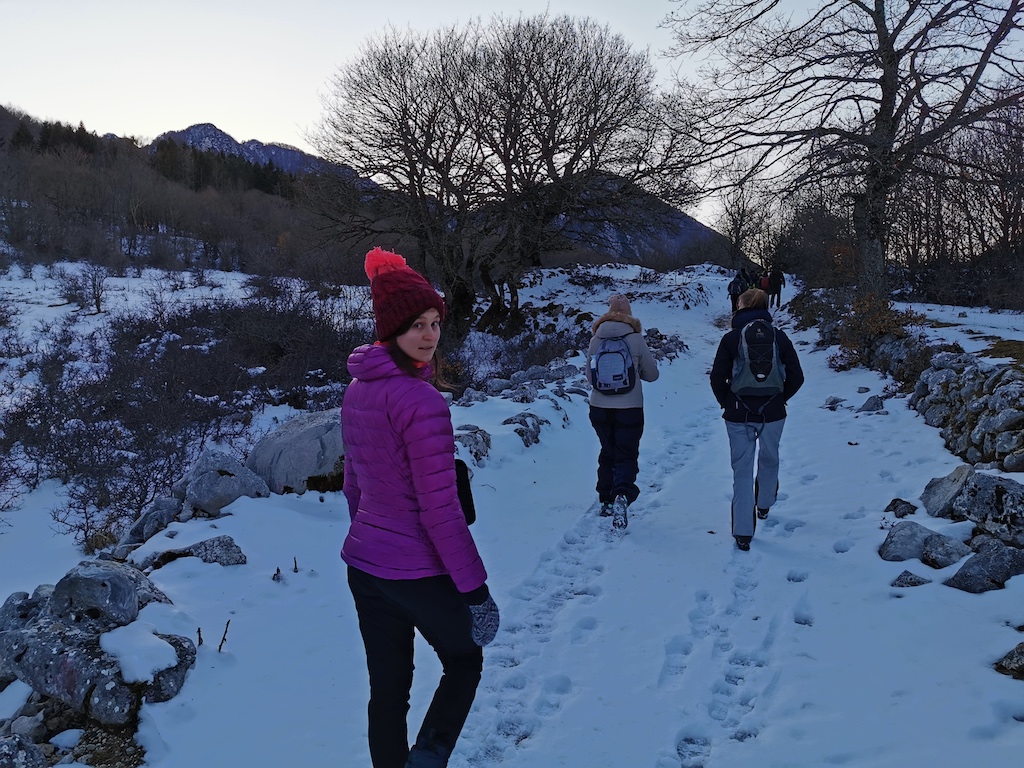 But, before all of that, there would be a short walk to a local viewpoint that looks out across a valley just a mile-or-so outside of Civitella Alfedena.
We set off for our evening excursion, blazing fresh trails in the snow as we went. Our mission was to reach a vantage point that looked out over a valley where we could try and spot a local pack of wolves.
Accoding to Valeria, there are two local to the village that are most likely related to each other. We were equipped with binoculars, while Valeria had a telescope and a thermal sight which would make things a bit easier.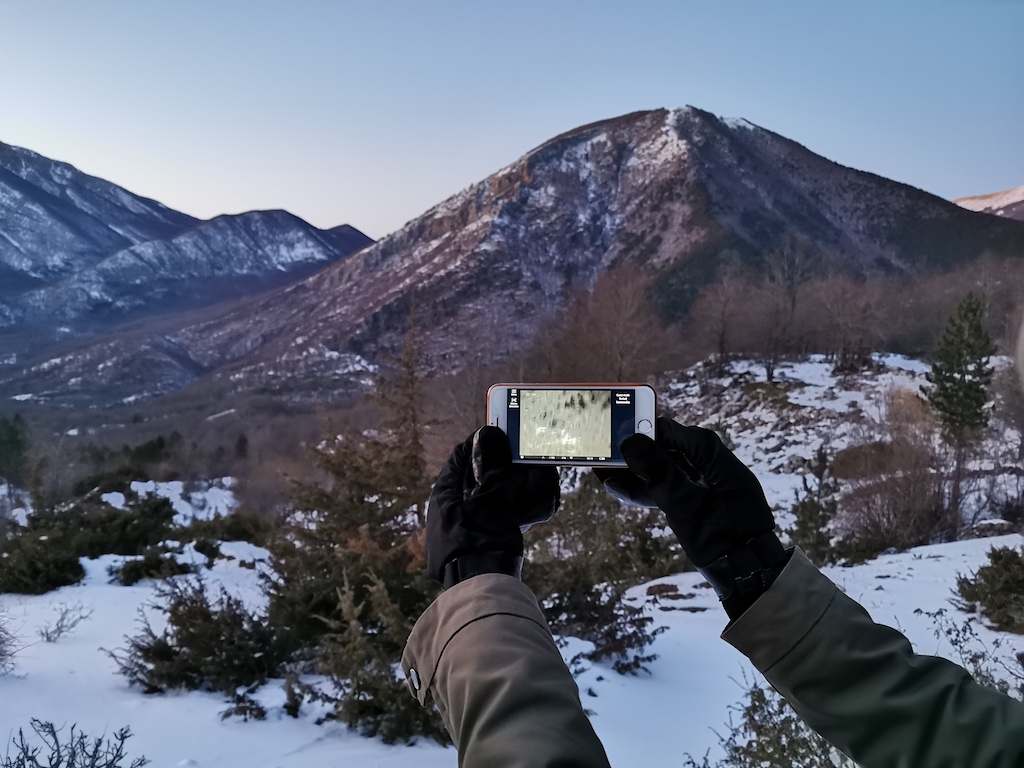 On the way to the lookout, we spotted trails of wild boar, deer, and red foxes, while Valeria told us about each animal and their tracks in great detail. Her knowledge was impressive, and her passion for wildlife was both infectious and clear to see.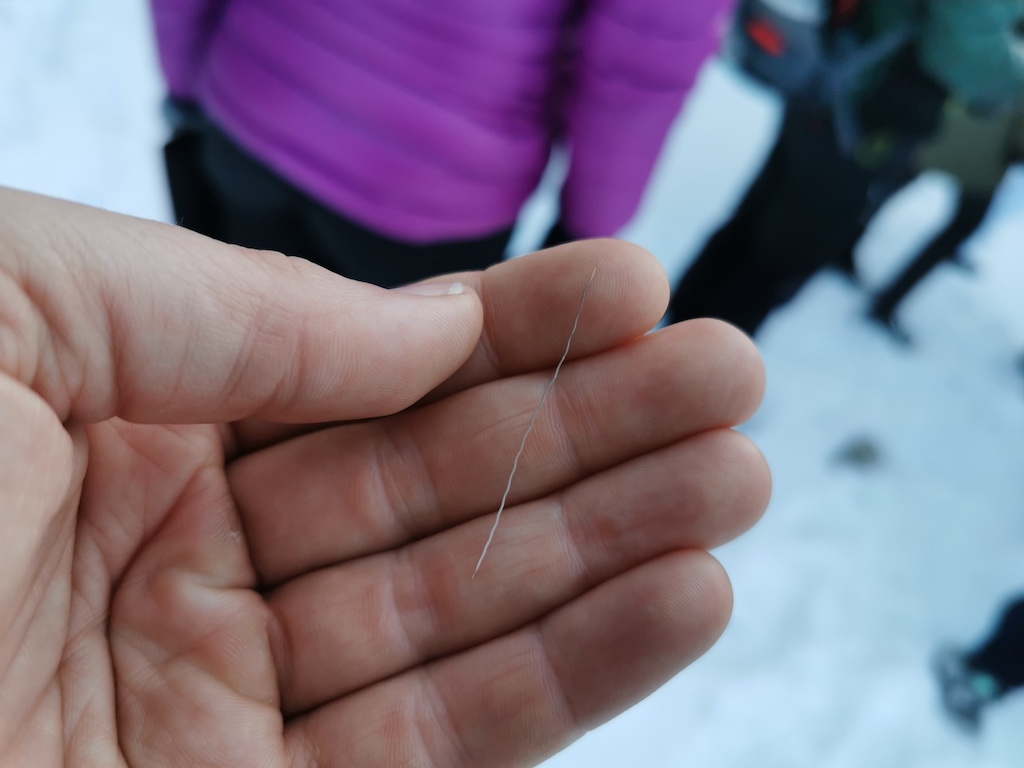 We made it to the lookout and spent an hour scanning the landscape for wolves. There were none about this evening, but we did spot a few deer. With the moon now high in the sky, we retraced our steps back to the hotel.
After the enchanting exploits of the night before, not even a 5:00am alarm could dampen my enthusiasm for what Saturday had in store. Our only full day in Abruzzo National Park would see us tackle a 'moderately difficult' hike as the sun rose, before visiting the Apennine Wolf Museum in the afternoon.
After that, it would be into the mountains again, following a shepherd's trail in the evening, to try and hear the wolves howling.
In preparation for the long day ahead, I gulped down a few coffees and stuffed my mouth with bread and cake before we all jumped in the mini bus to be taken to the trail head. It was still dark when we arrived and the frozen snow crunched under our boots.
Under order from Valeria, nobody uttered a word – we didn't want to alert the wildlife to our presence.
We proceeded to head from the side of the road along a trail into the mountains, following behind Valeria like a line of ducklings. My watch read 6:15am and it reminded me that it was -6C… I was so glad to be wearing my Rab Proton down jacket.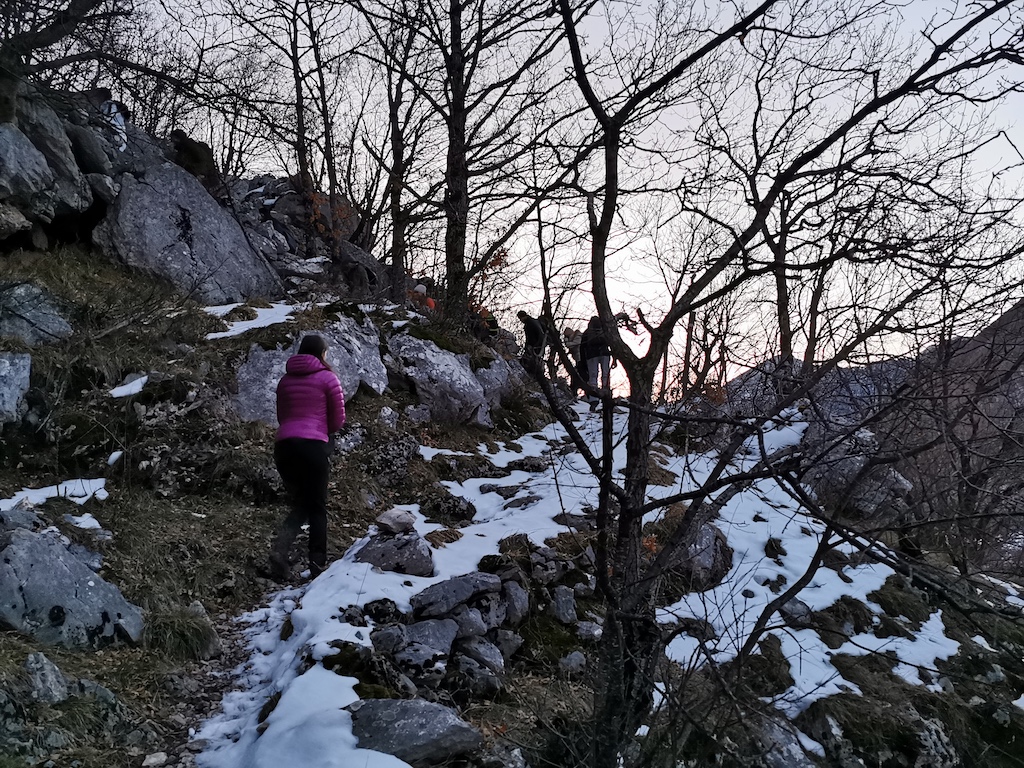 Suddenly, we stopped. Valeria pointed to the ground and our eyes were drawn to paw prints in the snow. Fresh wolf tracks.
My heart pounded with excitement as I scanned the woods around me. I couldn't see any wolves. Could they see me? It was still dark and the faint rustling of leaves in the distance had me wondering.
We continued on up the path, rising high above the valley floor below us as the sun began to crest over the ridgeline ahead. Again, Valeria stopped us and told us that we were almost where we wanted to be.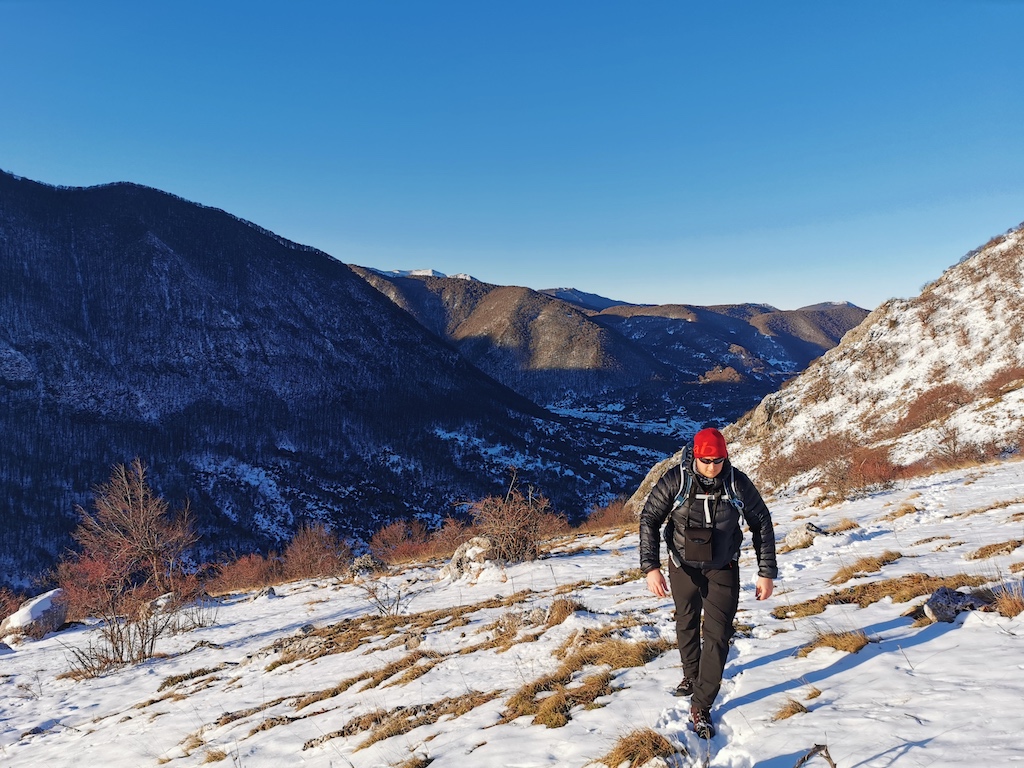 Just a few more minutes and we'd be leaving the woodland and joining a high meadow where deer like to hang out. Where there are deer, there should be wolves. We were reminded to be quiet as we gingerly moved onwards, wary of every sound we made.
The woodland spat us out onto the high meadow. Crouching down, we unholstered our binoculars and raised them to our eyes in unison. By now, the sun had cleared the ridgeline and its warming rays flooded the valley, revealing two herds of deer spread out across the alpine meadow in front of us.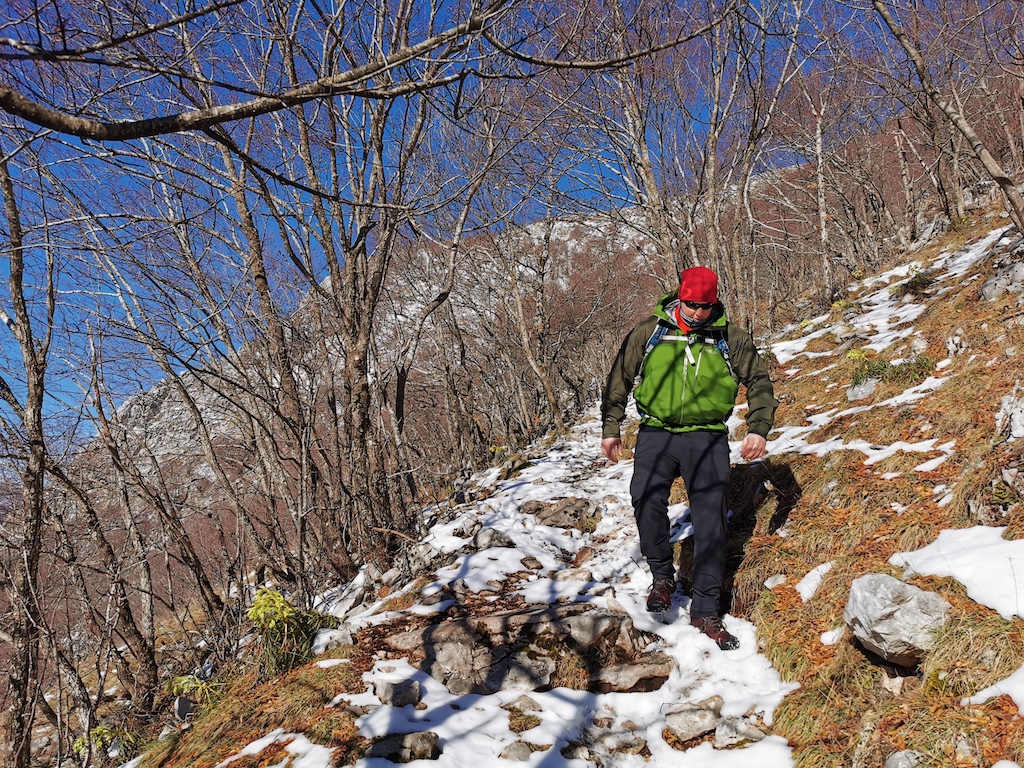 Like a pre-teen disco, it was females to the left, males to the right, a distance of about 500m separating them. We spent an hour observing the deer, basking in the sun and scanning the hillsides for wolves, but there was no sign of them, so we packed up and made our way back to the van and Civitella Alfedena.
We spent that afternoon learning about the local wolves in the Apennine Wolf Museum, before eating at one of the few restaurants in town. One thing I absolutely loved about Civitella Alfedena was that barely anyone spoke English. Getting by by playing charades is part of the fun of going abroad, and in this part of Italy you truly feel far away from the UK.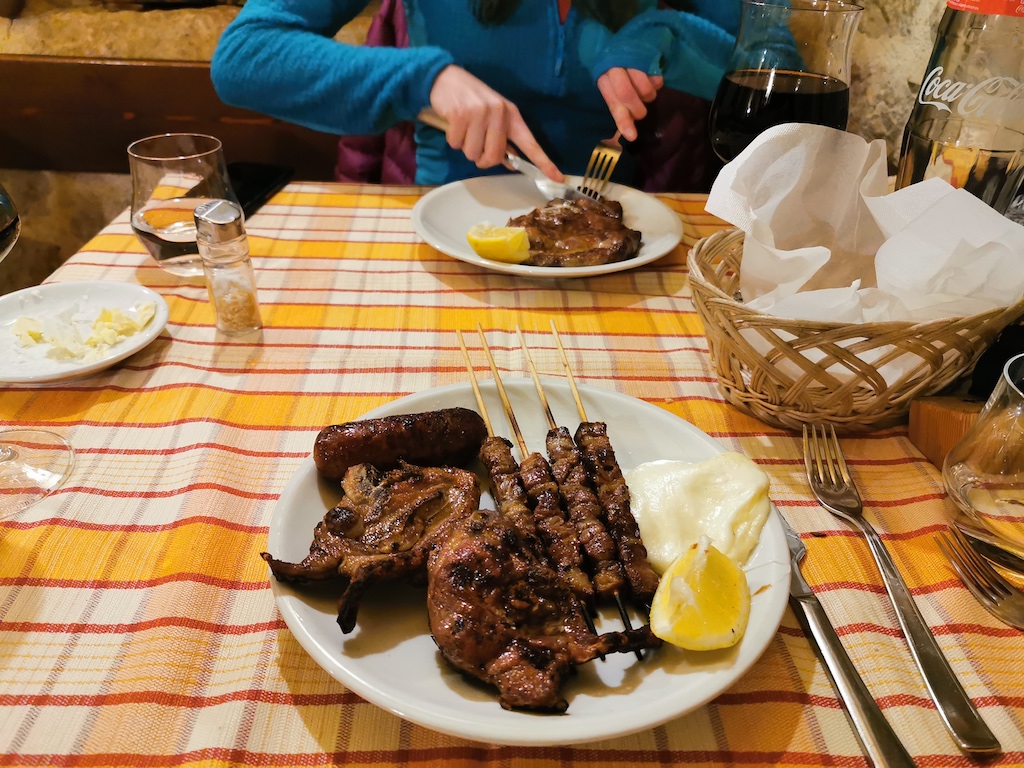 As the sun set, we again jumped in the van. This time we were heading 30 minutes down the road to follow a shepherd's track. It was late and the sun was starting to set. The hike took us into the mountains for an hour and a half until we reached an area where Valeria had set up a wildlife camera trap. The wolves had eluded us so far, but perhaps they'd been spotted here.
As Valeria flipped through the motion-activated footage, it was clear that there were wolves in these hills. We watched as they wandered around in front of the camera, scenting the area as they went. I found it funny that a pack of sheep dogs was also doing the same, it was like some sort of turf war. What we saw on the camera next was the best surprise of the weekend.
Two days ago, standing in the very spot we were, a Marsican brown bear had walked on by, its hulking figure captured by the nightvision camera. If I needed a reminder that we were hiking in somewhere special, this was it.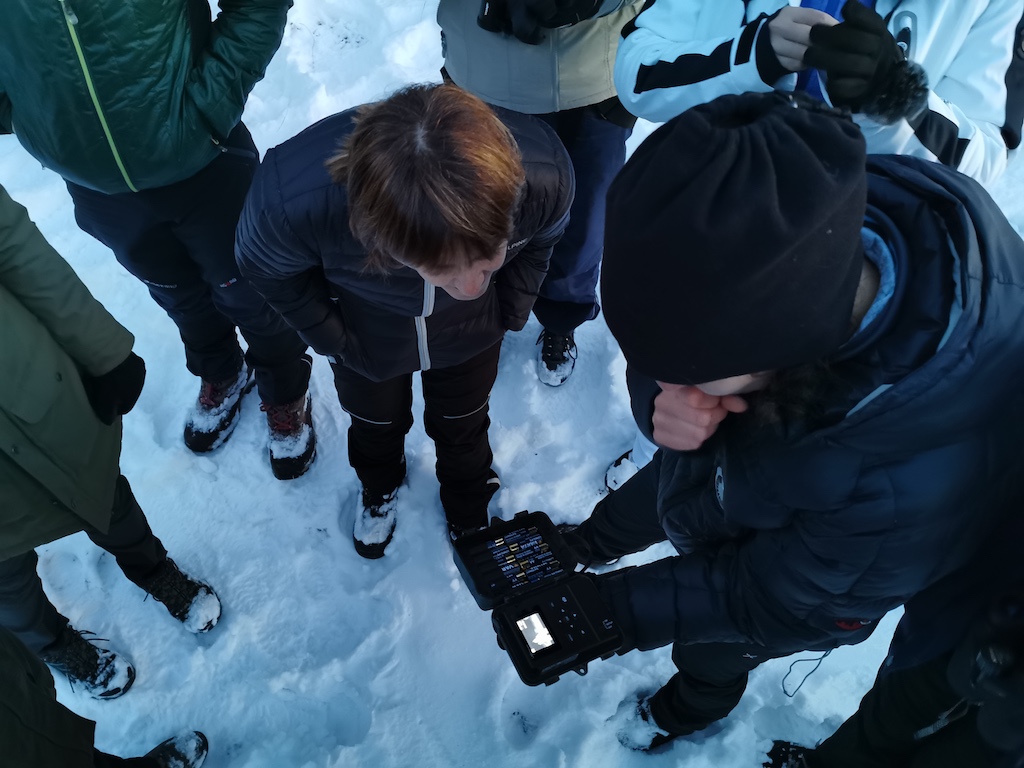 The critically endangered Marsican brown bear is of little danger to humans, but knowing that there were bears (big ol' bears that can grow to 200kg) in the hills around me, well, this was what I came here for.
We reset the camera trap and headed off on a mission to try and call out to the wild wolves to see if they'd respond. The sun had set and, in its place, a full moon had risen – how appropriate for a wolf-based adventure.
With the ethereal glow of the moon, we had no need to use our head torches, and the rest of the evening's hike was quite simply magical. I love being in the mountains at night, and when the conditions were this good, the moon this bright, and the wolf tracks to our sides so fresh, we had a winning formula.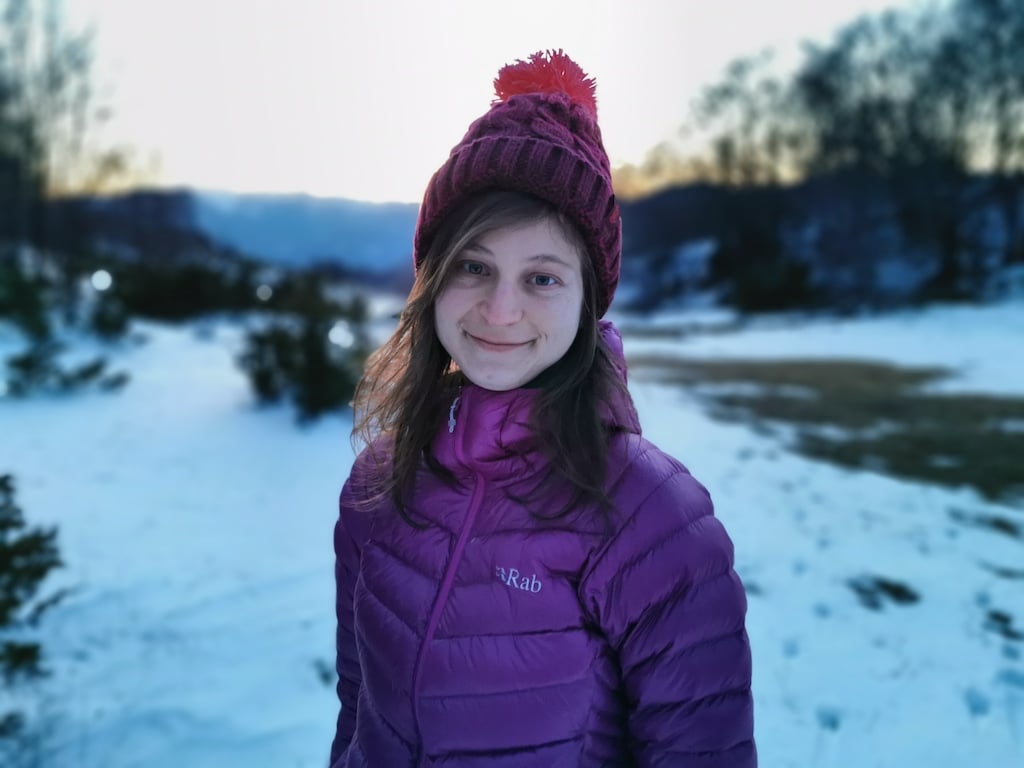 We sat atop a bluff and tried to call out to the wolves through a recording, but the only thing that responded was a cheeky tawny owl. It was a shame that we didn't get to hear them, but the hike itself was reward enough. We trudged back to the van, got back to the hotel, feasted on gnocchi and conked out in bed.
Sunday morning came around far too quickly. It was 5:15am and I rolled out of bed. Naomi was still snoozing; she had already decided that she was going to forego the morning's excursion on account of a calf injury she'd picked up.
I looked at her, jealous of the duvet cocoon she lay in, and begrudgingly brushed my teeth. I then plodded over to the breakfast room, selected 'cappuccino' from the machine, and allowed my mind to wonder while it spat out frothy milk.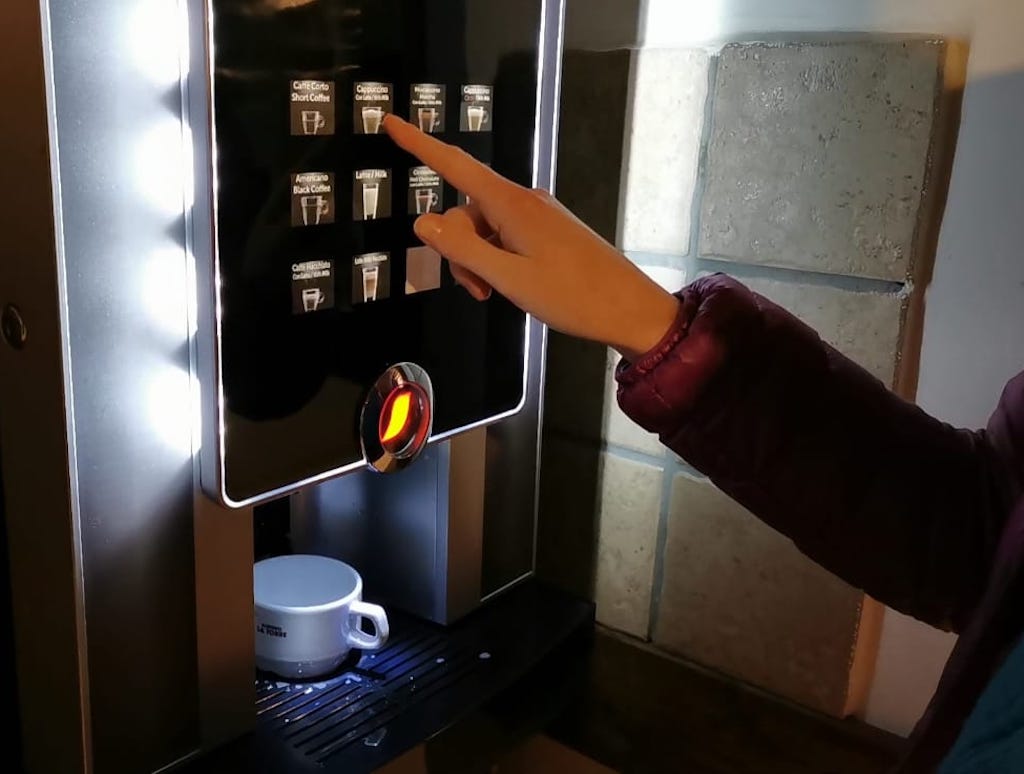 Two mornings ago, I had woken up in a dark, gloomy and miserable hotel room by Stansted Airport. Storm Ciara was about to blow through and the British winter was being a killjoy.
In no time at all, I had ditched the blustery monotony of Essex and exchanged it for the excitement, wonder, and amazement that hiking through the Apennine Mountains and tracking wild wolves brings.
As the coffee machine signalled my cappuccino was ready to drink, I thought about Naomi, tucked up sleeping in bed, and smiled. With those thoughts, I couldn't have been happier to be tired, achy, and facing the prospect of a chilly morning on a mountainside.
I knocked back the coffee, buttered a croissant and headed for the minibus. Valeria greeted the group with a cheeriness that I find impossible to muster at 6am in the morning. The weather was once again clear and the gentle glow of the rising sun loomed on the horizon.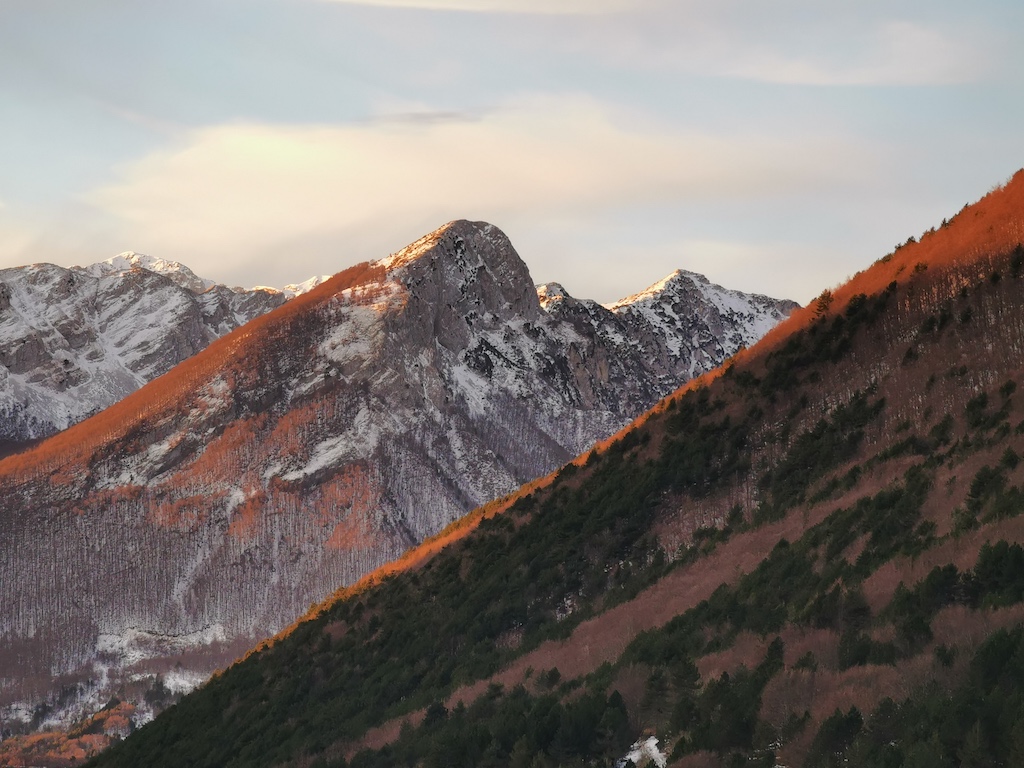 Today, we were heading to a local viewpoint which would afford us a great overview of a valley where wolves are known to frequent. Surrounded on all sides by dramatic mountains, whether we saw wolves or not, we were in for a treat.
As we drove to the lookout point, the minibus slowed to a stop. Valeria pointed out of the window and there, about to cross the road, was a huge, muscle-bound stag. His antlers stood tall and proud from his head and all we could do was look on in amazement as he disappeared into the darkness.
We reached the vantage point and unpacked our binoculars. Sat close together to try and keep each other warm we scanned the landscape like attentive sentries. Down in the valley, a pack of sheep dogs began to bark ferociously, but we couldn't find the source of their angst.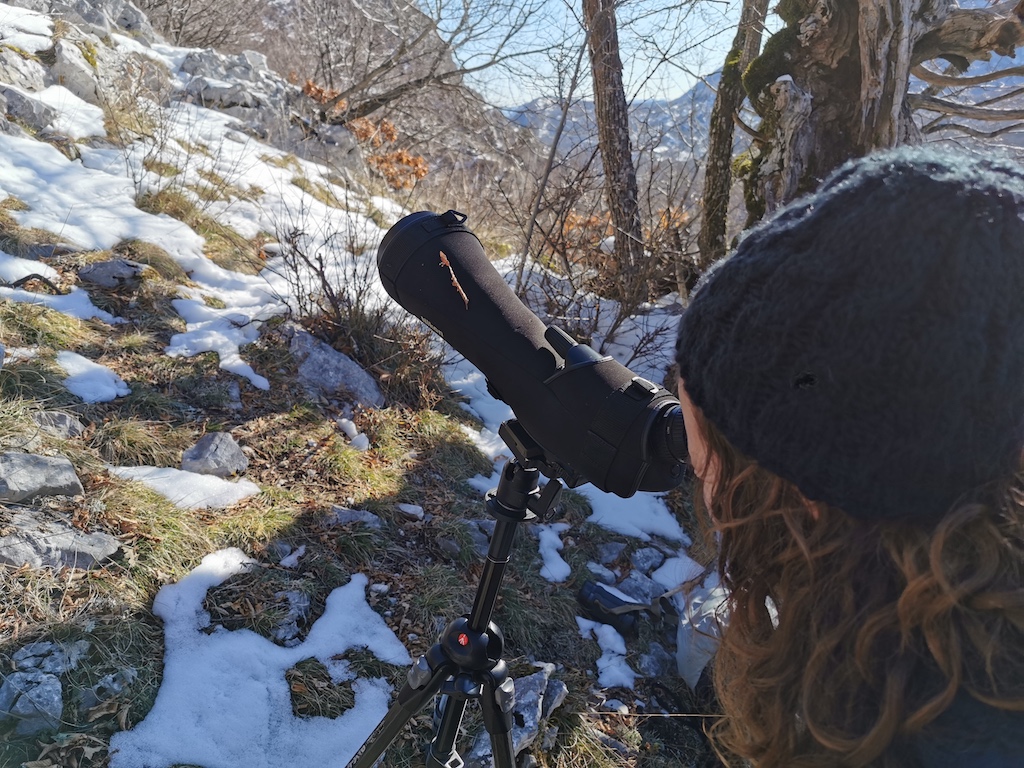 After 45 minutes of scanning, Valeria whipped out her thermal scope and found a sleeping fox, a herd of deer, and another fox who was doing fox things. The wolves weren't playing ball, so we packed up.
Our adventure had finished without us seeing a single wolf in the wild. Were we upset? Absolutely not. This had been a sensational weekend of adventure and Naomi and I left Civitella Alfedena with memories that will be with us for a lifetime.
Seeing the bear on the camera trap, hiking under a full moon with fresh wolf tracks around us, the sheer bliss of watching the sun rise over the Apennine Mountains… The best bit? It was all done in a weekend, the perfect antidote to the nine-to-five slog.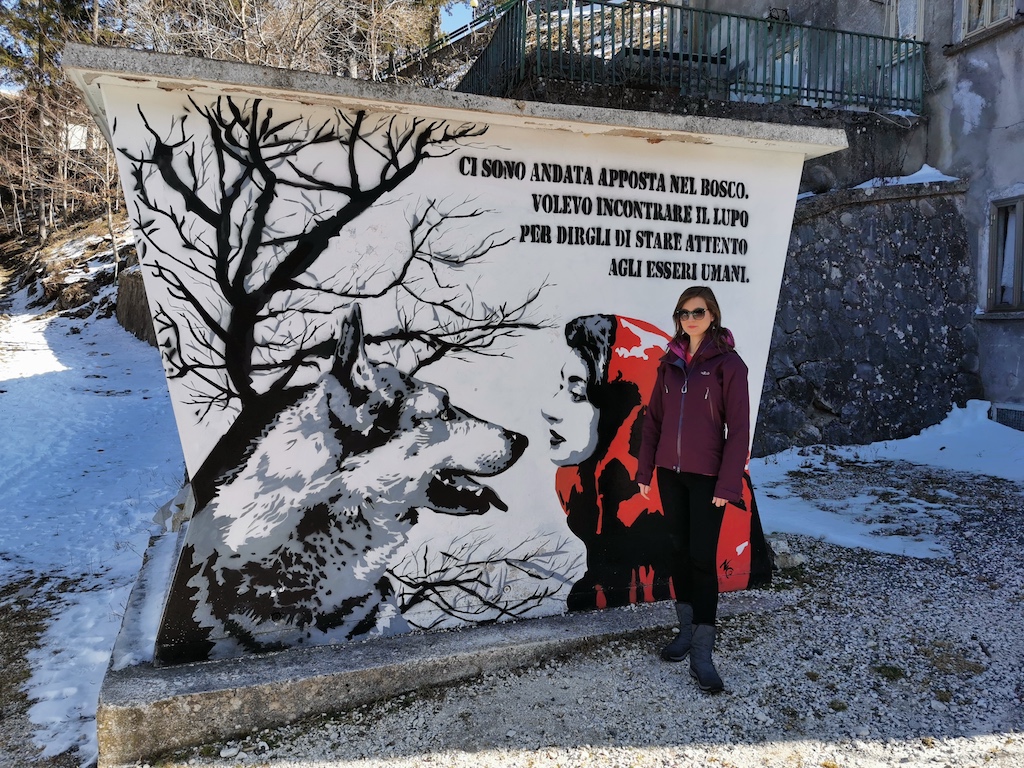 Plan your weekend wolf tracking adventure
Make a long weekend of it
With just one day of holiday from work used, you can make the trip to Civitella Alfedena on a Friday and be back home by Sunday night. It's what we did, but it left us feeling pretty tired on the Monday!
With that in mind, to really get the most out of it, make the trip Friday-Monday and you'll be glad you did.
Flights to Central Italy from the UK
We flew from London Stansted to Naples International with Ryanair. It's a cheap and cheerful service unless you add on the extras like more legroom.
In total, our flights were approximately £250 between two. Another option is to fly into Rome.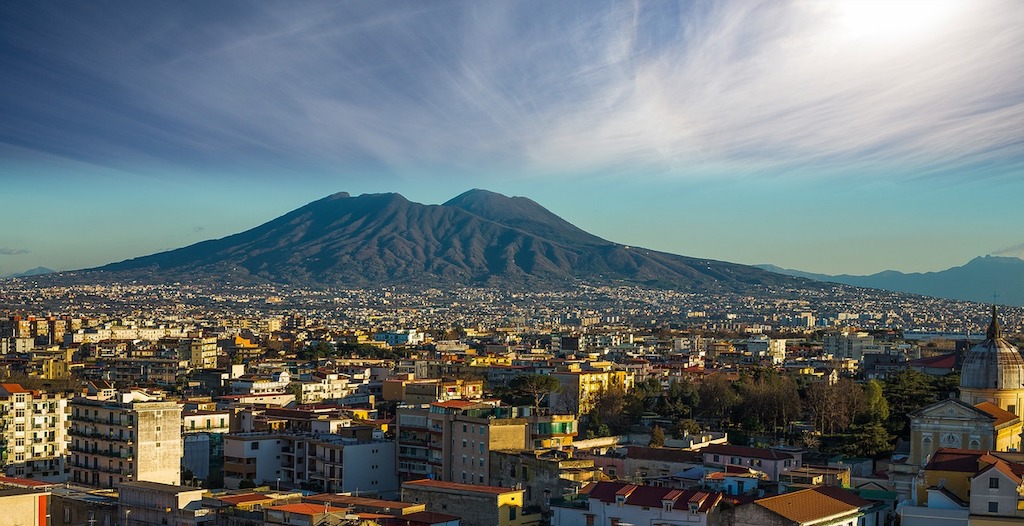 How much money will you need?
A weekend of wolf tracking with Wildlife Adventures will cost you from €220 (approximately £185) per person. For that, you get two nights' accommodation, breakfast, dinner, hire of binoculars and headtorches, and an excellent guide for the weekend.
On top of that, you'll need to hire a car from either Rome or Naples, which will set you back around £100 once insurance is thrown in (you'll want it when you see how the Italians drive).
With flights costing £250 for two people, you can take your nearest and dearest away for the weekend for around £500.
Car hire in Naples
We opted for B-Rent at Naples airport, booking in advance through www.rentalcars.com. There's a shuttle bus running every 10 minutes from arrivals at the airport to the car hire centre.
While the Rental Cars website would have you believe that the money you pay to them is the final cost, you will need to buy insurance from the car rental provider as well, or leave a £900 deposit. I opted for the £90 insurance with £0 excess.
Getting to Civitella Alfedena
From Naples, the drive to Civitella Alfedena is easy and pleasant, once you're out of the city. Italian drivers are a bit nuts, so don't get too offended by horns honking and being overtaken in ridiculous spots.
Once you're off the E45, the roads become great fun and the scenery is delightful. All in, it's just over a two hour drive from airport to hotel.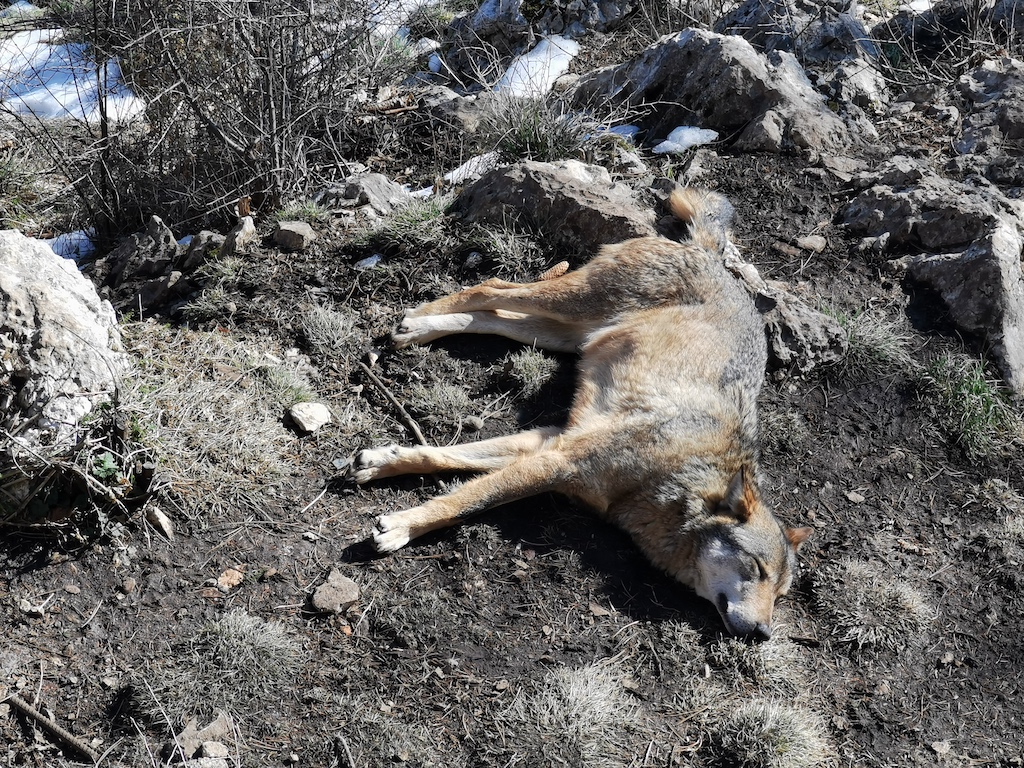 Sweet dreams
Two nights' accommodation is provided by Wildlife Adventures at the Albergo La Torre in Civitella Alfedena.
The hotel is a good, no frills option, with hearty local food served at dinner. The walls are a little thin, so you'll hear everything that happens in the rooms around you…
Gear to take
In the wolf tracking season it gets cold in the Abruzzo National Park, particularly when the sun goes down. As dusk and dawn are when the wolves are most active, you'll be spending a lot of time standing still and watching when it's cold.
That in mind, pack suitable winter hiking gear. A waterproof shell, insulating mid layer, warm socks, a hat, gloves and a snood are all essential. The best gear that I took was my Rab Ladakh GTX jacket (pictured below) which kept the wind chill away when we stopped, and the Rab Proton Down Jacket, which provided much-needed insulation. I also wore Rab's Vector Pants, which were incredibly comfortable when hiking in the mountains of Central Italy. All come highly recommended.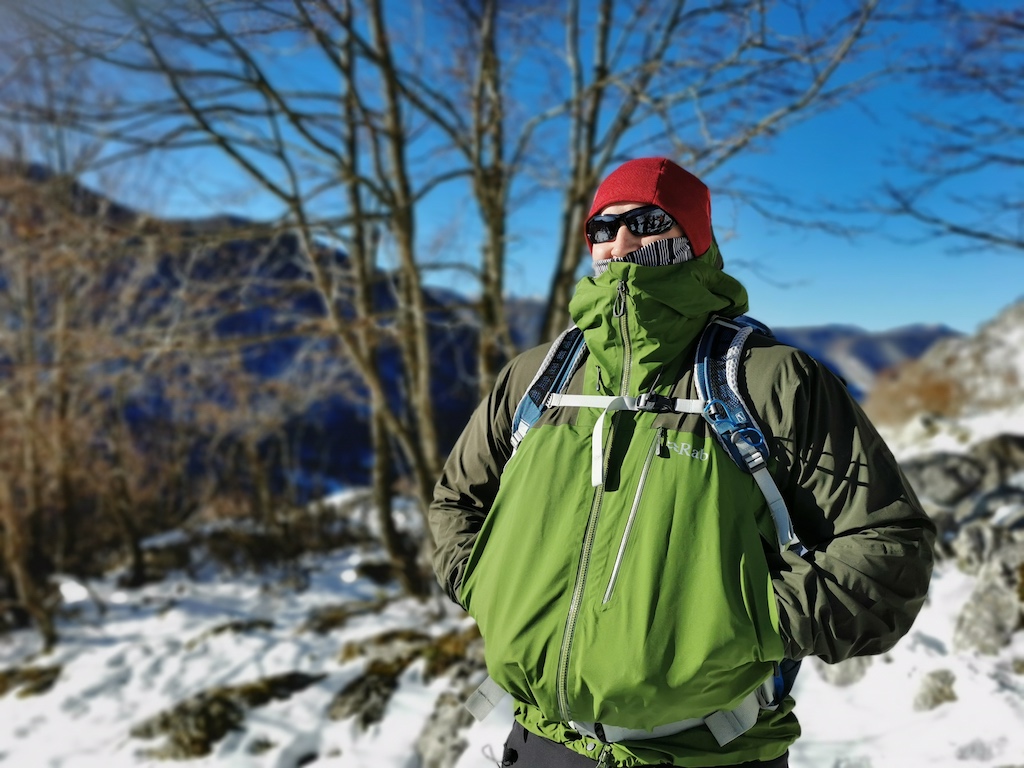 Extend your trip
If you fancy making a bigger trip of your wolf tracking weekend, there are plenty of trails to be hiked in and around the Abruzzo region.
If I had a few days spare, I would head north from Civitella Alfedena towards Campo Imperatore, a high plateau known as Little Tibet, where you'll also see the highest mountain in mainland Italy outside of the Alps, Corno Grande (2,912m).
Contacts
For more information on the trip visit www.wildlifeadventures.it.
For more information on the gear we wore, head to rab.equipment
To checkout your cheapest flight options, check out
www.skyscanner.net
For rental car info, it's www.rentalcars.com