TWO BIKES AND A BABY
Keen to reduce their CARBON FOOTPRINT, The North Face's Caroline Ciavaldini and James Pearson EMBARK on a pedal-powered, rock-climbing, ECO-FRIENDLY adventure around the South of FRANCE, with the world's smallest spotter in tow
We'd been planning a trip like this for some time. Over the years we've been fortunate to make many climbing road trips, but this was different. This time we'd leave our van at home and make the entire journey on bikes as a family. We'd spend 30 days visiting some of the best cliffs in the south of France, carrying all our gear on our backs and bikes, and taking as few roads as possible.
The idea grew from a few separate seeds. Firstly (and most importantly) was our desire to reduce our carbon footprint while still keeping the sense of adventure. We love travelling for so many reasons, discovery and exploration are an important part of our lives, and one we're keen to share with our son, Arthur. Even though we offset with www.mossy.earth (a member-funded eco initiative) travelling to Rocklands in South Africa emits the same amount of CO2 as it takes to heat our house for an entire year! Replacing one of our yearly trips with a more environmentally friendly option wasn't a sacrifice, it felt necessary.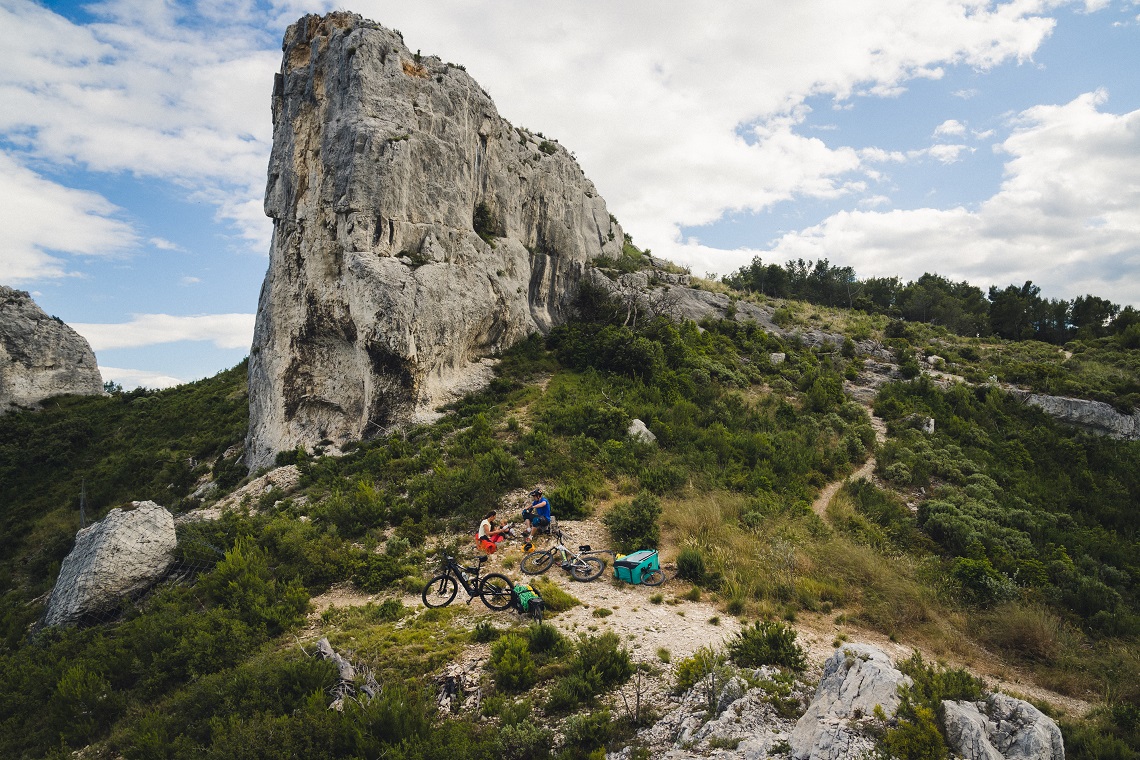 Our original plan was to cycle the length of the Danube. Then Covid-19 came along, borders closed, and like everyone we stayed safe at home and waited to see what would happen. Once confinement was over, the government declared a maximum 62-mile travel limit from home. We downsized our plans again for a more modest trip in France, and then it dawned on us why we chose to live where we do: our house is surrounded by the most incredible cliffs.
The trails might be slightly rougher than our initial ideas, but with two power-assisted mountain bikes and two single-wheel off-road trailers, inventive James assured me that we'd be fine, and set about planning a route that would take us along some of the best trails in the region. Our Tour des Alpilles was born! Little did we know it was to become one of our favourite ever adventures.
PITCHES AND PARENTING
We'd been training Arthur for a trip like this for the past year, getting him used to riding in his Singletrailer. When we first took Arthur in his trailer, we were lucky if he'd last 20 minutes before crying, but gradually our rides grew longer, and now he'll happily sit in there for 5-6 hours at a time just watching the world go by.
The Singletrailer is an amazing bit of kit: a suspended single-wheel carriage that allows you to ride rough terrain with a small child in the back. It handles so well you barely notice it's attached to your bike. The same cannot be said for our second trailer, which wobbled noticeably when fully loaded. Loading a cargo trailer is an artform, so we made sure we got in plenty of practice on close-to-home test rides. The solution was to further reduce the gear we took, and since we couldn't leave out rope or climbing equipment, we just had to take fewer pairs of pants.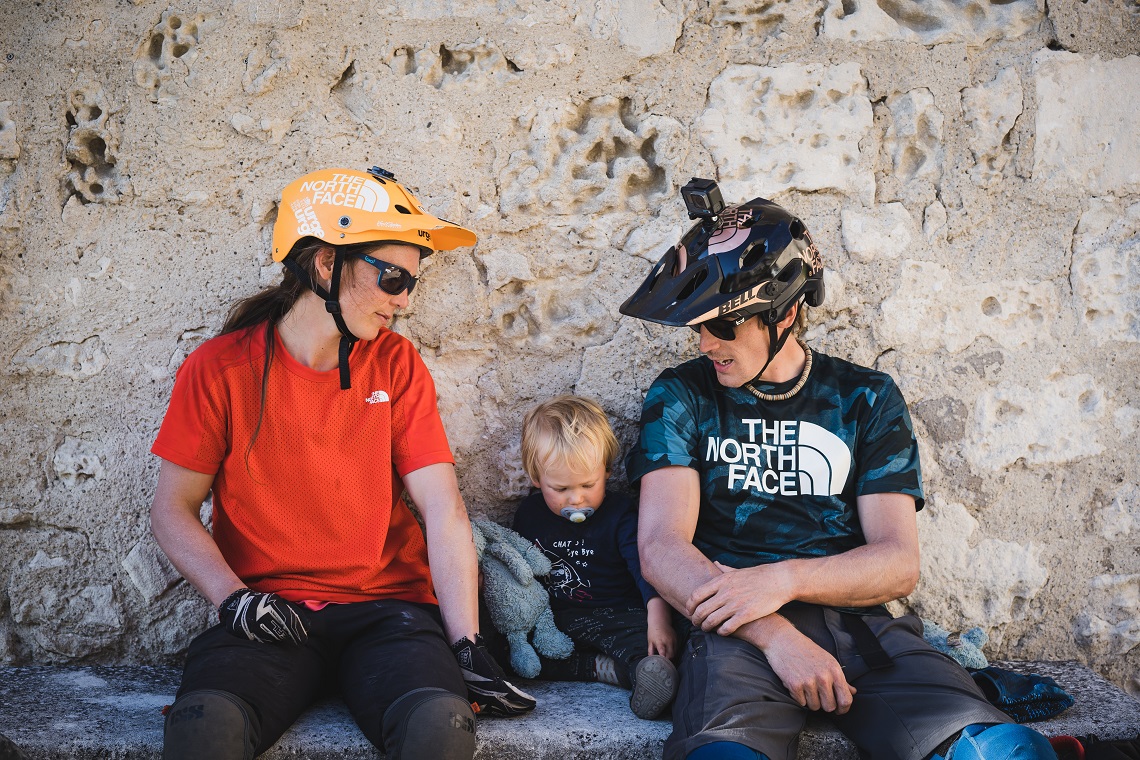 After leaving home, we pedalled our way up to the plateau of Pouzilhac, a small medieval town in the Provencal Gard, before making the first of many descents to the little-known crag of Estézargues. It was a day of trials, testing whether our concept of cyclo-climbing with a baby could work. Typically, James had decided to jump in at the deep end and included one of the hardest mountain bike trails on the first day. It was a baptism of fire, but not only did our plan work, we immediately fell in love with it.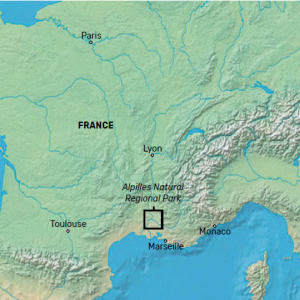 Sport climbing with a baby is a sport within a sport. Arthur was just a few weeks old when we first took him to a crag, and since then, we've learnt to capitalise on nap time; but first off, you have to teach the baby to nap at the crag!
If he's not asleep, we create a safe area for some calm time with his toys and books. Belaying with a baby in a carrier is doable safely as long as your harness is positioned correctly.
We'd perfected our baby-proof climbing techniques before confinement, but then everything changed when Arthur learnt to walk. Suddenly the world was his oyster. It's quite amazing how quickly little legs can carry him out of sight, but despite the rocky, uneven playground, Arthurs behaviour was exemplary. He walked and scrambled, climbed and fell over, but always stayed close by. We managed to climb routes up to 8b+, and although this rock was not the most beautiful, we gorged ourselves on it, ravenous for a climbing fix after two months inside.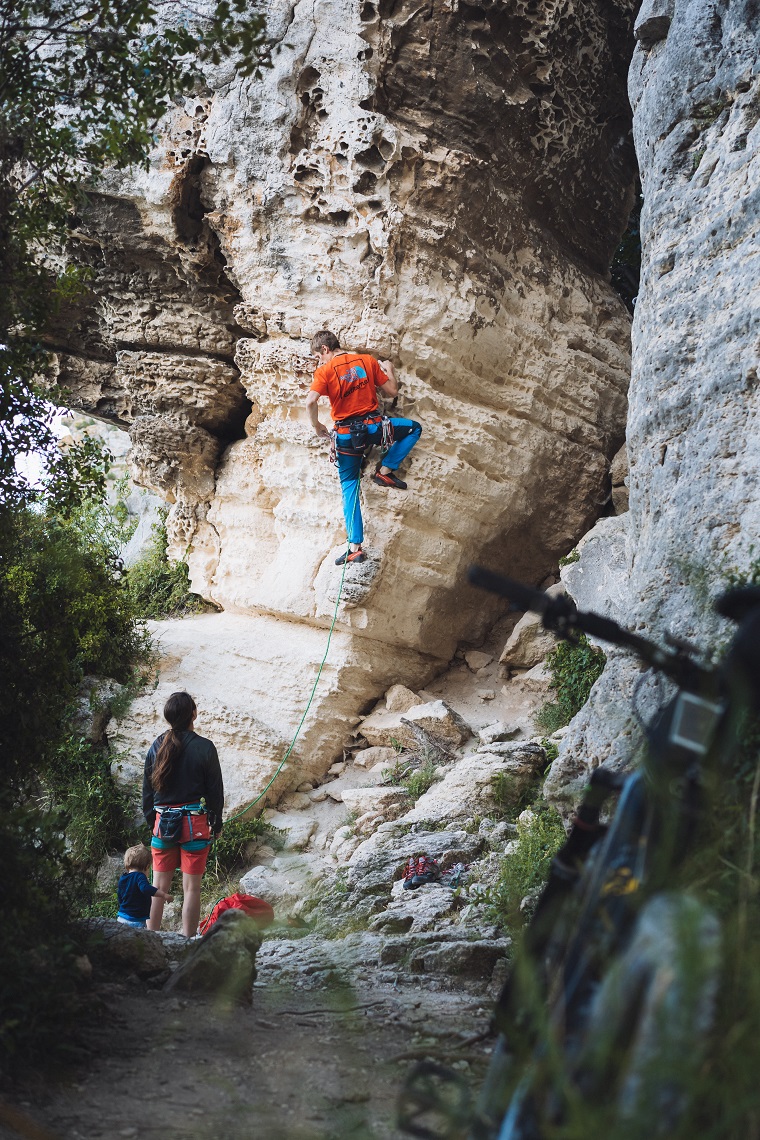 Despite living just 15 minutes' drive from Estézargues, we'd never been climbing here, likewise for several other cliffs on our route. In an hour we can climb at St Leger; in 3 hours, Ceuse or Verdon. A van would have made this trip boringly easy, but on a bike, even the approach is an adventure. Biking wasn't always fun, of course, and there were times when we'd have welcomed the convenience of four wheels instead of two, but there's something magical about arriving at even the scrappiest bit of rock having got there under your own steam and seeing beautiful, unexpected places along the way.
THE NEW NORMAL
It's always amazing how something so new and unknown can quickly become normality. Each day we'd wake up, eat a big breakfast of Pain aux Chocolat, Coffee, and Croissants, then pack up the trailer and set off with Arthur happily in tow. It may sound silly to describe a local climbing trip as being an 'adventure', but that's what it felt like. We were on an adventure, and the feelings it evoked were just as powerful as those we'd experienced just a few months before while making first ascents on sandstone towers in the Ethiopian desert.
Our knowledge of the region was good enough to plan our main route, but each individual path was a new discovery. Some trails were perfect for an electric mountain bike and trailer, while others didn't work quite so well, but the fantastic places they led us to made up for any hardships. It was cherry season in the south of France, which meant clafoutis for almost every dessert. We passed plenty of wild cherry trees where we'd stop to refuel, and Arthur discovered a new favourite snack.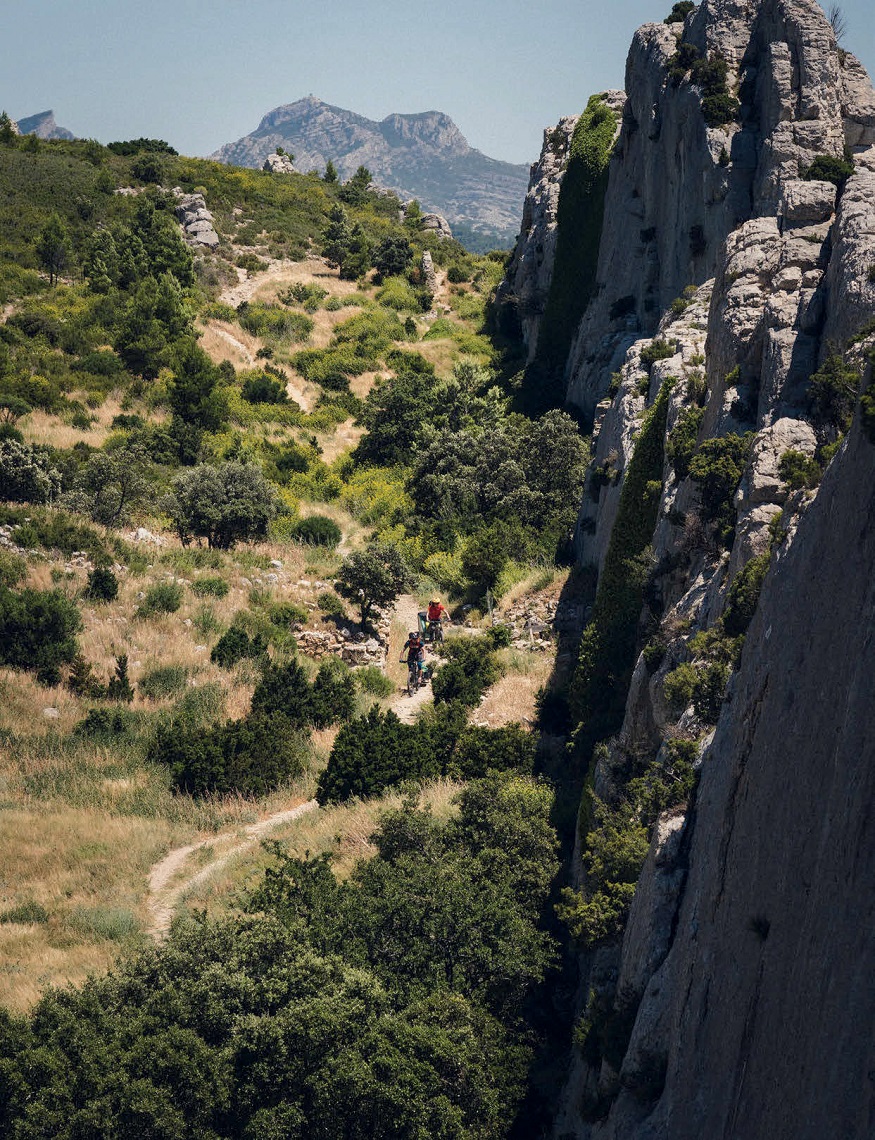 A trip like this teaches you how to go with the flow. Life slows down and simplifies as problems are reduced to fixing punctures, remembering to charge batteries, or stocking up on nappies before riding into a valley without shops. Occasionally we felt a little stressed, worrying about the bikes when we left them chained to a tree, but they were small worries compared to those of our normal, crazy life.
With no fixed time constraints, nor hardcore climbing objectives, everything felt easy and fun. If we liked a cliff, or our backsides were too sore, we'd linger for a few extra days, and by keeping the stress levels low, we were more open to appreciate life. We weren't always like this: James is hyperactive and I am super organised; we learnt this approach when we had a baby. Now, a day ticking hard routes is just as rewarding as a day where Arthur learns to walk on his own along a rocky path.
We came across windmills from the early 1800s, and a Troglodyte village which was inhabited until the 1500s, among other surprises. We climbed at awesome cliffs like Buoux that we wouldn't normally go to (too far away for a day trip; not far enough for a holiday), and we met up with friends we hadn't seen in far too long.
APPROACHES AND REWARDS
Our climbing form fluctuated. It's hard to know whether we were in good shape or not. The difference on this trip, though, was that biking made it easier to laugh about our climbing performance (or lack thereof). Cycling to the cliff was tiring, and we had to revise our objectives, or even better, forget about grades altogether. Of course, ideal conditions for smashing climbing goals would be a comfy bed, a short approach, and a baby at home with his grandparents, but we would have missed so much of the magic. At 35, I'm feeling more and more that the importance of numbers and letters fades. All we want is to climb, try-hard, and have fun as a family.
The climbing highlight of the trip was definitely Buoux, where we divided our time between the ancient West Face, and a newly bolted secret cave. It wasn't until my early 30s that I started to truly appreciate Buoux. From the bottom of the valley, the colours are magnificent, and the climbing movements are unique. The routes here encompass the history of climbing. From Edlinger to Le Menestrel and Moon, behind each route there is a hidden anecdote, and even the 7a's don't give themselves easily.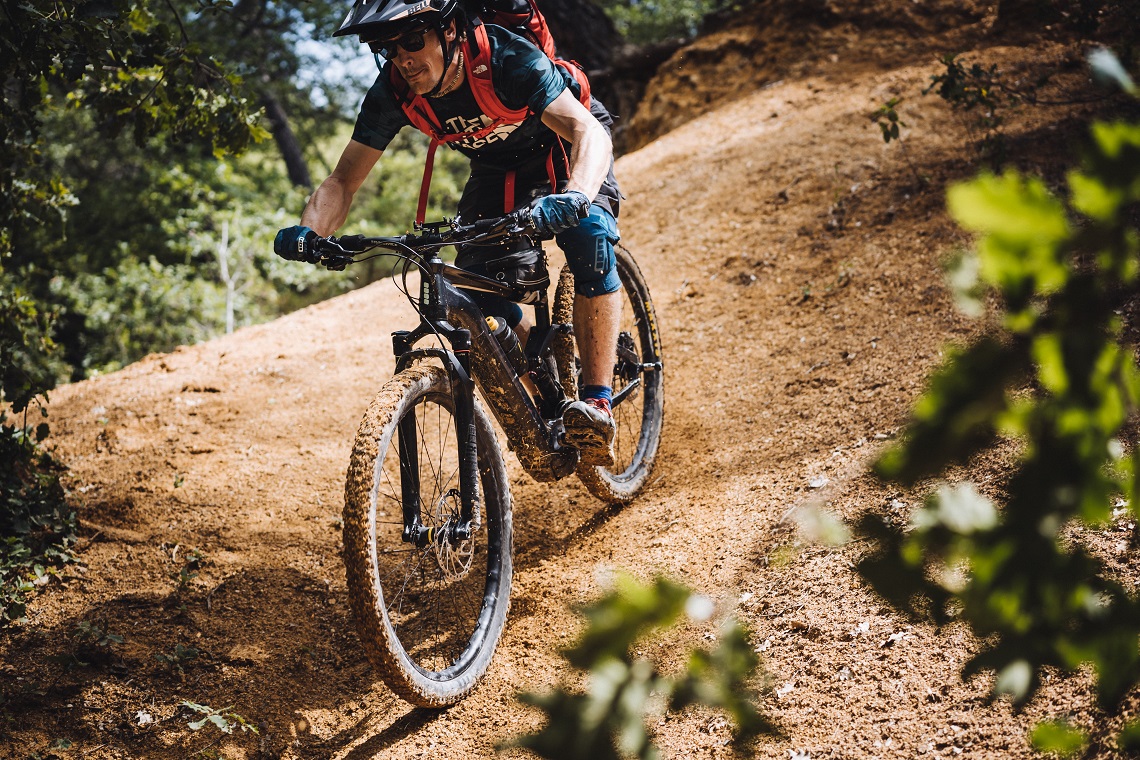 After an extended stop with friends 19 miles south of Buoux waiting for a part to fix a broken trailer, we were back on the road again just in time for the heatwave hitting Europe. Apparently, people were sunbathing in the UK, but here in the south of France, with temperatures in the mid-30's, we decided to skip a few of our planned crags in favour of one we knew had all-day shade: Mouriès, another monument of climbing history, and one of our favourite local cliffs. A majestic blade of rock rising above the meadow, Mouriès is flanked by a golf course, Roman oppidum remains, and was occupied by humans from the 6th Century BC.
After two glorious but very warm days, our feet couldn't take any more, and we set off for the last crag of our trip: a small 'secret' cliff near Fontvieille. With nothing but a list of route names and vague directions, we were expecting an ordeal, but we surprised ourselves by not only finding the cliff, but also a group of local climbers who were only too happy to point out the best routes.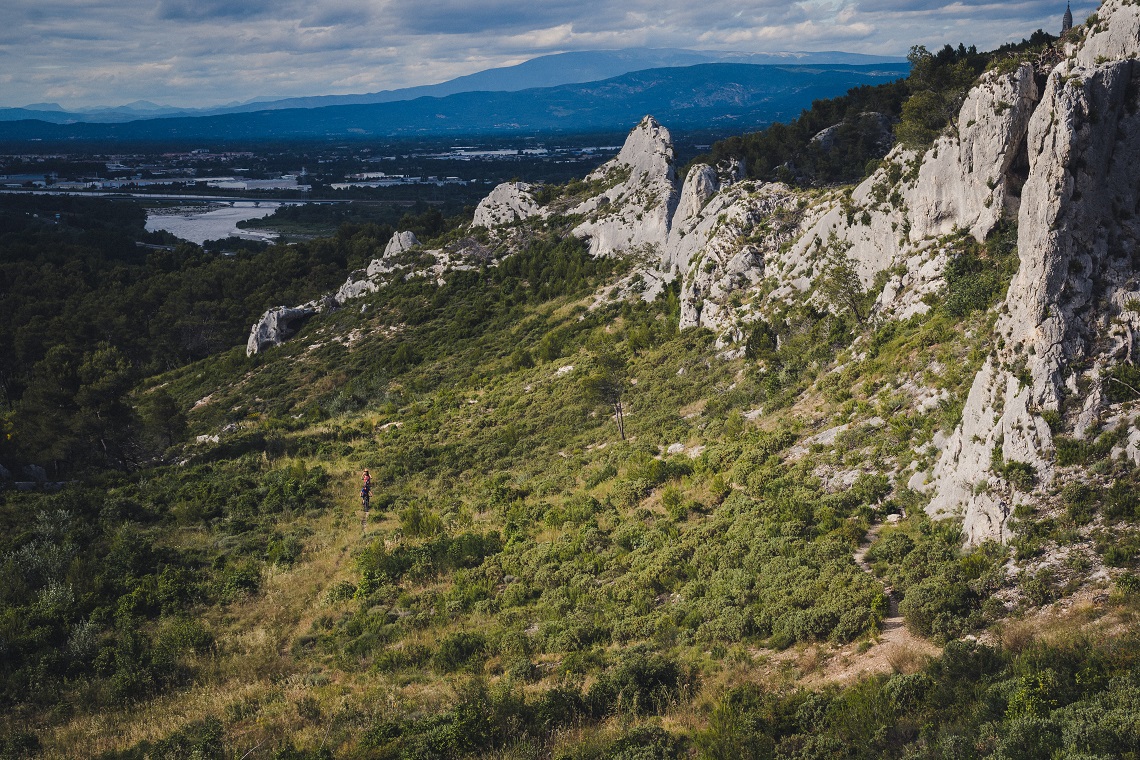 James made short work of the hardest route at the cliff, a short, bouldery 8c on some of the craziest rock around, and we marvelled at the fact we'd yet again discovered another new home crag that we'd never been to before.
Our last day was the longest of the trip: 28 miles from Tarascon to home. We were both tired but the last two hours of cycling were a memorable pleasure that the three of us enjoyed with the genuine feeling of having had the perfect month. It was an amazing, emotional trip and one to remember. The cyclo-climbing adventure was a revelation for us, and one I'm sure we'll be enjoying again in the not too distant future.
---
WHO'S WRITING?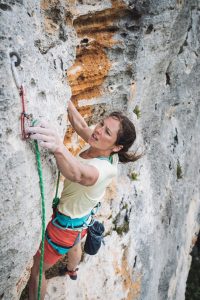 Caroline Ciavaldini grew up on the tropical island of La Reunion in the Indian Ocean, so it's no surprise outdoor adventure is in her blood.
After dedicating her early career to achieving competition success and technical expertise, she is now embarking on the next exciting chapter in her climbing life: travelling and exploring the world in search of new challenges.
Caroline is married to James Pearson; both are athletes for The North Face