GET DOWN
Nothing beats the winter CHILL like a nice FEATHER-FILLED duvet of a jacket. Here's our pick of the BEST out there
Whether you're hiking in winter, camping on a cold summer's night, or via-ferrata-ing on a chilly day, an insulated jacket is likely to be on your kit list. They're excellent for keeping you warm when you're not moving (when taking a break, for example) or for using as a mid-layer if you're out adventuring in seriously chilly conditions. Of course, they're also ideal for braving the cold on expeditions around town or to the pub.
In this group test we're going to be looking specifically at down insulated jackets as opposed to those that use synthetic fibres to keep you warm.
Down insulation consists of fine feathers found under a bird's tougher outer feathers. It's nature's insulator and when used in jackets it provides exceptional warmth at low weights, top tier packability, and superb comfort.
Down doesn't come without drawbacks though. Like any other insulating fill, it works by trapping air that's then warmed up by your body heat. If it gets wet, the feather loses its ability to trap air and therefore its ability to insulate. Brands have managed to combat this by creating water-resistant down, which is treated to help it retain its shape and insulating properties.
When you're buying a down jacket, there are a few things you should consider. It should be small and light enough to stuff in a pack and forget about while you're on the move. As well as good-quality down, other features we look for include decent handwarmer pockets, a nice high collar, a baffle under the main zip, zip pulls that are big enough to use while wearing gloves, and an adjustable hem to keep the warmth in. If the jacket has a hood, even better, particularly if it's a good fit and can be adjusted.
A WORD ON SUSTAINABILITY
In time gone by, down was down and few people paid attention to how it was plucked or where it came from. Over the years, consumer awareness has changed, and people are generally more mindful of where animal products come from. Live plucking of down is a brutal practice and it's great to see that most brands in the outdoor industry have made the shift to using RDS (responsible down standard) certified down. RDS certification involves brands being audited to ensure the humane procurement of the down they use. RDS certification prohibits live-plucking and force-feeding and instead promotes a holistic, respectful approach to animal welfare.
---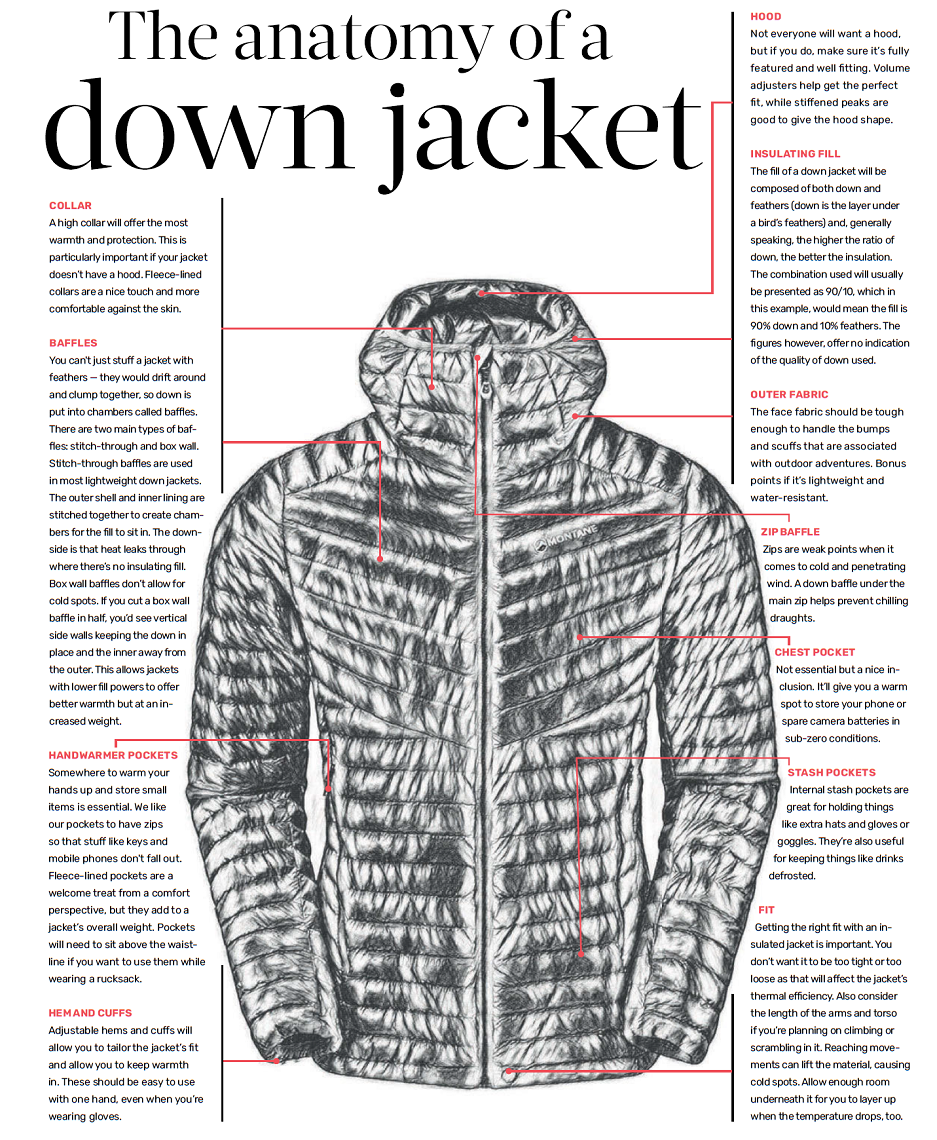 ---
MEN'S DOWN JACKETS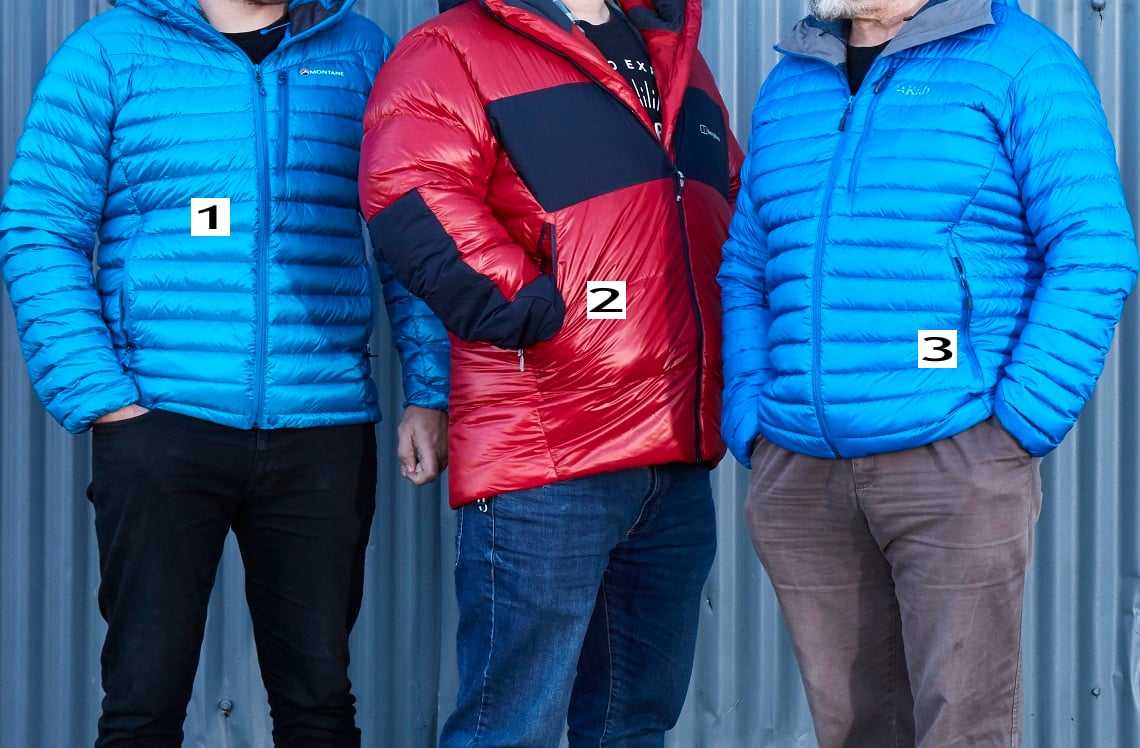 1 – BEST FOR VERSATILITY
Montane Featherlite Down Jacket, 443g
£190, www.montane.com
If you want a jacket that'll do it all, the Featherlite is a great option. Fully featured yet still light weight (443g in a size XXL), the jacket makes use of a high quality 750 fill power HyperDRY duck down to keep you warm. This is backed by a supremely soft and comfortable PEAQ lining that feels great to wear next to skin. There's actually very little to differentiate the Montane Featherlite from the Rab Microlight Alpine, but the Montane does have a few added features which might sway your decision if you're deciding which of the two to go for.
Like the Rab, it has two large, zipped handwarmer pockets and a zipped chest pocket, the collar is fleece-lined for comfort, the hem is adjustable and the cuffs are elastic. Where the Montane performs better is in the quality and usability of its hood. Unlike the Microlight, the Featherlite's hood is adjustable and allows you to get a great fit with ease. In terms of warmth, the Featherlite's 750 fill down provides a good amount of insulation, making it an ideal outer layer or mid-layer when temperatures tumble.
2 – BEST FOR SERIOUS COLD
Berghaus Arkos Reflect, 802g
£250, www.berghaus.com
With its combination of water-resistant Hydrodown and synthetic Hydroloft insulation, the Arkos Reflect is set up to do battle with serious cold. This isn't the sort of jacket you're going to stick in your pack on a multi-day hike (it's neither particularly lightweight nor packable when compared to say, the Montane Featherlite), but for expeditions where you're going to be spending a lot of time in sub-zero temperatures, it's worth checking out. The impressive warmth is provided by a 700 fill power ethically sourced RDS Hydrodown that's complemented by strategically-placed Hydroloft insulation to provide extra heat where needed.
As if this wasn't enough, the jacket also features 'Reflect technology' which Berghaus claims boosts the jacket's warmth by 20%. Elsewhere, the zipped handwarmer pockets are fleece-lined for extra comfort and warmth, likewise the collar. The hood is volume adjustable and features a stiffened peak, while the adjustable hem and inner stretch cuffs help keep drafts out. All of these features come together to create a superbly warm and comfortable down jacket.
3 – BEST FOR ALPINE ADVENTURES
Rab Microlight Alpine Jacket, 529g
£195, rab.equipment
The Microlight jacket has been in Rab's range for quite some time now. Everytime I've tried it out, I've ended up keeping it as my go-to down jacket for cold weather strolls, trips into town, and pit stops on chilly winter hikes. For 2020, Rab updated its classic, changing its style, but most importantly, putting a focus on the the Microlight's sustainable and ethical credentials. Impressively, it now features a fully recycled shell, insulation, and lining.
This comes in the form of a 30D Pertex Quantum ripstop nylon outer and Global Recycle Standard-certified 700 fill power recycled hydrophobic down. It may not be the lightest jacket in this group test, but it offers impressive warmth, packs down into its own stuff sack, and is full of features to make it a brilliant choice. You get a fleece-lined collar, a zipped chest pocket and handwarmer pockets, adjustable hem, and a well-fitted helmet-compatible hood. If you're looking for a fully-featured down jacket that's light, comfortable and warm enough for all but the coldest of adventures, then look no further than the Rab Microlight. It's been a favourite of mine for some time now.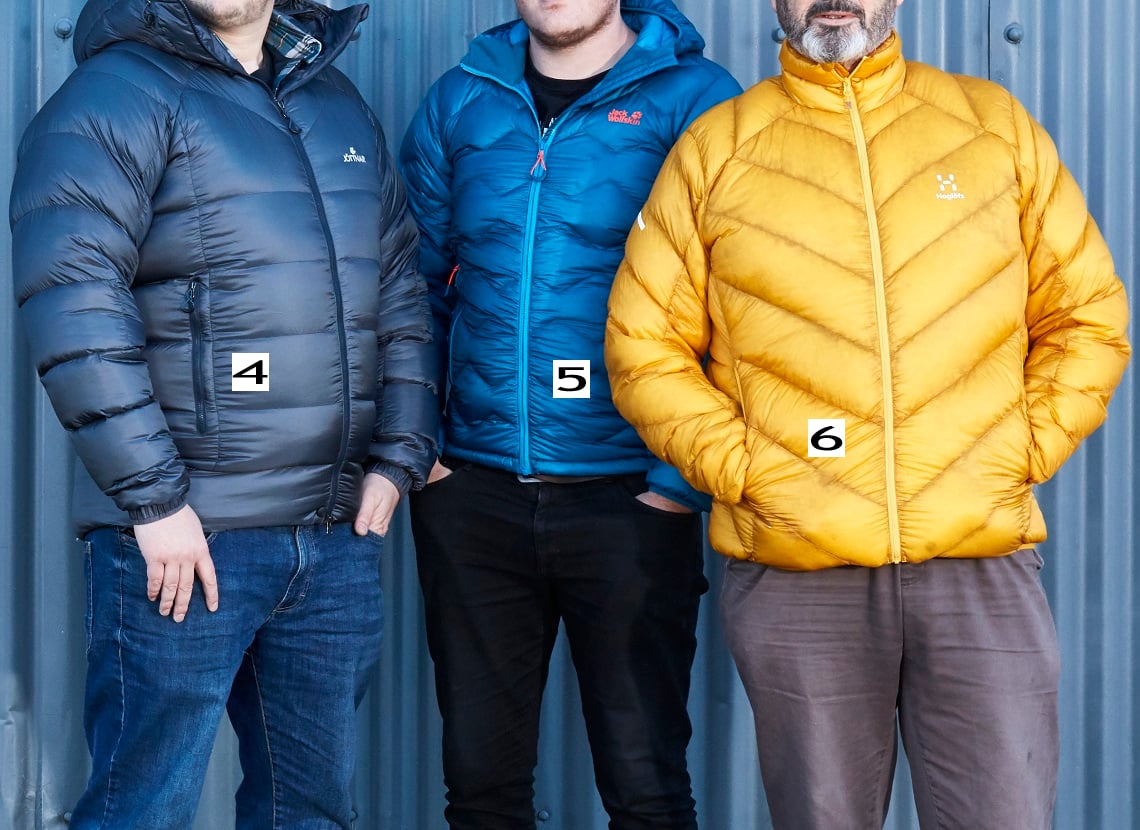 4 – BEST FOR WARMTH AND ALL-DAY COMFORT
Jöttnar Fjorm, 722g
£375, www.jottnar.com
Jöttnar is a Norwegian brand that prides itself on providing top-quality gear at premium prices. At £375, the Fjorm down jacket sticks true to form, being the most expensive product in this group test. As soon as you slip your arms into the silky smooth sleeves, any thoughts of a negative bank balance quickly get pushed to the back of your mind, though. Jöttnar has done an excellent job with the Fjorm. It's a down jacket that looks beautiful when worn in all situations, be that on the mountain or on the way to work, but it's more than just a pretty face.
The Fjorm's stuffed with an impressive 312g of 850 fill power hydrophobic goose down, with a down/ feather ratio of 93/7, and it's housed in box wall baffles. This means that there's an incredible and consistent amount of warmth and loft on offer and not one cold spot throughout. The responsibly sourced down is also complemented by a water repellent DownTek outer, which will shed light showers with ease. If it's warmth you're after and you don't mind paying a premium, the Fjorm is the jacket for you.
5 – BEST FOR HITTING THE SLOPES
Jack Wolfskin Argo Peak, 310g
£235, www.jack-wolfskin.co.uk
The Jack Wolfskin Argo Peak is a down insulated jacket that's been designed in collaboration with Felix Neureuther, a former Alpine skiing world champion. With this in mind, if you're looking for an insulating layer that'll serve you well on the slopes, the Argo Peak's well worth checking out. Jack Wolfskin has pitched the Argo Peak as a jacket that can be worn as a standalone outer for high-output activity or layered up under your hardshell when you're cruising down the pistes.
To that end, the lightweight jacket (310g in a size L) features 800 fill RDS-certified goose down to provide a great amount of warmth when the jacket's weight is taken into consideration. It's worth noting that, while the outer has a water repellent finish, the down itself hasn't been treated, so you'll want to keep the Argo Peak dry to ensure performance. You get two zipped handwarmer pockets, an internal stash pouch, and a delightfully soft, fleece-lined collar. The hood is a welcome inclusion, though it's not volume adjustable, limiting its effectiveness. The hem is easily adjustable and the cuffs are elasticated, to keep the warmth in.
6 – BEST FOR LIGHTWEIGHT ADVENTURES
Haglöfs L.I.M Essens Down Jacket, 195g
£200, www.haglofs.com
If you like to move fast and you want a jacket that's going to take up as little room in your pack as possible, the L.I.M Essens is the kit for you. Weighing in at a mear 195g in a size XXL, you'll struggle to find a jacket as warm and as light as this. The whole premise behind Haglöfs' L.I.M series of gear is to make functional kit that's as light as possible. To do this, they obviously have to sacrifice some features that aren't deemed as essential.
With that in mind, the Essens features just two pockets (neither of them zipped). there's no hood, and the hem and cuffs aren't adjustable. What the Essens lacks in features it more than makes up for in other areas. Almost half of the jacket's weight is made up of 800 fill Nikwax Hydrophobic Down. This is contained in a series of stitch-through baffles and the warmth provided is very impressive for such a light jacket. Amazingly, the Essens also packs down to a size that's not much bigger than a bag of crisps. If you like to move fast and you want a jacket that's not going to weigh you down, this is for you. Just make sure you try it on before you buy as the sizing came up small.
---
WOMENS DOWN JACKETS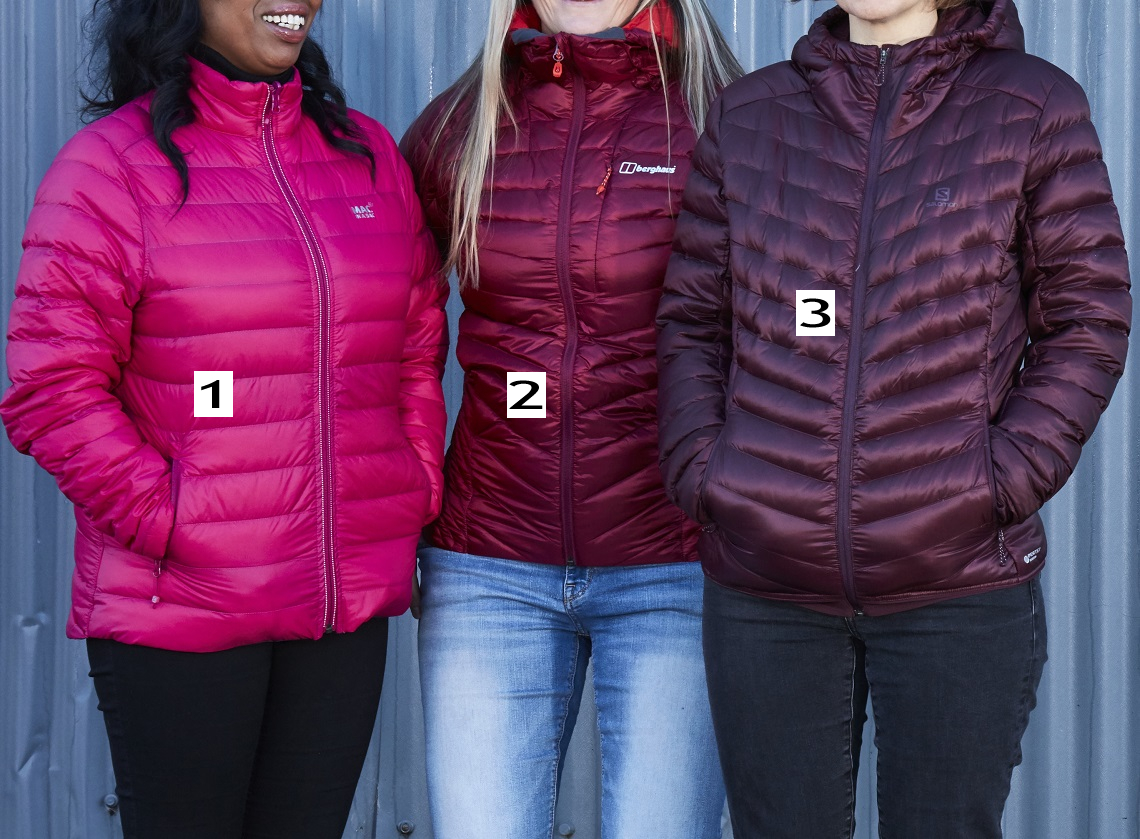 1 – BEST FOR LAYERING UP
Mac in a Sac Polar, 272g
£84.95, www.macinasac.com
Light, streamlined, and unfussy, the Polaris well-suited to working as an outer on mild winter days and as a mid-layer when the weather turns cold and wet. It doesn't have the bells and whistles that some of the other jackets on test boast, like toggles and adjusters, and it doesn't have a hood, but these things work in its favour when it comes to packing it into its stuff sack or fitting it comfortably under a waterproof (though the Nylon outer does offer some water-repellent properties).
The 600 fill down is RDS-certified, meaning no animals were harmed in the making of this jacket, which is enough to give you a nice warm feeling on its own. The elasticated cuffs and slim-fitting sleeves mean it works almost like a down jumper rather than a jacket, with plenty of freedom to move, and the scoop back comes down nice and low over your hips, to stop it from riding up. The reversible design is a fun way to get the best of both worlds when it comes to the pretty vs practical colour choice conundrum. Shown here in navy/fuchsia, other colour ways are available including a striking yellow/grape.
2 – BEST FOR MULTI-PURPOSE USE
Berghaus Extrem Micro Down Jacket 2.0, 423g
€200, www.berghaus.com
If you're looking for a down jacket that you can wear to both walk the dog and climb a mountain, then this is it. For starters, the fit is superb. True to size, the panels under the arms make it snug at the waist and roomy around the shoulders, giving you loads of freedom to move while keeping the warmth of its 700 fill down where you need it most. Its Hydrodown is treated with Nikwax, to ensure you stay toasty even when the jacket gets wet, and the feathers are ethically sourced.
The metallic-look Pertex Quantum outer is showerproof, windproof and robust, and the three zip pockets are super useful and accessible. There are also lots of other little touches that show this jacket has been designed with care. The in-pocket hem adjusters make it easy to tighten the hem with one tug, even while wearing gloves; the extra-soft fleecy inner that covers the extra-high collar makes it really snug; and the hood, which has a stiffened peak, is fully adjustable and will take a helmet. The Extrem is basically everything you'd expect from a Berghaus jacket. You won't be disappointed.
3 – BEST FOR WINTER SPORTS
Salomon Outline Down, 289g
£250, www.salomon.com
Salomon is a French ski brand with its roots set firmly in the snowy playground of the Alps. It's been making innovative ski gear since 1947, and with that in mind, it's no surprise that the Outline Down jacket has been designed to fulfil a snow queen's needs. What sets this jacket apart from some of the others on test here is its unique profile and body mapping. While the majority of the torso and arms contain the responsibly sourced 700 fill goose down, the areas most likely to get wet from snow or sweat – underarms, side panels, shoulder blades, cuffs, and hood – are filled with a quick-drying synthetic insulation.
The hem is finished with a precision-fit double elastic, a welcome addition that ensures the jacket stays in place no matter how vigorous your activity. Now for the price: Yes, it's the most expensive jacket on the test. Is it worth it? That depends on what you're after. While the Outline lacks some of the other desirable features mentioned here, like an adjustable hood, its purp ose is to be worn as a mid-layer for snow sports, and it fulfils that brilliantly.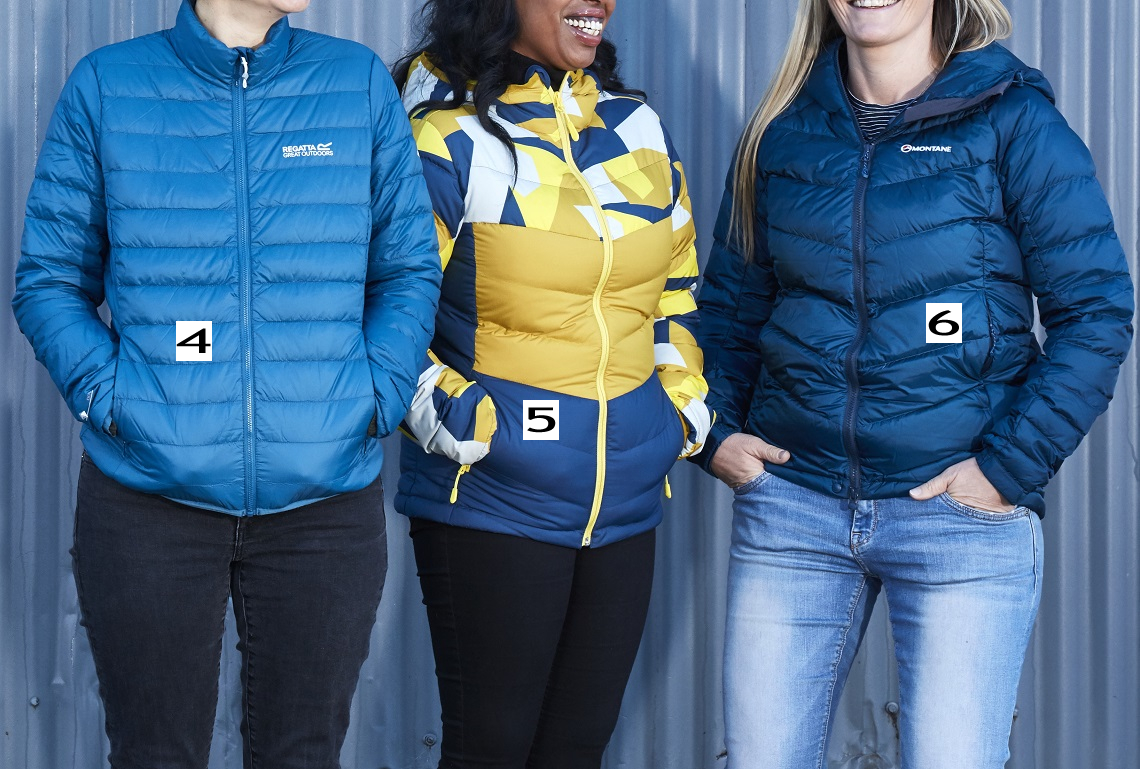 4 – BEST FOR JUST IN CASE
Regatta Whitehill Lightweight Down, 1949
£100, www.regatta.com
This is the lightest jacket on test and is actually billed by Regatta as a 'sweater', which is something I'd totally agree with. Like the Mac in a Sac Polar, its no-frills approach means it packs down very small, making it ideal to shove into an already full backpack as a 'just in case' afterthought or keep on hand in the car. Its cleverly designed integral stuff sack means you can put it away easily mid-hike, too. It's perfect as a mid-layer and allows plenty of room for movement, though the fit is perhaps not as tailored as some other jackets on test (again, think sweater).
Despite its slightness, the Whitehill's 600 fill is surprisingly warm, and although the polyamide shell is perhaps not as fancy as some of the other outers with their patterns and metallic sheen, it's very effective at repelling water and keeping out the wind. Super serviceable and definitely worth the investment on a price-per-wear basis, this is the sort of jacket you'll reach for from Autumn through to spring in the UK and wonder what you ever did without it.
5 – BEST FOR BREAKING THE MOULD
Jack Wolfskin Hideaway Jacket, 417g
£150, www.jack-wolfskin.co.uk
In a nod to the brand's 1980s roots, the Jack Wolfskin Hideaway is a hard one to miss with its retro print and colourful design. This jacket both looks good and is up to the task, in town or country. The 100% recycled Stormlock outer shuts out the wind and repels the wet, as promised – it's also surprisingly breathable, too, so you don't get that damp, fogged-up feeling. More suited to being worn as an outer than as a mid-layer, owing to its comparative bulk, the Hideaway is best for adventures and activities when you know you're going to be happy wearing down all day.
The hood isn't adjustable but would take a helmet and certainly won't blow off in a gale. The collar is nice and high, and with the hood up, forms an effective cocoon. Stuffed full of 700 fill high-performance ethical duck down from its adjustable hem to its well-fitting hood, this jacket offers the kind of warmth and comfort that's basically only one step away from being back in the womb. A word of warning, though: you won't want to take it off.
6 – BEST FOR BEING PREPARED
Montane Cloudmaker Jacket, 560g
£200, www.montane.com
The Cloudmaker is the girl scout of down jackets, designed for heavy, active use in the worst conditions. At 524g, it's not the lightest or easiest to pack down, but that's okay, because its robust water-resistant Pertex Quantum Pro outer will stand up to all but the wettest conditions, and if you find you need to squash the Cloudmaker into a backpack, it comes with its own dry bag for doing just that. There are so many zips, toggles, pockets and fastenings it's impossible to feel underprepared in this jacket. The fleece-lined zip handwarmer pockets are particularly enjoyable, while the zipped inner pocket and drop pocket are welcome additions.
The hem, cuffs, and hood (which has a stiffened peak and can accommodate a helmet) are all fully adjustable, so you can batten down every hatch, and keep the warmth of its 650 fill RDS-certified down within. Ideal for scrambling, cold-weather belays, and winter hikes, this jacket is a bit bulky for layering up (unless you're planning on tackling some really serious weather) but as a stand-alone jacket, it's a good buy loaded with value-for-money features.