ICE swimmer, ROCK climber, COMMUNITY builder. These are just some of the HATS worn by GILLY MCARTHUR. Here are some more: MINDFULNESS instructor, SWIM coach, ILLUSTRATOR, FESTIVAL director. They might sound incongruent, but they're all tied together by a focus on mental WELLBEING and ACCESSIBILITY. It's hard to say which Gilly loves more: helping others to ENJOY the OUTDOORS, or being in it herself
Interview: Emma Fast-Feild
Images: Jumpy James, WWW.JUMPYJAMES.CO.UK
It's late November and Gilly McArthur is talking to me from her home in the Lake District. She's just been for a swim and is still wrapped up in a woolly hat and a few coats.
There's little point in asking her how far, how cold, or how long her swim was. For Gilly, outdoor swimming is all about creating connections: with the cold water, with the outdoors, with other people. It's refreshing to be immersed in a world where ego has no place.
IN THE SWIM
That's not to say Gilly doesn't push herself. She swam every day for charity initiative RED January in 2019, 2020, and 2021, and is dropping herself into the biting water whatever the weather this year, too. But for Gilly, cold-water swimming is also a big part of a self-care routine that, to others at least, might seem extreme. "I love the adventure of triangulating all my weather and wind direction apps to find the safest place to swim that might have ice. And I love swimming next to places where I've climbed," she says.
"The Lake District has some beautiful high mountain crags with amazing bodies of water at the bottom. And there's something lovely about the juxtaposition of getting into a body of water that's got an ice lid on it. But, in the summer, I was skipping across the mountaintops nearby with my rucksack and my ropes having a day out with my friends."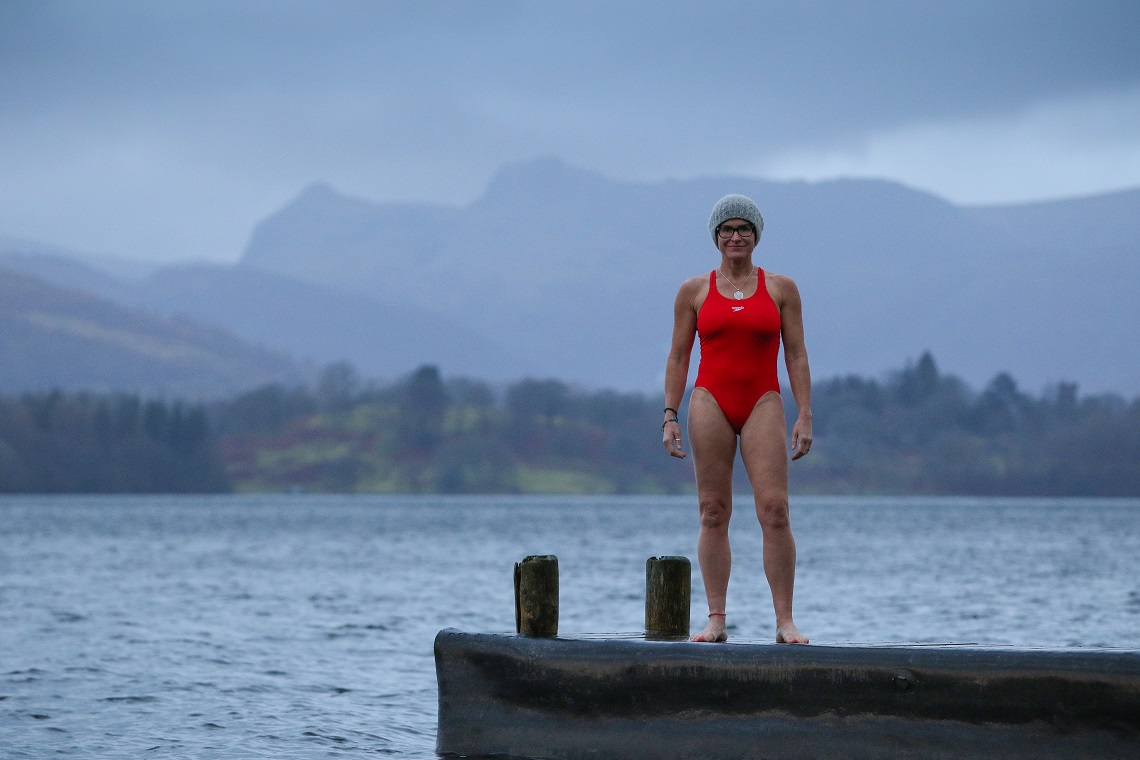 We're here to talk about her swimming, but climbing was Gilly's first love, and she probably wouldn't have got into swimming if it hadn't been for the climbing — and not just because she needed something outdoorsy to do on the many rainy days in northern England.
While she's still keen to push her grade, she doesn't do it as recklessly as she did before she broke her back in a climbing fall. "It was an accident that could happen to anyone," she says. But I reckon that not everyone could pick themselves up in quite the same way afterwards.
Perhaps that resilience is in part thanks to her "free-range" childhood. She was born and brought up in Aberdeen where she played on the (chilly) beaches and hills, learned about the trees, and swam in the rivers. She's like her mum and dad, she says, "naturally more half full than half empty."
BODY OF WATER
When we speak, Body of Water has recently screened at Kendal Mountain Festival. The film follows Gilly as she swims in frozen waters in the north of England and Scotland. The picture on the wall behind Gilly right now couldn't be further from Body of Water.
It's an aerial shot of London's Parliament Hill Lido. "I flipping love this picture and I've never even swum in any of the lidos in London. It would be a different experience to the lake this morning. I didn't swim any distance at all. I just floated around and looked at the swans overhead and got frightened by a diving bird that popped up right beside me!"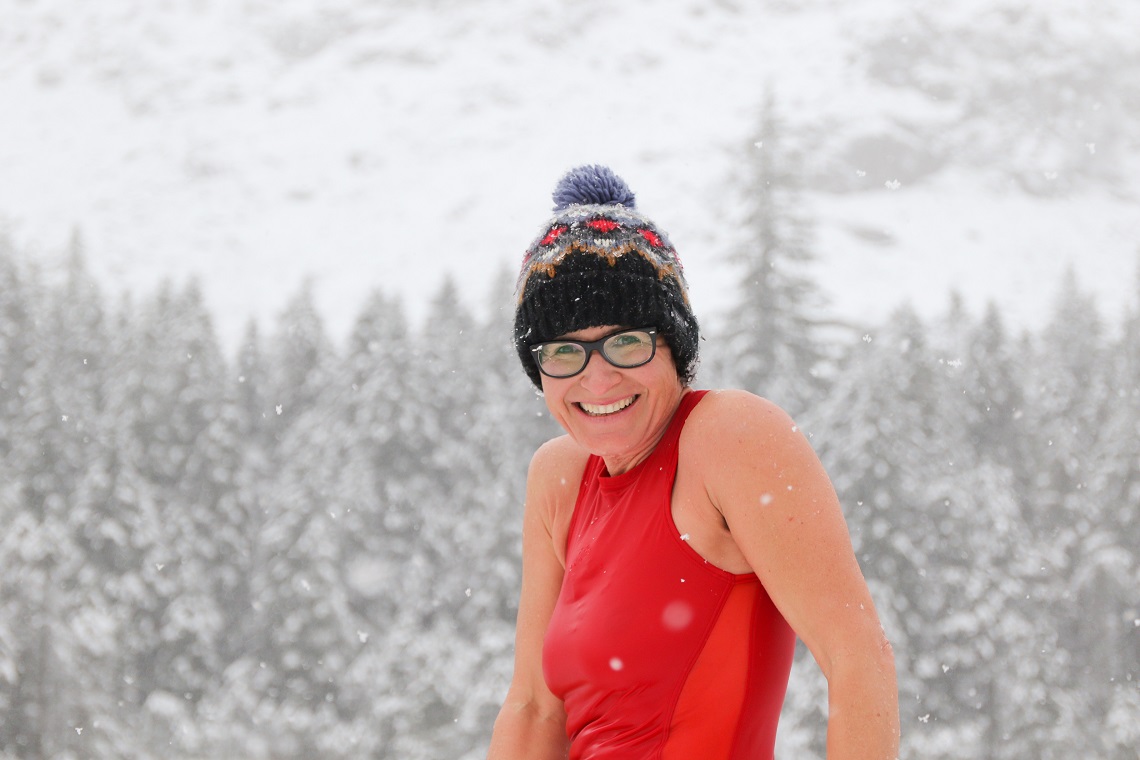 It's hard to imagine Gilly being scared in the water. This is someone who regularly swims in water below 5C; that's officially an ice swim. In Body of Water, we watch her smash a lonely channel through the ice on a lake fringed by snowy pine trees in the Scottish Highlands. She wears only a bright red swimming costume and yellow beanie. The coldest water she's ever swum in? -2C, in a waterfall.
"It's amazing what we can adapt to and find joy in if we just show up and give it a go," she says — and by the end of this interview, she might have persuaded you to do exactly that.
SKIN DEEP
"My first ever swim in the Lake District was on Windermere in October about eight years ago, with a bunch of women who were slightly older than me. I was wearing a thick neoprene surf wetsuit and they just had swimming costumes on. The water was probably around 15 degrees. I got in and thought, 'Oh my god. It's so cold. How are these women not dying of hypothermia?'
"When I got out (after a really short period of time), they explained to me in very elementary ways that it's better to ditch the wetsuit 'because wetsuits are just a faff!' That night I googled, 'Will I die of hypothermia if I get into the lake?' and 'What are the signs of hypothermia?' "I felt like I hadn't given wild swimming the right chance.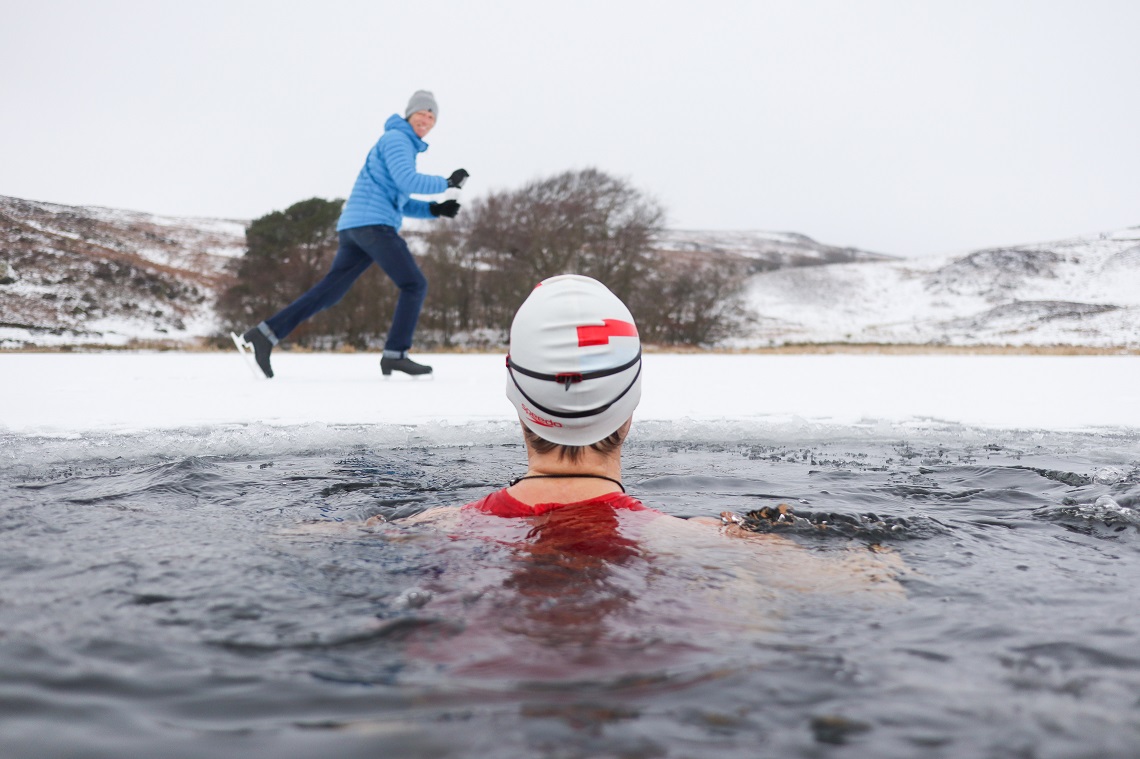 It was the women's enthusiasm that made me think there was something more to it. If they'd been standing there telling me, 'it's great, you've just got to do it,' it might have only felt like something to be defeated, but they were laughing and looking like they were having a great time, with cake and tea afterwards. I wanted to be part of that group. The next day I went back. And I never wore a wetsuit again.
"After that, I started meeting up with some people down at the lake on Fridays in December, January, and February. We'd eat cake and swim out to a buoy and back. They were accomplished triathlete swimmers, but in winter, they dropped the distance so it wasn't about who was the best swimmer. It was about getting this cold-water connection.
NO EGO
"I like that about the cold. You have to ignore the ego because if you take it to the water, you're potentially riding into a danger zone. But that's just one of the reasons I love cold water swimming.
"Life can be very competitive if you let it. We're taught to strive, to do, to achieve. I do want to get better at lots of things — I love running, I love climbing, and I want to get better at them — but, for the moment, I've got no interest in making what I love about the connection to the cold into something that's about performance. It's nice just to get in the water and float!
"Coldwater swimming sets me up for the day ahead. If I can get into an unbelievably cold body of water semi-nude before dawn, then I can send a few emails and complete a few chores!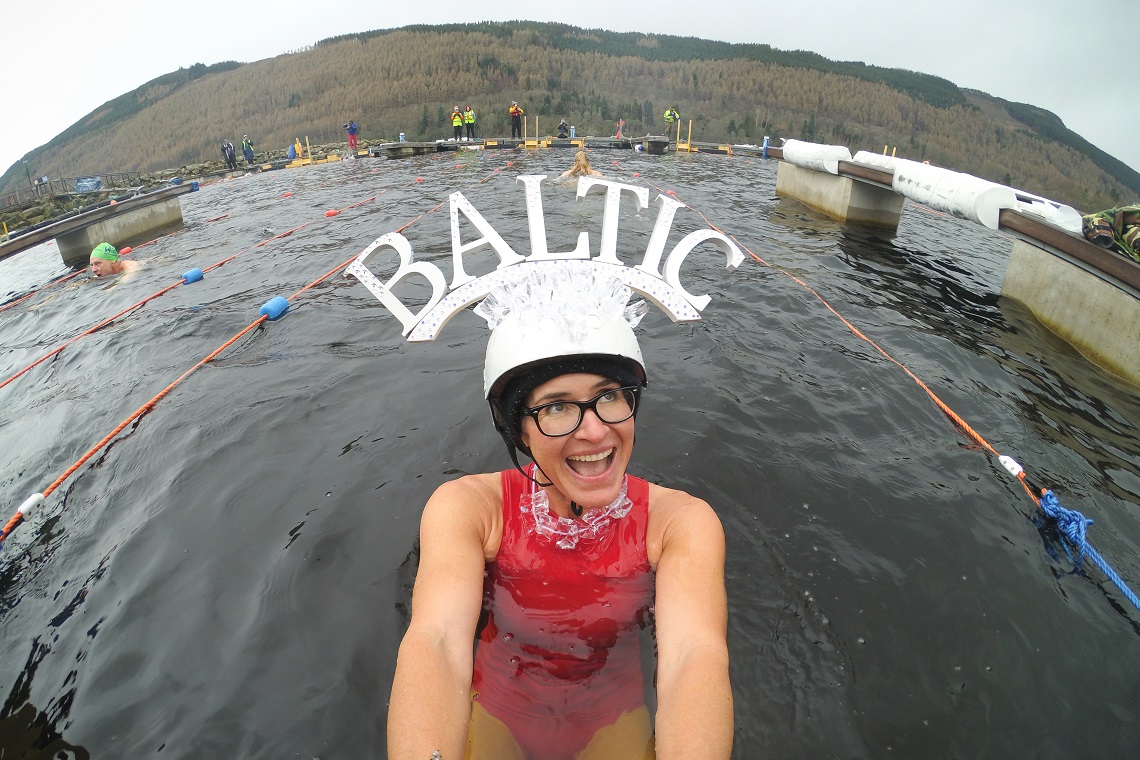 "Cold water swimming releases the happy hormones — the dopamine and the serotonin – that make you feel alive. It's a chance to stop and observe rather than think about the day ahead. As it gets colder, the only thing you can really think about is the water.
"I also really like to notice nature unfolding each year. In springtime, there's a pattern to what flowers and bits of wildlife come up first. There's a little bit more of a sprout and there's a bit more of a fern unravelling. It's fascinating.
DROPPING IN
If I'm not with other people, before I get in the water I tend to spend a while at the water's edge just sensing – in meditation they call it dropping in – the wind on one side of my face or the other, listening to the sounds, feeling the weight of the shoreline as it meets my feet. It's about connecting in a sense-alert way to where I am, and then connecting to my breath and calming it down.
"I try to get into the water when my heart's calm. If you get into the water when you're giddy and laughing, it's fun, but there's something quite nice about setting your mind, observing your breath, slower breaths, and a gentle exhale as you drop down into the water. It's about being as relaxed as possible to allow your body to sink into the experience of the cold. There's never an end game or goal in it; it's all just an unrolling and unravelling of stuff. I think a lot of people swim for the same reason.
BLUE SPACES
"The community side of wild swimming is important to me too. I'm a swim coach and run Blue Mind Swim [free monthly cold-water dips for mental wellbeing, for all abilities]. There's hardcore data about how and why the cold water is good for things like depression, anxiety, menopause, and libido. A recent study by Cambridge University showed that cold water can help protect the brain against degenerative diseases like dementia. Even being near bodies of water or listening to the sound of water can boost your mental health. It's not just anecdotal. The benefits are undeniable.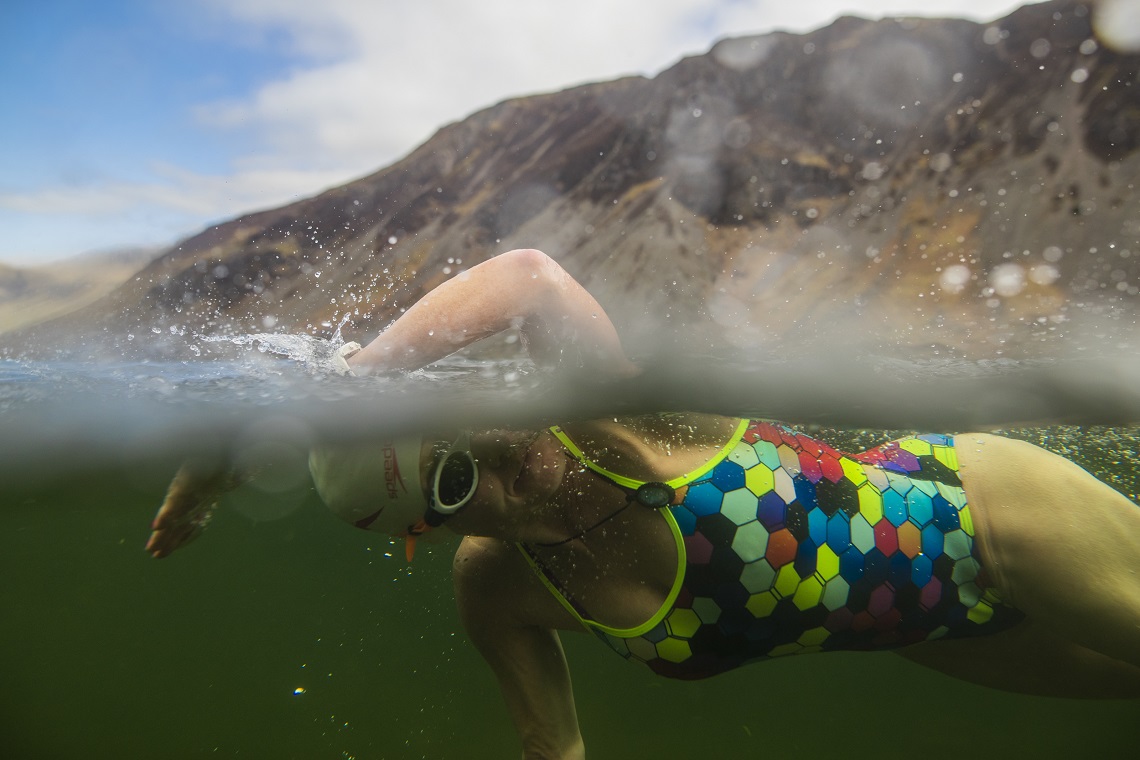 "Some of the women that come to Blue Mind Swim have chronic pain, which is eased by getting into the cold water. Some ladies that joined on the first session came down with swimming costumes and dressing gowns — they didn't have any kit, not that you need much for swimming, and they didn't look like your typical outdoorsy sort of people. They tentatively got in and since then, they've been down every week.
They probably swim more than me. Some of them are off their pain medication, they've reduced the amount of antidepressants they have to take. They're happier, more joyful, they've found purpose. They found a community and now bring other people to the water.
FIVE WAYS TO WELLBEING
"I feel it too. Since starting cold-water swimming I'm rarely ill. It also helps have a better response to stress generally. When you put your body into a stressful situation, you're training your brain to handle stress better.
The five ways to well-being, devised by the New Economics Foundation, are: connect, be active, take notice, learn, and give. The theory is that doing these things will make you happier. And all of them are in sharp focus when we go cold water swimming or swimming outside. It's about engaging with the outdoors and connecting with a community. It's about learning a new skill, keeping active, and noticing the nuances of nature.
"That, coupled with the meditation — which is about finding peace in a day-to-day, moment-to-moment sort of way — helps make me a nicer, healthier, happier person.
IT'S YOUR TURN
"Through Blue Mind Swim, we're teaching people to swim in cold water in a way that's correct and safe, and it's making a real difference. I like planting those seeds of possibility for people. What they want to do with it is up to them, but at least they know that if I can do it, they can do it too.
You don't need to make it more complicated with any fancy process. The key to the cold is to just show up. You can relax into it and do it in a peaceful way. At least if you understand the risks and give it a go, you can say that it wasn't for you. A couple of people have even said to me that coming to the cold water sessions has changed their lives."
---
WHO'S WRITING?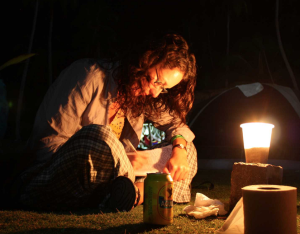 Emma Field is a travel writer specialising in UK travel and tourism. In the past, she's travelled overland from Holland to Singapore via Mongolia solo, then around the edges of India and from Rio to Winnipeg. Nowadays, epic overland journeys are harder to plan with two tiny routine-lovers in tow, so she mostly gets her kicks outdoor swimming, exploring the UK, and interviewing remarkable people who have made adventuring their way of life.