COLD HANDS, WARM HEART
Polar explorer MARK WOOD has been to the ends of the Earth and back again, to understand its EXTREMES and his own limits. Driven by more than a need to EXPLORE, Mark's expeditions are fuelled by his PASSION for this planet and sharing its EXCEPTIONAL places with others. He hopes that in doing so, he can help more people feel CONNECTED to the world we live in and inspire them to PROTECT it
Mark Wood set out on his very first supported, solo expedition at the age of six. Sneaking through a hedge, he escaped his garden in Coventry, West Midlands, and embarked on what was to become one of the most thrilling escapades of his young life — a feeling he's continued to chase long into adulthood.
"I remember running along the pavement and then cutting down an alleyway," he recalls. "I went into this shop, which was only a few 100 yards away, but to me, it was days away. I had some money in my pocket, and I grabbed these one-penny sweets. When I got back home, I ate them in the bush. The feeling of butterflies in the stomach and 'what's around the next corner?' is the same feeling I get when I jump off helicopters into the Arctic and go up mountains today. It's that childlike feeling of adventure. And I think if you lose that, you lose the whole process of what exploration is about."
Growing up, Mark had no desire to be an explorer. Instead, he sought inspiration in the fanciful worlds illustrated by his favourite Disney artists — a career he hoped to pursue. "I've always chased that feeling of escapism, whether it's a film or just another way of doing things that are not the norm," he explains. "I did that through art; if the teacher said, 'draw a vase', everybody in the class would draw a vase, but I'd draw another concept of a vase. I just thought differently."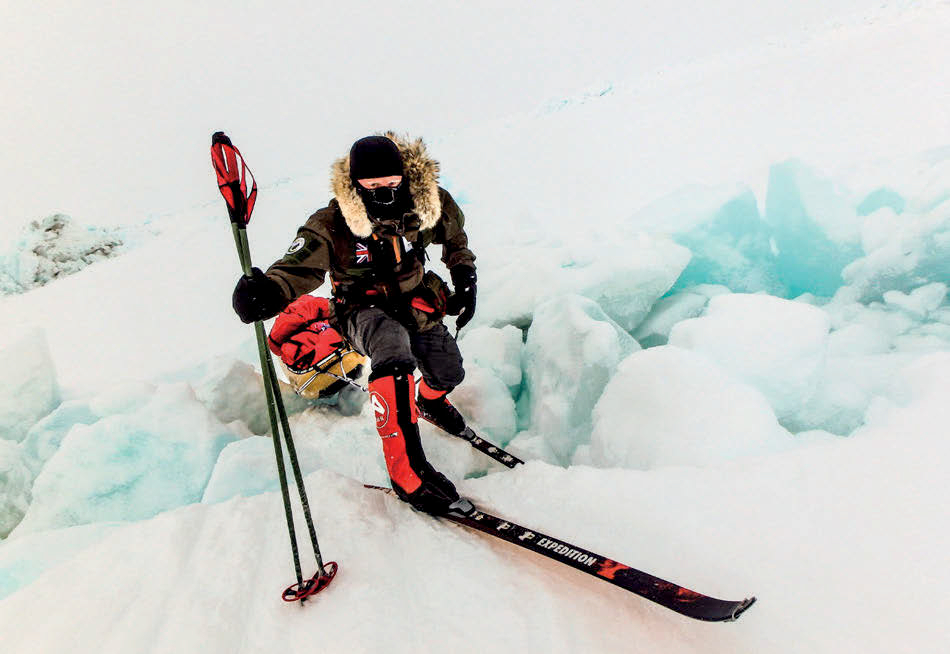 Perhaps it's no surprise that his creativity, alternative way of thinking, and love of escapism eventually led him to seek out adventurous places, though it took him a few years to realise that he's an explorer at heart. After seeing a poster for the British Army of 'some guys standing on a beach having fun,' he joined up and spent four years at Catterick Garrison — his "university days" and a way out of Coventry's concrete jungle.
Although the training didn't inspire a career in the Forces, it revealed Mark's aptitude for endurance and discipline, invaluable skills when travelling in remote places. The military also taught him other valuable lessons about himself, ones that ultimately led to his departure from the Army. The first was that he's not the kind of bloke who can just stand by while someone else is publicly degraded; the second was that he had an unfulfilled urge to see the world.
"When I left the Army, I went back to all the places I'd been with the military — Israel, the Middle East, Africa — only without a gun, just to soak it all up," he explains. When he returned to the UK, Mark joined the Fire and Rescue Service. But the draw of adventuring in unknown lands was strong, and when an opportunity arose in 2002 to join a training expedition in Arctic Canada, Mark took a break from the service to seize it.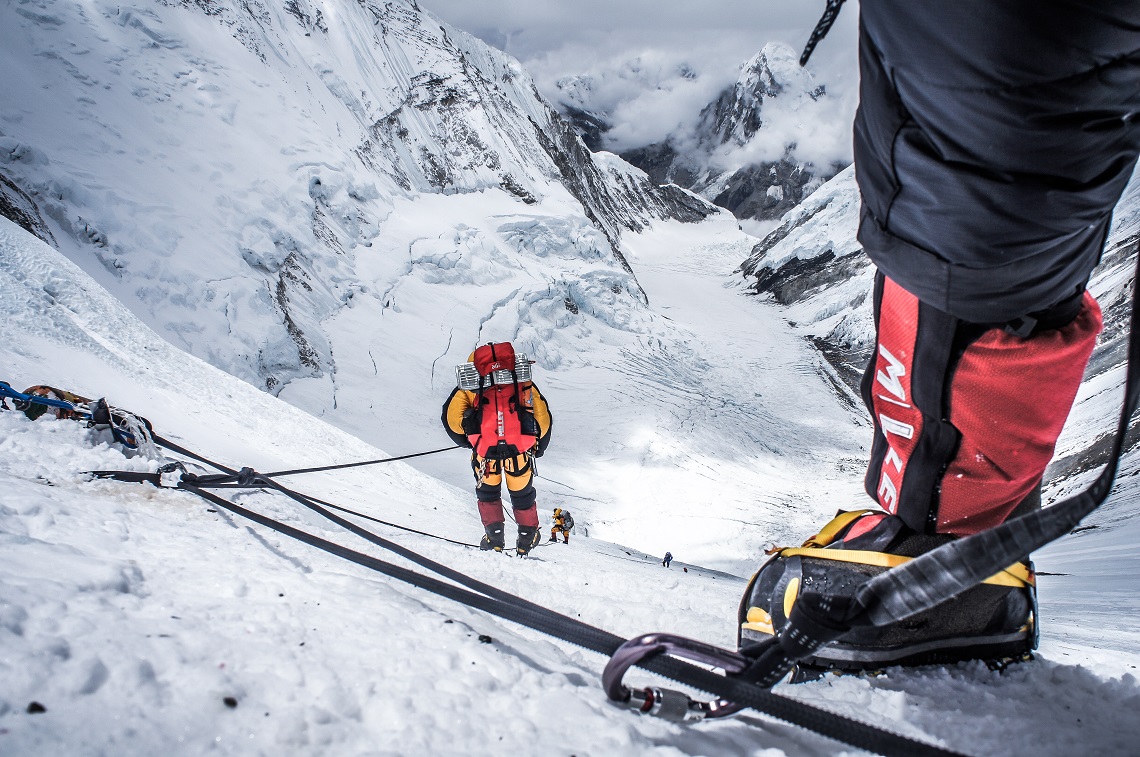 COLD COMFORT
Resolute Bay is an eight hour-flight north of Ottawa. At -35C, it was a baptism of ice for Mark: "I remember walking away from our team in a panic, my heart beating, feeling claustrophobic and like I couldn't breathe," he recalls. "All I could think was, 'I can't get out of this cold!' Arctic shock, I think it's called."
Luckily, his firefighting training kicked in and he was able to compose himself. Over the next 70 days, Mark learned how to live, move, and survive on ice. But he took far more from his first Arctic experience than just practical skills. "I learned how to appreciate the purity, the serenity, the harshness, and the anger of what the Arctic was providing in front of me," he enthuses.
"Standing alone away from the rest of our team really got to me. It was a real revelation to realise: 'I like it here.' I'd read what people have written about Polar regions saying it's the worst place they've ever visited, and I couldn't understand that. This was the cutting edge of exploration!"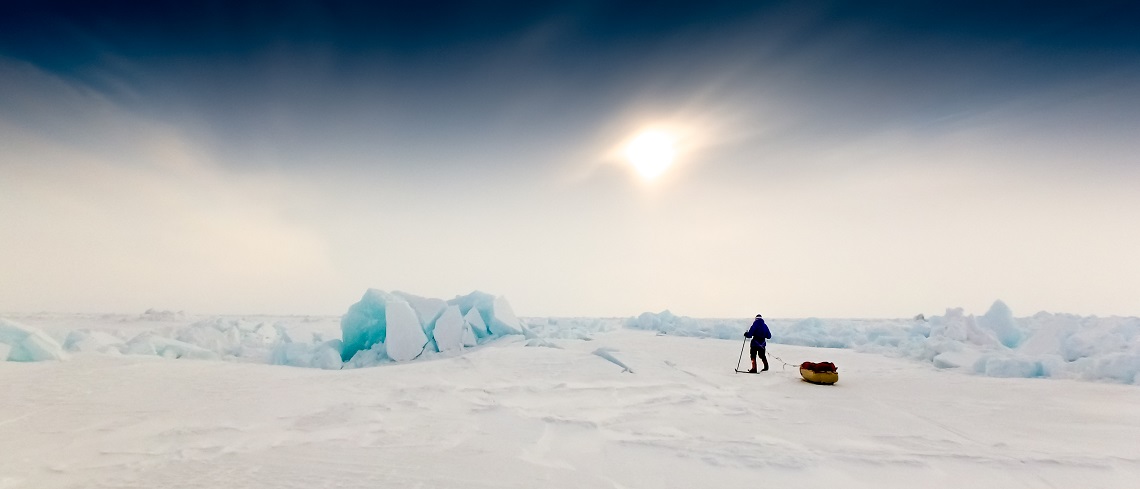 Numerous expeditions with the team followed with Mark learning a little more about cold-weather exploration with each trip north. Soon, he was leading them, spending up to three months a year in remote places like the Northwest Passage. "It's an area of natural beauty where animals live with no human contact," Mark describes. "We saw 50 or 60 hares in one area, just grazing, and caribou, muskoxen, lemming… They don't know what humans are capable of, so they don't bat an eyelid. And that goes for the Polar bears, too."
Polar bears can smell a human from 20 miles away on flat ice. They can run as fast as a horse and swim extraordinary distances. They're well-honed hunting machines, one of nature's most effective predators.
"When you see a bear, it brings the Arctic into perspective; it's a remarkable thing to have on an expedition," Mark grins. Having 'lived' with a bear that he couldn't get rid of for three days while training in Svalbard, he's pretty laidback about encountering them, though he does admit to not sleeping much during that time.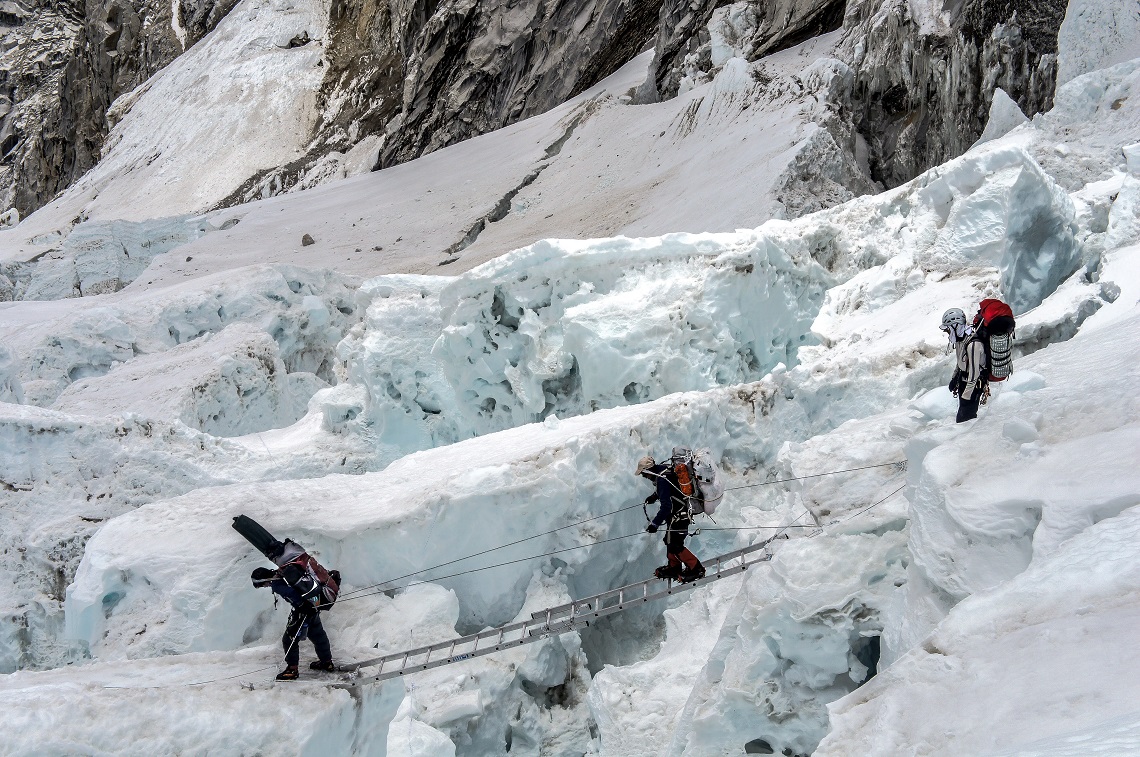 Bitten by the adventure bug (though thankfully not the bear), Mark began travelling to the Himalayas during the Polar off-season. "My very first trip to Everest Basecamp, I went on my own with just one guide. It was like going to the moon — my first big adventure!" he says, jubilantly.
Over the next few years, Mark went on to set up his own Himalayan adventures, guiding clients to Everest Basecamp and around the Annapurna Circuit. During this time, he was also leading Polar expeditions for TV crews and making his own award-winning documentaries. Before too long, expeditions were his life. "Exploration is a true and honest passion of mine. And it needs to be because it's very tough," he confesses. "You've got to really, truly believe in yourself and what you're trying to achieve when you're sat in front of an investor."
GOING SOLO
He admits that in those early days, his drive was mainly ego — "I was trying to replicate my then-heroes — Scott, Shackleton, Tom Crane." But after six years with the team, he came to realise that what he wanted was more than just hero shots in frozen locations. "I kind of hit a wall and thought, 'where do I want to go with exploration?'."
Mark was inspired to take on his own extreme solo challenges, to develop his personal connection with the Polar regions and engage with Arctic environments on a new level. In 2011, he set out from Hercules Inlet, Antarctica, to attempt to become the first person in history to ski solo and unsupported to both the geographic South and North Poles consecutively.
"As the plane that dropped me off disappeared, a quote from Sir Ranulph Fiennes came into my head: 'A thousand jumbled thoughts helped oust the appealing realisation that this was my first step of several million, my first breath of several billion,' he recalls, "but all I could think was 'oh, shit!" A fair assessment, given the circumstances.
Mark's South Pole leg of the journey saw him travel a total distance of 612 nautical miles on skis in 20mph winds and temperatures of -30C. "One way of coping with a 360 void is to take music," he reveals, "but on day five of 50, I lost my iPod. My knee was swelling, my bindings were breaking, and I was feeling really sick. I sat in my tent for about a day and a half, just wanting to give in." But a phone call home to a fellow explorer put Mark back on track.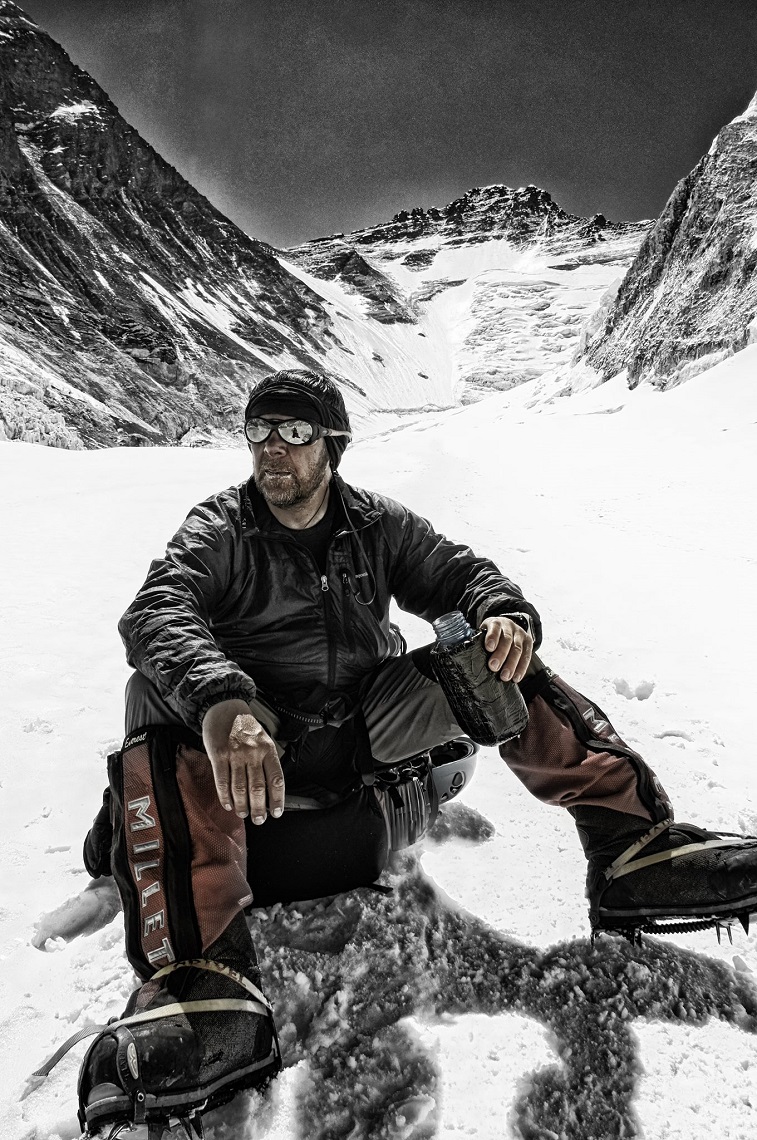 "I closed my eyes, and in my head, I started to dreamscape where I wanted to be most — on a beach in Norfolk where I take my dogs, smelling the pine trees, the sounds of the ocean and my dogs barking, throwing sticks for them… And that's how I reached the South Pole."
That Christmas, the front page of the Metro carried an aerial photo of Mark in Antarctica with the headline: The loneliest man on the planet. But he was also the happiest man on the planet, so he says: "The Arctic gives you complete clarity to think. It's really therapeutic," he affirms. "I had memories of my mum dying and other personal stuff I was dealing with as well. Sometimes I was quite weepy, and then I would get this feeling of an arm around my back gripping my shoulder encouraging me to move forward. It was zen-like; I learned a lot about myself."
Within three weeks of completing his South Pole expedition, Mark set out for a 300 nautical mile ski-trek to the North Pole, his original plans scuppered due to a lack of ice from the Canadian coastline.
"It was an extraordinary mission statement and full of ridicule from inside the adventure community," he says, frankly. "But I only listen to certain people, those who've been on expeditions with me. They're the guys that know what I'm capable of. I'm not the best in the world, but I've got persistence," he laughs.
Not only was Mark successful in his remarkable Pole-to-Pole feat he also garnered a lot of media attention. "I felt a responsibility to do something else then," he says. "My belief was in exposing what I could see and feel in an honest way. I wanted to take the word 'explorer' and look at different ways to inspire people to engage with that word, the ethics, and everything that go with it."
SKYPE'S THE LIMIT
In 2013, Mark formed an expedition up Mount Everest. Unlike any that had gone before him, Mark's aim was to summit the mountain while sharing the experience in real-time via Skype with classrooms full of school children. "I'd linked to a school in Coventry live via sat phone from the Northwest Passage back in 2007," he explains, "There were 18 children sat around two speakers every other day, asking me questions and plotting my route — that's where the idea was born."
Mark and his team documented the entire expedition via Skype from Kathmandu to Everest's final approach. Travelling through remote Nepalese villages, they linked with schools as far-flung as Africa, New Zealand, America, Thailand, and China along the way. "We found out that in Sweden, we were hitting national press," he says, excitedly.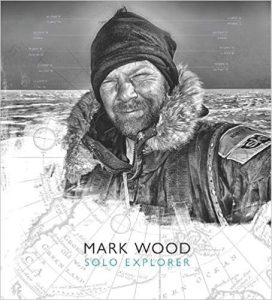 "The media was talking about these children who were linking with an explorer on Everest, chatting to him, having cookery lessons on expedition food, learning about the planet — they were really engaging with the environment, which makes me feel quite teary thinking about how it empowered teachers to do that."
On 6 May 2013, Mark held the first-ever virtual classroom on Lhotse Face. "I was sat on some ice with an anchor in the ground and a rope around my waist while connecting live to a school in Australia," he beams. "On the other end, 200 children were sat in a sports hall, looking at a massive screen of this explorer live in the Death Zone on Mount Everest."
More than 10,000 young people in 10 countries tuned in to share in Mark's experience, as he described first-hand what it was like to be at 7,300m on the approach to Everest's peak.
The plan was to climb the mountain and do a final broadcast from the summit, but at 8,598m, just 250m from the top, Mark took the gut-wrenching decision to turn back when the lead guide collapsed in front of him. "I went up to him and I looked at his face.
His head was down and when I pulled his goggles up, he wasn't conversing well," Mark recalls. "I made the decision [to turn back] based on me as a soldier, firefighter, an explorer, and a human being — somebody who understands life."
It was a devastating blow for Mark. "I got on the sat phone and gave the most honest update I've ever given in my life. I broke down because I'd put three years into creating this incredible moment for these young people and it had perceivable failed at the last minute. But they learnt more about turning back at that point than they would have done about me reaching the summit.
So, I measured successes in coming back and being able to tell stories like this — an honest account of what happened, the human side of it." Six years later, Mark and his team returned to the mountain and delivered live broadcasts throughout his 2019 Mount Everest expedition — the difference this time was the output of young people had increased to 1.2 million worldwide.
SOLO 100
Having literally topped the highest point of exploration — and shared it with millions — (alongside becoming chairman of the Explorer's Club / Great Britain and Ireland Chapter) — it would be fair to assume Mark's work is 'done'. However, creative minds are restless ones, and he's already well into planning his next global interactive expedition, one that'll take its junior participants to the very ends of the Earth.
"Solo 100 is the pinnacle of what I'm going to do, bringing all of my experience and understanding of connecting students with the environment into one journey. It's my last expedition raising enough money to do the hardest thing I'll ever do in my life," Mark explains.
Solo 100 will see Mark spend 100 days unsupported and unaided on some of the last remaining Arctic sea-ice in north Canada, to show the realities of the climate crisis through a series of 100 films, which he'll upload daily. The challenge for Mark will be threefold: physical, mental, and logistical — the conditions in Arctic Canada are now so tenuous that landing a plane on the fragile sea-ice is virtually impossible. The feat will be an official Guinness World Record attempt for the longest time spent continually moving alone in the region.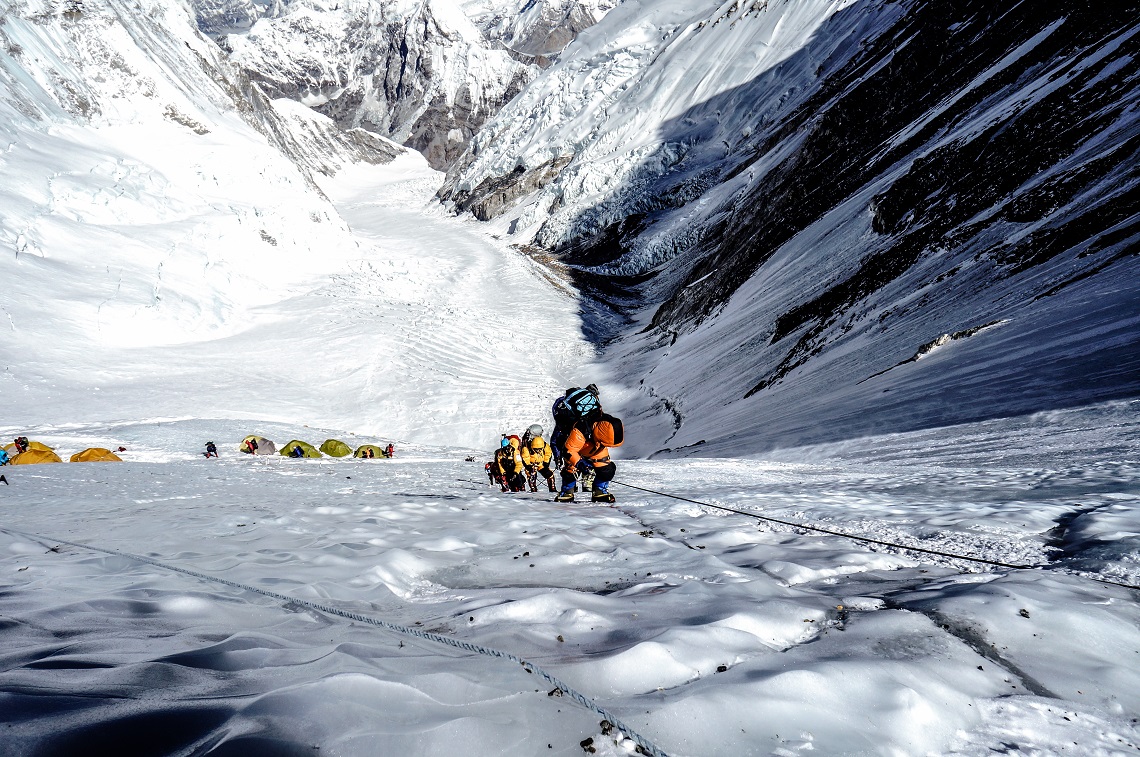 "I've done 50 days already, but it's a different terrain," he admits. "I'll be coping with the threat of polar bears, open water, strong winds, cold temperatures, and the mental stress of being alone, the day-to-day observations of my own health and equipment, food supplies… But my mindset will be on 100 days, not 50. The minute I wake up in the morning, my mind is focused on that expedition, I'm living it already. That's how much it means to me."
Mark's aim is to cover over 1,800 miles over 100 days, documenting his experience and uploading broadcasts. These will form part of a feature-length film alongside accounts from children worldwide about their own local issues with climate change. "My expedition will create noise," Mark iterates. "A platform to allow people to hear 100 voices from around the world, inspiring climate action. It's about having that equal respect for the environment and understanding the worth of the environment to your own existence."
"I've worked with all these great educational partners, to enhance my belief in how I should proceed with exploration," he continues. "'Explorer' is defined as 'someone who travels to places where no one has ever been in order to find out what is there.'. We're entering into a new era of discovery, and how we explore our world is changing. I've created this gentle legacy of exploration and the connectivity of young people. I feel a real responsibility to continue that."
The ultimate partnership goal, though? "I'd love life to come full circle and be made into a Disney film," he laughs. Look out, Elsa, you could have competition.
Follow and support Mark's Solo 100 expedition (www.expeditionsolo100.com) or join him on social @markwoodexplorer.