A world FIRST, a flesh-eating PARASITE, and a multitude of life lessons… When PIP STEWART swapped a job WRITING about other people's adventures for one of her own — following Guyana's ESSEQUIBO RIVER from source to sea — she came home with far more than a SUCCESSFUL expedition to talk about
When I catch up with Pip, she's in the Alps and her phone has only just started working. It's lucky for me but as far as Pip is concerned, being cut off was "beautiful". If her Amazon adventures have taught her anything, it's that the stress response from a message notification can be worse than that from a jaguar padding through her camp. The comment signposts what really sets Pip apart: her ability to extract meaning from some of the most challenging situations you can get yourself into.
When Pip was asked to join a core team of women aiming to be the first people to paddle the length of Guyana's Essequibo River, from its unexplored source to the sea, there was really only one answer she could give: "Yeah, let's do it." Because, what if…? Alongside dealing with deadly animals, rapids, and a neglected tropical disease, Pip found time to ponder some of the toughest questions faced by modern-day adventurers, including sustainability, over-tourism, and privilege.
"Anyone who's sat behind a desk for a long time will know what I mean when I say it can make you feel stir crazy. The screen starts blurring, you check Facebook on the sly. You're not actually doing anything you should be. "When my friend Laura Bingham rang, I was at work, already dreaming of adventure. I was Red Bull's Adventure Editor, which was amazing, but I really missed the open road and that sense of adventure for myself. Laura asked me to join her and her friend Ness, to paddle the length of the Essequibo, Guyana's largest river — a world-first expedition. The whole journey would last three months, and the plan was to leave in eight months.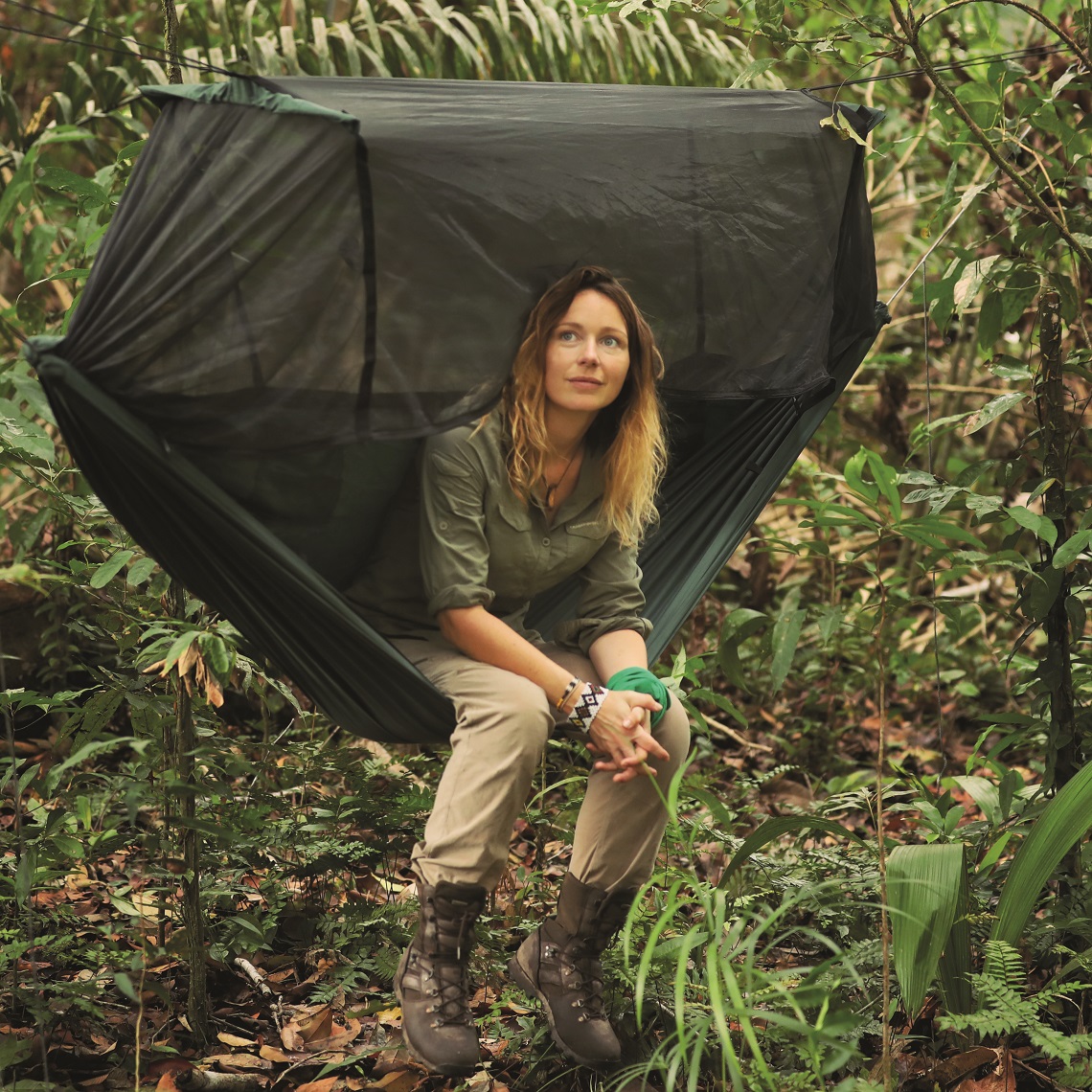 "I jumped at the chance, completely forgetting that I'd only kayaked once before and thought it the world's shittest sport. It was only after lunch that words like 'caiman' and 'piranha' started to come to mind. F.O.M.O.
"I'm game for most things. I lived in Asia with my partner Charlie for five years and we talked about travelling back to the UK from Malaysia overland. When he suggested we cycle I said yes, without actually thinking it through. I hadn't done much more than cycle around university, but I thought I'd figure it out. That approach has its ups and downs…
"Three weeks into the ride, I tried to break up with Charlie in the middle of a Malaysian side road because I was embarrassed. I'd told everyone I was going to cycle halfway around the world and I couldn't even get up the first slight incline. Then Charlie said something to me that really struck a chord: "This isn't a physical journey, it's a mental one." If I can sit at a desk and work from nine to five, I can sit on a bike from nine to five. I'm not going to be fast, I'm not going to break any speed records, but I can do it.
"If I'm being honest, the reason I said yes to Laura was the little voice that creeps up on you in the middle of the night going, "Are you fully living, are you making the most of this little time that we have?" I'd got pretty comfortable. My job was great but it wasn't what I really wanted to do. I'd settled. The 'what would happen if I didn't' question loomed large and the Essequibo expedition seemed like a great opportunity.
WHY THE ESSEQUIBO?
"I'd been to the Amazon region before and I felt drawn to it. I've never been anywhere more alive, terrifying, and wonderful. When the howler monkeys start up, it sounds pre-historic. It was a Faustian bargain: it's calling me but, shit, it's dangerous! "Laura's husband Ed [Stafford, the first man to walk the length of the Amazon River, See WFA Volume 5] had told Laura that the Guiana Shield is like Disneyland on speed for animals. No one had explored the Essequibo River from source to sea and that sparked an idea in Laura.
"The world-first aspect didn't hold that much appeal for me but being part of an all-female core team did. There was a real sense of sisterhood. A lot of emotional turmoil came up on the journey — I nearly sat on a deadly snake, Ness was dealing with a breakup, Laura was missing her eight-month-old baby — but I think that as women, we've got such power to lift each other. We were able to be so raw and honest and we laughed all the time. At one point, I had to scrub Ness's pants with soap in the river after she'd carried a dead hog that had been shot for food for the whole team.
"Having said it was an all-female team, we couldn't have done it without the help of our male Wai Wai guides from Masakenari, the village closest to the river's source. While we wanted to show what a group of women can achieve, it was also a multi-national collaboration. Exploration is often associated with flag-planting and world-firsts and there's a very deep, uncomfortable colonial history that comes with that.
"The expedition was a chance to really think about that colonialism, as well as the impact and ethics of travel. I'm a very different person now to the person that started the expedition. "To begin with, it was all about the physical adventure. By the end, I saw just how political and complicated a river can be. It's like a microcosm of society in the world. We started at this pristine source that teemed with life and beauty. As we came down the river and encountered more and more humans, we started to see the destructive nature that people can have, whether that's gold mining or a nappy floating down the river.
INTROSPECTION
"I went on an emotional journey, too. I started out too egotistical, a bit selfie happy. As we journeyed, I realised the implications of how being a foreign, especially white, traveller in a country can skew other people's view of a country and a place.
"The nature of the expedition meant that I was sitting by myself for eight hours a day in a kayak. It was a chance to think. If you're slightly introspective like I am, that's a good and a bad thing. In daily life, I probably wouldn't have considered any of these issues in as much detail, but having that headspace alongside the near-death experiences allowed space for an element of growth.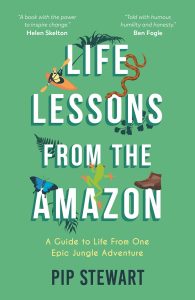 "Things could have turned out a lot worse several times, which was massively humbling. I ended up swimming a lot. You have to shut out the fact that you've just paddled past a 10-foot caiman. The Essequibo is thick and orange with silt, especially near the source where we were jumping in and out of the water trying to hack down obstacles with machetes. That was pretty sketchy! There are piranha and payara fish, a.k.a. vampire fish. One of our guides lost a chunk out of his wellies.
"Nearly sitting on one of the deadliest snakes in the jungle was terrifying. It sent me into a real shock state. You confront your ego and ask yourself, "Why am I doing this?" Eventually, I was able to say, "I could have sat on the snake, and it could have killed me, but I didn't." You can't change a situation but you can change your mindset.
"Once, a jaguar padded through our camp but when the threat had passed and the adrenaline subsided, I was able to relax. When I came home I realised that I was getting a similar stress response when my phone beeped with messages or emails. While the stress response in the jungle ebbs and flows, in our technological world it's constant. We've taken that jaguar and put it in our pockets.
ONCE BITTEN
"I got into the habit of asking everyone what their highlights of the day were. It's fascinating how everyone looks at the world differently. The highlight for James, our oldest guide, was often, "We're safe, we had good food." For others, it would be the sights, or the sound of rain on the water. "Doing the highlights was a great way to keep spirits up, to reflect on what happened and bring us back to our present in that incredible jungle. By asking that simple question I learned a lot about respect and how to live in nature. I learned to listen more.
"For me, the toughest part of the expedition came afterwards. I came back with leishmaniasis, a flesh-eating parasite caused by the bite of a sandfly. "I had a crusty papule on my neck so I went to the Hospital for Tropical Diseases. They told me that if I didn't get treatment this parasite could eat away at my nose and face. It's horrific. I went through a very old-school form of chemotherapy. I've never felt so weak.
The upshot of that was I realised just how problematic the whole issue of neglected tropical diseases is, because most people can't afford treatments. Even though this disease is present in 98 countries and over a billion people are at risk from it, drugs companies don't do much about it because there's no capital incentive.
"The problem with leishmaniasis is you can't really ever kill it. It's always lurking. It can re-emerge and you have to go through it all again. Only a few weeks before I finished my book, I had pus-like cysts coming into my neck. It's an ongoing thing that I'm getting checked out but it helps me put things into perspective. I look in the mirror and say, "I'm looking good, I've still got my nose!" And in a way, leishmaniasis has been a blessing because it's enabled me to have a platform to raise awareness of it.
"That experience was, again, massively humbling and it made me question why I did these things. Our Essequibo expedition was an amazing journey. I wouldn't change it but I wouldn't do it again. I feel like I'm a better person because of it, and I'm still growing. You know how people say adventure changes you? This has changed me like no other journey.
---
WHO'S WRITING?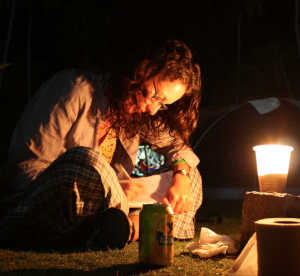 Emma Fast-Field is a travel writer specialising in UK travel and tourism. In the past, she's travelled overland from Holland to Singapore via Mongolia solo, then around the edges of India and from Rio to Winnipeg. Nowadays, epic overland journeys are harder to plan with two tiny routine-lovers in tow, so she mostly gets her kicks outdoor swimming, exploring the UK, and interviewing remarkable people who have made adventuring their way of life.