With wild camping becoming ever more popular and people wanting to get closer to nature and travel lighter, we've decided to take a look at lightweight shelters you might want to consider. Here we've tested standard and hooped bivvy bags, and a tarp tent, which are all best suited to slightly different scenarios.
They are united by the fact they are lightweight and will offer some level of protection to you and your sleeping bag, be it from the elements or the ground underneath. Some might be better utilised in summer, while other lightweight shelters will be good for year-round use. Ultimately, what you opt for comes down to your specific needs, but in the following reviews, we can at the very least give you a picture of what is out there. Happy camping!
Robens Swift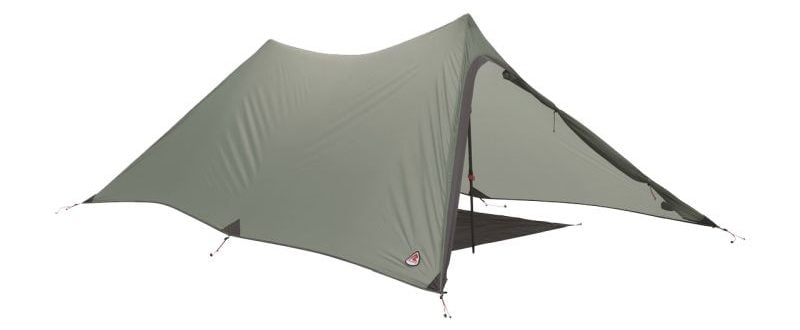 www.robens.de | £299.99
The Robens Swift tarp tent might just be the answer to your lightweight, wild camping needs. It's not a tent, bivvy, or even a tarp. It's something in between all of these things. It probably most resembles a tent, and is pitched by pegging out the flysheet and propping it up at both ends with two walking poles (not included). Then it's just a case of adjusting the tensioning straps to ensure it is taut, and you're set. It takes a little bit of practice to ensure the Swift is taut in all the right places, but once you've got the knack, you're all set.
The flysheet makes use of Robens' Hydrotex AWT-LT waterproof material, which is UV resistant and also retains its tension no matter the conditions due to its hydrophobic coating. It did a good job of shedding rain and wind, but it can get a bit noisy and feel a bit unsettling if it's really blowing a hooley.
Once erected, you'll find plenty of space inside the Swift, and an included ground sheet helps protect you and your kit from the ground. There's easily enough space for two people and kit, while a wide door is great for enjoying the view or doing some cooking beside your tent while keeping under cover.
By adjusting the height of the walking poles and how tightly you have pegged the Swift out, you can alter how close to the ground the fabric is. This means that in adverse conditions where the heavens have well and truly opened you can ensure you are well protected, while in better conditions you can make the gap between the ground and the fabric bigger, allowing more ventilation.
The Swift packs down very small (a similar size to the Rab Ridge Raider) and, at 876g, it's lightweight too. You'll hardly notice it in your pack, especially if you split it between two of you. If you're looking at lightweight shelters for wild camping or fast and light adventures, you can't go far wrong with this.
Rating: 9/10
Alpkit Hunka XL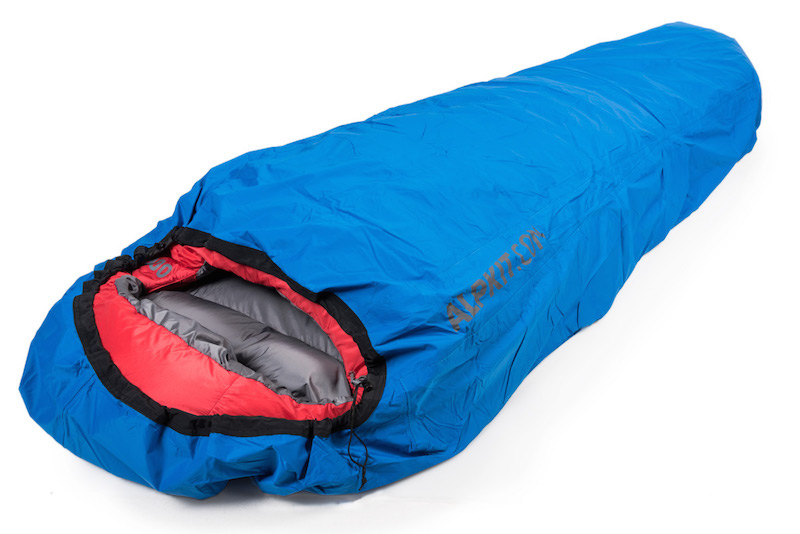 www.alpkit.com | £65
If you're looking for good kit at good prices, Alpkit is always a brand worth checking out. For this mini-test, we have the Hunka XL in for review, a bivvy bag that I've owned for a little while now. The original Hunka costs £48 and is lighter, but as I'm fairly tall (6ft 2in), I opted for the larger version, which sets you back £65.
It weighs just 500g, packs down to less than the size of a small loaf of bread and is available in three colours, Kelp (an olive green), Chilli (bright red) and Lego (a bright blue). The opening is closed with a drawstring which, while rudimental, is effective, but the hood of the Hunka XL is so large that you can often just fold it over instead if it's raining. There is a really handy stuff sack at the foot of the bag, where it easily packs into.
The material is tough, has high waterproof and breathability credentials, and hasn't let me down whenever I've used it. Condensation is often an issue with bivvy bags, but at worst, I've woken up with a slightly damp sleeping bag, which isn't too bad at all. For the money, it's almost a no brainer if you're just starting out with lightweight shelters.
Rating: 9/10
MSR E-Bivy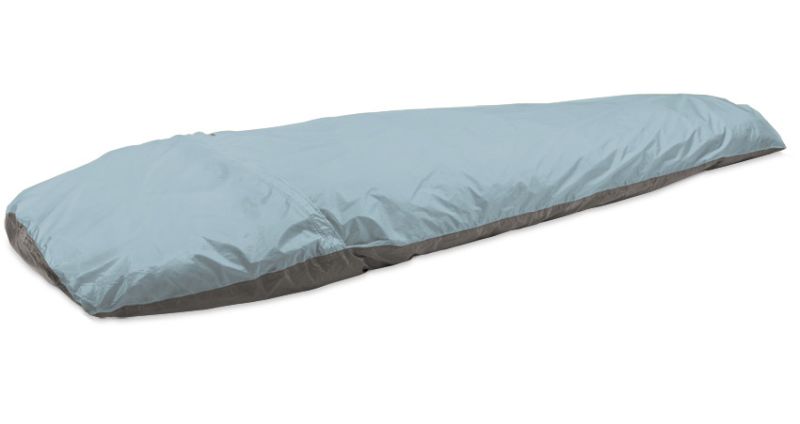 www.msrgear.com | £115
MSR's entry into this test is the E-Bivy. The first thing you notice about it is just how incredibly lightweight it is (262g). I mean, you'll hardly notice it in your rucksack, and it packs down impressively small, too. The next thing you'll notice is just how thin it feels; it almost feels a bit like a bin liner (no disrespect!). The floor fabric is made up of 30D ripstop nylon, so it should stand up to some wear and tear, but I wouldn't necessarily count on it for regular wild camping use, as its lifespan may be limited in this regard.
The floor fabric is waterproof (with a 10,000mm hydrostatic head rating), but the coated top half will only protect you from light rain. With the above in mind, then, the MSR E-Bivy isn't going to be a product you look to in all weathers. But, it is great option for extra protection in winter, for use under tarps or for those wild camps when the weather gods are smiling down on you. As it's so light, it's also a great piece of kit to keep in your pack in case of an unplanned night in the hills.
Rating: 8/10
Terra Nova Moonlite Bag Cover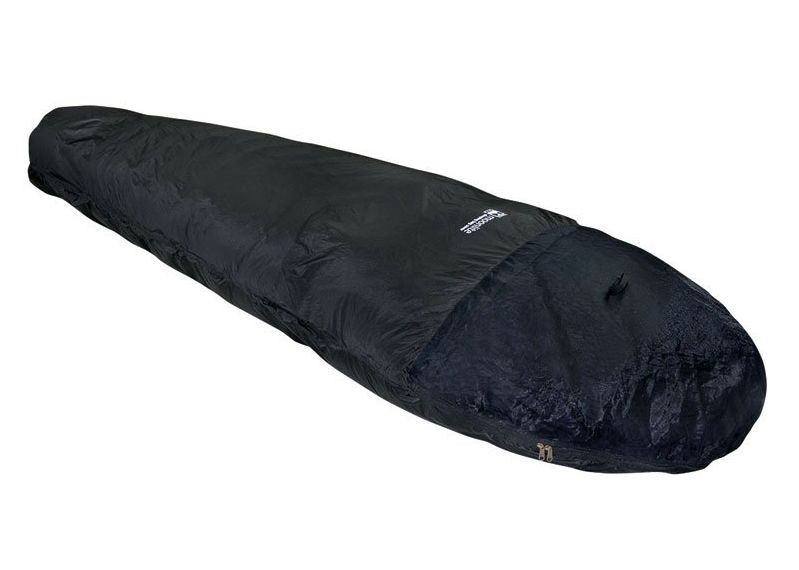 www.terra-nova.co.uk | £160
If you're buying a bivvy bag, chances are you are doing it because you want to go lightweight. Well, the Terra Nova Moonlite Bag Cover is certainly going to help you out in that regard. Weighing in at 210g and packing down to half the size of a Pringles tube, this is an impressive piece of kit when it comes to lightweight shelters. It's fully waterproof, with taped seams and is pretty breathable too.
Unlike a lot of other lightweight shelters, the Moonlite Bag Cover has a mesh covering in front of the face, rather than the waterproof material, which inevitably improves ventilation, but does mean it's not really ideal for use in wet conditions without a tarp.
The zip isn't the easiest to use, as there isn't a toggle on it, and I found the bag pretty claustrophobic and tight when inside of it. It was certainly a struggle to get fastened in. I am quite tall though, and was using a three-season sleeping bag. There is also a drawcord closure at the opening if you would prefer to use that. Paired with a tarp, this is a great lightweight option for wild camping, and it would also be a great sleeping bag cover in winter, or a handy piece of kit for emergencies.
Rating: 8/10
Rab Ridge Raider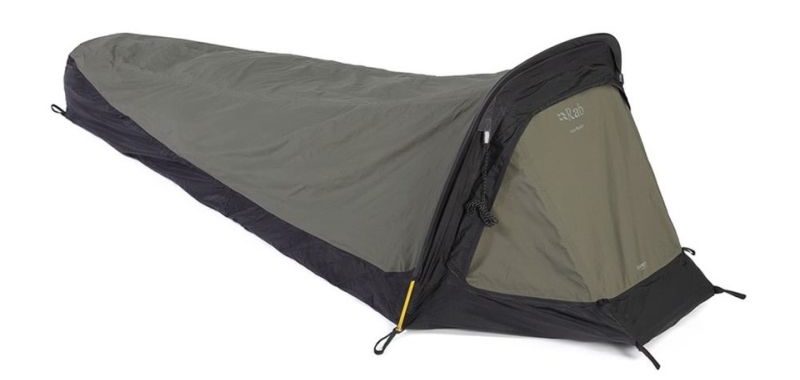 rab.equipment/uk | £300
If you find the standard style of bivvy slightly too claustrophobic, the Rab Ridge Raider is a great option. It's hooped, so it's not as lightweight (976g) as some of the other lightweight shelters on test, but it does allow a good amount of headspace.
It takes 30 seconds to set up, with one pole to thread through a sleeve above the head, and a handful of pegs to stake it out. Constructed of 40D eVent fabric, it feels tough and did a fine job of keeping the wet stuff out. The double-skinned door on this bivvy helps tackle condensation. When used with just the mesh door zipped up, ventilation is good and condensation isn't an issue. When fully zipped up, you may experience a little bit of moisture, but we didn't experience anything that particularly troubled us.
At £300, it's certainly not as cheap as some other lightweight shelters, but it does offer something different. Once you've wriggled in, it's quite nice inside. There is enough space to bring in a medium-sized pack (though I think you'd be pushing it with a 70-litre rucksack), and there's plenty of room around you to have torches, snacks or other essentials close by.
Rating: 9/10
Need something a little sturdier or heading on an adventure with a friend? Check out the best two-person tents on the market…