Maxwell Roche gives us his account of a life-changing sea kayaking adventure in the Faroe Islands…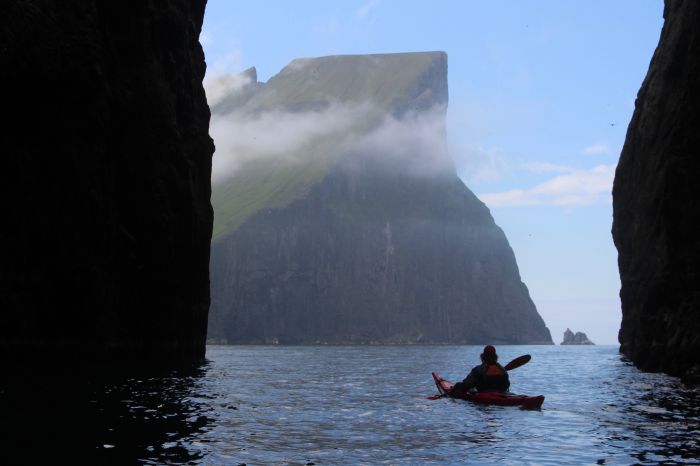 "Have a look around this next corner!" yells Murray from his kayak about 300 metres off my starboard bow, his voice faint but still audible due to the acoustic tension of such a vast body of perfect glassy ocean.
After three hours at sea I'm leaning back in my spongy seat, aching legs stretched flat, squinting to kaleidoscopic effect at the late afternoon sun and content to lie lackadaisically just a little while longer before swivelling on a paddle and heading for home.
"You have to look, just around the next corner!" yells Murray, my insatiably energetic cousin, for the second time in as many minutes.
I cast a suspicious eye over the dark clouds amassing on the horizon and look at my watch. We're three hours from the beach at Tjørnuvík and my arms are like noodles from paddling, but hey, we're 62° north, the sun doesn't set at this time of year, and that storm sure does seem a long way off. I pull myself upright, bend my bruised knees for stability, and stroke off with the smell of approaching rain nagging in my nasal passages.
"It's beaut," he says, as I pull alongside him. "You gotta see it."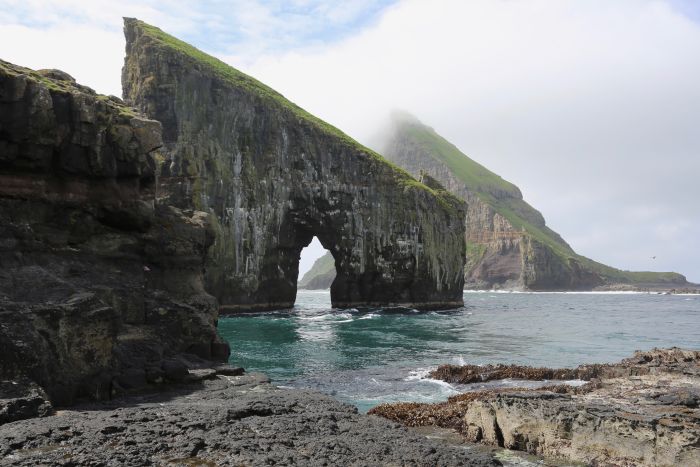 Often when I acquiesce to Murray's demands I end up in a life-threatening situation, but on this rare occasion it was instead life changing. As our kayaks are drawn by the tide around what I thought to be the next headland, we're swept transversely into a vice-like gorge of epic proportions. The sheer basalt cliffs that now surround us let out a yawn and we're swallowed like Jonah until, instead of rounding the headland, we're unexpectedly dissecting it.
Paddling tentatively now in near darkness, on a narrow and more agitated body of water, the arrow slit window to the world up ahead slowly becomes a sweeping panorama. Once free of the black-sided gorge, but not of its shadow, we receive our first proper eyeful of the distant coastline, an ethereal vista… and I've never seen better.
The island of Streymoy rises vertically 2,500ft out of the North Atlantic, like a 55-million-year-old sentry standing defiantly before the cruel North Sea. We watch a long fabric of cloud get sliced into ribbons by the cliff and swept away across emerald pastures, while fat, forlorn and tragically comic puffins swoop and bomb the water around us.
Backdrops before which to stage your Faroese kayaking adventure include not just cliffs and statuesque headlands, but booming caves and hidden black-and-white sand beaches that swirl like Viennetta beneath prismatic waterfalls. Part of the Kingdom of Denmark yet hidden in the North Atlantic Ocean between Iceland and Norway, the Faroes are islands of scale, be it the magnitude of the topography or the magnitude of your dinner. Lamb is served only by the leg…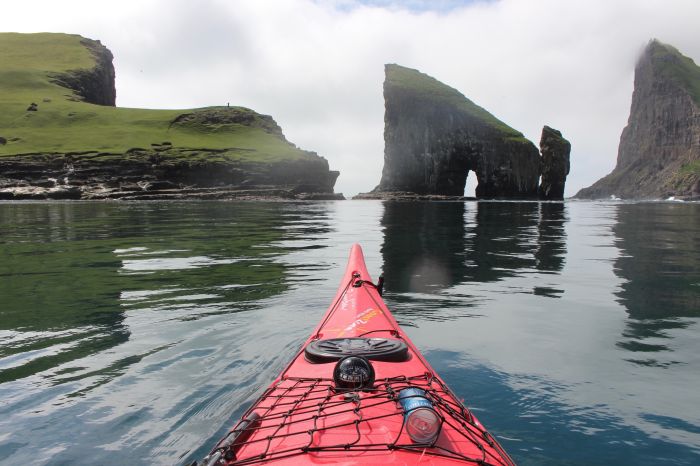 ESSENTIAL INFO
Get there
We went with Atlantic Airlines, which runs connecting services via Edinburgh or Copenhagen. Once there, it's pretty much essential to hire a car.
When to go
If you plan to explore by sea, an unapologetically astounding option, mid summer will suit you best. Consult the weather charts before booking, and be sure to pack your sense of humour.
Sea kayaking
Since we already had a little sea kayaking experience, Murray and I self organised our adventure, but if you don't, no problem: contact Eydun at North Atlantic Experience who'll adorn you with all the necessaries. He's also a bona fide cornucopia of local knowledge, offering not only guiding services, but expert advice on wind, tide, wave and weather.
How long? 
With the mad, temperamental maritime weather, I'd recommend a week or more in case the clouds come in or the sea gets rough. We kayaked for a couple of days and spent another couple exploring in-land on foot and feasting at the various restaurants. There's so much to explore that a week is easily filled, but it's essential to be open-minded with regards to activity and do whatever the weather allows.
More info
See more at www.visitfaroeislands.com.