Alaska, often called The Last Frontier, is the crown jewel for adventure travellers in North America. There are many misconceptions of unbearable and impassable weather conditions, but this couldn't be further from the truth. During the summers in Alaska, you've got 18-20 hours of sunlight and average daytime temperatures between 14-25ºC. We could write a list of the top 100 things to do, but we'll just whet your appetite with five that might not be so common.
1. Overlanding
Overlanding in Alaska
Endless cruise liners travel to Alaska every year, giving people (approximately 5,000 per ship) an opportunity to see glaciers with seven-course meals, ice shows and the Discovery Channel in their state rooms. No, that's not for us either. Overlanding has become synonymous with places like Africa, South America and Asia. Now North America, with places like Alaska and Western Canada, is starting to provide these adventurous and off-the-beaten path trips.
2. Bush camp at Maclaren Glacier
The scenery is incredible and it's not too cold in summer.
Have you ever slept in a place that has no roads and is surrounded by mountains, rivers and glaciers? This experience should not be missed. First you get a jet boat ride up the braided Maclaren River. Then it's time to venture through the bush and hop over creeks while being carefully watched by the local caribou. This hike leads to a great spot to view the Maclaren glacier and eat wild blueberries. The following morning take a picturesque two-hour canoe trip back to civilisation.
3. Ice climbing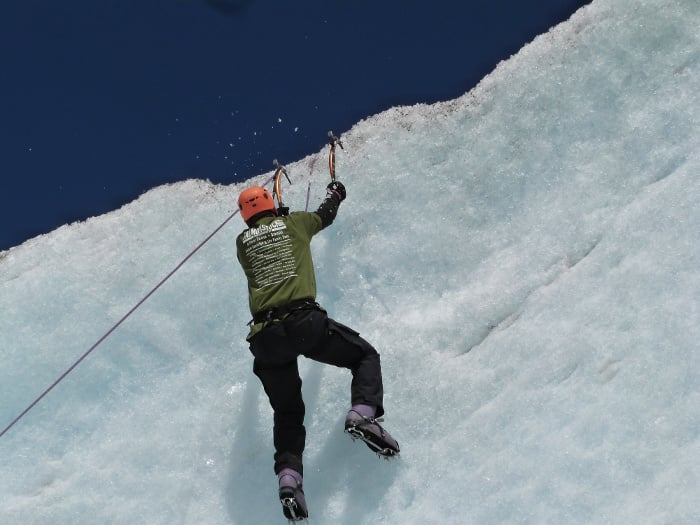 Climbing on the root glacier is all about technique and fun.
Ever watched one of those films about the North Face of the Eiger and wondered if you could climb it? Well, here's your introduction to the task. Wrangell/St. Elias is the largest national park in North America and home to nine of its 16 highest peaks. Climbing on the Root Glacier is all about technique and fun. Your guide will teach you about the three-point anchor system and the figure-of-eight knot that will keep you safe. A full day walking the glacier and climbing with your fellow adventurers will tick off a few boxes on your bucket list.
4. Sea kayaking
Sea kayaking can take you places where other types of craft cannot.
The fairly casual and moderately strenuous activity of sea kayaking can take you places other types of craft cannot. With a 10-hour day ahead of you, visiting and exploring the massive icebergs of the calving Columbia Glacier is hard to pass up. With a two-hour wildlife spotting boat ride there and back, you spend the other six hours paddling, photographing and gawking at the enormity of these turquoise Titanic-sinking pieces of frozen water. The weather can be unpredictable, but don't fret; your guide will bring you some hot chocolate!
5. Spotting wildlife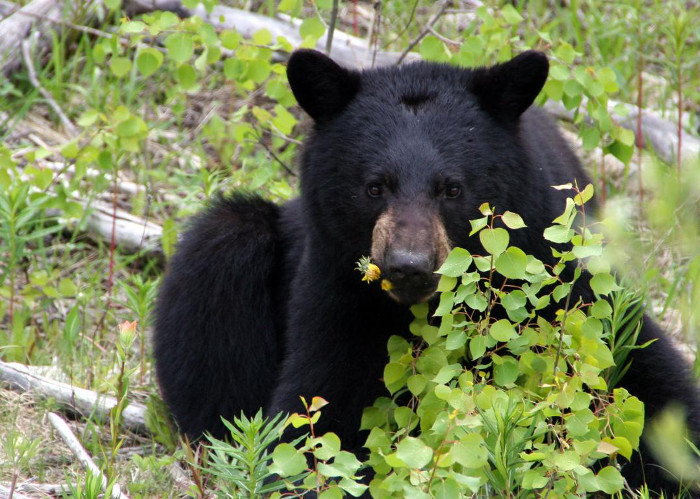 Wildlife spotting in Alaska needs to be on your to do list.
The animals in Alaska have a very small window of opportunity to prepare themselves for winter. Spot a beaver working furiously to collect plants and stabilise its dams and lodges, a bear foraging on hundreds of thousands of berries and salmon to build up its fat reserves, or even an Arctic ground squirrel scurrying around collecting nuts and fruit for its den. Sometimes they'll even make an appearance at camp to check out what's for dinner! If wildlife is something you get excited thinking about, then Alaska needs to be on your to do list.
David Patrick runs Infinite Adventures, which offers all this and more on its overlanding trips. And check out the latest edition of Adventure Travel magazine to read all about editor Rosie Fuller's recent trip to Alaska.