A trek to Everest Base Camp is high on many people's wish list. Whether it's to enjoy the breathtaking landscapes, to savour the iconic history or simply to say 'I was there', it remains one of the great objectives for walking enthusiasts. Here's our brief guide to trekking to the foot of the world's highest mountain.
When to do the Everest Base Camp trek
Traditionally, the two most popular times to trek to Everest Base Camp are spring and autumn. In spring the trails are lined with colourful wildflowers, but temperatures can be hot and humid during the day and cloud often builds in the afternoons. Post monsoon, skies are clearer and temperatures pleasantly warm during the day but this means the trails and lodges are at their busiest.
To avoid the crowds and take advantage of crystal clear skies, late November or December is a great alternative even though it can get very cold at night.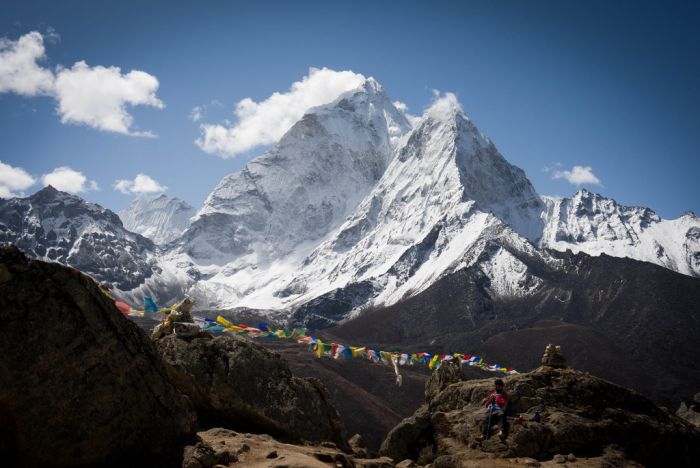 Photo: Weiinqueensland
What to do before hiking to Everest Base Camp
Get a visa from the Nepalese Embassy in London (information here), alternatively if you are a British national, you can obtain a visa on arrival at Kathmandu airport.
Visit your doctor or travel clinic to check which immunisations you will need.
Take out travel insurance that covers you for trekking to 5,500m.
Get fit. This is best done by doing lots of walking with plenty of ascent and descent.
Gear up. For a comprehensive checklist of the clothing and equipment you'll need on your trek to Everest Base Camp see this kit list from Mountain Kingdoms.
Everest Base Camp trek accommodation
Tea houses are the traditional type of accommodation on the trail. These simple lodges provide a welcome refuge with hearty food and a warm communal area for eating and relaxing. Bedrooms are basic but adequate, as are the toilet facilities.
There is no running water in the rooms so water is heated centrally and provided in bowls for washing. Built and run by the local Sherpa people, tea houses provide an invaluable source of income for this remote region.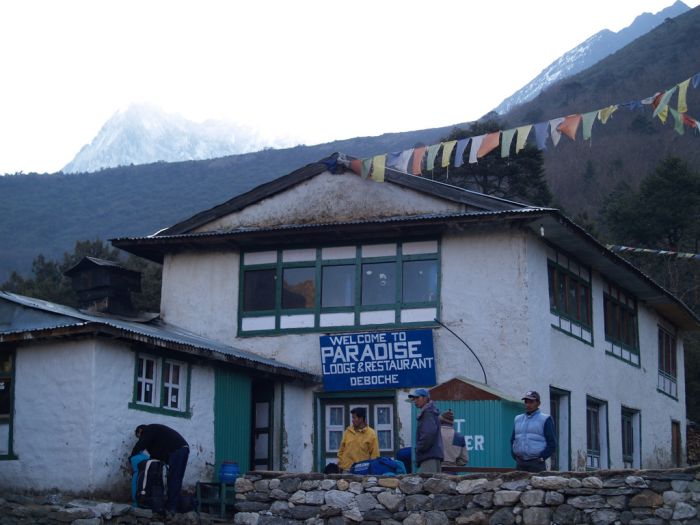 Photo: Steve Hicks
More luxurious lodges are a recent and popular addition to the Base Camp trail. They generally have comfortable, en-suite bedrooms, hot running water and more 'refined' dining.
Food and drink
The staple diet of much of Nepal is dal bhat – a meal of rice topped with soupy lentils, sometimes served with spiced vegetables. Energy rich, it's the perfect meal to eat whilst trekking. In addition, the tea houses and lodges serve a surprising variety of food catering as much as possible to the western palate.
Black tea is the ubiquitous drink for trekkers. Served at every opportunity in huge flasks, it's a comforting and important part of your trekking diet. If you're not a tea drinker then other hot and cold drinks are readily available.
Dealing with altitude sickness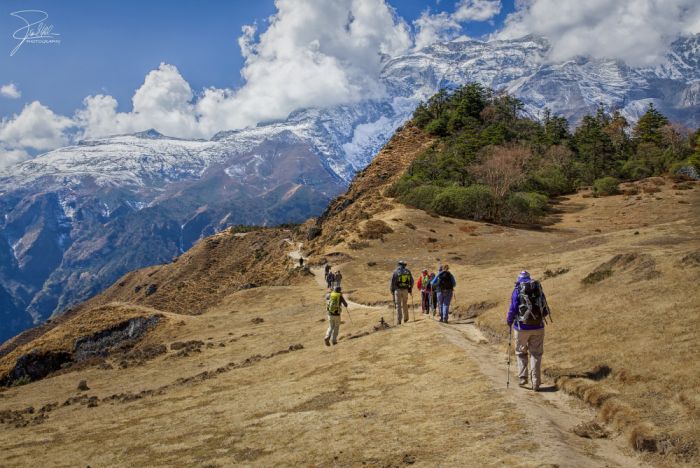 Photo: Frank Kehren
Altitude or mountain sickness is one of the biggest fears of first time trekkers to Everest. Simple precautions can help mitigate the effects of being at altitude and ensure that most people will experience minimum symptoms such as mild headaches, insomnia, some breathlessness and occasionally nausea.
Walking slowly, taking regular rests, eating and drinking lots (not alcohol) and ascending gradually are the keys to staying healthy. Make sure that your trekking itinerary includes rest days as well as the opportunity to 'climb high, sleep low' as you reach higher altitudes. A 10-day trek to reach Base Camp (with three additional days returning to Lukla) is about right – anything less and you may be compromising on acclimatisation, so check carefully when you're booking your trek.
Everest Base Camp itinerary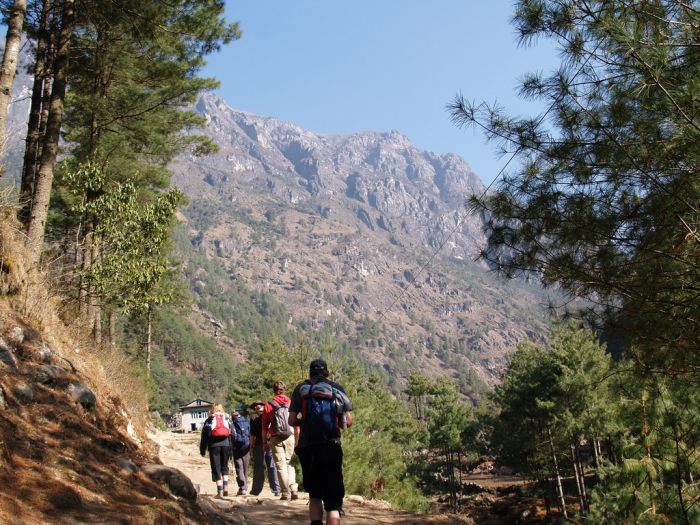 Photo: Steve Hicks
The trek begins at Lukla following the short and memorable flight from Kathmandu. At Lukla you will be met by your Sherpa guide and trek crew and, after your first of many cups of tea (known locally as chai), you'll soon be ready to step out onto the trail.
From your very first step the scenery is captivating and for the next couple of days you'll follow the wonderfully picturesque Dudh Kosi river valley up to Namche Bazaar – the main Sherpa town in the Everest region. This is a great place to rest, acclimatise and buy any kit you forgot to pack. You'll also enjoy your very first thrilling views of Everest as you make the arduous climb up to Namche.
From Namche, it's a two or three day trek to your next major destination on the trail – Thyangboche. The more direct route treks via Syangboche, whilst the longer route goes north west along the Nangpo Drangpo Valley to reach the small village of Thame. This alternative route is not on every itinerary, but adding an extra day to Thame really helps with acclimatisation.
From Thame you return to the main trail and continue through pretty villages, rhododendron forests and impressive mountain scenery to reach Thyangboche, the main Buddhist monastery of the area. If the weather's clear, the views to Everest from here are simply stunning. Once a year, the Monastery comes alive with the vibrant music and masked dances of the Mani Rimdu Festival.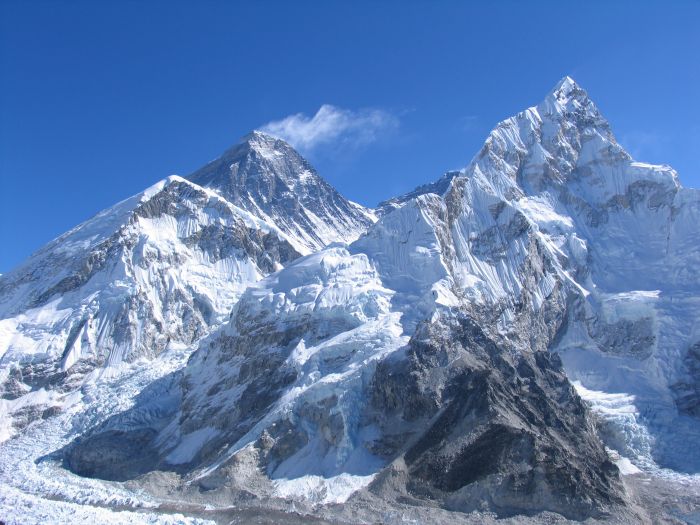 Photo: Kirsty Parsons
After Thyanboche you will notice a change in the scenery and as the air gets thinner the landscape changes, becoming increasingly stark and dramatic. Your progress will be very slow as you adjust to the high altitude and there should be plenty of time in your itinerary to acclimatise properly, including rest days. Eventually you will reach the tiny village of Lobuche from where you'll make the final push to base camp itself.
The trek from Lobuche is a long and strenuous one over rocky terrain but, after several hours of hard trekking, you will step foot on one of the most iconic places in the world. During the spring climbing season you may even see expedition teams camped out as they prepare for their attempt at the summit.
From base camp you can't actually see the summit of Everest, but you will have fantastic views of the treacherous Khumbu Icefall. For close-up views of the summit itself, you need an extra day in your itinerary to trek from Lobuche to the small peak called Kala Pattar which sits directly across from Everest. From here there are truly spectacular, panoramic views of Everest and other Himalayan peaks.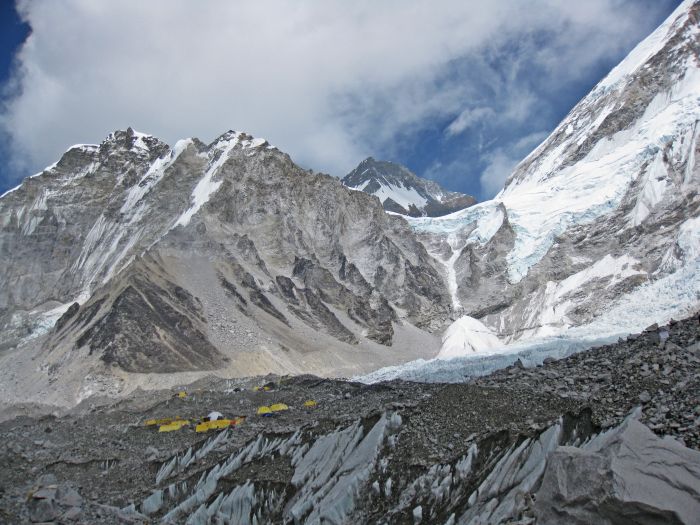 Photo: Steve Berry
The three-day return trek to Lukla seems like a walk in the park compared to the strenuous trek out. Once back, you'll no doubt enjoy a celebratory beer with your fellow trekkers and toast your achievement in completing the most famous trek in the world.
Who's writing?
Mountain Kingdoms is a walking and trekking holiday specialist that has been organising small group and a tailor made trek to Everest Base Camp and beyond for over 28 years. Contact them if you'd like to find out more about trekking in Nepal, the Himalaya or the world's other great mountain ranges.