Petra Shepherd heads to the almighty Himalayas to take on one of the region's most scenic and remote hikes, known as The Singalila Ridge trek…
The Singalila Ridge trek forms a natural border between Nepal and India and is the setting for one of the most scenically rewarding trekking holidays in the entire Himalayas, with views of Kangchenjunga (the third highest mountain in the world) and more distant views of Makalu and Everest.
I'd been spending some time in the former hill-station of Darjeeling, not so much tea drinking but being wined and dined royally at Glenburn Tea Estate, a heavenly little plantation retreat.   The Singalila Ridge Trek being the most popular multiday walk from Darjeeling was therefore a perfect excuse to  stretch my legs and walk off the calories. Walking the Singalila Ridge trek is rated as one of the finest walks in the world and I also wanted to find out why.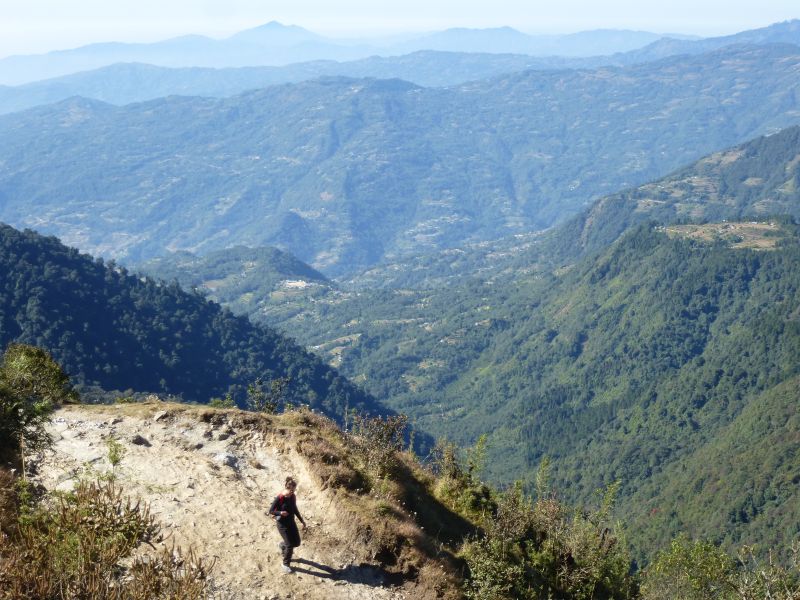 The Singalila Ridge trek is a popular spring and autumn trek which I undertook in late November last year at the very end of the trekking season. Manebhanjhang, the start of the trek is 16 miles from Darjeeling and easily accessed by shared jeep. What throws you initially, is that you're not walking along a remote path but initially for the first couple of days along a wide rough jeep track that winds its way up the mountain.
As you struggle with the elevation, land rovers with excitable (mostly young male) locals from west Bengal and other parts of India hurtle past. All of us have the same destination in site, Sandakphu (at 3,695 metres the highest point on the ridge) and the remarkable sunset and sunrise views of Everest, Makalu, Chamlang and Kangchenjunga.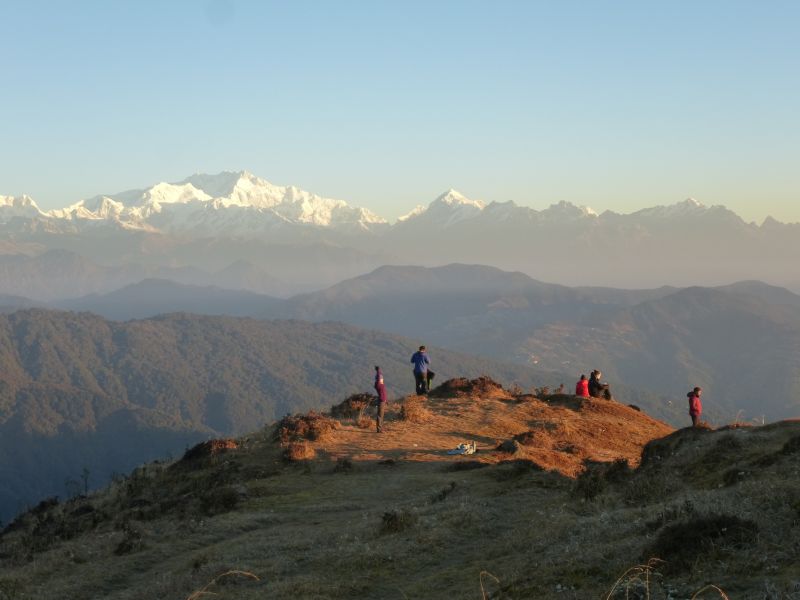 My new found friends couldn't understand why we would want to walk, when motorised transport (albeit a very bumpy option) was on offer. My porter Temba was of the same mentality, he initially showed willing and struggled with my pack for the first couple of hours but then when I wasn't looking hitched a lift. Minutes later, I was amused to see my rucksack and Temba, sheepishly grinning from ear to ear on the roof rack of a jeep. I didn't mind. Along with Temba, I also had a guide conveniently called Pemba (I'm not great with names) and was accompanied by my 22-year-old god-daughter Camilla. The three of us were able to avoid the zigzags in the road by taking short cuts and simply cutting straight across.
Everyone was happy, none more so than me, as day one also included a visit to Megham Monastery with its infamous statues. The statues show what we do in our life, we will be punished according to it on our death, therefore somewhat grimly a woodcutter is shown being chopped as wood, whilst a meat seller is being slaughtered as an animal. I preferred looking at the colourful prayer flags and pray wheels and watching the monks on their mobile phones.
References to the Singalila Ridge Trek constantly refer to the weather, how the region is quite often covered in clouds, the clouds acting like a magician only giving occasional glimpses of the mountain views that the ridge is famous for.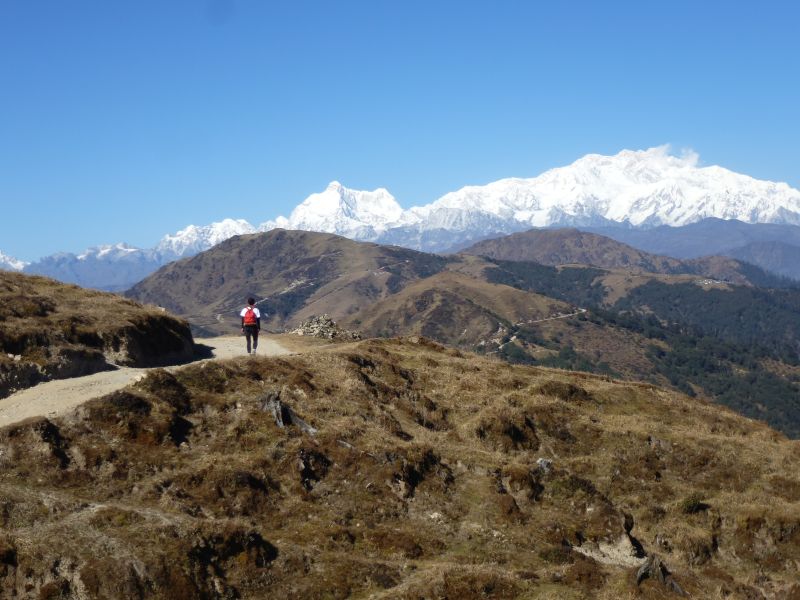 We, however, were blessed with electric blue skies for the duration of our trek and, without meaning to sound smug, some of the clearest views our guide had ever witnessed. The downside was astonishingly cold temperatures at night. By the end of November, it was already extremely uncomfortable and I wouldn't recommend doing the trek any later in the year.
Trekking in November means a sunset at around 4:30pm and a sunrise at 6am. The days are short, but one of the undoubted highlights of the first couple of days of the trek was watching the sun set and rise over Kangchenjunga. Each day, we'd be up early walking to a slighter higher point to see the sun rise, never tiring of the ever changing medley of pinks and reds. I was quite happy just to sit and watch whilst fellow trekkers would strike a yoga pose against the majestic backdrop and the jeep passengers would down another beer.
Our first night was in a lodge (Shikar Lodge) at Tonglu (3,070m) and bitterly cold. Initially, I regretted not warming myself up as Pemba and Temba had done celebrating a successful first day with a tongba. Tongba is a local millet-based alcoholic drink, rather like a hot mead. It's served in a wooded cask and drunk with a straw but, to be honest, a mug of fermented millet didn't look that appealing.
The trek mostly takes place along a high ridge, crossing isolated border settlements, the altitudes are not extreme and the slow-ish pace allows you to interact with the local culture. Each day, there would be a village to stop at for lunch, mostly noodles or rice and vegetables, simple but filling and delicious, and a chance to warm oneself up in the sun. The area is carpeted with a wide range of classic Himalayan flora, including extensive Rhododendron bushes which burst into colourful life in the springtime each year. There's also good bird spotting potential and if you're lucky, a red panda.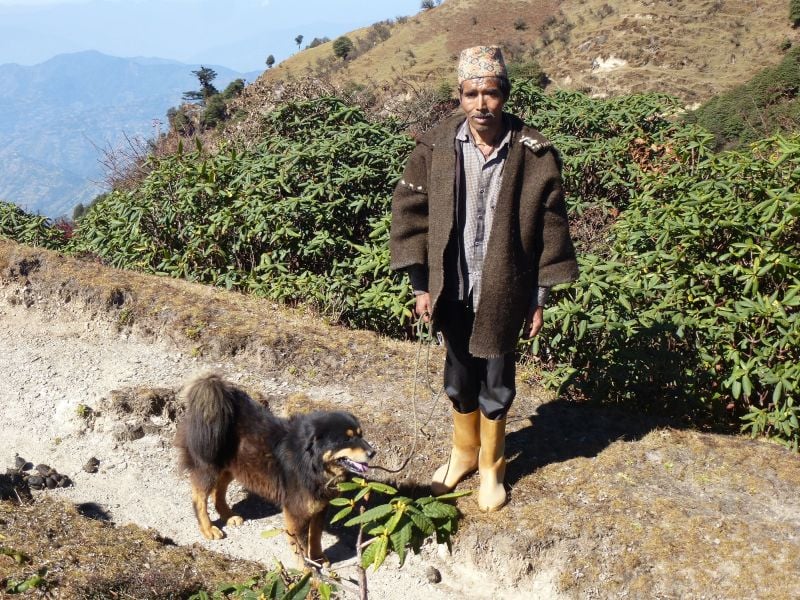 At Sandakphu, the jeeps turn back and we're on our own from Sandakphu to Phalut. This is one of the most spectacular sections of the Singalilia Ridge trek. The trail undulates up and down, but is never too demanding or steep and you're rewarded with ever-changing views of the snow-capped Himalaya to the north and north-west. You'll come across the odd grazing yak and shepherd with his sheep dog but otherwise no-one. Other than Camilla and I, there were only five others that started the trek on the same day as us, very different from other more popular Nepalese treks with traffic jams of people.
At Phalut we stayed in a dormitory in a trekkers hut, owned by the forest department. Basic, but plenty of blankets were provided and another early start to see the sunrise. There's no question of lying in with a cockerel crowing noisily as your alarm call. From here, we said goodbye to the views of Kangchenjunga and the eastern Himalaya and descended for five hours walking through rich forests of Rhododendrons and Magnolias. Temba was keen for me to meet his family in the picturesque riverside village of Gorkhey, all immaculately clean little houses, with yellowing corn hanging from the roof tops. His mother, father and young baby were delighted to see us, his wife less so. Apparently Temba was having way too much fun as she worked hard in the field (we made it up to her by buying the baby some shoes in the market at Rimbik, our final destination).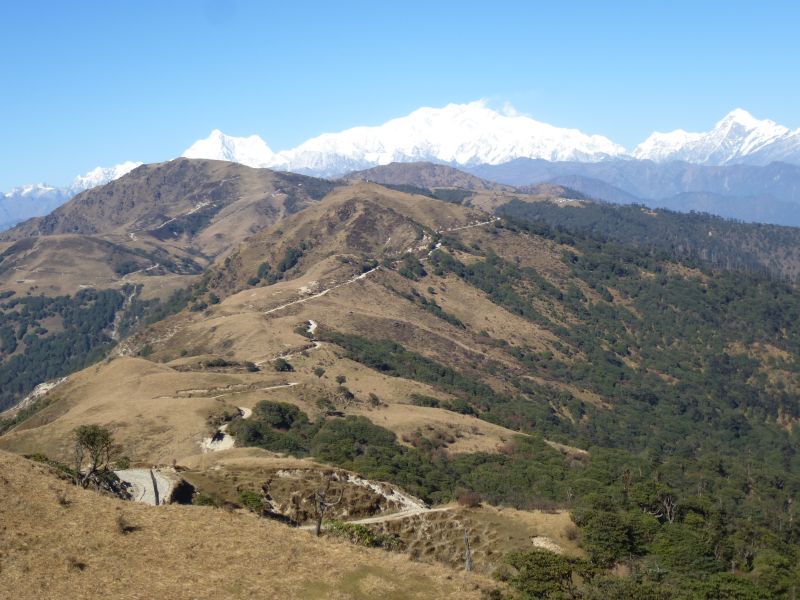 To reach Rimbik, we had one last night in a homestay in the village of Ramman with a welcoming host, even more more welcoming fire and a freshly painted miniature monastery to add a final splash of colour. The final day was another wonderful walk, passing several villages of different Nepali ethnic groups – the Rais, Tamangs and Sherpas. Terraced fields and villages dot the landscape and smiling faces greet you at every turn.
I've trekked in Nepal and the Indian Himalayas several times but there was something very special about the Singalila Ridge Trek. The lack of crowds, the combination of trekking and culture but above all the unsurpassed panoramic views of Kangchenjunga. After five days, I was still unable to pronounce it without stumbling over the words! The walking is relatively easy and some of the days short, so not one for those looking for a major challenge, but for first time trekkers in the Himalayas I couldn't recommend it more.
Click here to check out more of our favourite hikes in the Himalayas.
The Singalila Ridge Trek: Let's go…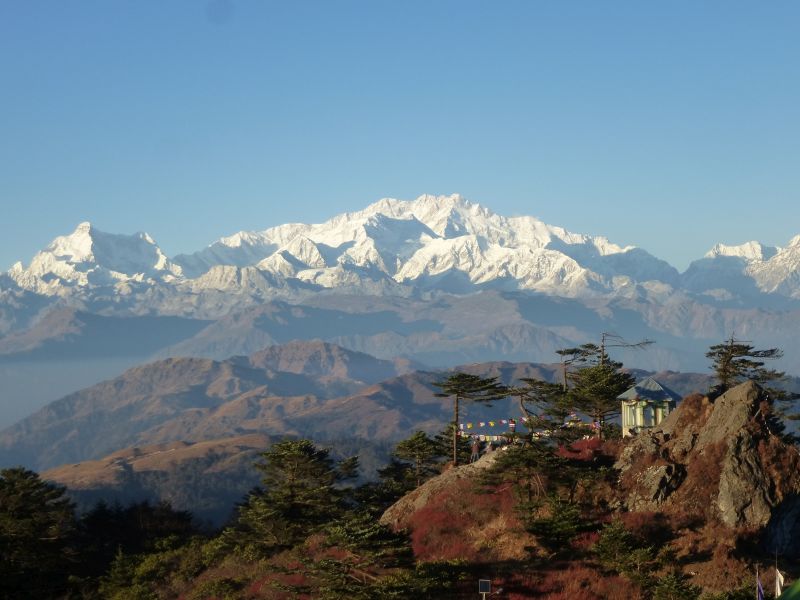 Petra trekked The Singalila Ridge Trek through Rimo Expeditions. KE Adventure also offers a trek with views of Kangchenjunga from the Singalila Ridge. And get prepared for any adventures in India with the right travel documents – visit e-visa.co.uk/india for more details.