For decades, aspiring adventurers have walked in the shadow of mountaineering legend to reach the infamous Everest Base Camp, the starting point for any climber hoping to reach the summit. While Everest Base Camp is an iconic trek, those seeking mind-blowing views of Everest will not find them here, as every insider knows that the best views of Everest are sought from further afield. Base camp is simply too close to the summit to get a good view of the peak.
We teamed up with the guys at World Expeditions, who run active adventures with a small footprint, to find out where all the best views of Everest have been hiding. World Expeditions has been running tours in Nepal for 45 years, so it's fair to say they know a thing or two about the Himalayas! The best thing about these lesser-visited treks is that they'll take you off the beaten path and away from the crowds of tourists, which is not only a great way to travel more sustainably, it's also an ideal way to beat the crowds and have more of those jaw-dropping views all to yourself.
Kala Pattar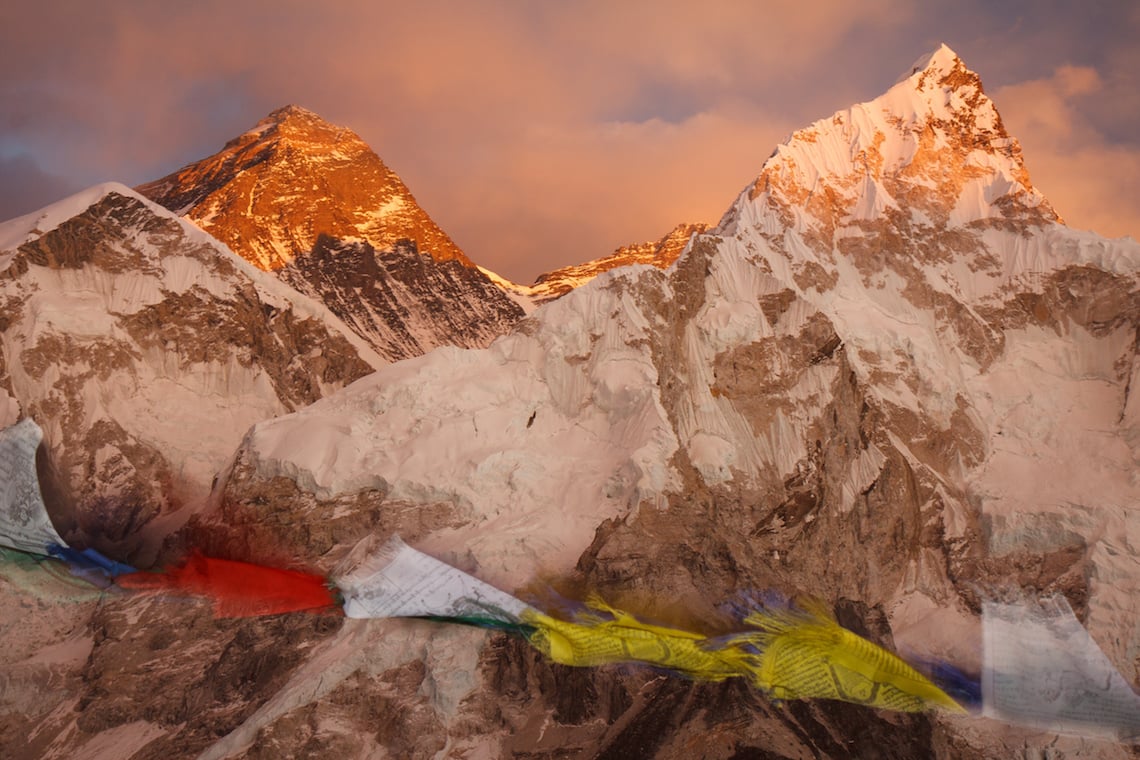 Considered to be the traditional viewing point for Everest, Mount Kala Pattar (5,545m) offers adventurers unrivalled views of Everest. If you still want the kudos of having visited Everest Base Camp but you also want that picture-perfect view of the almighty peak itself, then the best option is to head on a tour that combines the two, such as this Everest Base Camp and Kala Pattar tour.
The tour is offered as both a 17-day trip, for those short on time and also as a 21-day trip for those looking for a slower-paced experience. Both options afford travellers the chance to visit the iconic Everest Base Camp, followed by a challenging climb up Kala Pattar for the best views of Everest, Lhotse, Nuptse and surrounding peaks.
For those really pressed for time, there is even the option to trek to both Everest Base Camp and Kala Pattar in just 14 days with the added bonus of a scenic helicopter flight to facilitate your return. Check it out here.
Gokyo Ri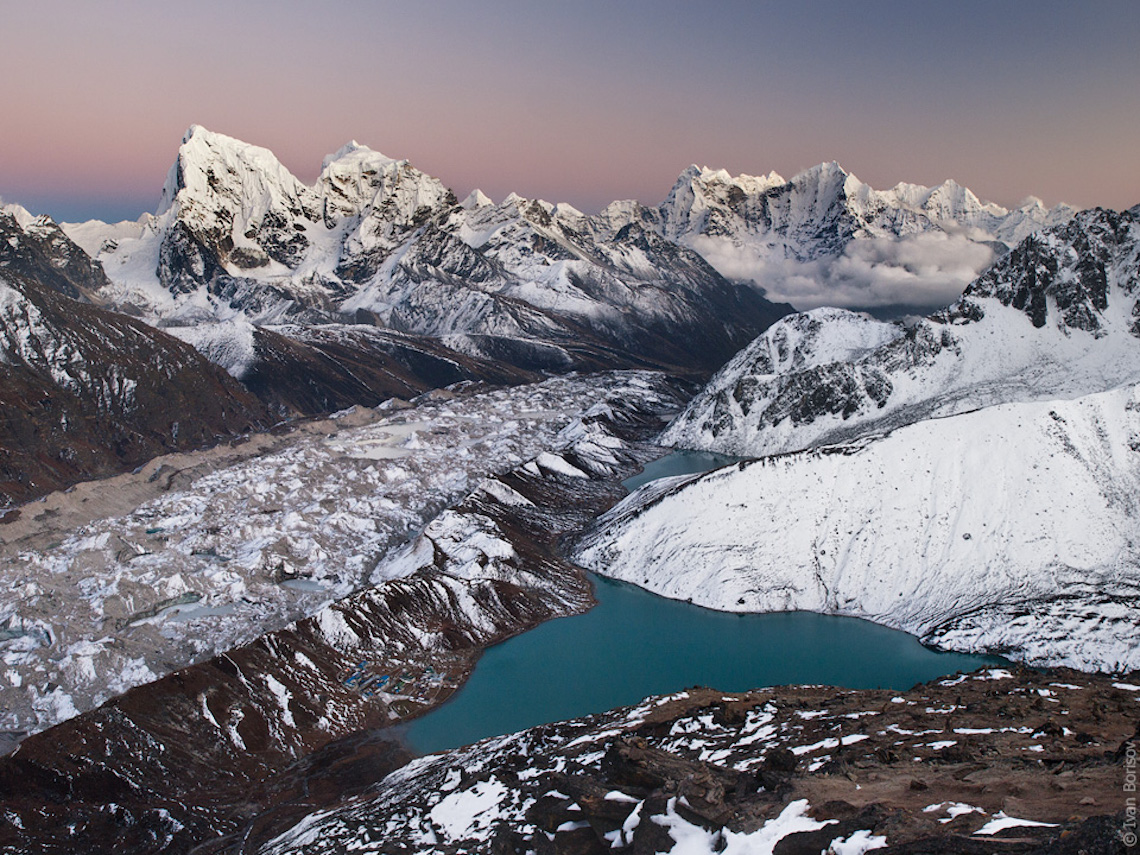 Those in the know have long considered a Gokyo Ri (5,483m) trek to be an excellent alternative to Everest Base Camp, boasting some of the best views of Everest itself along with the surrounding range. For the full Everest vista, a 21-day pilgrimage of the Everest Circuit and the Cho La will give you plenty of opportunities to get your camera out. You'll also still have the chance to visit Everest Base Camp, plus a stunning crossing of the Cho La pass looking over Tibet's Cho Oyu.
Ambitious adventurers should also consider the 22-day Everest High Passes trek which offers hikers a chance to visit some of the best vantage points in the Everest region while also crossing three passes over 5,000m with unsurpassed views of Mount Everest, Makalu and Cho Oyu. You will also ascend both Kala Pattar and Gokyo Ri, so while the trek involves no technical climbing, you'll want to ensure your hiking boots are well worn in!
You can also find the same sublime views on a longer 28-day trek that forms part of the Great Himalayan Trail, a hike of truly epic proportions that traverses the backbone of the greatest mountain range on Earth. This particular portion of the GHT winds its way through the dramatic snow-smothered peaks to the vibrant Gokyo Lakes, where Everest looms in the distance, with a chance to summit Gokyo Ri and take in panoramic views from there too. Find out more here.
Renjo La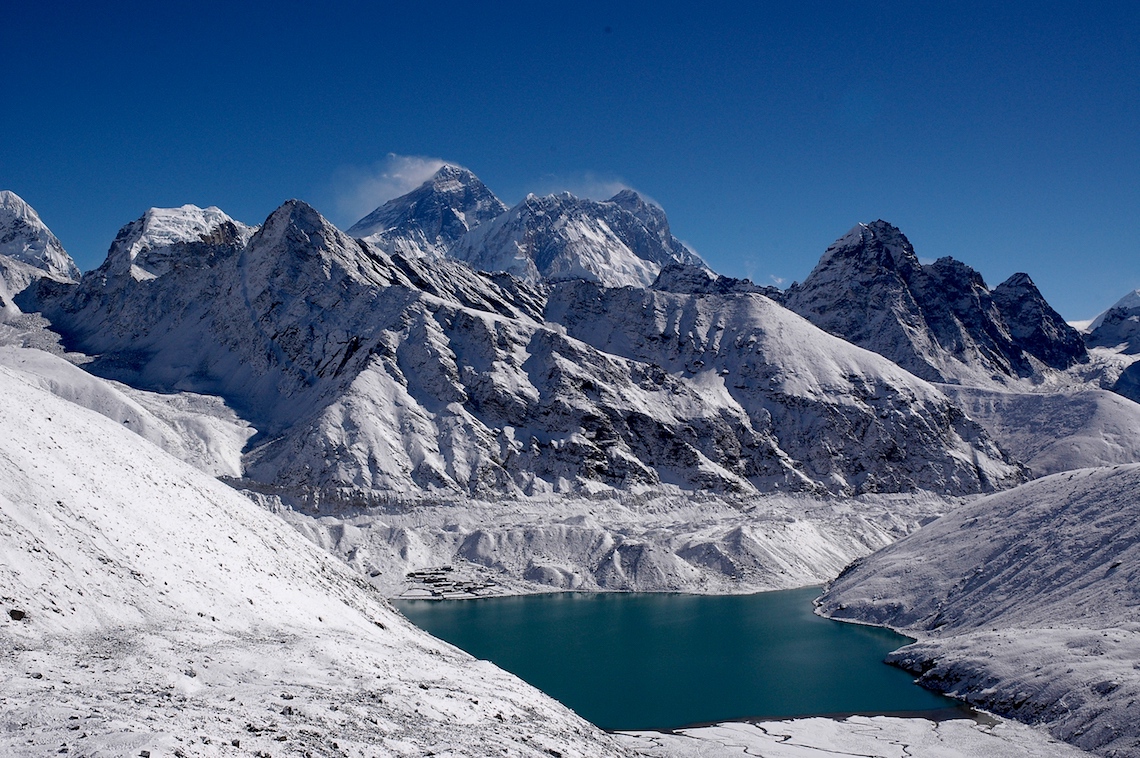 As you walk back from the breath-taking Renjo La pass and turn a corner, prepare for your jaw to hit the floor as one of the best views in the entire Himalayas opens up before you. Treks incorporating the Renjo La pass are guaranteed to offer some of the best views of Everest for miles so it's well worth incorporating into your itinerary.
If it's a more off-the-beaten-path adventure you're looking for, trekking Gokyo and the Renjo La is ideal for exploring some lesser-visited corners of the Himalayas, while still climbing Gokyo Ri for one of Nepal's best and broadest views of those soaring 8,000m peaks.
Meanwhile, the most challenging section of the GHT is thought to be the Makalu and Everest Traverse via Sherpani Col, from which you can also marvel at superb views of Makalu and Everest combined with two high pass crossings at Cho La and Renjo La. This is rugged terrain that few adventurers have ever trekked before, so be sure you are ready to take on the unique challenge of this 34-day tour. Your reward will be seeking out some of the best views of Everest that few before have seen. See more here. 
How to get the best views of Everest yourself
If you're planning a trip to the incredible adventure playground of the Himalayas, we recommend going with a reputable tour company such as World Expeditions. The company offers guided treks to all of the above locations, complete with a knowledgeable guide able to help you seek out the best views of Everest along the way. Meals, camping equipment and accommodation, ground transport and transfers are generally included on tours, as well as horses to carry equipment if applicable.
World Expeditions have private eco camps in the Everest region that are run by local people with freshly prepared meals, hot showers and raised beds, helping you to get the best of a full day's trekking. All trips offered by World Expeditions are 100% carbon offset, which is fantastic, and also include porter protection, ensuring fair wages, insurance, health care, gear, meals, sleeping arrangements are provided for all porters, with weight and age restrictions too.