Nothing beats a good ridge walk, where jaw-dropping exposure and breathtaking views make for some of the most exhilarating trekking around. Here, we pick out 10 of the best ridge walks in the world…
1. Angels Landing, USA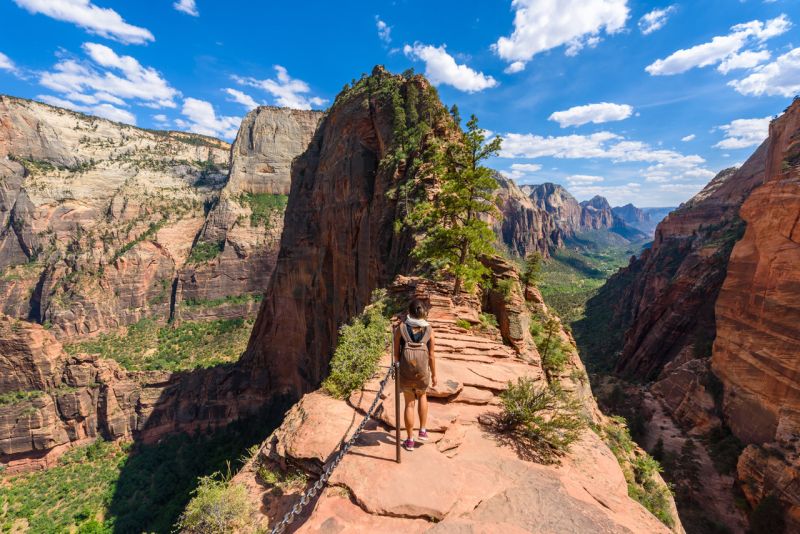 What is it?
Angels Landing is a three-mile trail that leads to a hair-raising ridge walk along the spine of a thrillingly exposed rock formation, which towers over 400m above the canyon floor. The trail was carved into the rock in the mid-1920s, and offers nothing but a small chain for hikers to cling onto as they climb higher and higher to the top of the ridge.
Where is it?
This ridge is located in Zion National Park, in southwest Utah.
Why should I do it?
If you can get over the sheer height of it, this ridge is nothing short of spectacular, with breathtaking panoramic views to match. Ridge walks don't come much better than this!
How can I do it?
The start location is the Grotto Trailhead in Zion Canyon. The full route is roughly a five-mile round trip, and takes hikers approximately four to five hours to complete (depending on how timidly they take the ridge section).
2. Romsdalseggen Ridge, Norway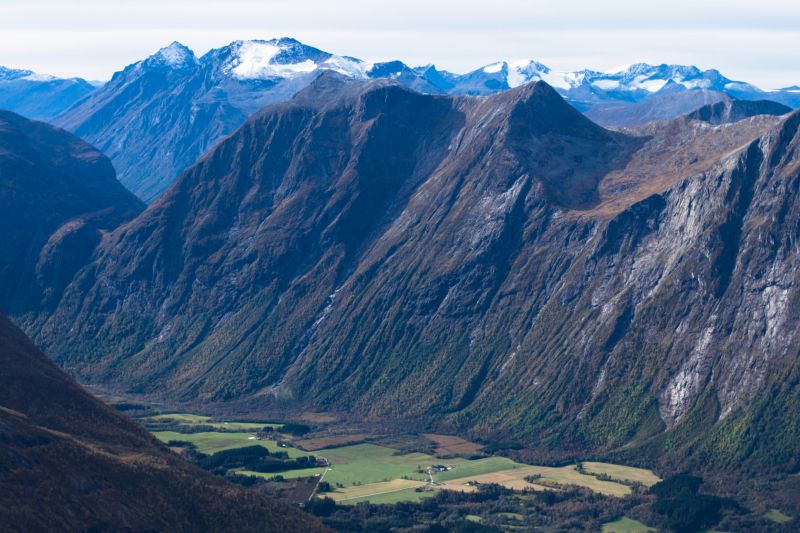 Photo: Espen Aaeng
What is it?
An exhilarating ridge that delivers fine views over some of Norway's most beautiful mountain scenery.
Where is it?
Romsdalseggen Ridge can be found in western Norway, not too far from Molde.
Why should I do it?
Alongside fjords, if there's one thing Norway does well, it's ridge walks. Dubbed the most beautiful hike in Norway, the trip across Romsdalseggen Ridge takes you through some of the country's most stunning mountain scenery. Once on the ridge, you'll be able to enjoy views over the dramatic surrounding peaks and the River Rauma which twists its way elegantly through the Romsdalen Valley. In short, the views are out of this world and the hiking is exhilarating.
How can I do it?
The normal route is roughly six miles long and can take between six and eight hours. You can get a bus from the bus terminal in Åndalsnes, and this will take you to the starting point in the Vengedalen Valley, from where you can follow the route back to Åndalsnes town. There are various routes you can take, but the normal route is what we'd recommend for the best experience (as long as you have a head for heights and exposure!). Find out more on the Visit Norway website.
3. Stok Kangri , India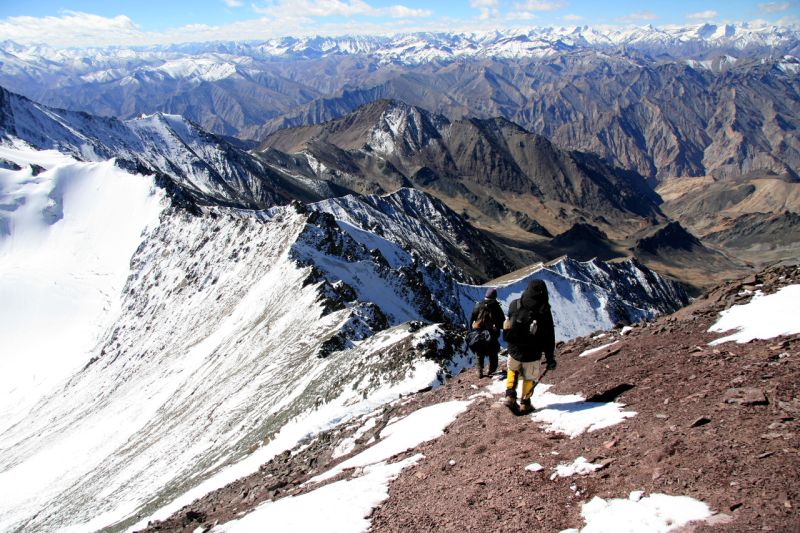 What is it?
Stok Kangri (6,153m) is a Himalayan trekking peak that is a great option for people seeking to climb to higher altitudes without needing loads of technical skills. There is a straightforward (in relative terms), non-technical route to the summit via its spectacular south-east ridge.
Where is it?
Stok Kangri is found in the Indian Himalayas, just south of Ladakh.
Why should I do it?
If you're an experienced hill walker and you would like to venture to higher grounds, Stok Kangri is one of the best options, and is the highest of all the ridge walks on this list. The south east-ridge is incredible, and the views of the surrounding Himalayan peaks will stay with you for life.
How can I do it?
Given good acclimatisation, any fit person with strong trekking and hill walking experience stands an excellent chance of making the summit. Mountain Kingdoms runs a trip that takes you on a classic acclimatisation trek through the Markha Valley, before making an attempt on Stok Kangri itself.
4. Mgoun Ridge, Morocco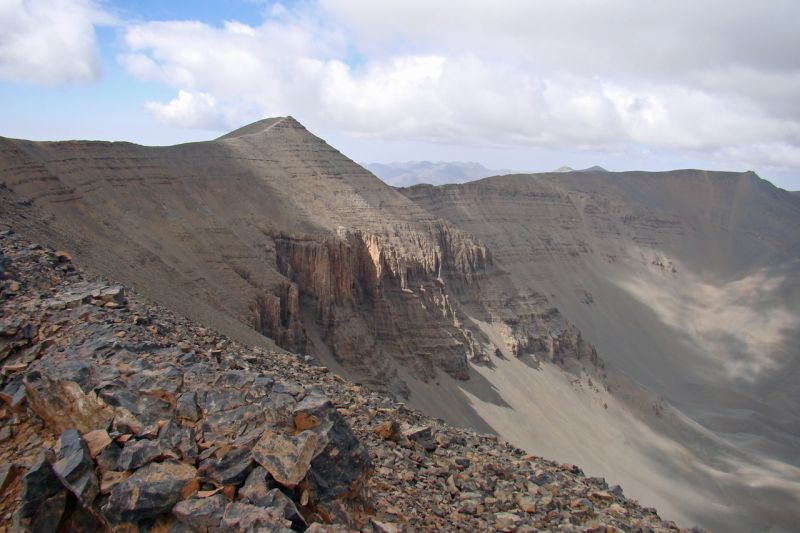 What is it?
Director at Travel and Trek Terry Crosby says: "It's several miles long and is very exposed at just over 4,000m (very high for Morocco). Last time I was there in May a few years ago, I never made the top (or ridge), as I was bashed back by 50mph winds and driving snow that was about two foot deep!"
Where is it?
In the High Atlas Mountains, Morocco.
Why should I do it?
"When the weather is good, it's absolutely stunning," says Terry Crosby, Director at Travel and Trek. "Fossils have also been found on this ridge."
How can I do it?
Mount Mgoun (4,068m) is one of the highest mountains in North Africa, along with Mount Toubkal (4,167m) and Ouanoukrim (4,089m), and you can do all three, including the spectacular Mgoun Ridge on Travel and Trek's '3 Peaks Trek' tour in Morocco.
5. Piatra Craiului, Romania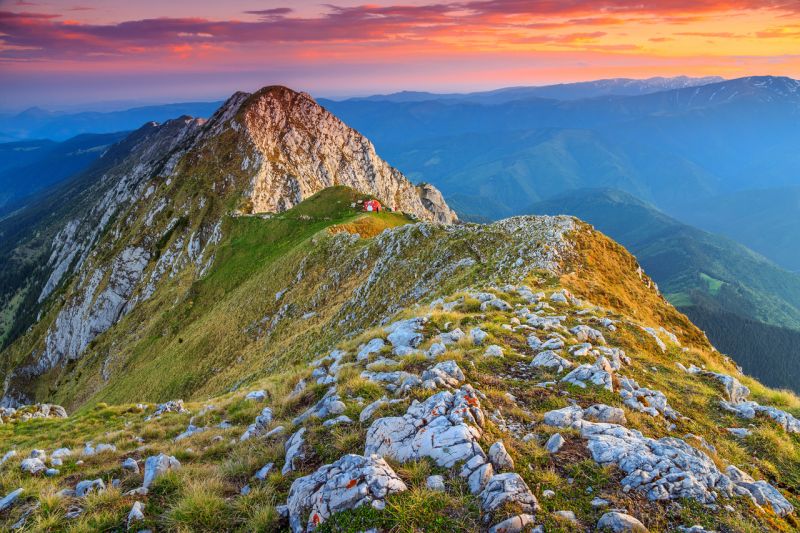 What is it?
The Fagaras Mountains are the highest and most impressive range in Romania, rising to 2,544m at the summit of Varful Moldoveanu. The Piatra Craiului National Park is dominated by the almost sheer knife-edge ridge of Piatra Craiului, which rises above the valleys and forests below to over 2,000m.
Where is it?
The Fagaras Mountains are found in the Southern Carpathians, Romania.
Why should I do it?
This trek is aimed at experienced hikers who are looking to take on a point-to-point hike along a challenging ridge in some of the most beautiful scenery in Europe. Walking in the stunning Piatra Craiului National Park in the Carpathian Mountains offers the chance to see wolves, bears and the elusive lynx as well as a visit to 'Castle Dracula'.
How can I do it?
Walks Worldwide offers an eight-day group trip called 'The Alps of Transylvania' departing (11 August and 8 or 22 September 2018). The amount of trekking will range from about 6-10 hours per day, stopping for a picnic lunch along the way before reaching your mountain hut accommodation for the night.
6. Hardergrat Trail, Switzerland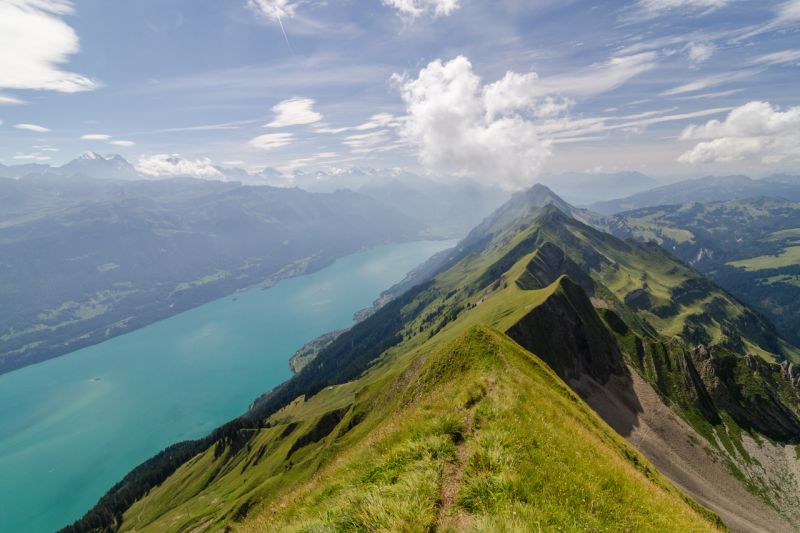 What is it?
The Hardergrat Trail is a fantastic hiking route that follows a ridge high above Interlaken and Brienzersee (a stunning lake). It offers incredible views of the Jungfrau Region's highest peaks including the Eiger, Mönch and Jungfrau, and stretches for just over 15 miles, much of which is spent on a sharp, knife-edge ridge.
Where is it?
In the Swiss Alps, very close to Interlaken.
Why should I do it?
For its exposure and difficulty, the Hardergrat Trail demands respect, but if you have a head for heights and are comfortable travelling on extremely narrow paths, do it. The views are breathtaking, and this is probably one of the best one-day hikes in Europe, if not the world.
How can I do it?
Most people start from Interlaken and follow it along to the Brienzer Rothorn Station, where there is a train down to Brienz. Be sure to start early, as it's a long day.
7. Aonach Eagach, Scotland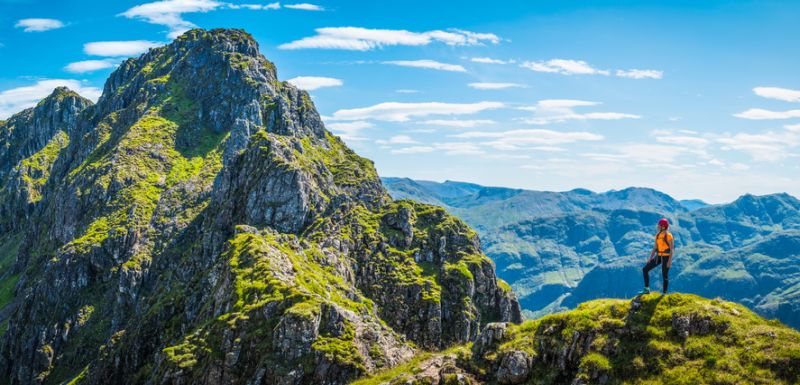 What is it?
Aonach Eagach is a vertigo-inducing, spine-chilling, butt-clenching grade-two ridge walk in Scotland. It's a gnarly scramble that you can really get your teeth stuck into and the exceptional 360-degree scenery makes every challenging step worth it. Also, the exposure is just insane.
Where is it?
This epic Scottish adventure soars 953m high in the mountains above the northern side of Glen Coe. The ridge itself is around six and a half miles long.
Why should I do it?
If you want to take your ridge walks to the next level and the chance to tackle some awesome scrambling, then this is the challenge for you. The route also gives you the opportunity to bag two Munros (Meall Dearg and Sgorr nam Fiannaidh).
How can I do it?
To take on this legendary ridge, you'll need to be confident at scrambling to a grade two level. The mountain path begins at a layby just off the A82. There is some parking along the road. You'll need OS Explorer 384 Glen Coe & Glen Etive.
8. Khopra Ridge, Nepal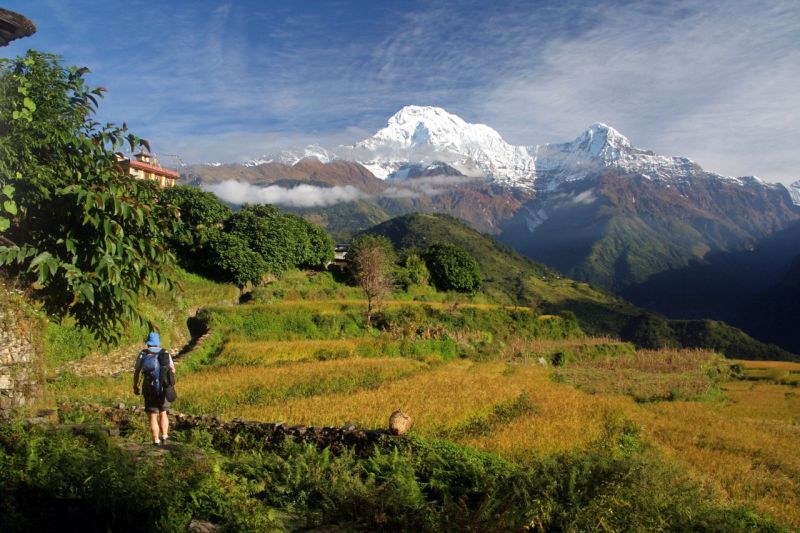 What is it?
Khopra Ridge is a spectacular trek that takes you up to an altitude of 4,000m and delivers unforgettable Himalayan scenery.
Where is it?
It can be found on the south-western edge of the mighty Annapurna Massif in Nepal.
Why should I do it?
Trekking on Khopra Ridge, and in the surrounding valleys, allows you to experience many of the colourful landscapes that make Nepal so special. Upon reaching the isolated hamlet of Khopra, you'll be treated to a Himalayan panorama to rival any other, with views of two 8,000m peaks including Annapurna I (8,091m).
How can I do it?
KE Adventure Travel offers a new tour called 'Hidden Annapurnas – Khopra Ridge Trek', which takes you up onto this glorious ridge, through beautiful valleys and along trails that are, as yet, little visited. It's an ideal trip for a first visit to Nepal, or for those that are seeking out a different perspective.
9. Kuilau Ridge, Hawaii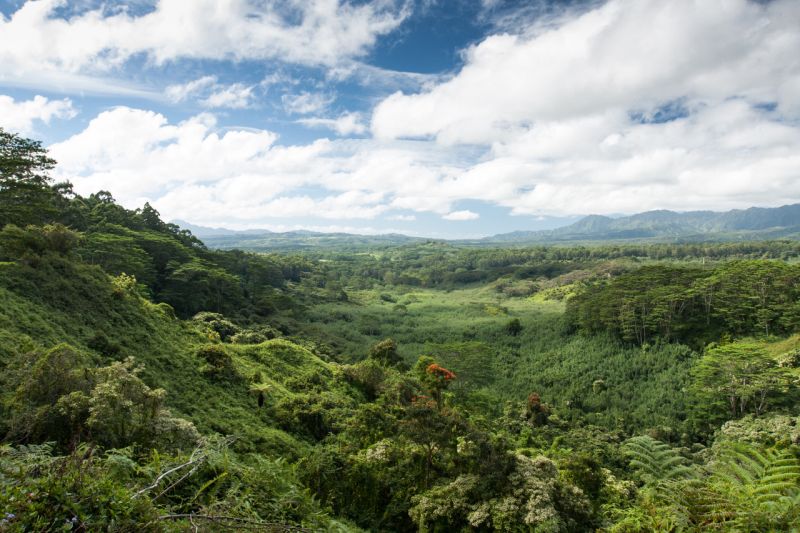 What is it?
The Kuilau Ridge Trail is a thrilling two-mile ridge walk adventure, which sits above the stunning canopy of Oahu.
Where is it?
This beautiful ridge sits above the canopy of Oahu, and it's situated around 20 minutes from the beach in Wailua, that is just past Opaekaa Falls (which is another incredible place to visit).
Why should I do it?
Amongst the world's most stunning ridge walks, this one boasts sensational views of Hawaii's mountains, laced with lusciously green and dense forest. It's a quick and non-challenging hike, and the rewards are rich – what's not to like?
How can I do it?
If you're driving, there is a small car park that can only fit a handful of cars, so best to arrive early. A brown sign clearly marks the start of the trail, follow this. The path itself is easy to follow and should only be around a two-hour return journey.
10. Pic de Gleize, France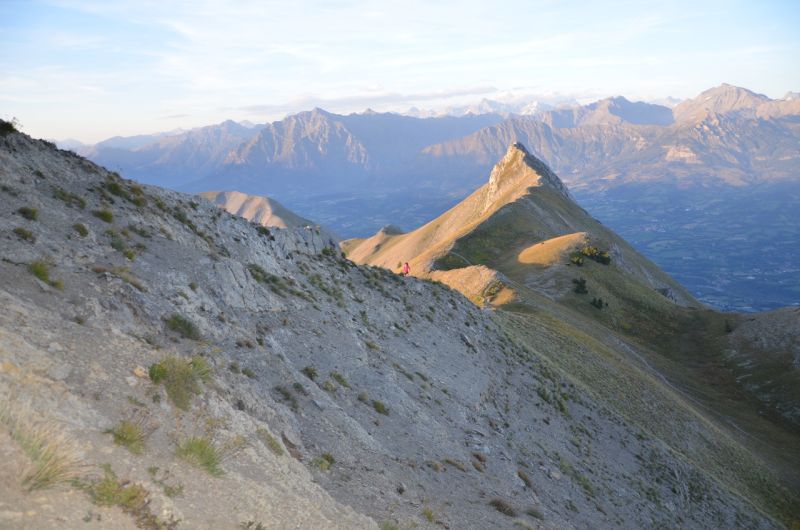 What is it?
An accessible ridge that takes you up to an altitude of 2,161m and delivers fantastic views.
Where is it?
In the Southern French Alps, just a stone's throw away from the town of Gap.
Why should I do it?
Walking the Pic de Gleize will take you to one of the finest viewpoints in the area, delivering fantastic magnificent panoramic views of the Champsaur Valley, nearby Gap and the surrounding peaks. Unlike some ridge walks, the Pic de Gleize is incredibly accessible, as the walk only takes two to three hours.
How can I do it?
Undiscovered Mountains offers various walking tours in the Southern French Alps, including one that takes in the Pic de Gleize.