In Wired For Adventure Volume 18, writer and photographer Peter Elia and his girlfriend Ines set off on a Malawi hiking adventure to tackle Mount Mulanje's highest peak of Sapitwa; they find with the help of their mountain guides that the journey is far more powerful than the destination. Read the full feature and many more here.
Words and images by Peter Elia.
Malawians refer to it as 'the island in the sky,' locals say the spirits of our ancestors reside above the mountain in the stars, and rumour has it that J.R.R Tolkien found inspiration here for his fantasy world in Lord of the Rings. Yet, we were the only souls perched on the fringes of this alluring mountain which sharply rises from the verdant plains below. Our view could belong to Middle Earth, a dense rainforest above, a lush tea plantation below, and whispering clouds sandwiched between them. However, instead of Frodo Baggins and friends, my girlfriend Ines and I embarked on a four-day hut-to-hut Mount Mulanje adventure. 
At 3002m, Mulanje is Malawi's highest peak and dwarfs everything surrounding it. It's not one mountain but a 'massif' of syenite and granite covering a colossal 650 sq km and has no less than 20 peaks above 2500 metres. Additionally, the landscape is renowned for its eclectic mix of wondrously beautiful basins, rivers, gorges, and waterfalls, which initially attracted us to this trek; we also felt that Malawi wasn't at the top of most hikers' African bucket lists. Ines and I wanted to avoid the crowds of Kilimanjaro or Toubkal, and Mulanje seemed like an enthralling off-grid choice.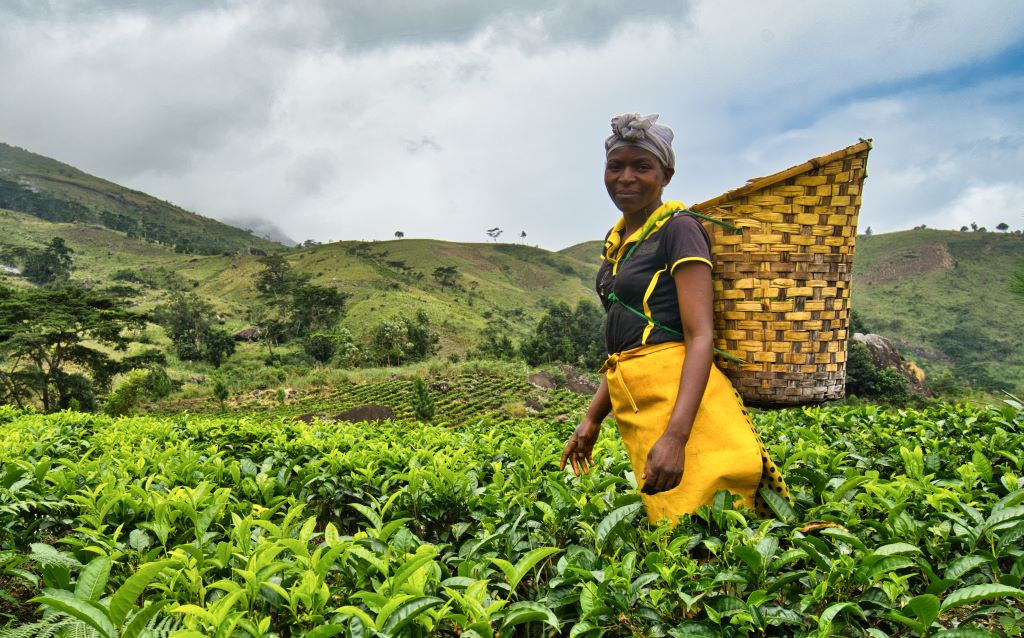 A mountain to ourselves
Prior to our arrival, southern Malawi's "Cyclone Freddy" had savaged sections of most trails with fallen trees making the routes impassable, so our hiking guides had settled on an unofficial route, a combination of different paths to the Sapitwa summit. 
At first, we couldn't see any signs of cyclone damage on our arrival at the Luregi Tea plantation, a remarkable place of beauty to begin any hike. The rows of tea bushes appear manicured and stretch across the fields far and wide until they merge into a patchwork quilt of emerald hues.  
Waiting for us were our senior guide (John), cook (Stamford), and porter (Alfred). "Welcome to the hike of your life," John said cheekily. Ines chucked a little nervously and replied, "In a good way, right!" Nobody said anything; the conversation was as pleasantly mysterious as the local mountain weather known as 'Chiperoni,' a Malawi term for dank mist often experienced in the southern highlands during the dry season. So, as we started our hike, John and company would intermittently vanish from view as the Chiperoni became dense; this was our queue for us to stay close to the group. 
As the mist rose, we steadily climbed from a starting altitude of 200 metres, flanked by flourishing tea plantations. Workers adorned in colourful clothing with wicker baskets attached moved through the fields while plucking tea leaves at speed. "It's hard work," Alfred remarked. I'm from Lugeri; I used to pick tea as a teenager; my fingers and back became sore," he added. Alfred and I continued to talk. "We have more hiking guides than hikers right now." Unfortunately, this was confirmed when we officially registered our names and IDs at the walker's entry hut. Ines and I signed the administration book and noticed we were the first hikers here since Cyclone Freddy. 
 
Ines in wonderland
We left the plantations behind and saw scattered fallen trees from the effects of Cyclone Freddy. We couldn't follow the path, preferring to zig-zag over or around the rooted Cedar trees. The climb became steeper and more slippery. Thankfully, laid down were a series of ladders, making this section both manageable and enjoyable. We worked as a team to ensure we stayed safe on the ascent while passing up everyone's luggage, hiking equipment and food. Eleven ladders later, with sore hands and feet, we were treated to a well-deserved picnic overlooking the vast verdant plains below.  
After lunch, we gradually entered a change of scenery. Less wild and more magical than I imagined. I saw my girlfriend looking around in amazement as we stepped through a canopy of vibrant shades of green while the sunlight danced through the moist foliage.  
We were immersed in the most fairy tale of rainforests. The chimes of birdsong surrounded us. Our guides calmly held out their arms to help us climb over the granite rocks. The scent of the earth and the soft moss cushioning our feet made the experience feel like an unforgettable meditation walk. 
A sign suddenly stood out from the high grass, 'Madzeka Hut', our first night's accommodation at 1820 metres above sea level. Weary by now, after four miles of climbing, we slowly made our way to our humble wooden hut in the heart of the rainforest. There was one room with two bunk beds and another with a dinner room table, chairs and a fire. The only ornaments were three empty beer bottles used as candlestick holders placed above the fire's mantelpiece.  
Each hut we stayed in had its charm, but the principles remained the same. Simple timber and stone structures blend harmoniously and in tune with their natural surroundings. While Stamford prepared Chicken Pasta in tomato sauce for us, he also made "Nsima" (pronounced en-see-ma) for the guys. It's the staple food for most Malawians as it's filling and provides energy. Nsima is a thick porridge made of maise flour and water, often served with beans, vegetables, fish, or meat. Our guides ate their Nsima with beans outside around a small campfire, laughing and joking while inside the hut, thanks to Stamford's wonderful skills, Ines and I had a romantic head torch-lit dinner for two.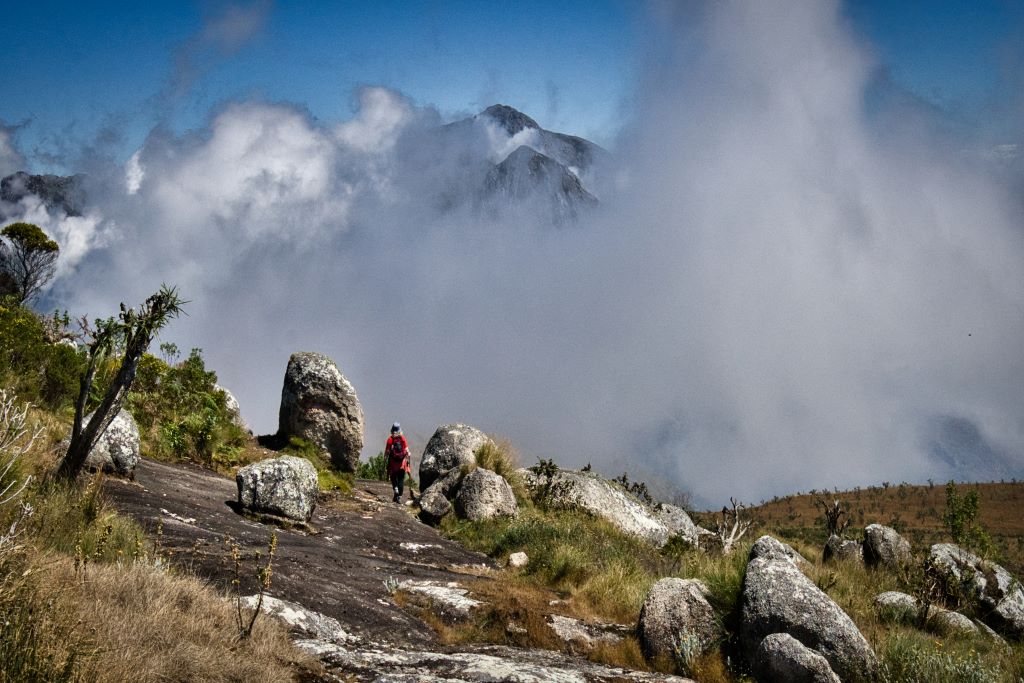 Hiking kindness
There was no chiperoni today, only glorious sunshine and blue skies. Our bodies still ached as we wandered through an expansive plateau that could pass as a landscape akin to the Scottish Highlands. Mulanje is truly special; the mountain belongs to Africa, while I sometimes sensed I was somewhere else.  
Unfortunately, Ines began to feel unwell. Her shortness of breath, fatigue and lack of balance was a big concern to all. Perhaps, altitude or the fast rate we were climbing was the issue. We reached a height of nearly 2500 metres in rapid time. I asked John to change the route as Ines's health declined further. Luckily, our lunch stop in Chinzama Hut was close by. We could stop there and assess the situation. 
The lunchtime rest helped Ines. However, we decided as a group to reroute the hike to a lower altitude. John announced, "But you won't be able to climb Sapitwa."  
"No worries, it's not meant to be," I replied.  
John spoke proudly about Malawi's highest peak, adding that it's the place of the spirits and ancestral guardian of the mountain. I asked John if the name "Sapitwa" had any meaning – our guide remarked with a wry smile, "It means 'don't go there'." I was unsure whether John was joking, but he then added, "it translates from our language (Chichewa) to yours as unreachable." So perhaps it wasn't a bad thing not to go after all. 
We all stayed the night at Chinzama and began our 3rd day with a gentle five-hour walk down to Thuchila Hut, famed for its outstanding sunsets at the so-called "Elephant Head" lookout point. Ines's strength and breathing improved on the descent. Suddenly, Mulanje's spiritual side appeared. Sapitwa's peak revealed itself as we walked angelically through the clouds before finding our final hut. 
Our guides were patient throughout, constantly rerouting our trek because of cyclone or sickness issues with smiles. We all had a beer together after arriving at Thuchila, chinking bottles and wondering how we made it. John, Alfred and Stamford shone as a beacon of human kindness, always thinking of others before themselves. 
They call Malawi "the warm heart of Africa", and Ines and I had come to understand why.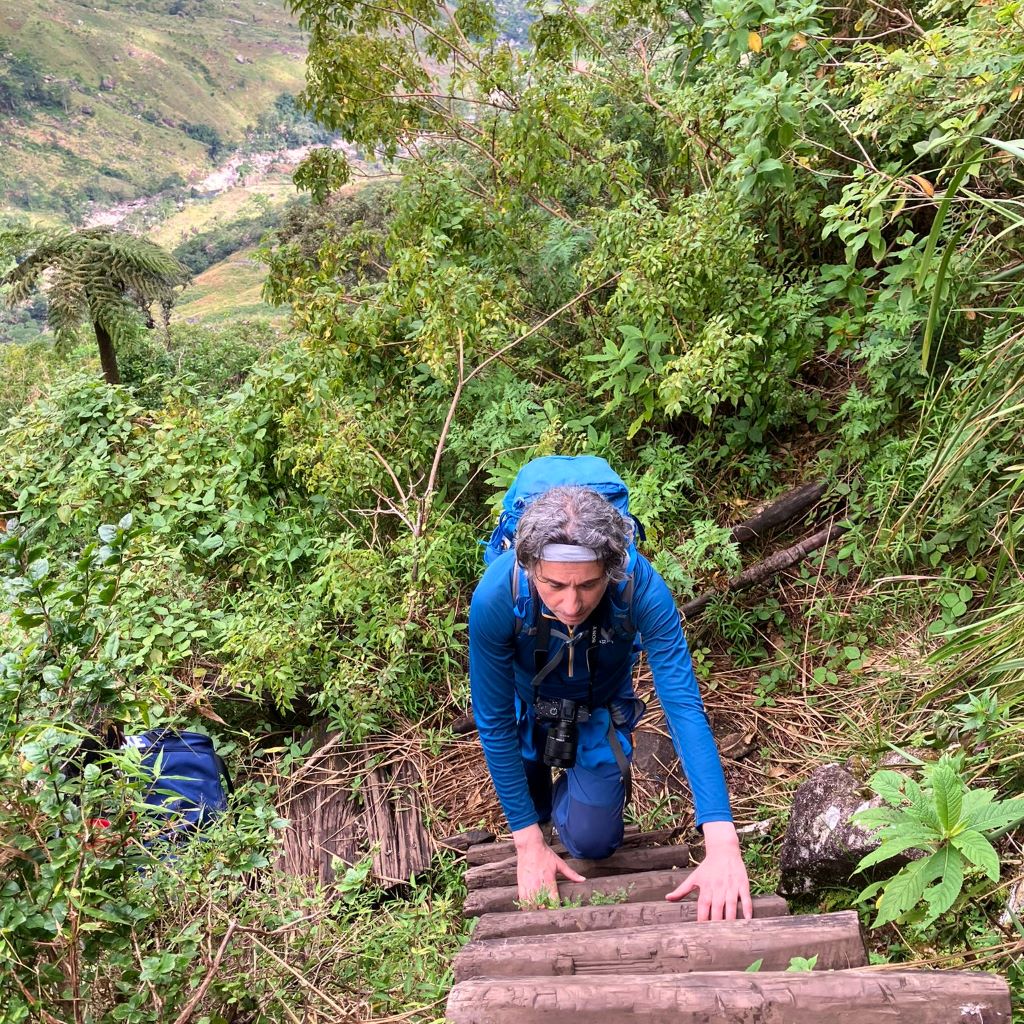 Peter climbed Mount Mulanje with Keadventure.com and flew London to Blantyre with ethiopianairlines.com 
Follow more of Peter's adventurers on Instagram: TheManWhoHikedTheWorld.