From boiling water for a cuppa to cooking up a culinary delight, a good camping stove is an essential piece of kit for adventures long and short. Here, we take a look at six.
After a long day in the mountains, the tent's pitched, your gear's unpacked, and it's time to fire up the camping stove and cook up a meal that would make Gordon Ramsay weak at the knees. But which stove do you choose for your camping kitchen?
In days gone by, dining in the great outdoors involved collecting a few sticks, setting them alight and roasting whatever food you could get your hands on. These days, things are often more civilised (though perhaps less exciting), and when it comes to choosing a stove there are a fair few on the market. Deciding which one is right for you can cause quite a headache.
Whether it's choosing between multi-fuel or gas, free-standing or not, there are a few things to consider when deciding. In this group test, we're looking at six cooking systems, five of which are gas-fuelled and one that uses a chemical reaction to create heat. We've been pleasantly surprised by what you can get at the budget end of the price scale. While we'd prefer something higher spec for cooking in seriously cold or high environments, the stoves tested here are more than suitable for camping, hiking, and cooking across three seasons.
We've chosen mainly gas stoves as they're the most common type of stove on sale in outdoor shops and in use on campsites in the UK. Gas stoves burn clean and offer great ease of use, allowing you to fine-tune the amount of heat you're getting. This means you can go from a raging inferno to a gentle simmer in no time.
You can find our full camping stove feature, and more, in Wired For Adventure Volume 17, available now.
A word of warning
Gas stoves produce carbon monoxide, a poisonous gas you can neither see nor smell. It can be deadly in an enclosed space, such as a tent, so always make sure you cook in well-ventilated areas. If you're forced to cook in the porch of your tent due to bad weather, ensure it's fully unzipped and all of the vents are opened on your tent.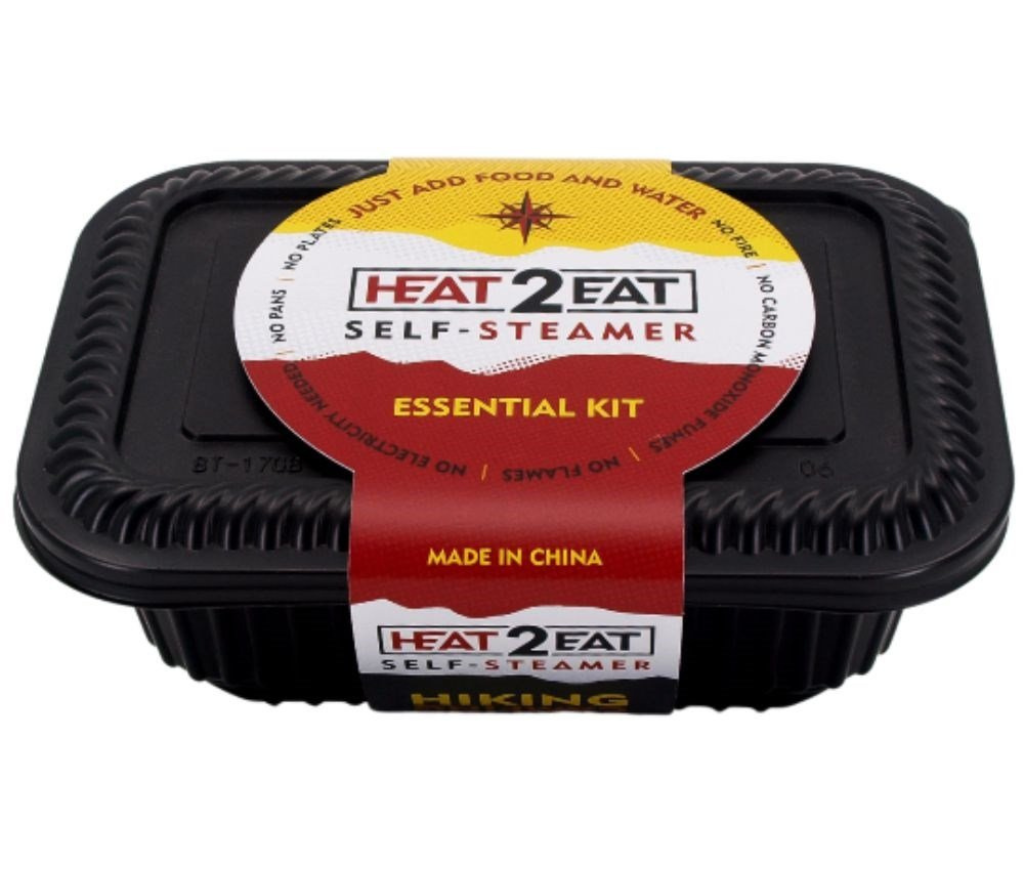 Heat2Eat Self Steamer
£11.69
www.heat2eatselfsteamer.co.uk
We're kicking this review off with something a bit left of field, the Heat2Eat Self Steamer. Unlike the other stoves in this review, the Self Steamer is a semi-reusable self-steamer that uses flameless HeatStones to heat and warm up meals.
The Self Steamer works in a straightforward way. Place a HeatStone in the tray, fill it with water, and watch the chemical reaction happen. The HeatStone will get hot, warming the water around it, which heats up the divided heating tray sitting atop it. This then warms your food without the need for flames or harmful fumes, making it possible to make up meals from the comfort of your tent if the weather's bad.
In the flesh, it looks and feels like a takeaway carton, but if you only want to warm up pre-cooked meals or expedition food, it's not a bad solution, mainly as it'll only set you back £11.69.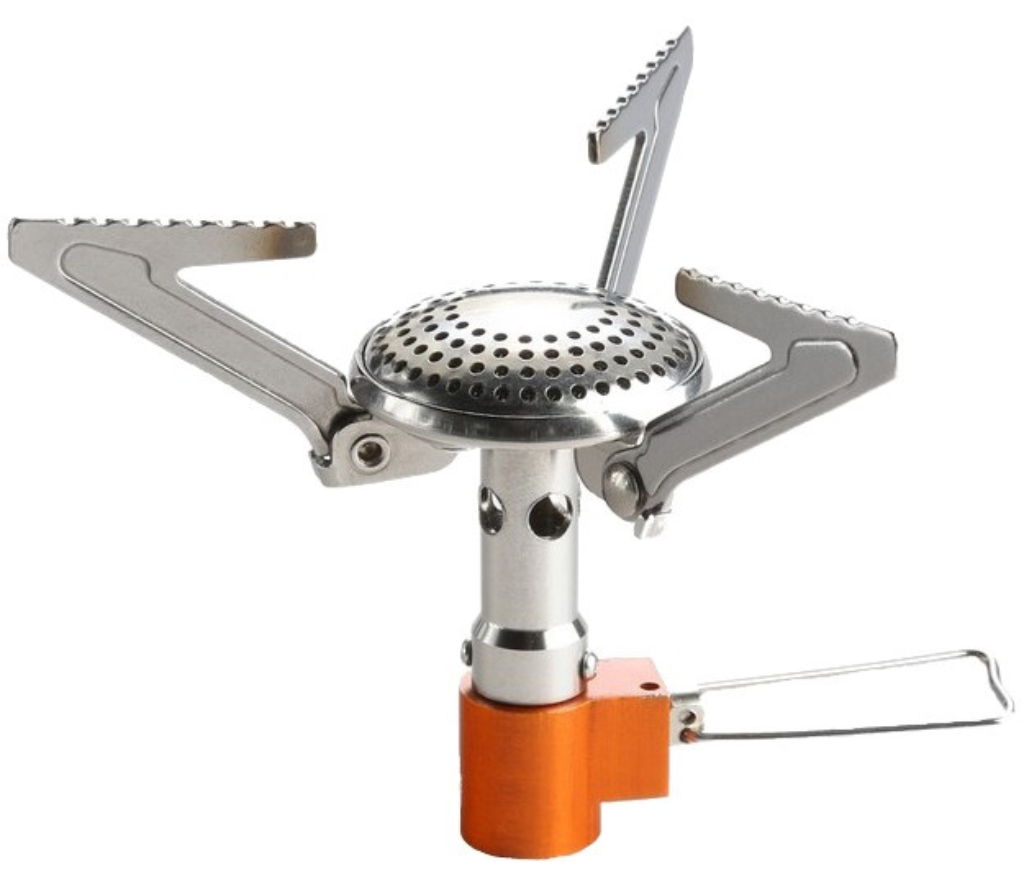 Vango Atom
£32.50
www.vango.co.uk
The Vango Atom stove is an ultra-light, compact, straightforward cooking companion. Weighing in at just 66g, it's ideal for those looking to shave off as many grams as possible. And at a pocket-friendly £32.50, it's also very nicely priced.
Despite its small size, the Atom delivers a punch in terms of power, boasting impressive boil times in calm weather conditions. Simplicity is key here, making it easy to use and a breeze to keep clean.
Budget-friendly, this stove is an excellent choice for those looking to dip their toes into outdoor cooking, though it's worth noting that the Atom's compact design may falter in more challenging conditions. With this in mind, its performance in windy weather isn't excellent, and it's not the best at simmering due to the narrow burner head and the tendency to flicker when gas flow is low.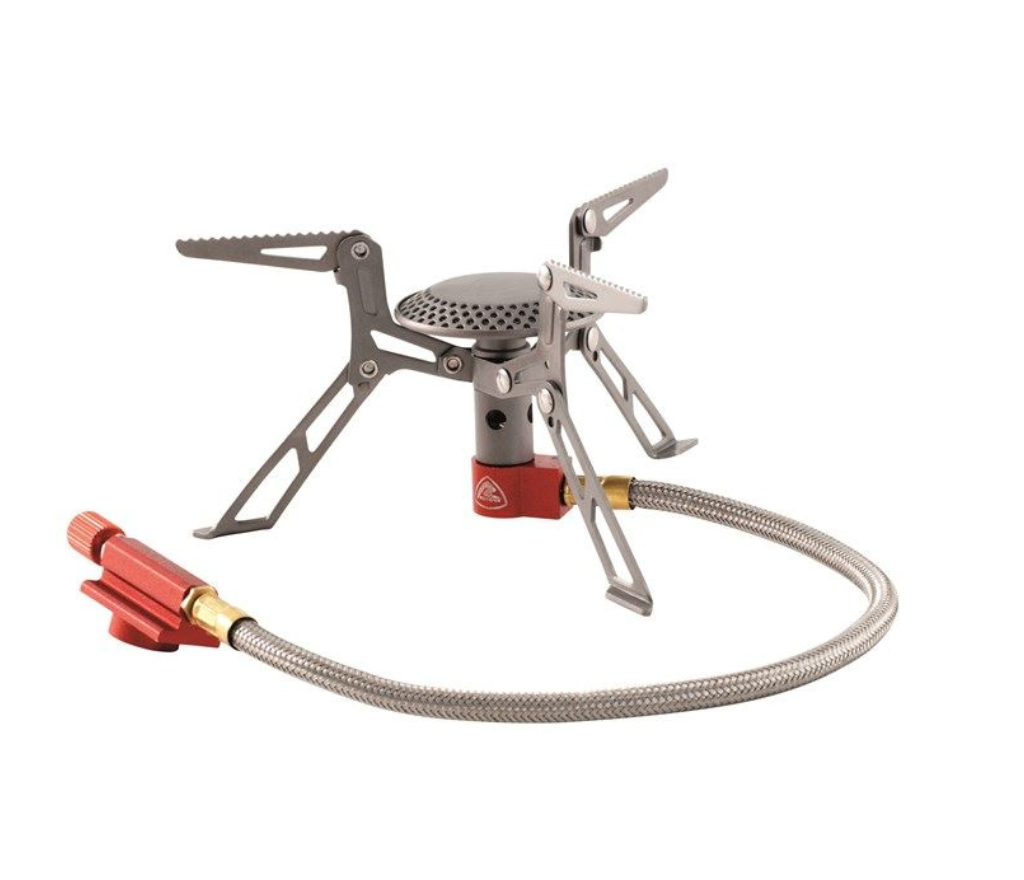 Robens Fire Bug Titanium
£73.99
www.robens.de
The Robens Fire Bug Titanium stove balances lightweight design and sturdiness. Weighing in at 98g, it's made from titanium, brass, and aluminium, offering a level of durability which should set it up nicely for use in demanding environments. The stove features a broad pot support and a large burner top, ensuring stable cooking and heat distribution, even when using large pots.
The Fire Bug Titanium packs down relatively small, though it's noticeably larger than offerings like the Pocket Rocket, and it comes with a handy mesh storage pouch to keep you organised.
Due to the way the stove's designed, the gas line must remain close to the ground. This can make it awkward to use on uneven terrain, especially if you're using a large gas canister, and it can upset the balance of the stove.
Despite this minor hitch, the Robens Fire Bug Titanium offers a robust cooking solution.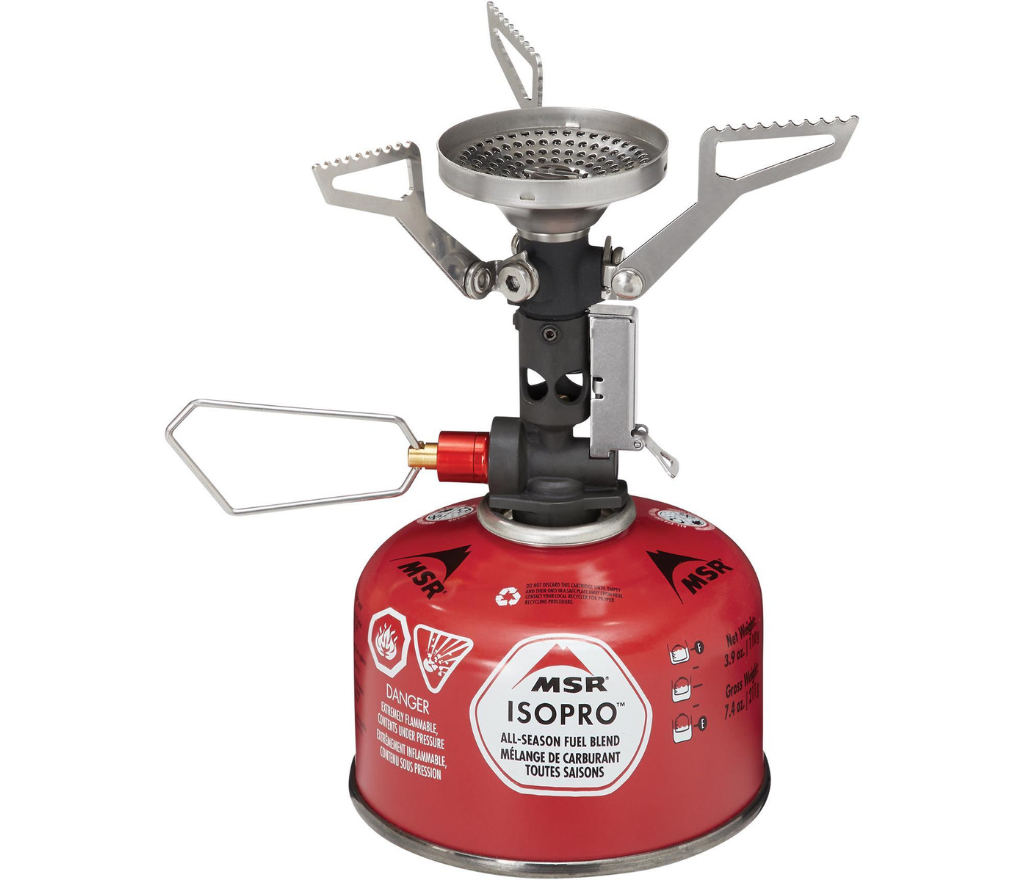 MSR Pocket Rocket Deluxe
£94.95
www.msrgear.com
The MSR Pocket Rocket has been the go-to stove for many campers and backpackers since its launch in 2005. Back then, it impressed with its lightweight, fuel-efficient, and durable design, and over the making of this issue, we've been using its beefed-up big brother, the Pocket Rocket Deluxe.
At just 83g, the Pocket Rocket Deluxe is ideal for those looking to minimise weight and pack size. At the same time, it also offers premium features like a pressure regulator, which ensures consistent and fast boil times in cold weather and low fuel conditions. Unlike the original Pocket Rocket, the Deluxe has a push-start piezo ignition, which is durable, though not always 100% reliable in igniting, and the stove's broad head burner offers excellent heat distribution, even when using large pans.
The MSR Pocket Rocket Deluxe delivers impressive performance with minimal fuel consumption. It is a versatile companion for fast and light trail trips or weekend getaways in the great outdoors.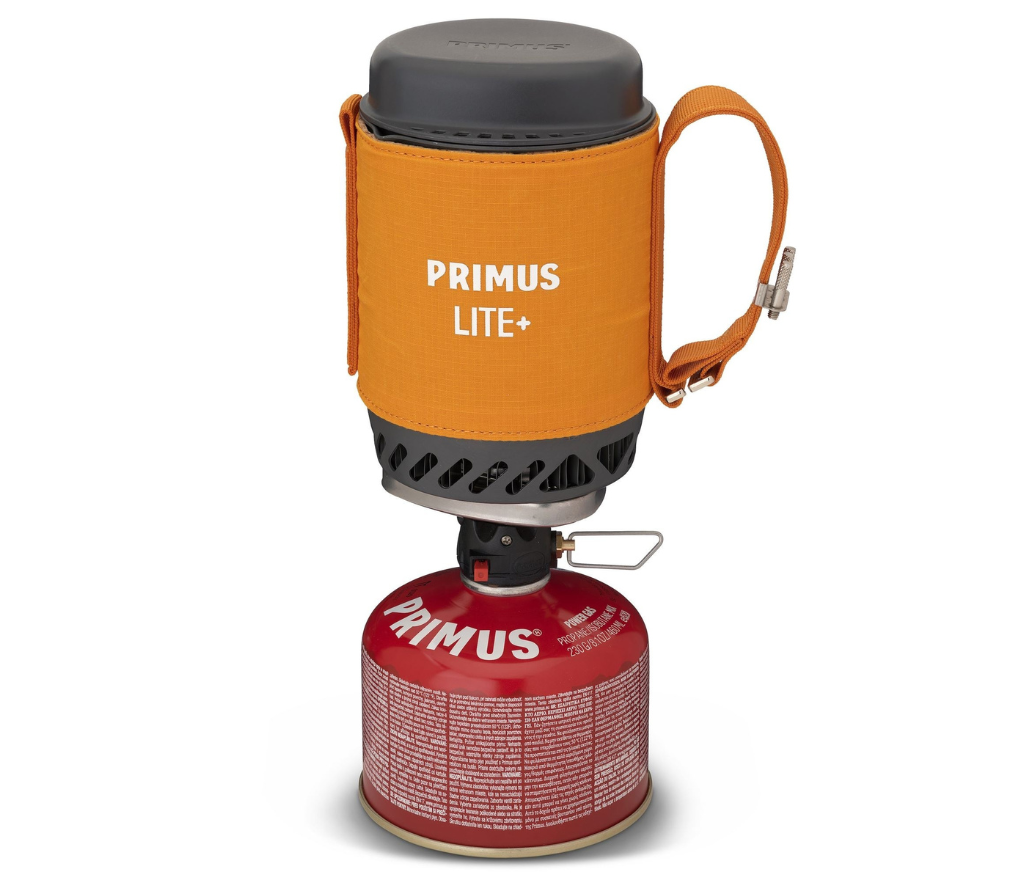 Primus Lite+
£129.95
www.primusequipment.com
The Primus Lite+ serves as an all-in-one cooking system geared towards those out backpacking and wild camping or just wanting a quick brew in their camper or at the top of Snowdon. It's a complete setup with a 500ml integrated pot that locks onto the burner head. It also comes with a piezo ignition, which means you don't need a lighter or matches to get it going.
The Laminar Flow Burner technology provides a 1500W flame, yet it is remarkably quiet when at full 'roar'. The gas control valve offers fine adjustability to heat. However, the narrow burner is not ideal for simmering (it concentrates the heat in a small area rather than distributing it across the pot's base). The Lite+ has a recessed burner head to improve performance in windy conditions, and it comes with a unique bracket to support the pot, offering excellent stability.
The package includes a hard-anodised aluminium pot with an integrated heat exchanger, an insulated pot jacket, a lid that doubles up as a small cup with a strainer, and a strap for hanging the stove assembly if the situation calls for it. While functional, the cup is on the small side, and the stove is suited primarily for boiling water rather than cooking anything more elaborate than pasta or heating a pre-cooked camping meal.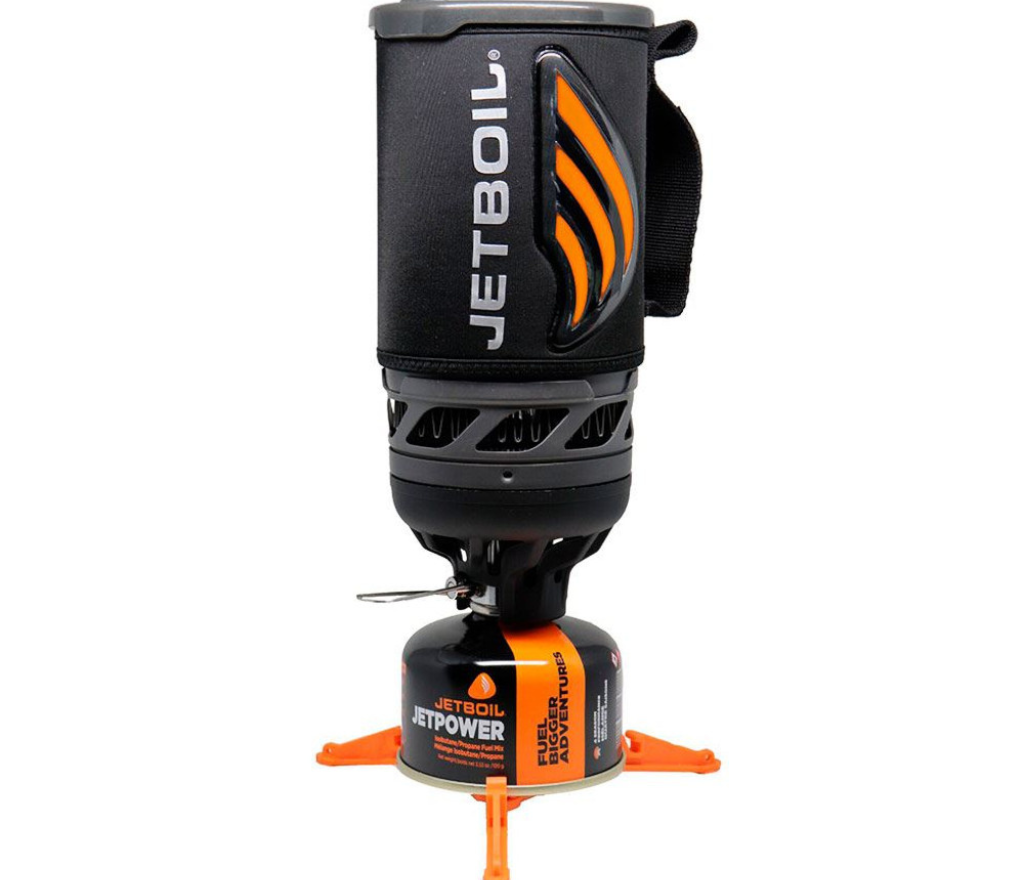 Jetboil Flash
£139.99
www.jetboil.co.uk
Jetboil has a fierce reputation in the outdoor scene, and after seeing the Flash's ability to boil water at breakneck speeds, it's easy to see why. This cooking system is impressive, and if you're making a cuppa or rehydrating meals for your evening scran, it's the perfect bit of kit.
Where it doesn't perform quite so well is in its simmer control, but that's less of a concern as that's not what it's designed to do. Boiling water is its primary mission, and it does it brilliantly. We particularly like the colour-changing heat indicator built into the insulating cover – when your water's boiling, it changes colour to let you know you're ready to go.
As with most stoves that stand on the gas canister, the Jetboil Flash isn't the most stable, but it comes with a fuel canister tripod to try and counter that, which is a nice touch.
Get Cooking
Read the full reviews in the latest edition of Wired For Adventure and find the perfect camp-side companion for you.