There is no denying the dramatic beauty of Valais in the winter. Home to some of Europe's finest powder, the snowy slopes of Saas-Fee/Saastal and Region Dents du Midi are as iconic as the country's watches, cheese and chocolate. And once midwinter's crisp, cold weather settles on the legendary Valaisan and Bernese Alps, the ski season moves into top gear as the fabled pistes pack out with skiers, snowboarders and spa-goers. But when the snow melts and the pastures turn green, the pace doesn't stop. Quite the opposite in fact – the energy only ratchets up.
Valais is the perfect year-round destination for outdoor adventurers, from hair-raising thrills on magnificent peaks and colossal glaciers to dreamy days hiking and cycling sun-soaked trails, Valais is a gateway to some of Europe's most extraordinary high-altitude adventures.
From dynamic trails with panoramic views to action-packed activities over epic terrain, here are five reasons to head to Switzerland's ultimate playground for your next holidays.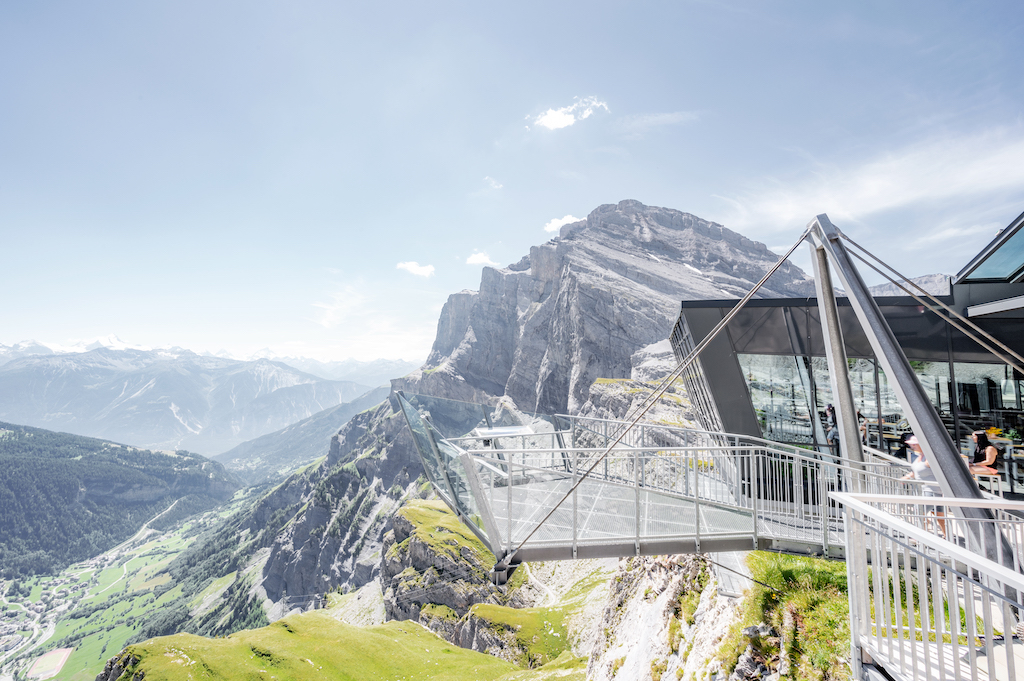 Photo: MyLeukerbadAG
1. Epic viewpoints
It goes without saying that Valais, with its deep ravines and towering peaks, is home to some of Switzerland's finest Alpine vistas. Some would argue that the best views require a summit scramble or an ice axe, but there are countless attainable by mere mortals – usually via a short cable car ride.
There are too many to list here, but some of the canton's finest viewpoints include the Gemmi Pass, a nick in the mountains looming high above Leukerbad; Längfluh, where visitors can get a close look at the enormous Fee Glacier in Saas-Fee; the magnificent Simplon Eagle standing sentry over the historic pass; and Eggishorn, the highest of four official viewpoints overlooking the Great Aletsch Glacier, where it's also possible to glimpse 40 of Switzerland's 48 4,000m peaks, (45 of which are in Valais).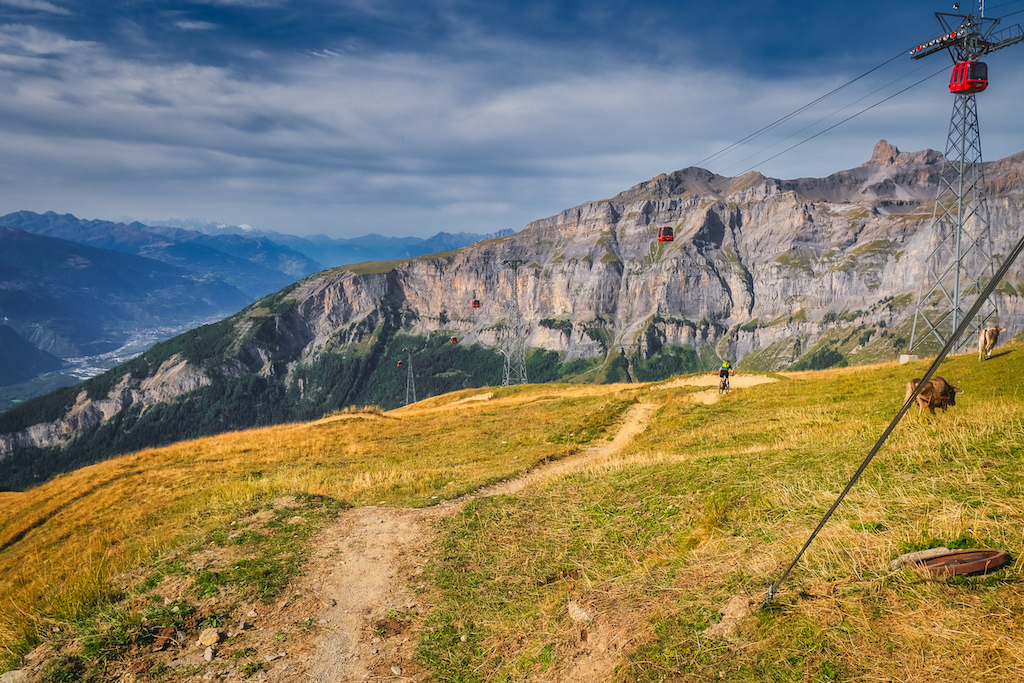 Photo: Peter Watson
2. Mega mountain biking
In the winter, Valais is abuzz with skiers and snowboarders, particularly along the 600km of piste surrounding the six villages that make up the Portes du Soleil, the world's largest international ski area. But in the warmer months, the Region Dents du Midi, Portes du Soleil transforms into Europe's biggest mountain bike park with over 600km of bike tracks including 350km of marked e-bike trails.
Another fine spot for biking are the pastures above the sunny town of Leukerbad, where the ancient shepherd trails have been widened and extended to meet the needs of bikers. The routes include the thrilling flow trail, a downhill mountain bike course designed to minimise pedalling and braking, encouraging the rider to coast and jump along a series of banked turns and rolling terrain.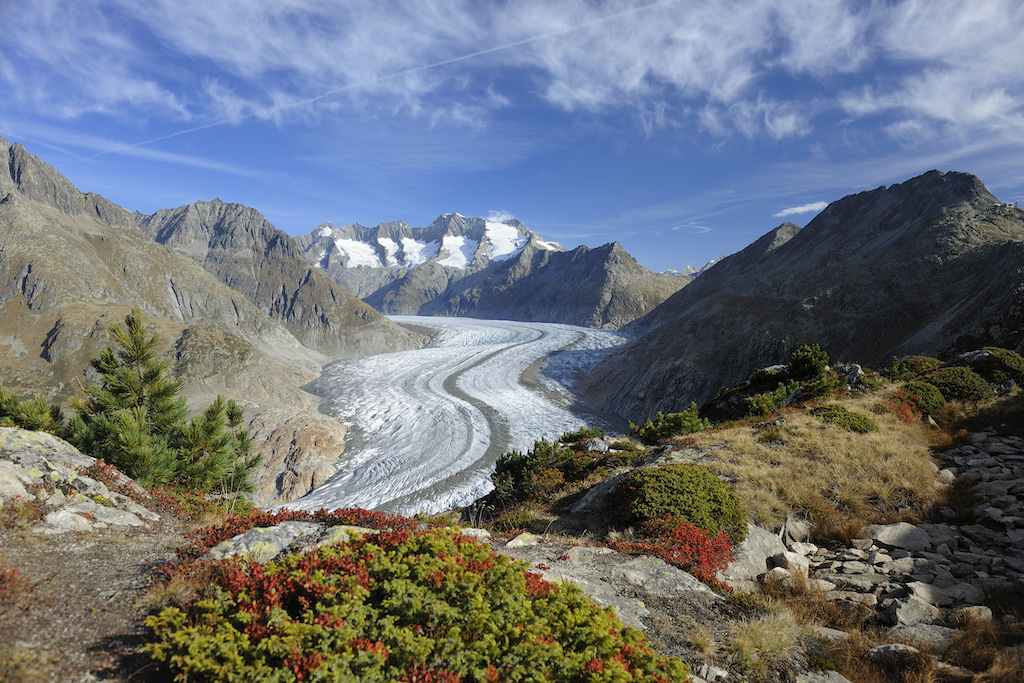 Photo: Aletsch Arena – Christian Perrett
3. High-altitude hiking
If you'd prefer to stay on your own two feet, there are thousands of miles of hiking trails to explore around Valais. Highlights include the historic mountain water irrigation channels of Nendaz, known as bisses. The channels form a network of waterside walks coursing along the slopes, connecting charming villages, quiet forests and remote meadows.
Another fine option is the Stockalper Trail, a 65km historic trade route linking Brig in Switzerland to Domodossola in Italy. Of course, these trails can be completed in stages as day hikes or as point-to-point multi-day treks.
Perhaps the best day hike in the canton is a walk alongside the UNESCO-listed Aletsch Glacier. At 20km in length and with a surface area of 79 sq km, it is the longest ice stream and the largest glacier in the Alps.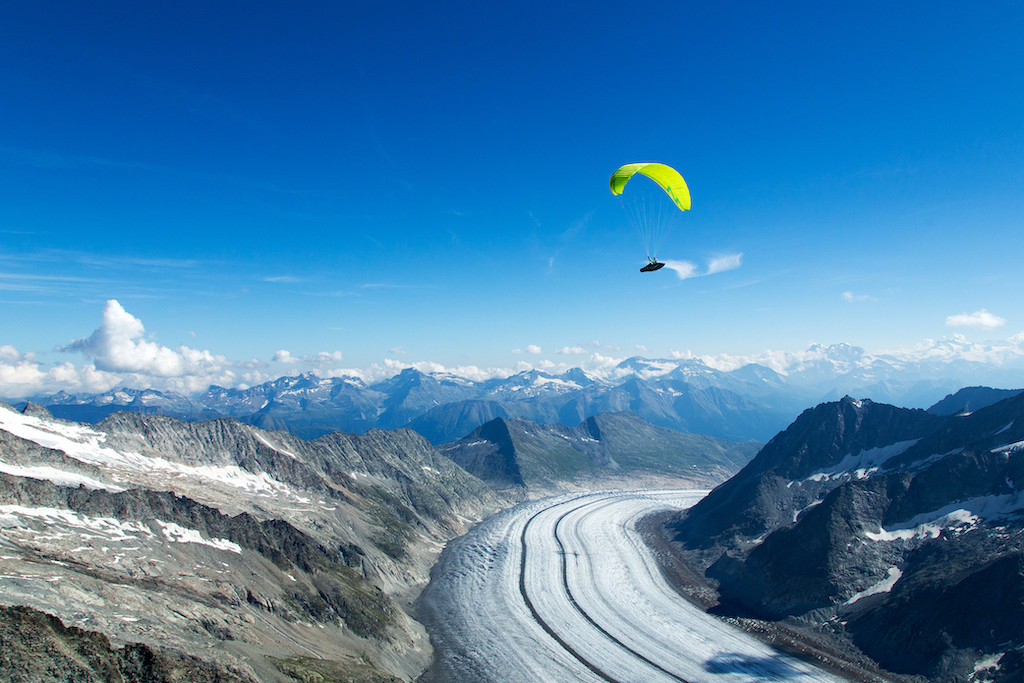 Photo: Aletsch Arena – Urs Haari
4. Adrenaline-pumping fun
If you're looking to push your boundaries, Valais has something for everyone looking for high-octane thrills. There are opportunities to go paragliding, zip lining, mountain carting and scootering, rock climbing, canyoning, mountaineering, orienteering, via ferrata and glacier trekking to name just a few of the options. It's even possible to bag your first 4,000er by using the world's highest funicular to get to Mittelallalin (3500m) and continue with a guide up to the 4,027m Allalinhorn above Saas-Fee.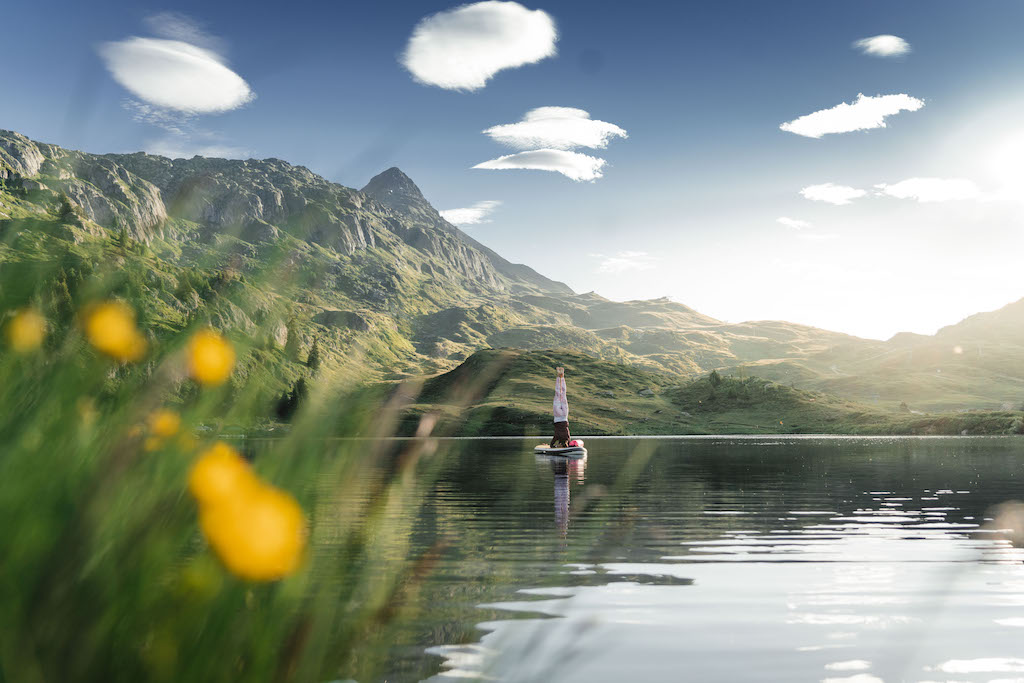 Photo: Karin Bittel
5. Mindful escapes
If you'd rather focus on switching off, there are myriad well-being options in Valais which include visiting high-altitude energy spots, yoga paths, forest bathing, SUP yoga on idyllic mountain lakes and soaking in mineral-rich thermal baths. You can even go marmot watching and feeding, with nuts and carrots, on the grassy banks of Spielboden and Stafelwald above Saas-Fee. In my book, these little charmers provide the most mood-boosting activity of them all.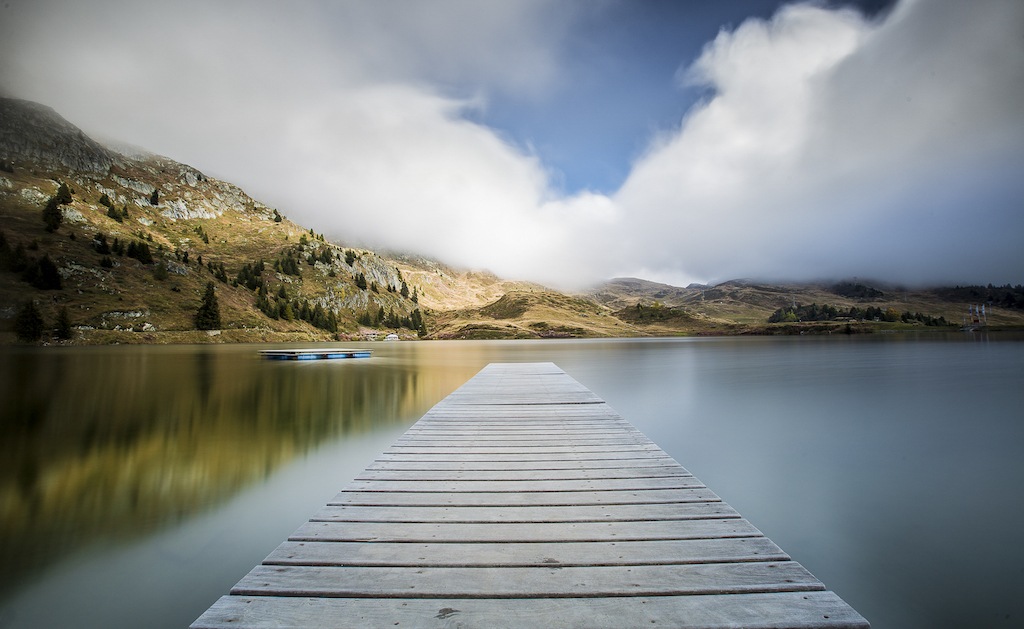 Photo: Aletsch Arena
6. Car-free retreats
If you're interested in limiting the carbon footprint of your trip, everywhere in Valais is accessible by train, bus or cable car. In fact, it's possible to travel from London – along with several other European cities – all the way to almost any destination in Valais without getting in a car. You can board a train in London, Paris or Amsterdam, and step off a cable car overlooking a 10 billion-tonne glacier in Valais.
What's more, Valais is home to five car-free settlements including the classic Alpine village of Saas-Fee; the rustic hamlets of Fiescheralp, Riederalp and Bettmeralp in Aletsch Arena; and of course, iconic Zermatt in the lee of one of the world's most recognisable mountains. For the best views of the Matterhorn, head to the top of Gornergrat.
Accessible, fun, crowd- and car-free, and relentlessly spectacular, it is astonishing that you can still find somewhere like Valais; somewhere to escape the modern and motorised workaday world.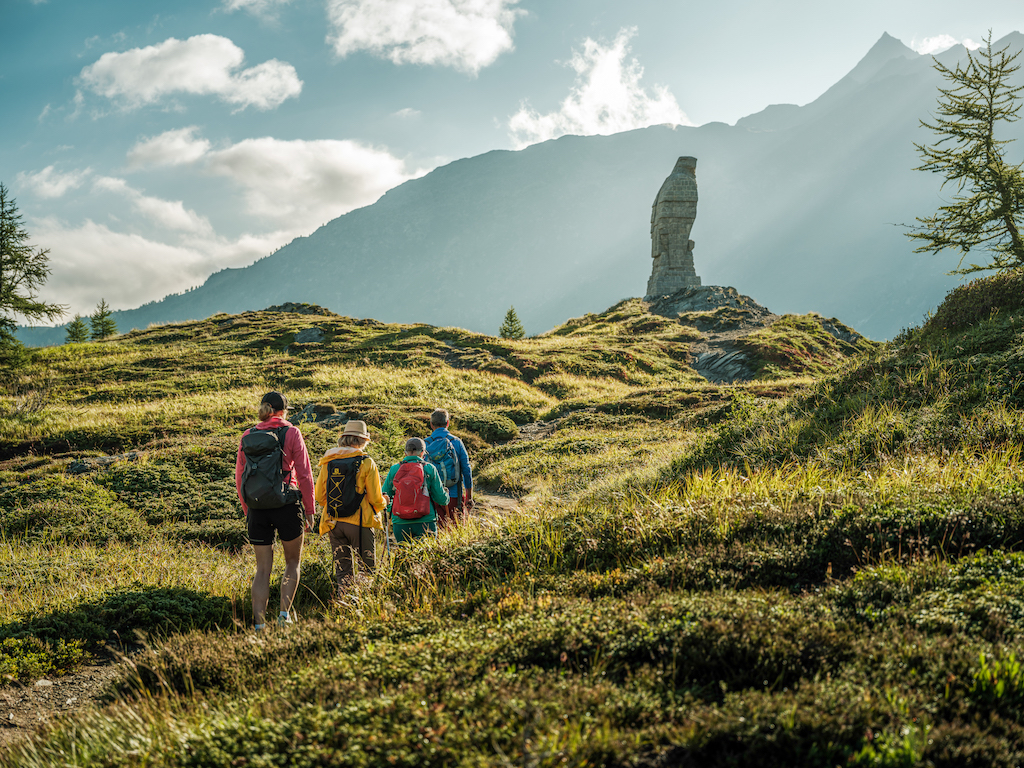 Photo: Brig Simplon -Pascal Gertschen
Holiday in Switzerland
To start planning your own summer adventure in Valais, Switzerland, see www.visitvalais.ch/shop and for more information, www.visitvalais.ch.