I first visited Aletsch Arena in the Swiss canton of Valais to hike along the UNESCO-listed Great Aletsch Glacier. Superlatives don't do justice to this immense corridor of ice. At 20km in length and with a surface area of 79 sq km, it's the longest ice stream and the largest glacier in the Alps. At its thickest, the ice is 800m deep and weighs approximately 10 billion tonnes. If it were to melt, it could supply every person on Earth with a litre of water every day for three-and-a-half years. It is a marvel of nature.
However, while the glacier understandably grabs all the headlines, there is so much more to Aletsch Arena than just the extraordinary glacial mass. If you're heading to the region this summer, here are eight things to do beyond the ice:
1. Hiking with a twist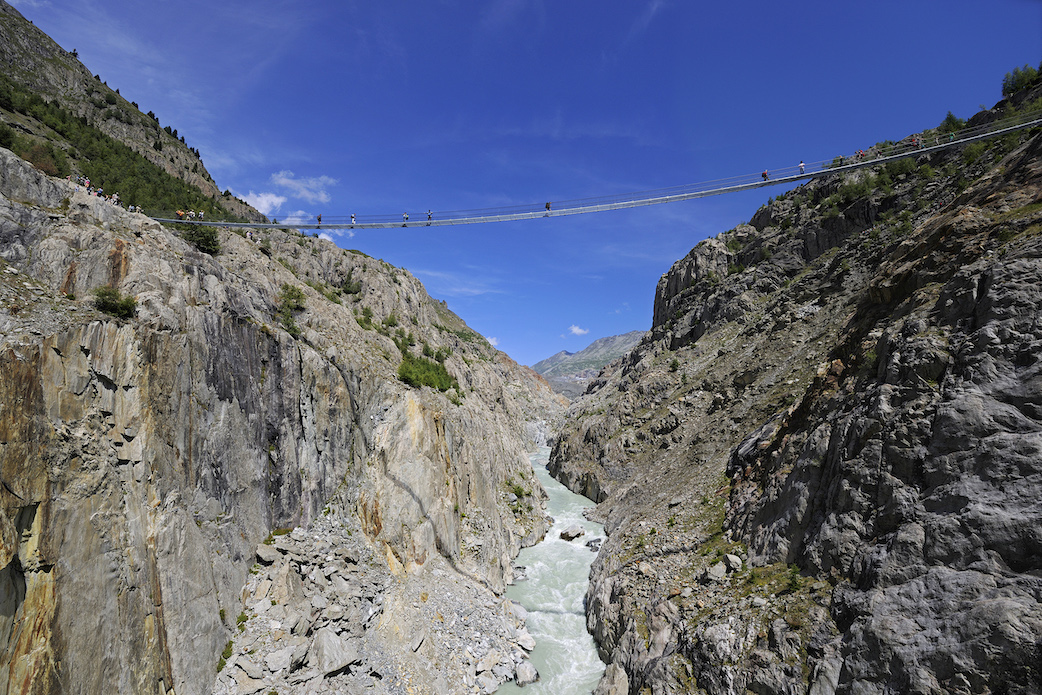 Image: Crossing a suspension bridge in Aletsch Arena (© Aletsch Arena – Christian Perrett)
Let's begin with the obvious. With over 300km of hiking trails, Aletsch Arena has a path for everyone. Of course, there is the signature experience – a tour of four official viewpoints strung along the glacier – but plenty of other hiking trails are available across every type Alpine terrain you can imagine.
There are exhilarating clambers over swinging suspension bridges and along spectacular ridges; serene strolls beside emerald mountain lakes or through sweet-scented pine forest; and wheelchair (or pram) accessible walks around circular and village-to-village paths.
For families, there are also treasure hunts available. The most popular is the Gogwärgiweg Trail, which has eight dwarf-themed puzzles for children to solve, and there's also the Foxtrail Desoria, a thrilling, interactive scavenger hunt that'll have you exploring the majestic landscape of this part of Switzerland. Finally, if you run out of ideas and haven't had your fill of the ice, there's always glacier trekking as a last resort.
2. Mountain biking and e-biking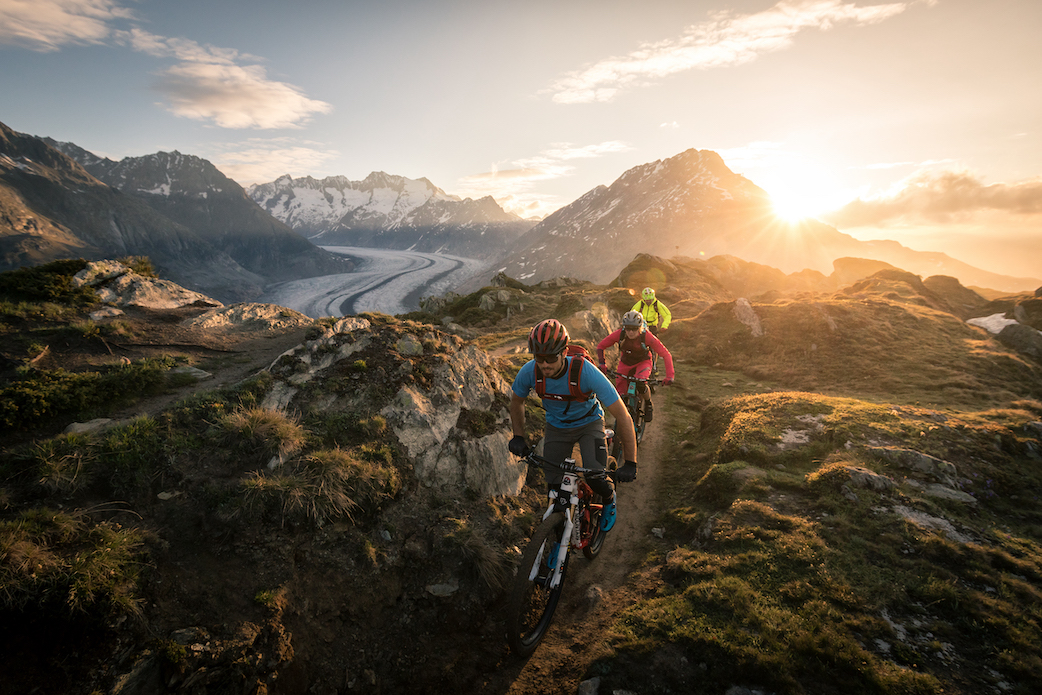 Image: Bikers on the Stoneman Glaciara Trail (© Aletsch Arena – Pascal Gertschen)
There are over 100km of mountain bike trails in the Aletsch Arena with a range of different tours and routes available. Popular options include the adventurous Stoneman Glaciara Trail which follows the ridges above the Great Aletsch Glacier.
With a glut of bike rental shops dotted around the region, e-bikes (and numerous charging points) readily available, free and easy transport for bikes on cable cars and dedicated bike parks and pump tracks for kids, Aletsch Arena really is a mountain biking paradise.
3. Paragliding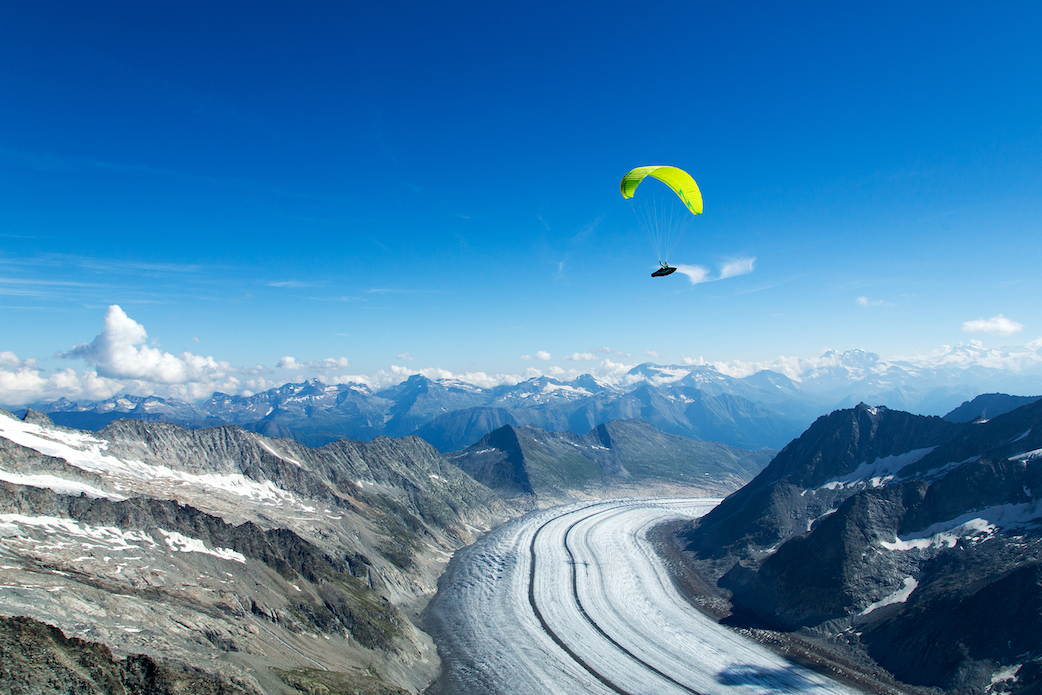 Image: Paragliding in Aletsch Arena (© Aletsch Arena – Urs Haari)
Fiescheralp, the most eastern village of Aletsch Arena, is known as Switzerland's paragliding mecca. With 15 and 45-minute tandem flights departing regularly, this paragliding experience combines unparalleled views of the region and is exhilaratingly great fun. If you're interested in going a step further there are also flight schools in the area where you can learn to soar for yourself.
4. Roping up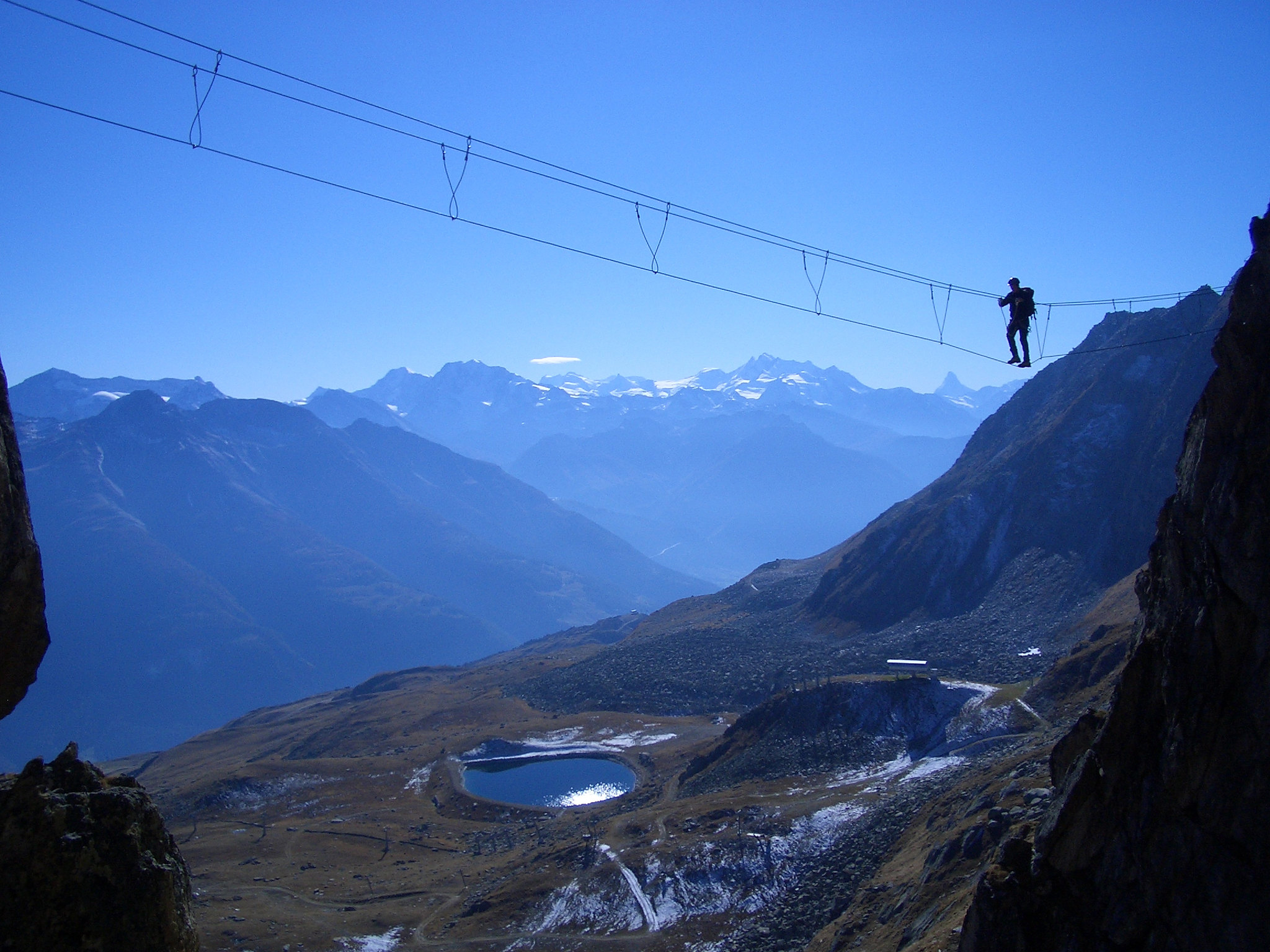 Image: The Via Ferrata on Eggishorn. © Aletsch Arena
Aletsch Arena is a giant mountain jungle gym for rock climbers, alpinists, and mountaineers. If you're not ready to test yourself on the north face of a 4,000m peak, there are several climbing options to choose from in the region.
For the whole family, there are two rope parks in the treetops at Baschweri Adventure Park on Bettmeralp and the Swiss Adventure Park in Fiesch. If you fancy a thrill, you'll love the Eggishorn course, a via ferrata (routes equipped with fixed ladders, cables and bridges) which features a Nepalese bridge, suspension bridge and zip line, as well as the usual collection of iron rungs, pegs, carved steps, and ladders.
Finally, there are four climbing parks to pitch yourself against in Aletsch Arena. Each park has a range of routes covering all difficulty levels, making it an ideal place for novice and experienced climbers alike.
5. Mountain carting and scootering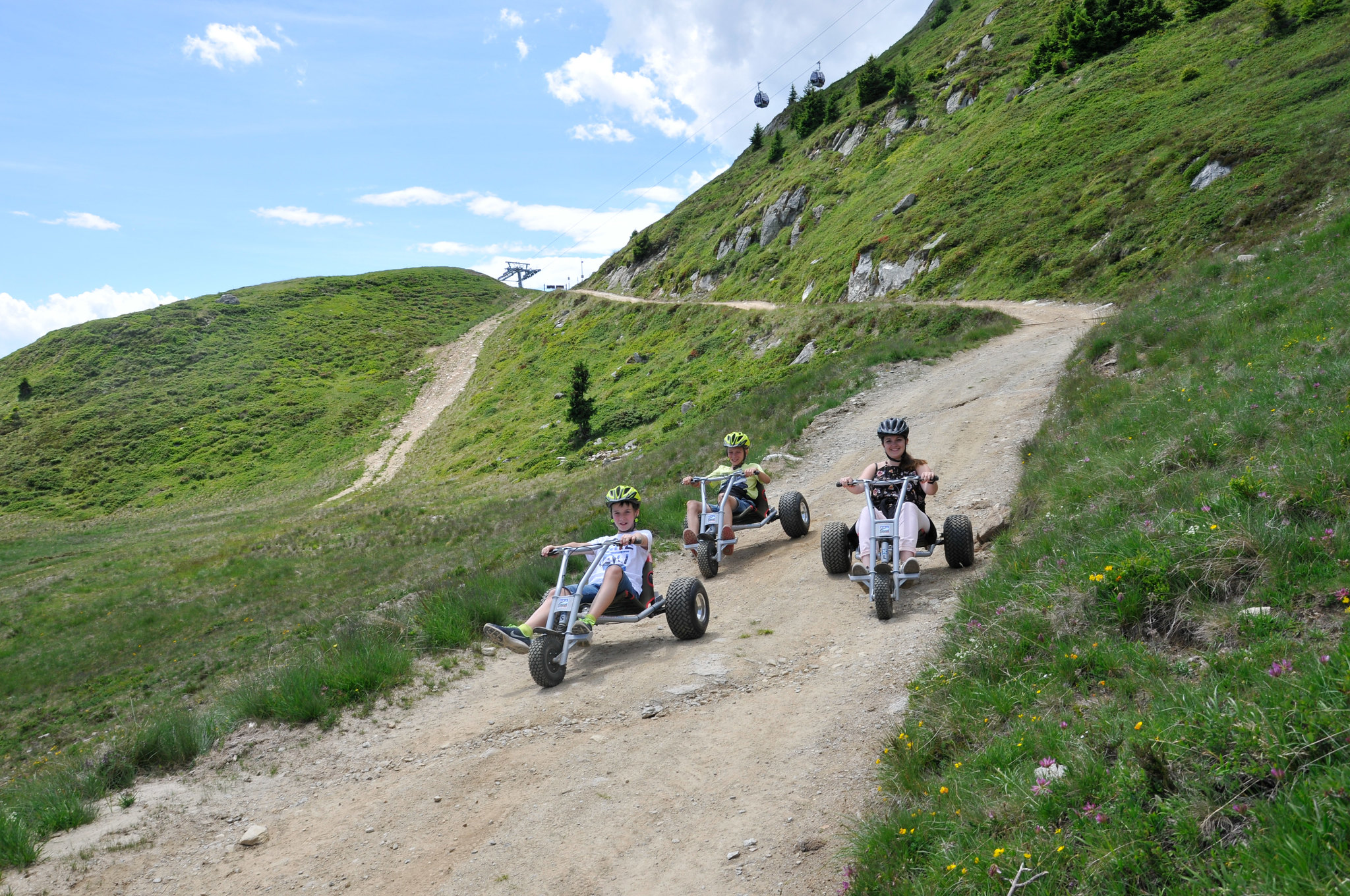 Image: Letting gravity do the work in a mountain cart. © Aletsch Arena
If you prefer to let gravity do the hard work, then jump on a chairlift to either Bettmeralp or Riederalp. At Bettmeralp, hop on a scooter and, at Riederalp, grab a cart. Then, let the rugged two or four-wheelers whip you along the mountainside. Both are equipped with fat tyres, suspension, and disc brakes. It is as daft as it sounds but outrageously good fun.
6. Yoga and forest bathing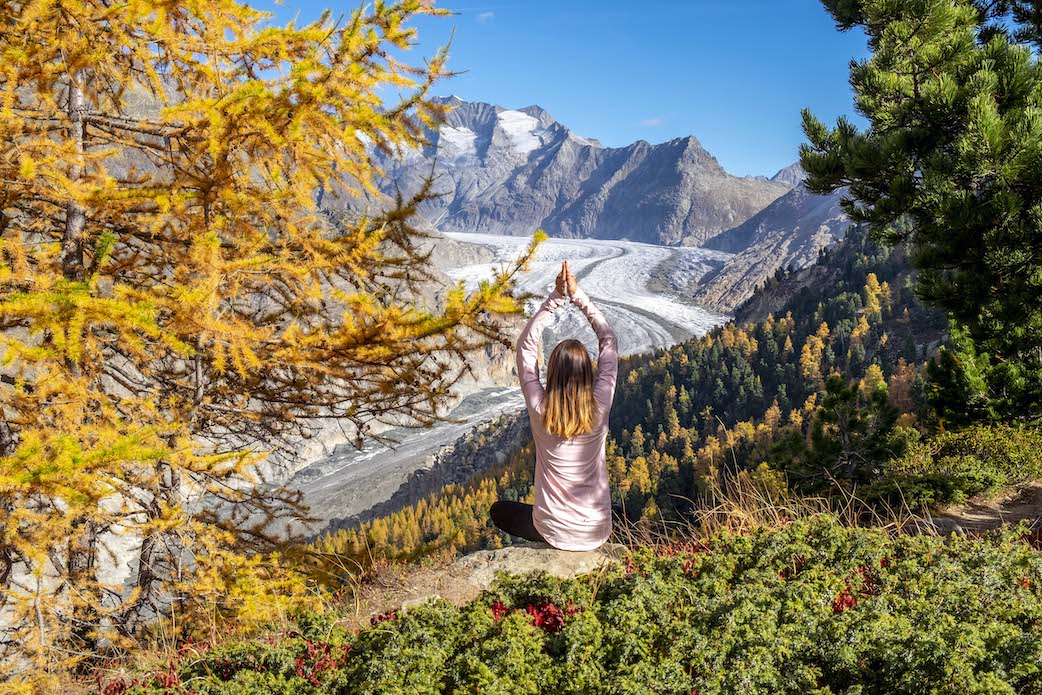 Image: The forests of Aletsch Arena are perfect for mind, body and soul (© Aletsch Arena – Reto Stucky)
If you're in search of some restorative mind, body and soul experiences, look no further than Aletsch Arena with its invigorating mountain air, fragrant forests and verdant pastures. In September, Aletsch Arena hosts the Mountain Glow Yoga Festival but there are also year-round well-being activities on offer.
These include attending sunrise and sunset yoga sessions, recharging your batteries at energy spots – geological locations where the Earth's rays transmit positive energy to the visitor – and trying forest bathing.
Forest bathing is not exactly as it sounds. It doesn't actually involve any swimming. Instead, it's about consciously spending time in the forest while being fully aware of it with all your senses. The Aletsch Forest, with its 1000-year-old stone pine trees rich in halcyon Alpine smells and sounds, is ideally suited to forest bathing.
7. SUP Yoga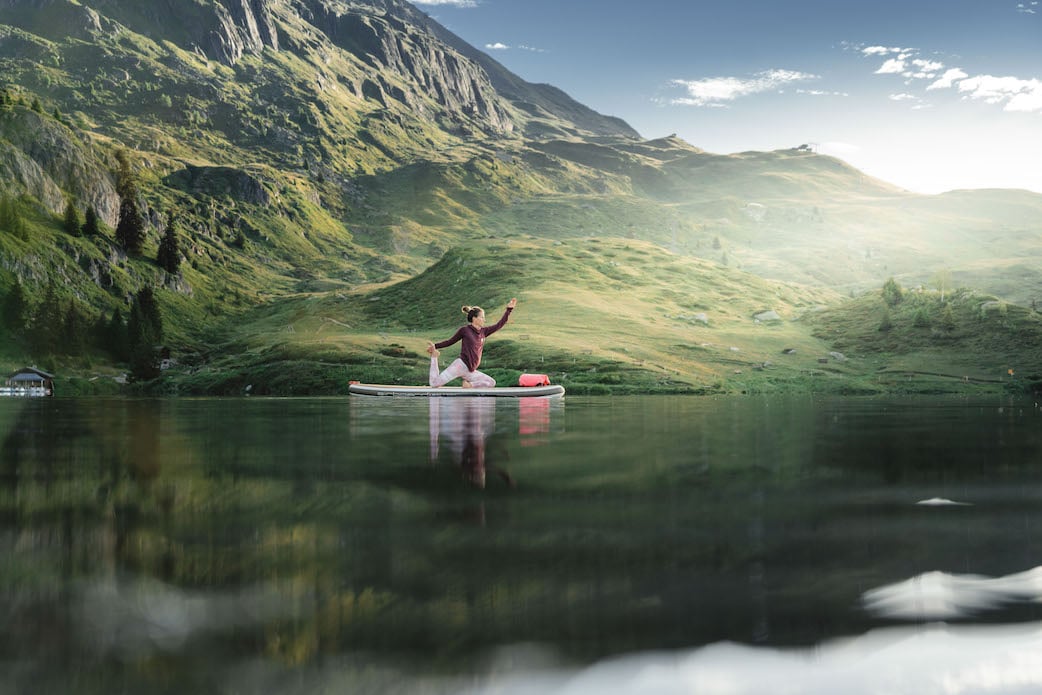 Image: SUP Yoga (© Aletsch Arena – Rafael Imhof)
Unlike forest bathing, stand-up paddleboarding yoga is exactly as it sounds: yoga practised on a stand-up paddleboard. Unsurprisingly, practising on a floating object requires more strength, balance, and awareness than regular yoga. Therefore, it is usually done on calm waters such as lagoons, bays, or harbours – or outrageously picturesque Alpine lakes.
I tried SUP yoga on Lake Bettmersee, idyllically located on a placid plateau at 2,006m (6,581 ft) up in the mountains. I was apprehensive at first, and felt fairly ridiculous throughout, but the reality is that it's hard not to enjoy SUP yoga – being on the water, surrounded by natural beauty, stretching out and loosening up, doing something different, seeing the word from literally new perspectives. Whether you've tried yoga or SUP before really doesn't matter. It offers a form of escapism so difficult to find elsewhere.
8. Villa Cassel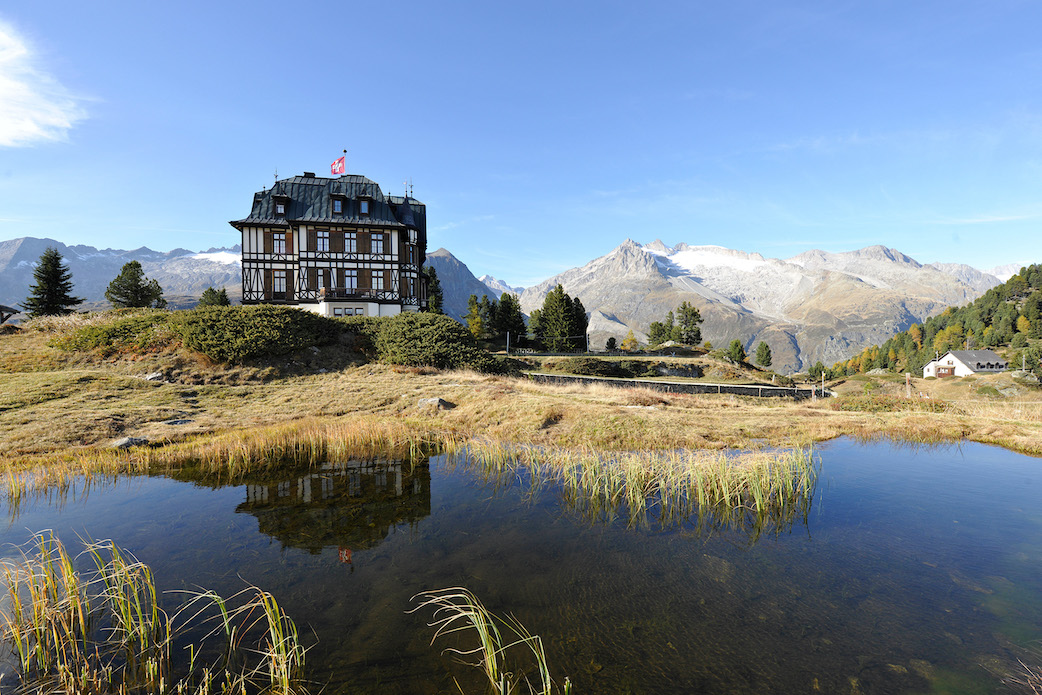 Image: Villa Cassel is now a hotel, museum, cafe, and environmental study centre (© Aletsch Arena – Michael Portmann)
When the first tourists arrived at Aletsch Arena in the early 1900s, former Prime Minister, Winston Churchill, was among them and he stayed in the lavish Villa Cassel. Built by the wealthy British banker-cum-philanthropist Sir Ernest Cassel in 1902 as a summer residence, and run as a hotel for decades after his death, the chateau-esque manor appears curiously out of place on Riederalp.
Today, the grand wood-panelled rooms of the carbon-neutral property house a museum, cafe, and gift shop. In the basement, there's also a Pro Natura environmental study centre with interactive exhibits showing how climate change is affecting the Great Aletsch Glacier.
More than a glacier
As we bid farewell to the enchanting Aletsch Arena, it became clear that this Swiss gem has much more to offer than its famous glacier. With activities ranging from adrenaline-pumping mountain biking and paragliding, to the serenity of yoga and forest bathing, there is something for every type of traveller.
Families, adventurers, and nature enthusiasts alike will find solace and excitement among the Alpine landscapes. The memories you create of this remarkable destination will remain with you long after you've left, reminding you that the beauty of Aletsch Arena extends far beyond the ice.
So, go ahead and explore the wonders that await you in this breathtaking region of Switzerland, and let the majesty of the country's Alps captivate your heart and soul.
Visit Aletsch Arena
Are you dreaming of exploring the magnificent Aletsch Arena? Start planning your adventure today and find out more at www.visitvalais.ch/shop.