Thomas Hiram Holding was a pioneer of recreational camping at a time when it was seen only as a necessity. As part of our ongoing History's Heroes series, Roger Bunyan tells his fascinating story.
Who was Thomas Hiram Holding?
Thomas Hiram Holding is said to be the father of modern-day camping. He was a tailor by profession but also a dedicated camper, a designer of camping equipment and writer of books about camping.
Early life
Thomas was born in 1844 into a large family of eight children, in the village of Prees, Shropshire. His parents decided to leave Britain and emigrate to America. On reaching their new land, the family had to spend five weeks camping on the banks of the Mississippi River until they were able to join a wagon train heading west. Once underway, every night was spent camping out. It was under the wide skies of North America where nine-year-old Thomas developed a passion for the outdoor life. Each day was an open-air education as he travelled on his wagon train, learning the skills and nuances of a life permanently on the move.
The intention was to cross the American plains and mountains as far as Salt Lake City, where the family would settle, a westward journey of some 1,200 miles. Along the way, two of the eight Harding children died, and Thomas himself was injured after falling under a wagon. Arriving at their destination, the family learnt that Thomas' grandfather had died. As a result, the family joined another wagon train heading back from where they had just travelled! After this second journey, they returned to Britain.
When older, Thomas began learning the trade of tailoring and travelled to various locations throughout the country. In 1869, he married his wife, Sarah, and over the following years, four sons and one daughter were born.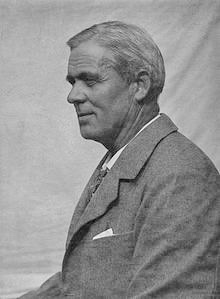 Camping in the British Isles 
Thomas retained a great love for the outdoors. Whenever possible, he would find time to escape into the countryside, where he would sail, canoe and cycle. Thomas went on two canoeing and camping trips in the Scottish Highlands. During these journeys he carried the bulky camping equipment in his vessel. Thomas was forever thinking about camping and how it could be made more practical for the participants. One concern was the eternal problem of having camping equipment, which was so heavy and cumbersome!
During the 1880s there was a bicycle boom, which provided an opportunity for people to travel a little more. People now had a chance to go out and explore the world beyond their immediate surroundings. 'Safety cycles', as their name suggests, were easier to ride and less dangerous than earlier 'ordinary cycles' such as the penny-farthing.
In the 1890s, Thomas, went bicycle camping in Ireland. For his trip Thomas devised a custom-made, simple ridge tent constructed from a single sheet of canvas. He used sticks to secure it to the ground, which were then tensioned by ropes. In 1897, Thomas wrote a book describing his journey called Cycle and Camp in Connemara. The publication created interest in many quarters, with numerous people contacting him wanting to find out more about the pleasures of cycling and camping.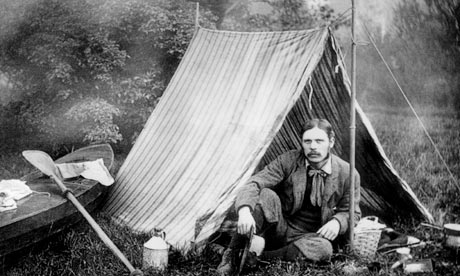 Camping as a mass movement
To help all those seeking a life under canvas, Thomas wrote The Camper's Handbook. It was published in 1908 and described the basics of camping. He wanted to share the knowledge and skills he had built up over many years. There were sections on: how to set up camp in various kinds of terrain, what types of tent to use, what food to take and how to cook it, how to organise the inside of a tent, sleeping arrangements, and the clothes to use when camping. There were descriptions on how to transport camping equipment, whether by canoe, dinghy, cycle, horse-drawn caravan, or by foot. The publication of his handbook transformed Thomas into the greatest authority on camping.
As a tailor, Thomas found it relatively straightforward to create his own tent designs. This included his very lightweight tent he named a Wigwam Tent, which was made of silk and could be folded and carried in a pocket. He also developed a lighter pressure paraffin cooking stove he named the Baby Primus. However, one of Thomas' greatest designs was his Thomas Holding Lightweight Bike Kit. The emphasis was on making the kit as light as possible. A central feature was an oiled silk-tent, weighing just 368g, with telescopic bamboo poles. The kit also had a down-quilt (680g) tied to the handlebars and a Baby Primus which clipped onto a cross-bar.
Thomas was very much a practical person; when he saw a problem with any camping equipment, he would simply redesign it! An example was his Campo Milk Tin, a container which would transport milk. Then, there was the Canadian Sack, a one or two-strap sack for people wanting to spend time carrying camping gear in isolated regions. Thomas also decided there was a problem with horse-drawn caravans of the time. So, he went about designing his own lightweight caravan weighing just under 550kg, as opposed to the much heavier ones being used. His handbook is full of intriguing glimpses of the camping and caravanning world of the time.
Singlehandedly, Thomas had opened-up the idea of people going off and enjoying camping adventures. Before the 1880s, people who camped did so largely out of necessity. Now, people could camp for pleasure, as a wholesome and relaxing exercise.
Later years
After the First World War, the camping movement continued to evolve and increase in popularity. Camping was even endorsed by the government of the day. In order to develop greater moral, physical and spiritual citizens, people were encouraged to escape their urban landscapes and go camping.
The enthusiasm for camping showed no signs of abating and Thomas' recreational revolution was here to stay. He died in 1930 at his home in London at the age of 86. 
Thomas Hiram Holding: An extraordinary camping

enthusiast

Thomas Hiram Holding became the greatest authority of camping at the turn of the last century. His ideas, designs and passion helped make the world of camping into what it is today. He justly deserves the accolade: the father of modern day camping!