Annie Kopchovsky was not only a pioneer of women's cycling, but also of the concept of gaining sponsorship. As part of our ongoing History's Heroes series, Roger Bunyan has more on this remarkable woman who cycled the world in 1890s…
Who was Annie Kopchovsky?
Annie 'Londonderry' Kopchovsky was a cycling adventurer of the 1890s.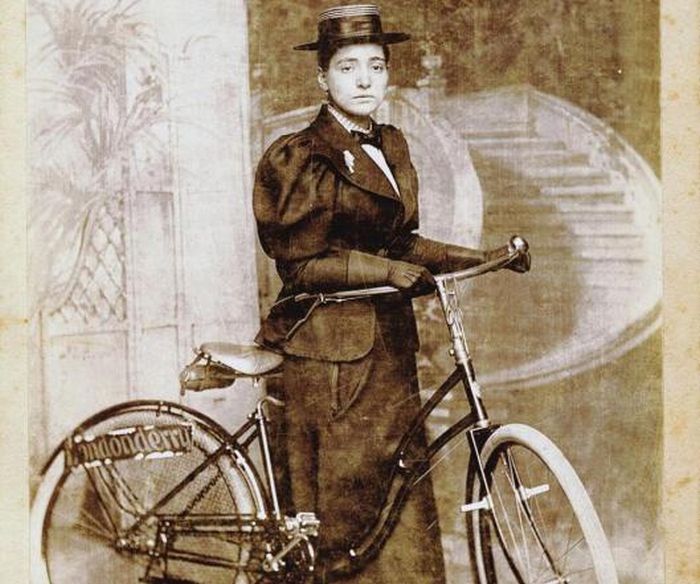 Early life
Annie, a Latvian Jew, moved to the United States as a child. When she was 18 she married Max Kopchovsky, a peddler from Boston, and over the following four years they had three children. Annie worked as an advertising agent for Boston newspapers, which suited her increasingly vivacious and persuasive personality.
Her great cycle ride
At a time when numerous global adventures were taking place, Annie wanted to prove that women were just as capable as men at achieving great feats. She decided to settle a wager about whether a woman could cycle around the world like Brit Thomas Stevens had about 10 years previously, and aimed to complete a circumnavigation in 15 months.
After learning to ride a bike two days earlier, and wearing a long skirt of the time, Annie waved goodbye to her young family and rode off on a 19kg women's bicycle on 27 June 1884. She carried with her only a change of clothes, a pistol and a placard advertising Londonderry Spring Water; this was part of a sponsorship deal where she also altered her name to Annie Londonderry.
Annie first cycled to New York and then to Chicago on poorly surfaced roads. Often she was accompanied by fellow cyclists in this increasingly popular activity. In Chicago she decided to switch to a man's bicycle that was half the weight of her first bike but had no brake! She also took to wearing a man's riding suit for greater comfort and retraced her route back to New York, thus avoiding continuing west during wintertime.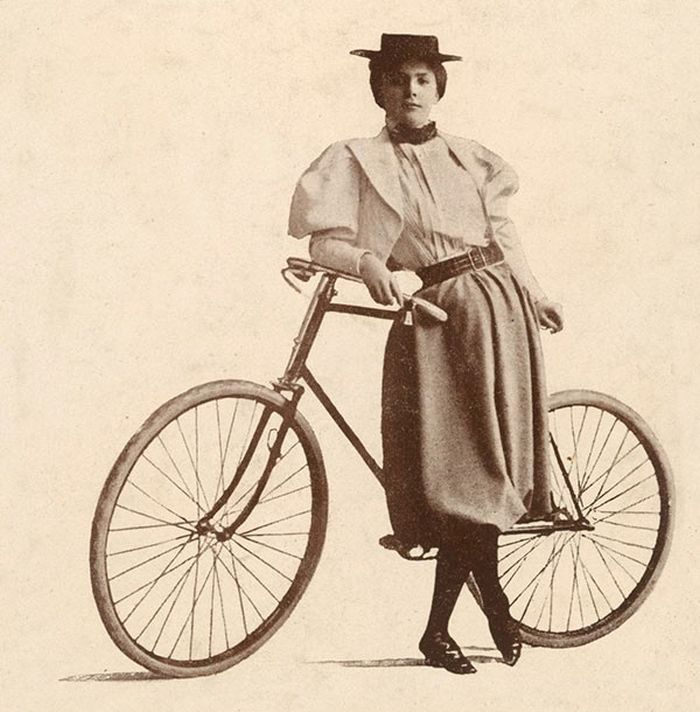 Photo: We Love Cycling
From New York Annie sailed to Le Harve, France, where she part cycled, part travelled by train to Marseille, reaching the city despite an attempted robbery and a heel injury. Throughout her visit to France there was a great deal of interest in her ride, with large crowds appearing wherever she went. She then boarded a steamship and sailed to Alexandria, Colombo, Singapore, Saigon, Hong Kong, Shanghai, Nagasaki and Yokohama. At these ports on her long sea voyage, Annie would sometimes make brief trips on her bike and obtain endorsements from the US Consul before moving on.
In large towns and cities throughout the journey, Annie would give talks to interest groups, do a variety of sponsorship tasks and give interviews to journalists. Being from the newspaper business, she knew how to create a good story; her tales were often exaggerated or entirely made-up in order to captivate reporters and readers alike.
In March 1895, Annie landed in San Francisco. She rode to Los Angeles then through Arizona, New Mexico, Colorado and Nebraska, again often joined by other cyclists. When cycling across the arid south of the US, both the heat and selecting a suitable route for a bicycle were challenging, and Annie was often forced to cycle along the course of railroad lines. On some stretches, she resorted to travelling on the actual trains. After further injury and hardship during this final stage, she arrived back in Boston 15 months after leaving. As part of the original wager, Annie won a $10,000 prize. One newspaper described her adventure as 'the most extraordinary journey ever undertaken by a woman.'
Annie Kopchovsky in her later years
Annie and her family moved to New York where, for a while, she wrote for the New York World. A few years later she had a fourth child but also spent a period of time living away from her family. Later she returned to them and opened a small clothing business. She died in somewhat obscurity in 1947.
An extraordinary 'adventure traveller'
Annie was an accomplished cyclist covering thousands of kilometres in the early days of cycling, a remarkable and unconventional achievement for a woman during the 1890s. She was also a pioneer in obtaining sponsorship and the manipulation of the media. Her long ride helped illustrate that women were equal to men during this time of emancipation.
Find out more about Annie Kopchovsky
Recommended reading includes Around The World On Two Wheels by Peter Zheutlin and, online, read the lyrics and listen to 'The Ballad of Annie Kopchovsky' by Evalyn Parry.