Adventures in the outdoors are the perfect way to work up a serious appetite, but I can't be the only person who feels that boil-in-the-bag meals leave a little to be desired after a day of activities in the hills.
Take the other week for example. With my smart watch telling me that I'd burnt over 2,000 calories hiking up Helvellyn in the Lake District, I felt I'd earned the right to feast on some truly decadent grub, the kind that is near impossible to cook on a camping stove.
Our time enjoying the wilderness is meant to be a break from the mundane, so why not treat ourselves while we're at it?
That's where the Pizza Oven Plus from Boutique Camping comes in. It's a portable wood-burning pizza oven that doubles up as the ultimate cooker, designed for glampers with a taste for the finer things in life.
The UK-based brand is seeking crowdfunding to complete the Pizza Oven Plus, and is offering investors exclusive discounts and the chance to own the oven before it's released on general sale, as well as the chance to buy a number of add-on items. To find out more head over to Boutique Camping's Kickstarter page HERE to get involved.
So, how does it work?
The ultimate camping portable pizza oven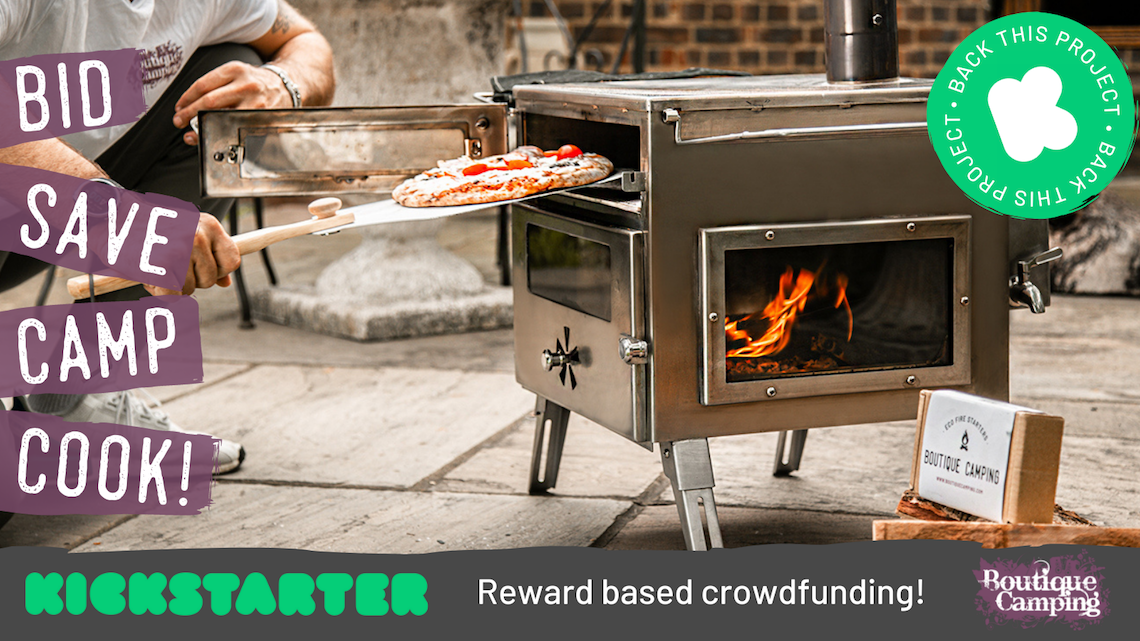 The promise of wood-fired pizza is no marketing gimmick, you really do harness the power of flames to cook your dinner. The stainless steel stove boasts a large main compartment to light a fire, and a large cordierite stone sits above it, which is big enough to take a 12-inch pizza.
As the fire gets going the pizza stone heats up evenly to temperatures of around 400°C, ready for cooking. All you have to do is prepare your dough and toppings, slide it in, and prepare for the envious stares of your campsite neighbours as you tuck into your stone-baked slices.
While it's called the Pizza Oven Plus, the stove has a number of other uses too. The top gets warm enough to fry some sides or warm up a sauce, while two fold-down side grills can also be used. And, once you're left with embers, the main compartment can be used as an oven.
And, of course, it also spits out enough heat to gather around long into the night, or even be set up inside a tipi for the ultimate home-from-home setup.
Once you're done and the oven has cooled down, simply fold away the legs and pop the portable pizza oven in your car to take home, ready for when your family begs you for another night under the stars.