Morocco is a haven for adventure travellers with breathtaking mountains, miles of coastline, distinctive traditions and Berber culture. For most, climbing Mount Toubkal, North Africa's highest peak, is at the top of the list when it comes to hiking in Morocco. It boasts stunning views of the mighty High Atlas mountains and when you're standing on the summit you can even see all the way to the Sahara Desert.
However, there are numerous other treks on offer throughout the country, offering unbelievable opportunities to explore and experience the Kingdom's vast valleys, peaks and incredible natural environment. Here we outline some of the best hiking in Morocco and pick out seven incredible treks you may not have heard of, but definitely need to know about…
1. Jebel Sahro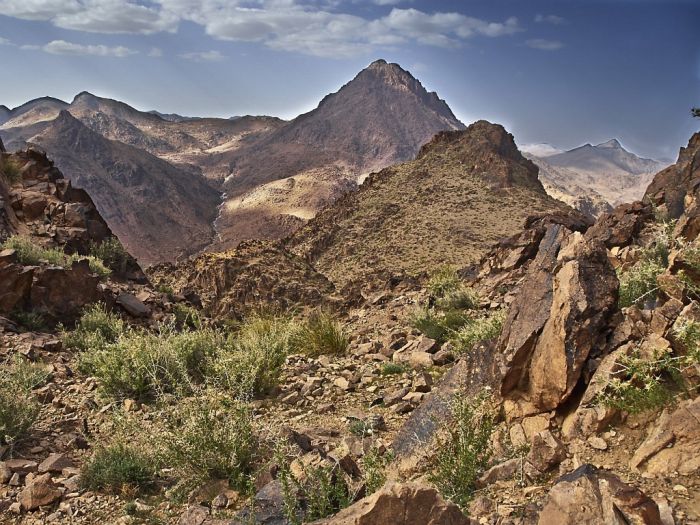 Photo: Jacques Bodin
Offering stunning scenery of gorges, fertile valleys and desert landscapes, Jebel Sahro is tucked between the High Atlas and the Sahara Desert.  The highest point of Sahro is 2,712m with most passes between 1,500m and 2,500m. Taking hikers through the land of nomadic Berber tribesmen, the Jebel Sahro region is a spectacular trekking destination, yet less visited than Mount Toubkal and other popular places where people go hiking in Morocco.
2. Jebel Sirwa Ascent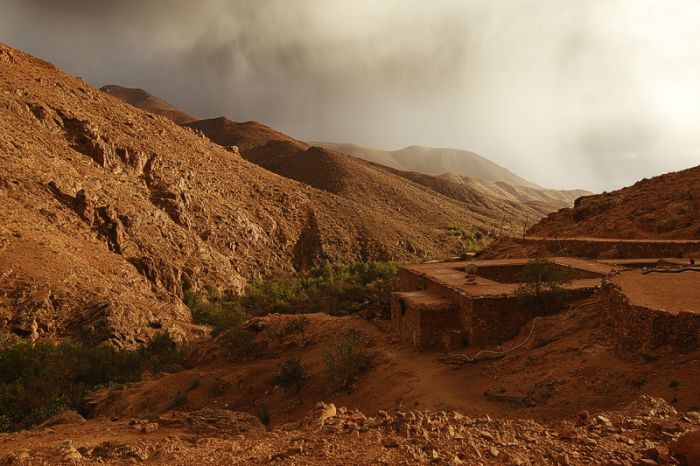 Photo: Dean Searle
Connecting the High Atlas Mountains and the lesser visited Anti-Atlas in the south of Morocco, Jebel Sirwa is a 3,304m volcanic mountain from which you can view the region's peaks and valleys. Hikers can either choose to summit Jebel Sirwa itself or trek at a lower altitude through the region's isolated and rugged landscape, visiting some its stunning mountain villages. One of Morocco's finest, unexplored trekking destinations.
3. M'goun Massif Traverse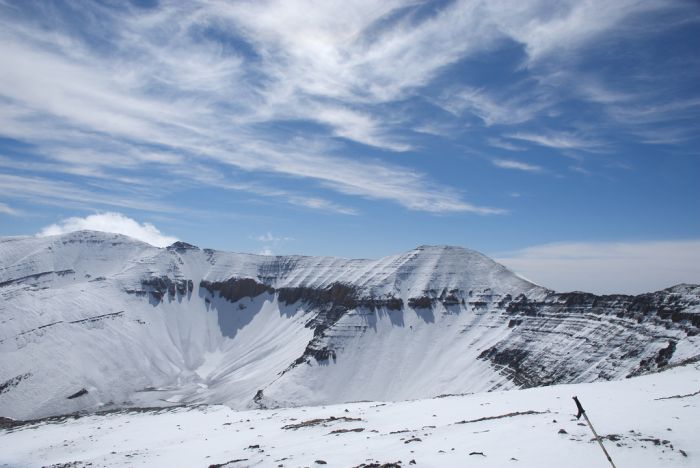 Photo: Ryan Kilpatrick
With it's colourful and dramatic gorges, beautiful, traditional villages and green valleys, as well as panoramic views that can be enjoyed from its remote and dramatic passes, the M'goun Massif is at the heart of the High Atlas Mountains and one of the top places to go hiking in Morocco.  It offers a selection of multi-day hikes as well as one-day excursions. The chance to reach the summit of M'goun itself (North Africa's second highest peak at 4,068m) is one of the greatest challenges in the Atlas Mountains, descending through the remarkable Achabou Gorges.
4. Paradise Valley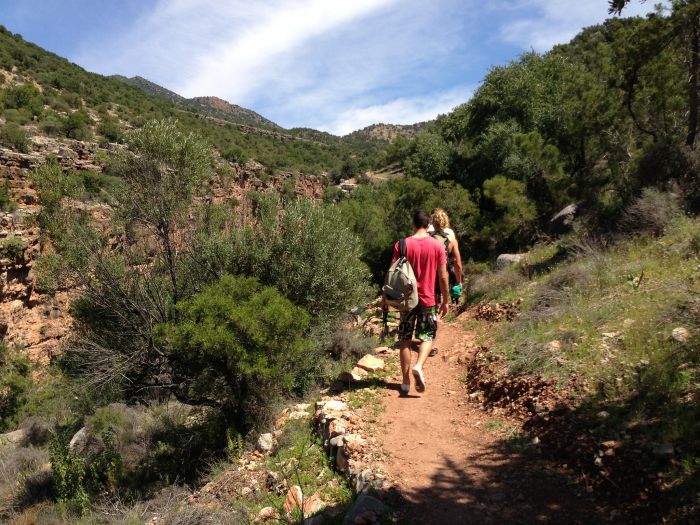 Photo: Heatheronhertravels.com
Near the coastal beach resort of Agadir lies the deep palm fringed gorge that is Paradise Valley.  This lush gorge has a short, well-marked walking trail roughly 17 miles from Aourir. Other short hikes include the walking trail from Imouzzer Ida Ou Tanane out to the 'Cascades' waterfalls, and those with more time can hire a guide and mule to explore the valley's Berber villages and camp under the stars.
5. Tazekka National Park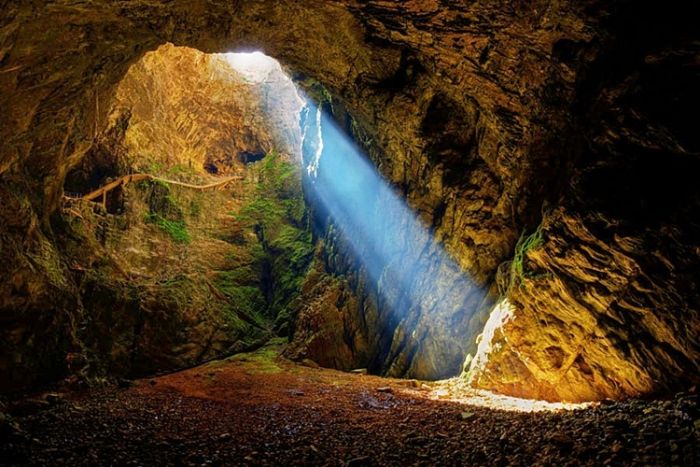 Photo: Hajar GM
Jebel Tazekka is the highest mountain on the northeast tip of the Middle Atlas and it's summit offers spectacular panoramic views of the Middle Atlas mountains. Tazekka National Park, where it is situated, hosts a diverse variety of flora and fauna including old ceder tree forests, with a major highlight being the breathtaking natural wonder of the Friouato Caves, the largest known cave system in North Africa. The densely-forested national park has seven marked hiking trails ranging from one to 10 miles long.
6. Chefchaouen (Rif Mountains)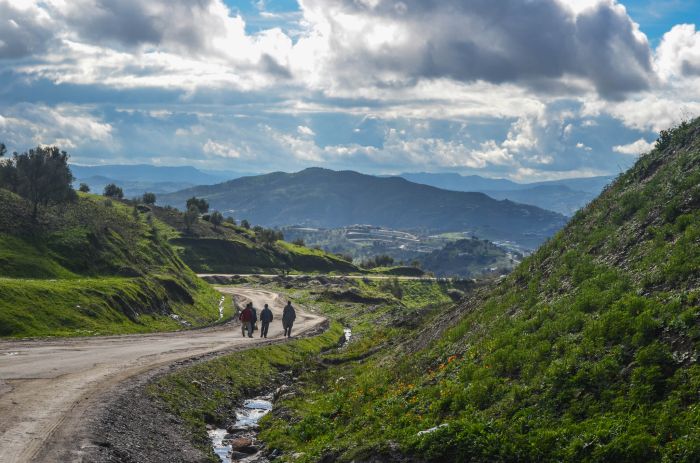 Photo: jbdodane
Chefchaouen rests at the base of the Rif Mountains, Morocco's northernmost mountain range, and is therefore a fantastic starting point for trekking through this area. The Rif Mountains host picturesque peaks, gorges and valleys waiting to be explored making it an excellent trekking destination. There are a variety of open and vast trails along the mountains with the choice of one-day treks to multi-day treks for you to explore.
 7. Tafraout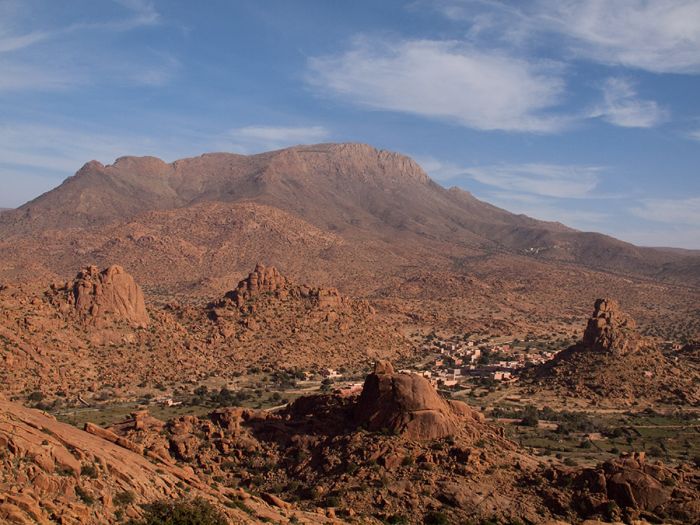 Photo: Evgeni Zotov
For beautiful mountain trekking in untouched natural landscapes, you'll want to head to Tafraoute in the Souss-Massa region of Morocco. Located in the central part of the Anti-Atlas mountains, this secluded and lesser visited oasis is home to stunning rock formations and is perfect for hiking. The red-granite mountains that surround Tafraoute make for quite tough trekking and it's not recommended for beginners. But if you are looking for a challenging trek in one of Morocco's most spectacular regions, Tafraoute offers numerous possibilities, including trekking Jebel Kest, the highest peak in the region at 2,359m.
Beyond the hiking trails
As well as trekking and hiking, Morocco offers a host of other adventure activities, from camping in the desert overnight, surfing and yoga retreats on the Atlantic Coast at Taghazoute, rafting, and kayaking on the Ourika and Ahansal rivers, so there's plenty to keep the active traveller occupied.
There is also an increasing number of eco-tourism offerings across the country allowing people to explore the kingdom's natural environment for themselves, such as meeting traditional Amazigh tribes in places like Les Terres d'Amanar or Village du Toubkal, which are both easily accessible from Marrakech. Or if you fancy getting back to nature in more luxurious surroundings, check out Widane Suites & Spa.
Intro photo: Elh.yassine