If you're looking to spice up your hiking game, then tackling some grade one scrambles is the perfect way to inject a little adrenaline into your next adventure.
You can experience thrilling mountain exposure, paired with the kind of views that will truly take your breath away, without feeling out of your depth by being challenged by a technically demanding route. So, to help you pick your first one, we've compiled a list of six of the best grade one scrambles in the UK.
1. Tryfan, Snowdonia, Wales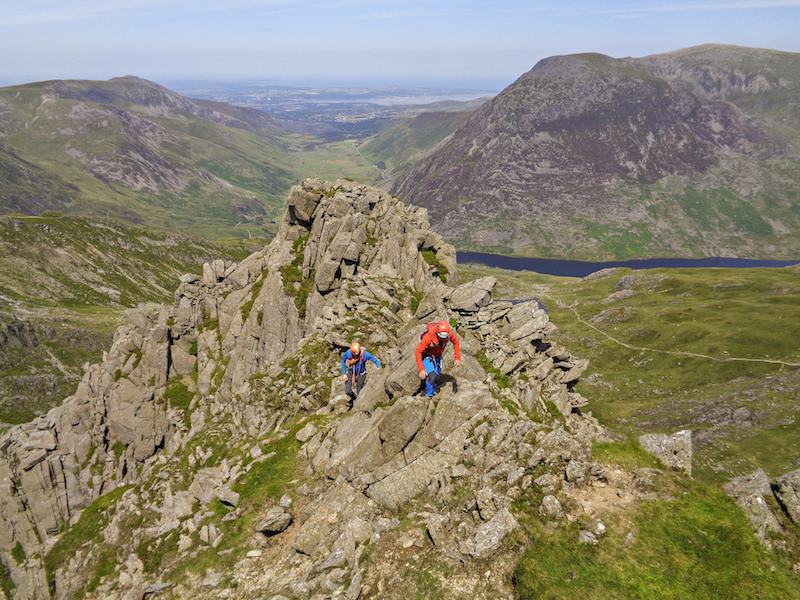 Photo: Mark Barrett
Set in the wild and rugged landscapes of Snowdonia, Tryfan is a mountain that offers hikers a fantastic scramble via its famous north ridge.
Though the route isn't technically challenging (but can be hard to navigate), it gives that true feeling of alpine mountaineering, with 600m of thrilling scrambling over loose scree, large boulders, steep rocks and quartz slabs.
The thrill continues once you've reached the summit, when you are faced with the choice of whether or not to jump between Adam and Eve, a pair of three-metre high rocks that stand side by side.
2. Striding Edge, Helvellyn, Lake District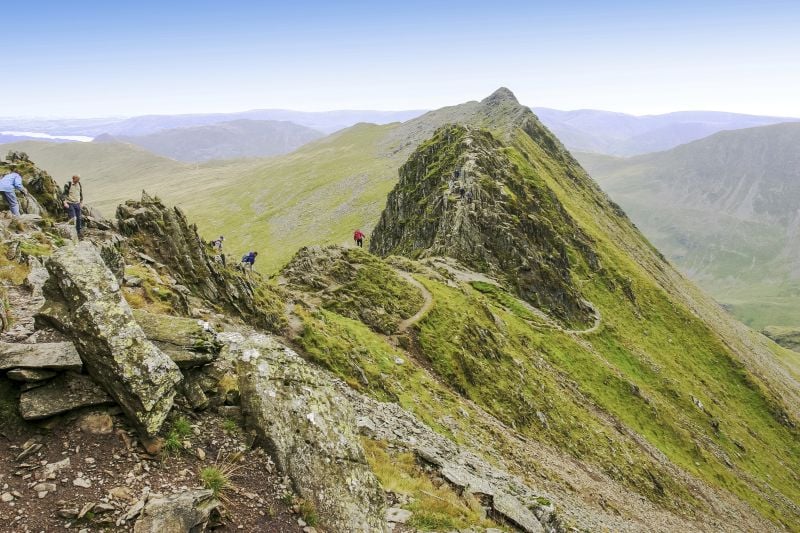 The Lake District is a fantastic place for hiking, and one of the best ridges to try in the area is Striding Edge, which is popular route to reach the summit of Helvellyn – the third highest mountain in England.
This towering knife-edge ridge may look intimidating to those who haven't traversed its spine before, however, once you're up there, you'll find yourself enjoying the easy terrain once you've adjusted to the adrenaline inducing exposure.
3. CMD route, Ben Nevis, Scotland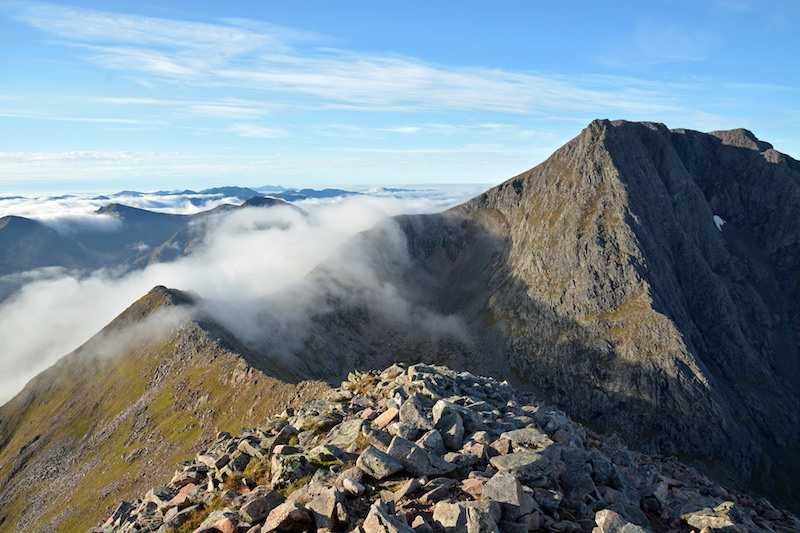 Photo: Mountain Madness
In the winter months, this route becomes one for those with a great deal of winter experience, as crampons and an ice axe are vital. However, in the summer the CMD route (otherwise known as the Carn Mor Dearg Arete route) on Ben Nevis is a staggering grade one scramble to try.
In fact, you could go as far as saying it's one of the best in the UK, and it definitely beats the motorway traffic up the tourist track. This ridge route offers scenery of epic proportions that can be enjoyed with minimal technical difficulty.
4. Crib Goch, Snowdonia, Wales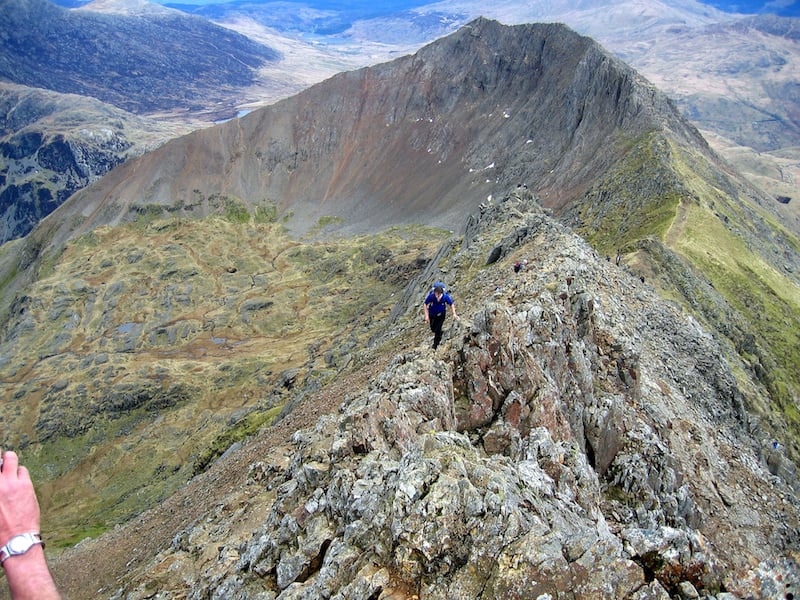 Photo: John Brennan
If you're looking for an adrenaline rush, you've found it. Forming part of the popular Snowdon Horseshoe route, Crib Goch is a seriously exposed ridge that takes hikers to the peak of the highest mountain in Wales.
This butt-clenching ridge is defined as grade one, but you may very well want to taste a few less exposed ridge scrambles before you decide to tackle this Welsh beauty. Make sure the forecast is good for the day you attempt it, you don't want to be on the ridge when the wind starts howling!
5. Sharp Edge, Blencathra, Lake District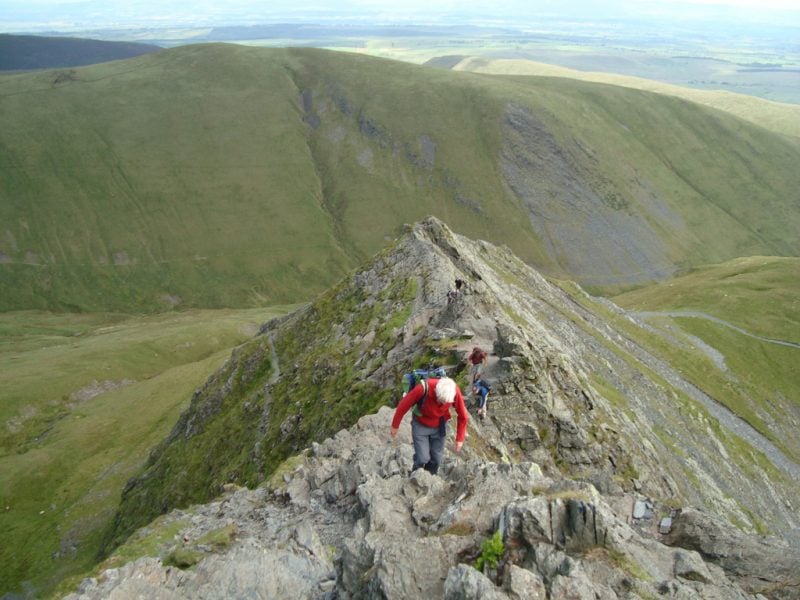 Photo: Claire Neill
Another excellent ridge in the Lake District is Sharp Edge, which leads hikers to the top of Blencathra.
As you can imagine by the name, this ridge is of knife-edge design, and people who have scrambled it have often described it as being the Crib Goch of the Lakes – offering a thrilling ride and epic exposure. This ridge will certainly have your heart beating faster than usual.
Care should be taken in bad weather, where the exposed nature of the scramble will be apparent, and when it's been raining – the rock is Skiddaw slate and can be extremely slippery when wet.
6. Jack's Rake, Pavey Ark, Lake District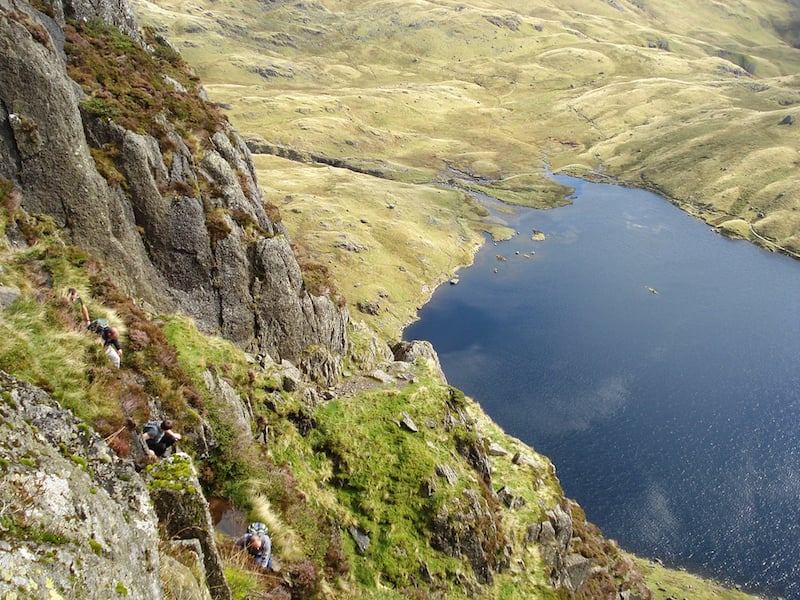 Photo: Peer Lawther
Not one for the faint-hearted (or the beginners), Jack's Rake is a challenging grade one scramble that ascends from the bottom corner across the face of Pavey Ark, which is a popular fell in the Lake District.
The rocks can often be slippery, even in the summer months, so this is scramble that require care and attention. However, the rewards of the challenge are great and the views of the Lakes along the route are quite spectacular.
You may also want to consider a helmet on this scramble, as you'll be passing below a number of popular climbing routes while scrambling up a fairly steep incline, meaning there could be the possibility of a few falling rocks from above.
Not sure what the scrambling grades mean and what level of difficulty they involve? Then you need to check out our beginners guide to scrambling.