Rosie Fuller finds Snowdonia at its finest on a summer weekend (in November). 
What an idyllic day in Snowdonia. We'd come for a last-minute weekend in November and the weather was better than it can be at the height of summer. Atmospheric low cloud lingered as we left the Pyg Track for the scramble up Crib Goch. This was the second time I'd tackled the infamous route, but even though I'd done it before I still felt a jab of fear on the narrowest part of the ridge. I used my hands as well as my feet, keeping low with three points of contact on the rock.
The excellent scrambling continues to the top of Wale's ever-overlooked second-highest peak, Carnedd Llewelyn – just 20m lower than Snowdon at 1,064m. This is a great spot to eat your sandwiches, just before you hit the crowds. We continued to Snowdon but were too lazy and satisfied for the full horseshoe, cutting back down the Miner's Track.
The day before had seen equally stunning scrambling, up Tryfan, where we'd watched a yellow Sea King helicopter rescue some climbers just below us, glinting in the sunlight above Llyn Ogwen. But the most memorable part of the weekend wasn't the weather, nor the climbing. It was the accommodation.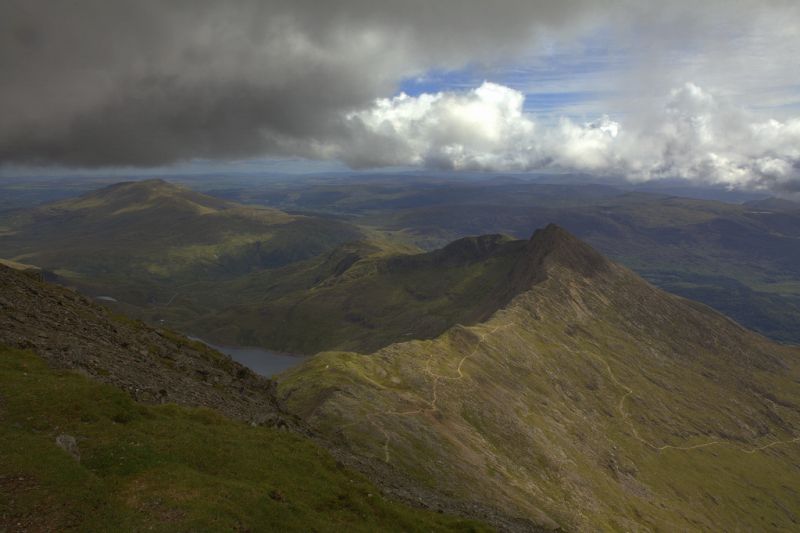 Photo: Ian Dinmore
We went for the cheapest option we could find: a static caravan in the garden of Bryn Glo Guest House in Capel Curig. Scruffy and run-down is the polite description. I've never been so surprised that a shower worked (although we couldn't turn it off). But it was everything we needed, near the pub and the price includes a cooked breakfast at the cafe in the morning. Result.
Staying in Snowdonia
Capel Curig is a good base. There are plenty of options; the static caravan at Bryn Glo Guest House does the job if you are on a budget (and will give you something to talk about). See www.bryn-glo.com.
Crib Goch
Snowdonia's most famous ascent route is a grade one scramble. It isn't too difficult, but it is scary and exposed – only tackle it if you're confident at scrambling, OK with heights and have checked the weather conditions.
Featured image: Rockabilly_girl.