If you're planning an adventurous trip to Wales, climbing Snowdon is a must-do activity. Snowdon, also known as Yr Wyddfa in Welsh, is the highest mountain in Wales, standing at 1,085m tall. Climbing Snowdon is a popular activity among outdoor enthusiasts, hikers, and mountaineers, but one of the most common questions is, how long does it take to climb Snowdon?
The answer to this question varies depending on factors such as your fitness level, the route you choose, and the weather conditions on the day. Here are some factors to consider when planning your Snowdon climb:
1. Route: Snowdon has six main routes to its summit, each with varying difficulty levels. The Llanberis Path is the most popular and easiest route, while the Snowdon Ranger Path is the oldest and takes a more gradual ascent. Other routes include the Pyg Track, Miners Track, Rhyd-Ddu Path and the Watkin Path, each with varying difficulty levels.
The Llanberis Path is the longest route at 9.5 miles, while the Pyg Track is the shortest at three miles. You can also climb Snowdon via the Snowdon Horseshoe, an advanced hike which will take you across the exposed knife-edge ridge of Crib Goch.
2. Weather: Snowdon's weather can be unpredictable, so checking the forecast before you set out is essential. It's best to avoid climbing Snowdon in adverse weather conditions as this can significantly affect your safety and climb time. Even on a clear day, it is common for conditions on the mountain to change quickly, and you should also be mindful that as you increase in altitude, it can get significantly colder.
3. Fitness level: Climbing Snowdon requires a good fitness level, and it's essential to be realistic about your abilities. The climb can take longer if you're not used to hiking or haven't done any training beforehand.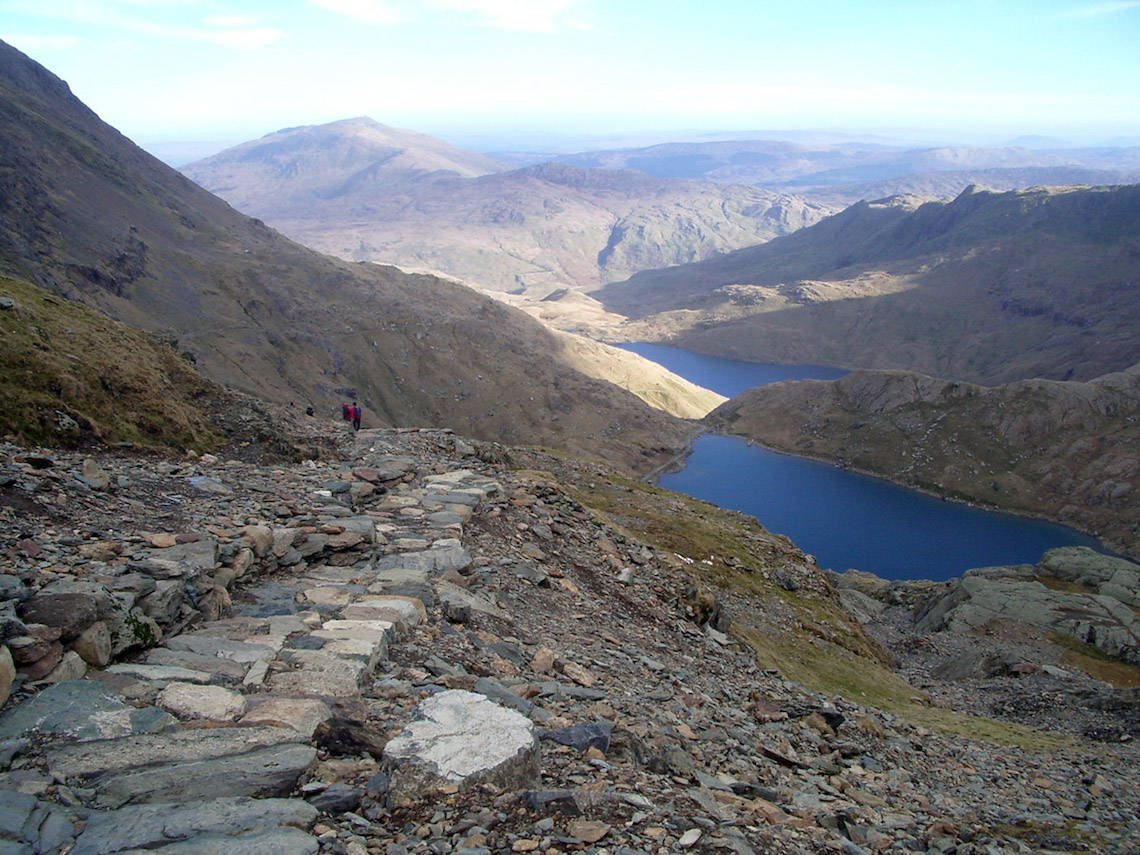 Image: The view down the Pyg Track, taken by Changeguru
So how long does it take to climb Snowdon?
The average time it takes to climb Snowdon is around six hours for a round trip, including breaks, but this can vary depending on the factors mentioned above. The Llanberis Path, being the longest, can take between 5-7 hours to climb, while the Pyg Track can take 2-3 hours.
It's important to note that these times are averages and can vary depending on your fitness level, the weather conditions, and the time of day you begin your climb. It's recommended to start early in the day ti avoid crowds and ensure you have plenty of daylight to complete your climb. †he weather conditions can also greatly impact the time it takes to climb Snowdon, with fog, rain, and wind slowing down your progress.
Pacing yourself, taking breaks when needed, and staying hydrated during your climb is crucial. It's also worth noting that the descent can take longer than the ascent, especially if you're tired or have aching muscles.
In conclusion, how long it takes to climb Snowdon depends on various factors, and it's best to be prepared for the climb and set realistic expectations. Climbing Snowdon is an incredible experience, and with the right planning and preparation, it can be a rewarding and memorable adventure.