If you're looking to tick off a summit but fancy injecting an extra element of risk and reward on your way up the mountain, then scrambling may be for you. It offers a step up from your 'usual' hiking routes, with a heightened physical and mental challenge due to the increased exposure and larger drop offs.
But, getting into the world of scrambling can be a daunting affair. To help guide you up the mountains and push you out of your comfort zone, we've teamed up with UK-based outdoor and clothing equipment brand Montane as they launch their Gore campaign.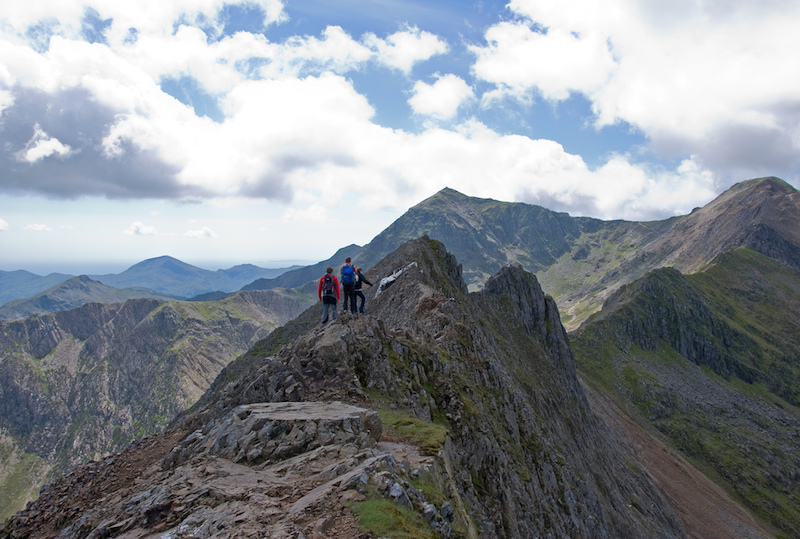 So, what is scrambling?
Scrambling is a term to describe the action of using your hands and feet to make progress up a mountain and is commonly seen as a middle-ground between hiking and full-blown climbing.
Typically you'll be ascending faces and ridges that present obstacles that will need you to clamber over, or at least use your hands to balance yourself on.
How are scrambles graded?
Scrambles are given a grade, numbered one to three, with one being the easiest and three the hardest. It's worth noting that these broad grades can result in fairly substantial differences between scrambles that share the same grade, so it's worth reading up on the one you choose before heading to the hills.
For example, Wales' Crib Goch is rated as a grade one scramble, but you may want to cut your teeth on some easier walks before attempting it.
At grade one you'll find scrambles that are relatively easy, with good hand and foot-holds, fewer exposed sections, and drop-offs. For your first scramble this is the grade you'll want to have your eye on.
At grade two the scrambling becomes a bit more technical and can occasionally stray into easy rock-climbing, with trickier sections, greater exposure, and more reliance on hand-holds.
And finally, at grade three, you'll effectively be tackling an 'easy' rock-climbing route, with large drop-offs and some serious exposure.
At this point you'll want to have plenty of experience under your belt, and perhaps even a rope and a harness to protect yourself in the event of a fall.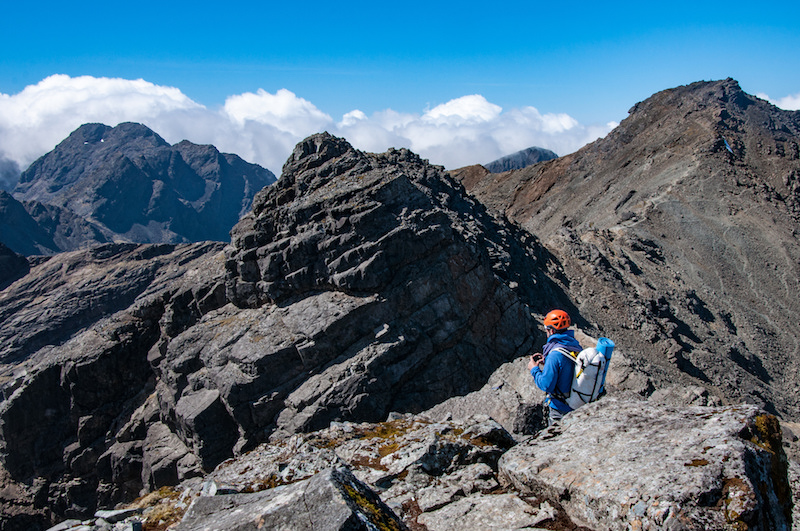 What gear do you need?
So, what should you take with you on the mountain?
First on the list is a good pair of hiking boots. On your first few scrambles it's likely that the foot-holds will be large and give you plenty of grip, and you may be tempted to climb in a pair of trainers. However, something with a stiff, grippy sole will prove useful if you need to use a thinner edge, when you'll be pushing your bodyweight through the very tip of the boot.
Boots with ankle support are also advised, as you may find yourself jamming your foot into cracks as you make progress. And, as you'll be covering undulating, steep ground, a twisted ankle is the last thing you want on the side of a mountain.
When it comes to your clothing, you'll want something easy to climb in and not too hot, as you'll be working up a sweat. However, it pays to be prepared for the worst, as the weather can quickly turn in the mountains. Everything you'll want to wear should nail that tricky balance of lightweight, windproof, and waterproof.
A great example of good scrambling gear is Montane's Alpine Spirit waterproof jacket. A Gore-Tex waterproof membrane keeps you protected from the elements, while the lightweight design and articulated arms ensure you'll never feel restricted when reaching for hand holds.
Finally, it's advisable to wear a helmet. You're unlikely to have an entire mountain to yourself, and the steep nature of some of the slopes can occasionally provide you with a shower of stones from above. Trust me, you don't want to catch one of them on the noggin…
Practice makes perfect
Before you embark on your first scrambling adventure, why not gear up and go and practice some scrambling techniques at your local crag? After all, testing your confidence in foot-holds, hand-holds, and your brand new gear is a lot less daunting on small boulders than it will be on the side of a hill…
Some climbing lessons down at your local gym may also help you learn some basic techniques and improve your overall fitness before you set off.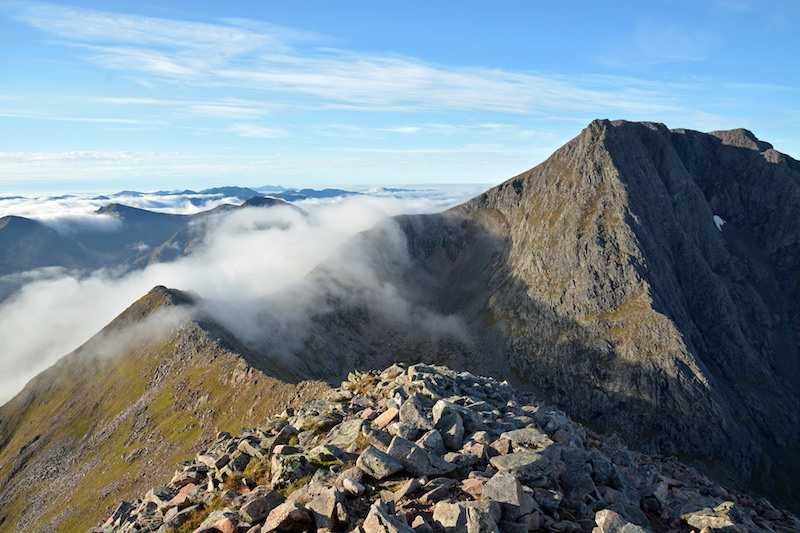 Choosing the right route
As I touched upon earlier, the broad grading system for scrambles can mean it's tricky picking your first route. But, don't despair, as we've got three suggestions for grade one scrambles that will offer the perfect blend of hard work and stunning scenery.
Our first suggested scramble would be Tryfan in Snowdonia, Wales. It's not the most technically challenging or the longest, with just over 600m of exposed ground to cover, but it offers stunning views and an enjoyable first day on the rocks.
Next up we'd recommend checking out Striding Edge on Helvellyn, in the Lake District. Once you've got to grips with the views and exposed ridge line you'll find the scrambling itself relatively easy, although the setting is bound to get the blood pumping.
Finally, in Scotland, we have the Carn Mor Dearg Arete route up Ben Nevis. Despite the stunning setting (pictured above) it's once again relatively easy, giving you the perfect taste of summiting on a lesser travelled route, without offering too much difficult climbing.
Checking the weather
So, you have a route in your sights, your gear packed, and you're ready to go scrambling. Before you set off up the mountains, our final tip is a British classic, check the weather!
Wind and rain can sweep in quickly on the mountains, and you'll feel it the most on many of these ridges, which are exposed and rocky. Scrambling in the wet can become a sketchy affair, and that's just not what anyone wants from their first taste of the pursuit.
So, if the forecast suggests wind and rain, choose something else to do. The mountain isn't going anywhere.
Montane x AW20 Gore Campaign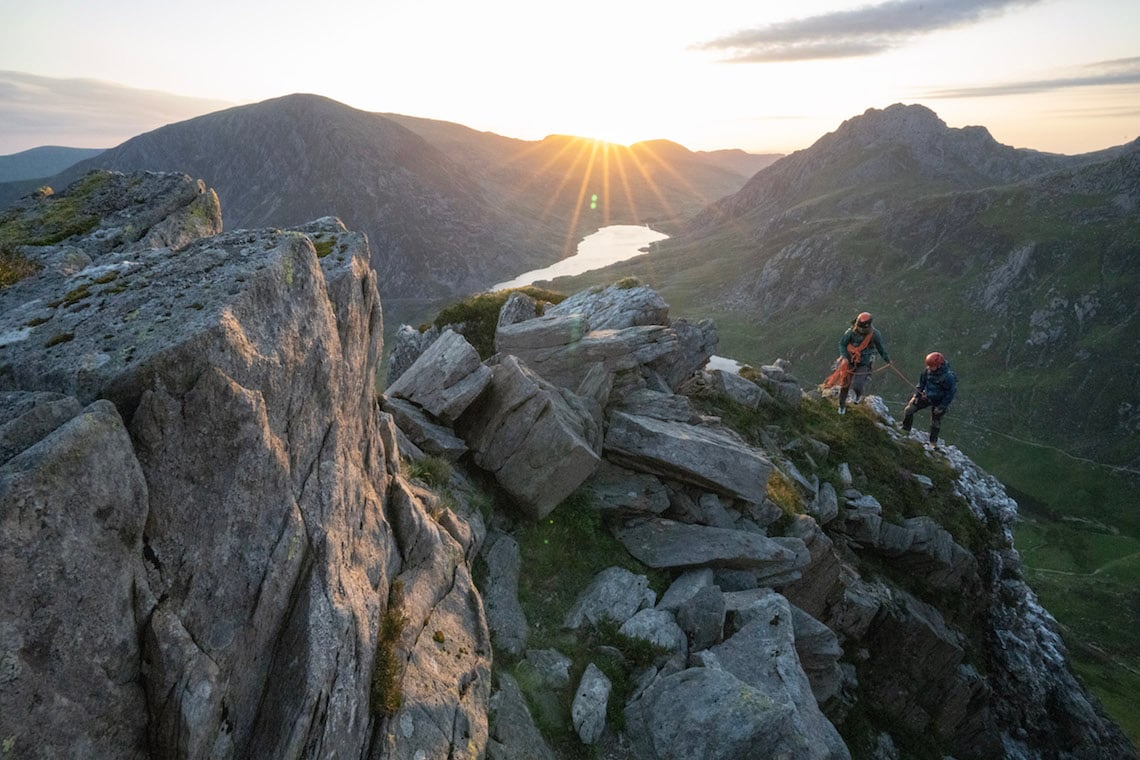 We've teamed up with Montane to bring you this guide as they celebrate the release of their Alpine Spirit jacket and their Gore campaign. The campaign is designed to push you beyond 'the usual', with a new range that is engineered to be an unfailing companion on your adventures.
We can think of few better activities to push your comfort zone than scrambling. It's something that will test you mentally, as well as physically, which will only heighten the achievement that you'll feel at the summit.