James Forrest heads to Keswick for a wintry adventure climbing the shapely peak of Grisedale Pike…
If you ever find yourself wandering around Keswick on a lazy afternoon, your eyes will almost inevitably be drawn to the handsome, shapely profile of Grisedale Pike's eastern ridge. The mountain is calling you. As guidebook writer Alfred Wainwright put it – "the graceful peak piercing the western sky is a nagger of conscience and cannot long be ignored".
And so it was for me on a wintry weekend in my favourite town in the North Lakes. Low cloud and poor conditions had spoilt my hill-walking plans for Saturday. But, after some coffee shop hopping and outdoor store browsing on Sunday morning, the weather suddenly turned for the better. The clag lifted, unveiling snow-capped tops, and my eyes turned to Grisedale Pike. An impromptu adventure formed in my mind.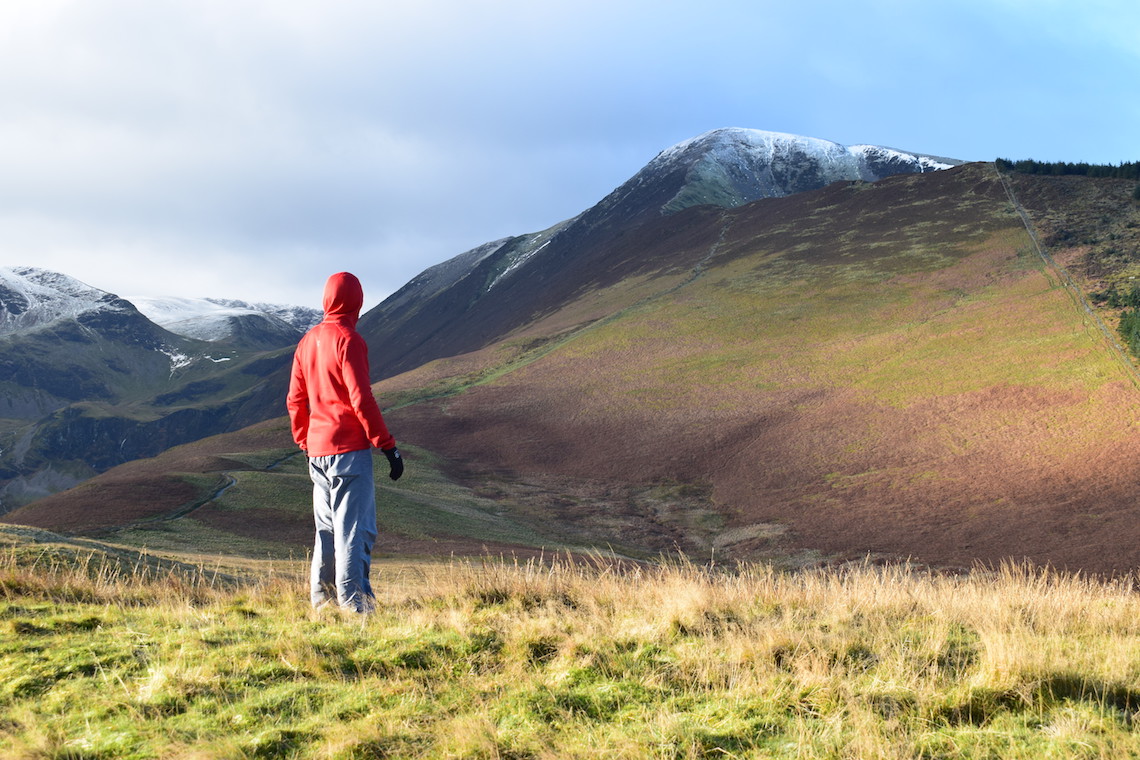 I walked to Braithwaite and ascended over grassy slopes to the hump of Kinn. I paused for a drinks break, my lungs heaving from the swift pace I'd set, and took in the scenery. Behind me, the upper reaches of Skiddaw, the giant of the northern fells, glimmered with a snowy dusting, while ahead Grisedale Pike's eastern ridge rose gracefully to its whitened summit.
From Kinn, the ascent via Sleet How felt somewhat never-ending, like a tedious treadmill over first a grassy track and then a narrowing, stony arête. But the going was never technical, with just a few rocky steps and craggy sections – and the views from the top easily made the effort worthwhile. I was treated to grandstand panoramas over Keswick and the northern fells, while the route ahead looked like a dramatic snowy scene from beyond the wall in Game of Thrones. The dark, brooding cliffs of Hobcarton Crag – frozen in the grip of winter – plunged precipitously into a craggy amphitheatre below and, as I walked along their edge, I felt like Jon Snow on a grand quest.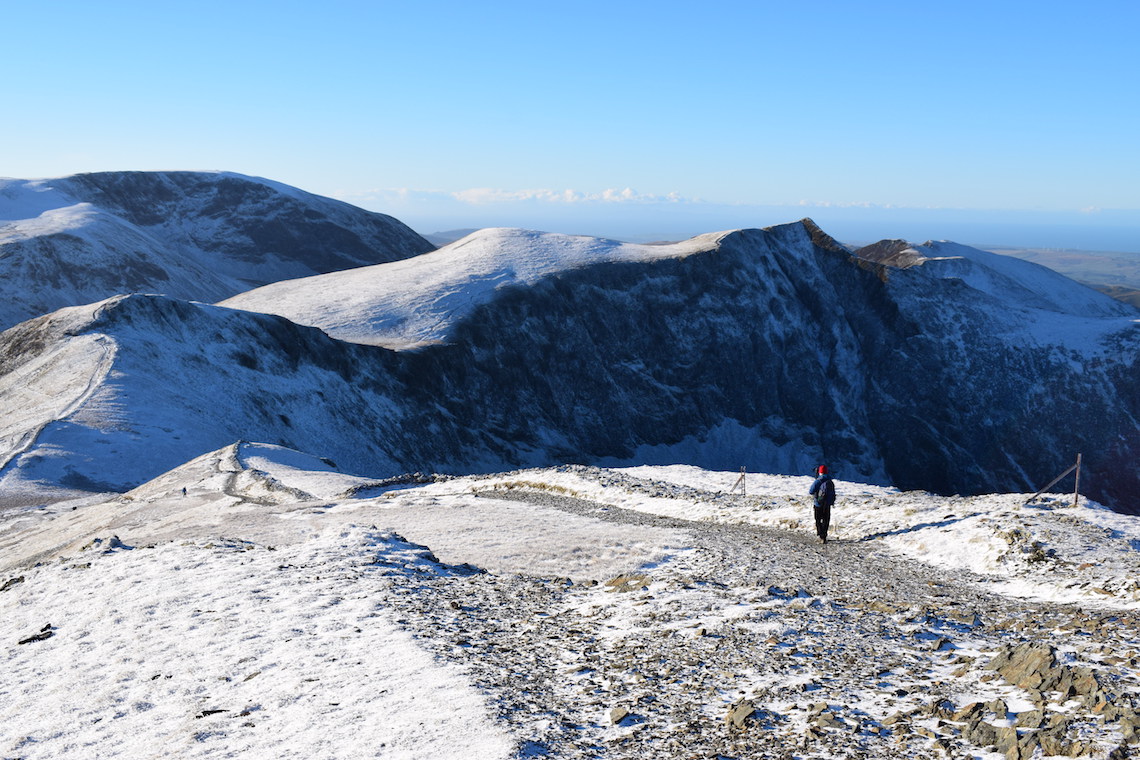 Wary of the looming onset of dusk, I quickly bagged the summit of Hopegill Head, veered south over Sand Hill to Coledale Hause, and took the path descending towards Coledale Beck. As I wound left and right, passing close to the dramatic precipice of Force Crag and its accompanying waterfall, I smiled at how I'd spent my day. One minute I'd been idly browsing the clothes rails at Cotswold Outdoor, feeling bored; the next I was amongst the mountains, exploring snowy Lakeland in all its glory – and that felt truly epic.
Click here to read more epic UK adventures. 
About Grisedale Pike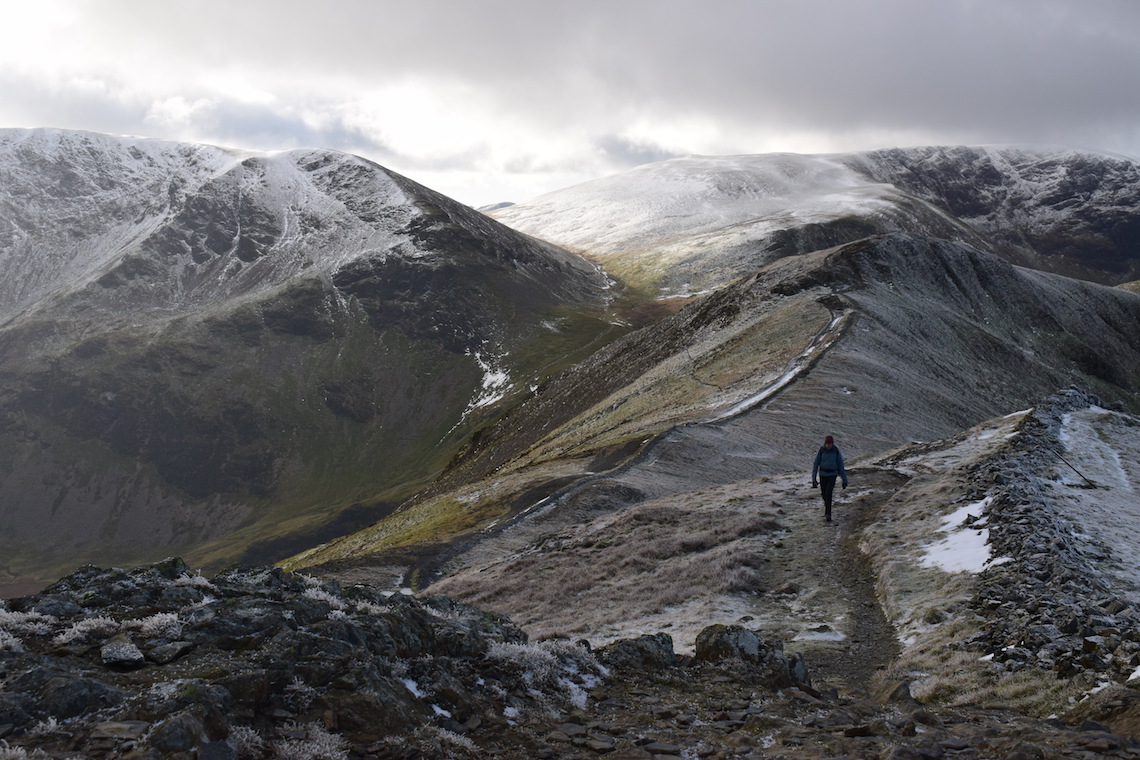 With a height of 791m, Grisedale Pike is the 40th-highest Wainwright in the Lake District. Viewed from the east, the mountain commands attention with its two peaks rising high from the surrounding landscape and standing over the small village of Braithwaite in the north-west Lake District.
Typically climbed from Braithwaite, you can expect to traverse grassy paths and rocky trails to reach the summit, from which, on a clear day, you can see the hills of Northern Ireland to the west. Alternatively, you can park up at a small parking area near the bottom of the Whinlatter Pass, just opposite the Hope Memorial Park, where you can ascend via Coledale.
Climbing Grisedale Pike will take you around four-five hours (fitness dependant), but if you fancy making a full day of it, take on the Coledale Round, an 11-mile circular walk that starts and ends in Braithwaite. Along the way you'll take on Hopegill Head, Eel Crag, Sail, Scar Crags, and Causey Pike, demanding 1,300m of ascent from weary legs.
Grisedale Pike and Hopegill Head: Fact File
Difficulty: A moderately challenging mountain hike.
Terrain: Generally good, well-maintained paths, with some steep, rocky sections.
Distance: 7.2 miles / 11.6km
Time: 4 hours
Climb: 2,972ft /906m
Maps: Harvey Maps' 1:25,000 Superwalker XT25 Lake District North; Ordnance Survey 1:25,000 Explorer OL4, The English Lakes, North-western area.
Transport: Take the West Coast Main Line railway to Penrith North Lakes before riding Stagecoach's regular X5 Penrith-Workington bus service, which stops at Braithwaite. 
Accommodation: Ample holiday cottages, B&Bs, hotels, hostels and campsites are available in Braithwaite and nearby Keswick.
Refreshments: The Royal Oak pub in Braithwaite is well-placed for a post-hike pint or meal.
Grisedale Pike and Hopegill Head: The route
From Braithwaite climb south-west over the hump of Kinn to the Sleet How ridge and continue ascending. The final push for the top is along a stony, narrowing arête. It is steep and rocky under foot, but there are no technical difficulties and it is relatively easy to simply walk to the side of any rocky steps or craggy sections.
Arrive at the summit of Grisedale Pike. Descend south-west to a col, enjoying glorious views across the north-west fells, before a short climb to the top of Hobcarton Crag. Veer right and ascend to the summit of Hopegill Head and then turn south over Sand Hill down to Coledale Hause. Skirt east and then pick up the track descending north-east along Coledale Beck back to Braithwaite.
About the Author
James Forrest is the author of Mountain Man: 446 Mountains. Six Months. One record-breaking adventure, published by Bloomsbury, which is out now.