Hut-to-hut hiking offers an immersive adventure into the mountains that you simply won't find on a one-day hike. Cosy, picturesque, and most of all, remote, the mountain huts in Switzerland offer a chance to rest your head and refuel without having to descend to the nearest town or village. There is no need to carry heavy camping gear or food, either, as mountain huts offer everything you need, from hearty food to jovial storytelling with fellow hikers.
With over 150 huts to choose from, it can be difficult knowing where to start with hut-to-hut hikes in Switzerland. To help narrow it down, we've rounded up five of our favourite Swiss multi-day hikes that end each day at a perfectly placed mountain hut.
Greina Pass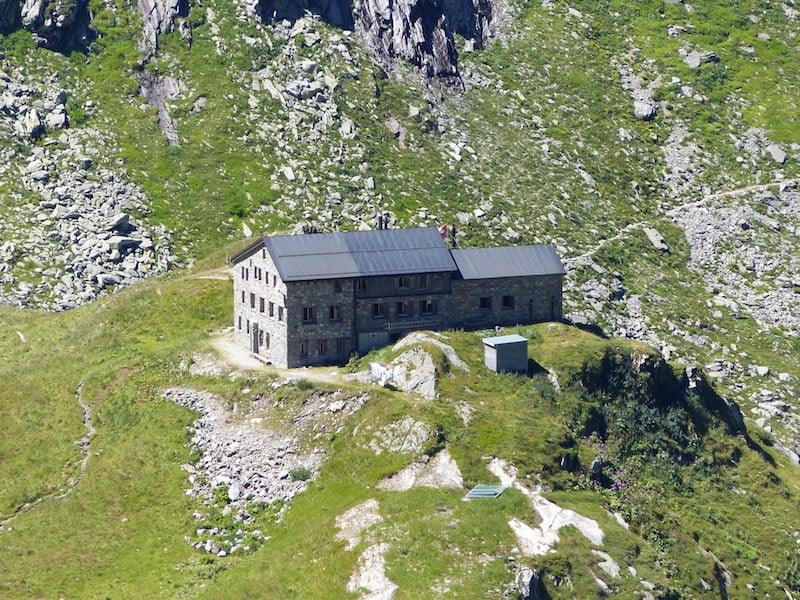 The Greina Plateau is as vast as it is beautiful and is rife for exploring over a few days engulfed in the mountains. As a protected landscape, this stunning area remains beautifully untouched, from the lush emerald pastures to the trickling mountain brooks.
A popular two-day hike begins at Runachez and takes you through ethereal woodland and past charming waterfalls up to the Terri Hut, where you'll spend the night before descending across the wetlands to Lake Luzzone and Ghirone. There are several other mountain huts located on the Greina Plateau if you wanted to extend your hiking by another day or so. Read more here.
Region: Grisons/Ticino
Start: Runachez
Finish: Ghirone
Distance: 15 miles
Sentiero Alpino Calanca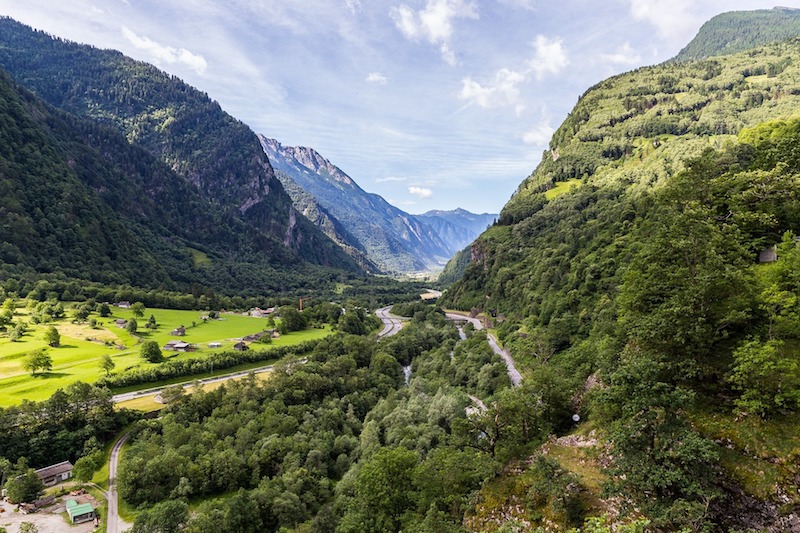 This classic multi-day trail traverses the ridge between the spectacular Calanca and Misox valleys and offers sensational panoramic views of the Alps with the chance to stay at unique mountain accommodation en route.
You can begin the trail at the San Bernardino Pass, climbing up above 3,000m through the most remote and pristine mountain scenery. The hike generally takes three days to complete, with well-spaced out mountain huts found along the way. Click here for more.
Region: Grisons
Start: San Bernardino
Finish: Santa Maria
Distance: 28 miles
Four Source Trail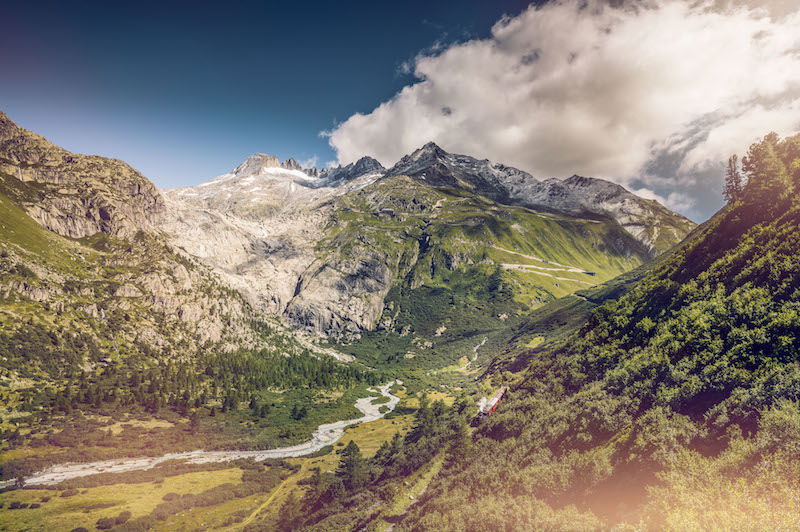 So called because it passes by the source of four major rivers, the Four Source Trail is also known as the Vier Quellen Weg and is a popular four-night hut-to-hut hiking tour from Oberalpsee to the Rhône Glacier.
The whole trail is 53 miles in length and is split into five stages, with huts or small mountain hotels available at the end of each day. Keep an eye out for marmots bouncing playfully and chamois grazing gracefully as you traverse the endless pretty pastures and splendid Alpine scenery. See more here.
Region: Uri/Valais
Start: Oberalpsee
Finish: Rhône Glacier
Distance: 53 miles
Via Alpina: Mürren to Oeschinensee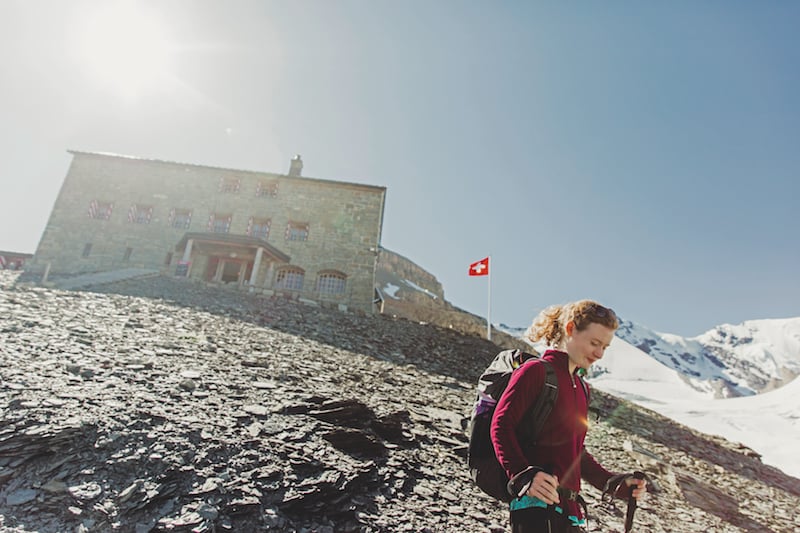 The Via Alpina is one of the most stunning long-distance trails in the world, but if you're short on time and unable to take on the full 20-day hike, a shorter section of the trail makes for one of the most scenic hut-to-hut hikes in Switzerland.
We love the section from Mürren to Oeschinensee, comprising stages 12 and 13 of the trail. This officially starts in the beautiful Lauterbrunnen, but you can get the bus to Stechelberg and then a cable car to Mürren. Here, you can begin the hike to Griesalp, where you'll find a charming mountain hut (Gasthaus Golderli) nestled among the peaks. The following day you will finish your hike at the idyllic shores of Lake Oeschinen, where you can catch the cable car to Kandersteg.
With incredible views of the Eiger, Mönch and Jungfrau, this is a truly breathtaking route. Find out more here.
Region: Bern
Start: Lauterbrunnen
Finish: Kandersteg
Distance: 24 miles
Tour des Muverans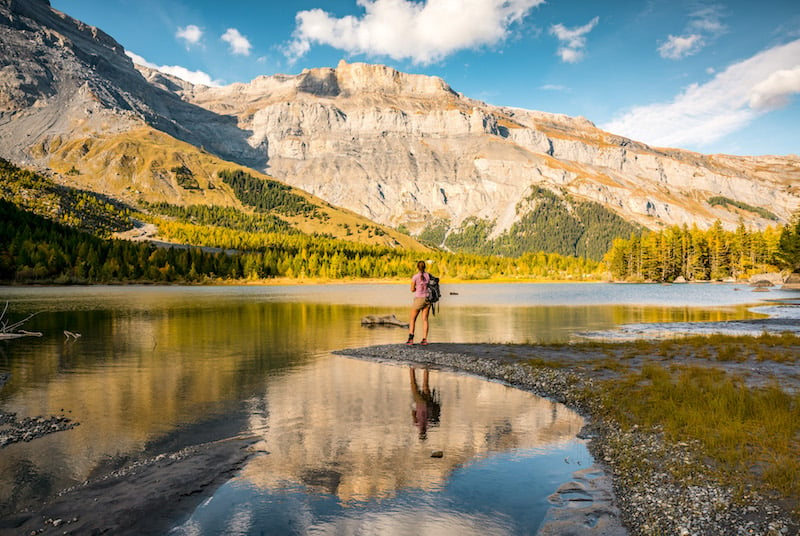 For an off-the-beaten-path hiking experience, you can't beat the Tour des Muverans, which is a four-day trek around the peak of the Grand Muveran. You'll take in six incredible passes, as well as three magnificent Alpine lakes on the 32-mile circuit, which offers numerous possibilities in terms of mountain huts to spend the night.
You'll also get spectacular views of famous spots such as Mont Blanc and the striking Dents du Midi – so don't forget your camera! The majority of the trail is above the treeline, so the panormaic views of the snow-dusted Swiss Alps really are something special on this hike.
The hike begins and ends at the glimmering Derborence Lake, although you can also access it from Pont de Nant. See more here.
Region: Valais/Vaud
Start/Finish: Derborence Lake or Pont de Nant
Distance: 32 miles
How to create your own hut-to-hut hikes in Switzerland
With so many huts to choose from, it's easy to create your own hut-to-hut hikes in Switzerland based on your itinerary and hiking preferences. Miles and miles of pristine trails await, all leading to the most picturesque of lodgings.
The Swiss Alpine Club operates over 150 mountain huts, which can be reserved in advance over the phone, by email or online. Simply check the club's website to find the huts that suit your needs and create a route that links them together.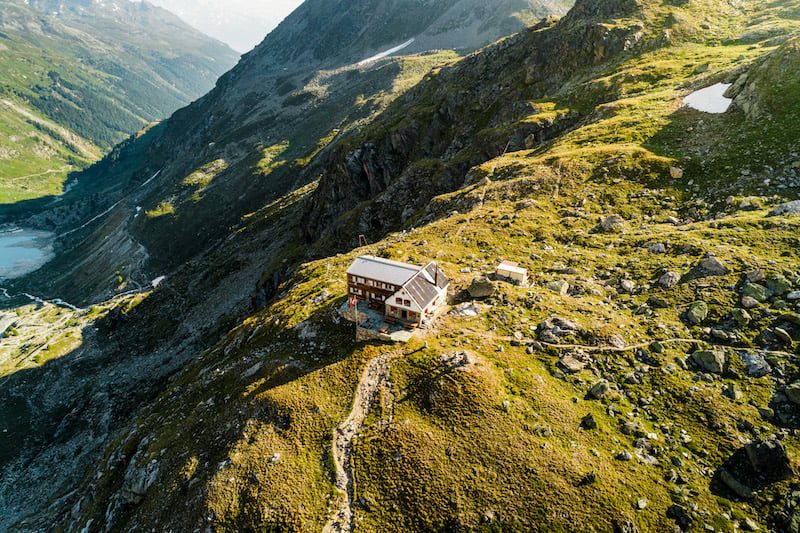 GET WIRED FOR ADVENTURE TODAY
Life's great adventures always start with an idea. And Wired For Adventure magazine is where you'll find them.
Inside Volume 11, read about Elspeth Beard's 35,000-mile solo trip round the world on two wheels, visit the Land of Volcanoes in El Salvador, and meet the gardener turned daredevil photographer capturing Hawaii's waves like never before. Order your copy here and get FREE UK delivery.