The Via Alpina is a classic long-distance trail that takes you through the heart of the Swiss Alps in a series of 20 daily stages. In short, it's a hiker's dream, as Kev Reynolds explains…
What is the Via Alpina?
Linking eight Alpine countries, the Via Alpina network of long distance trails measures over 3,100 miles in distance. The Swiss leg, between Vaduz in Liechtenstein and Montreux on Lake Geneva, is the shortest at around 240 miles, but crossing no less than 16 passes with a height gain of more than 20,000m it is certainly one of the finest. It's both demanding and rewarding in equal measure, and deserves to be on the tick list of all experienced mountain trekkers.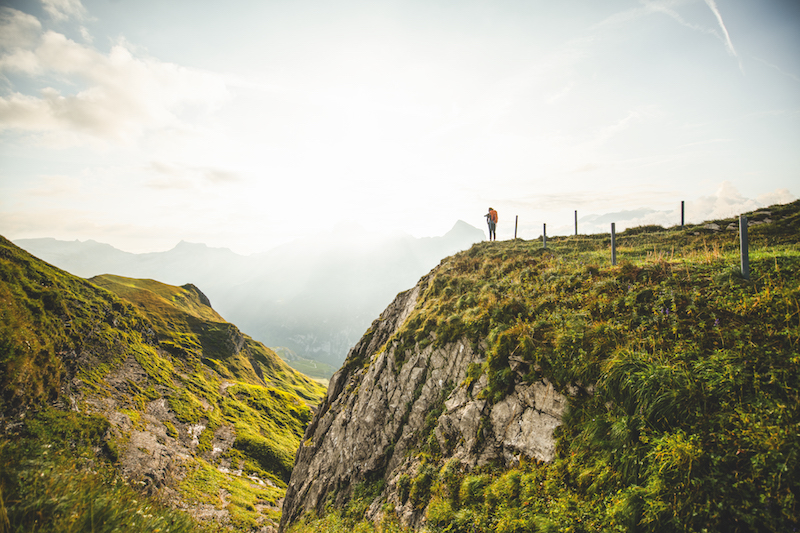 Making a complete east to west traverse of Switzerland, Via Alpina 1 (VA1) – the green route – follows the long-established Alpine Pass Route (APR) for about 98% of its length. Until it was adopted by the international Via Alpina network the APR had no official status, but now benefitting from efficient Swiss way-marking and signage throughout, it is at last gaining the recognition it deserves.
Why should I do it?
The question should be, why not? It's a fabulous route that leads the walker through some of Europe's most sublime mountain scenery, from the little known Glarner Alps at one end, to the alps of Lake Geneva at the other, with the spectacular Bernese Alps in the central section, where iconic peaks abound to create a memorable backdrop. Of course, that's not all that is on offer.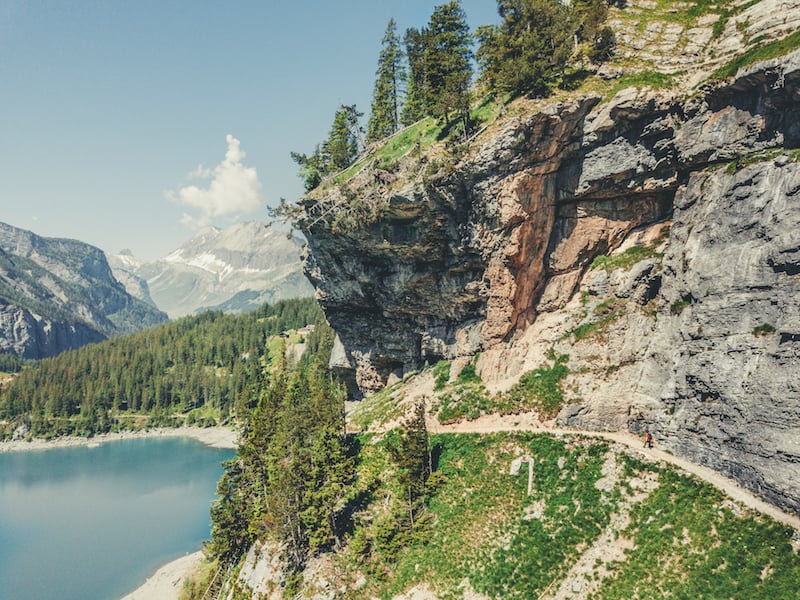 You'll explore valleys and villages that seldom (if ever) appear in tourist brochures, and you'll wonder why that should be. You'll wander across the largest 'alp' in Switzerland (Urnerboden), gaze on the most spectacular waterfalls and edge exquisite lakes and mountain tarns while following trails that catch your breath with their magical views. On the early stages you're likely to see no-one except the occasional farmer or shepherd. But from Adelboden to Kandersteg you'll be among other hiking enthusiasts to walk in the shadow of giants – mountains such as the Eiger, Titlis, Wetterhorn, Schreckhorn, Mönch and Jungfrau; mountains straight out of dreams.
Every day has a surprise in store. Every stage and every pass is different. Only the challenge remains consistent. But that should be expected of a trek that will demand around 20 days of effort – equal to many a Himalayan trek, and every bit as rewarding to achieve.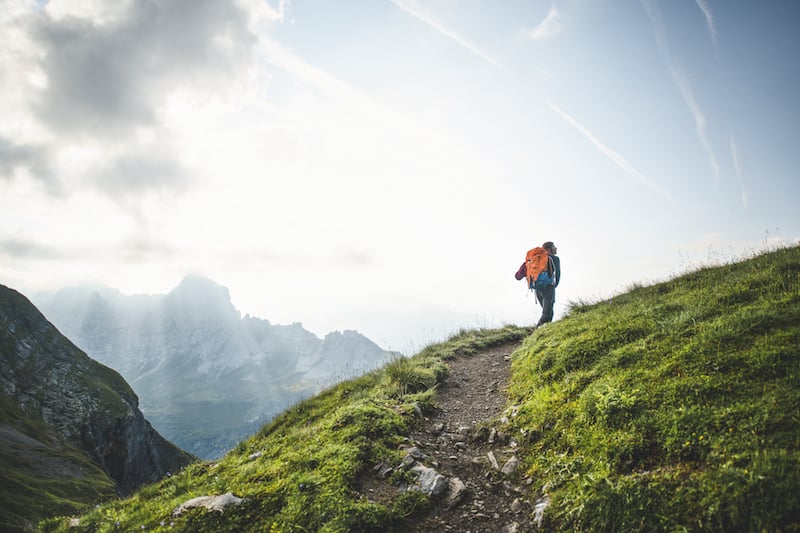 Perhaps you've trekked the Tour du Mont Blanc and are looking for something a little less familiar, but every bit as spectacular? Perhaps a multi-day trek that brings close contact with some of the finest alpine landscapes, yet avoids glacier crossings or the need for technical skills; a route with a variety of accommodation along the way so there's no need to shoulder a heavy rucksack? A route with transport options to enable you to escape should the weather turn bad or illness or injury (or just plain weariness) suggests a change of plan? The Via Alpina 1 ticks all the boxes – and more.
How can I do it?
As suggested above, backpacking VA1 is a choice, not a necessity. But should you wish to be self-sufficient, a few official campsites do exist along the way. Most hikers prefer to travel light though, and there's no shortage of accommodation to make this possible. As well as hotels of all standards in villages en route, there are plenty of rustic mountain inns, farms, huts and youth hostels in more remote locations that offer a simple bed for the night, plus meals. And some of the most memorable experiences of the trek will doubtless result from a night spent in such places.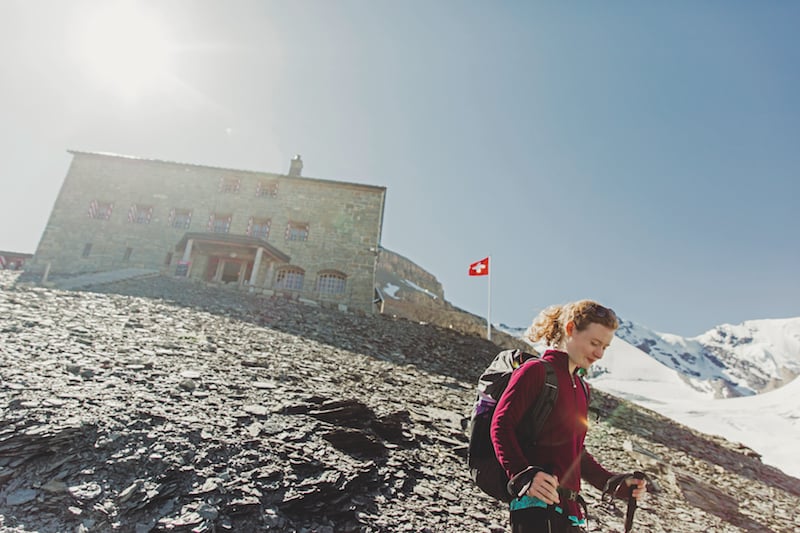 Having established the fact that you can travel light, the next thing to consider is access; how to get there and back again. Being Switzerland, there's no problem here. Flights to Zürich or Geneva connect smoothly with the Swiss rail system. Zürich has a direct line to Sargans, from which Vaduz (for the start of the trek) is just a short and well-connected journey away, while Montreux (at the western end) is a single train ride to Geneva airport for a flight home. The route also passes through a number of resorts and villages reliably served by buses, and in several places it's possible to reduce the effort involved to reach a pass by making use of a cable car.
Now all you have to do is walk! To trek from end to end will take about 20 days of sustained walking, but allow an extra day or two for bad weather interruptions or 'rest days'.
Short on time?
Not everyone will be inclined – or able – to commit three weeks to a walking holiday, but VA1 is a route that can be conveniently broken into two shorter itineraries, which you can tick off on entirely separate trips.
Trek one: Vaduz to Grindelwald or Lauterbrunnen (11-12 days) with opportunities to take days off in Engelberg, Meiringen, Grindelwald and Lauterbrunnen.
Trek two: Grindelwald or Lauterbrunnen to Montreux (8-9 days) with days off in Lauterbrunnen, Kandersteg, Adelboden, Gstaad or Lauenen.
For more details, see Swiss Alpine Pass Route – Via Alpina 1 by Kev Reynolds.