Continuing our look at the world's greatest hikes, this week we turn to one of the two most popular and classic routes in the Himalayas, the Annapurna Sanctuary trek in Nepal.
Though shorter and less challenging than the Annapurna Circuit, it still offers spectacular close up and panoramic views of the vast massif of Annapurna…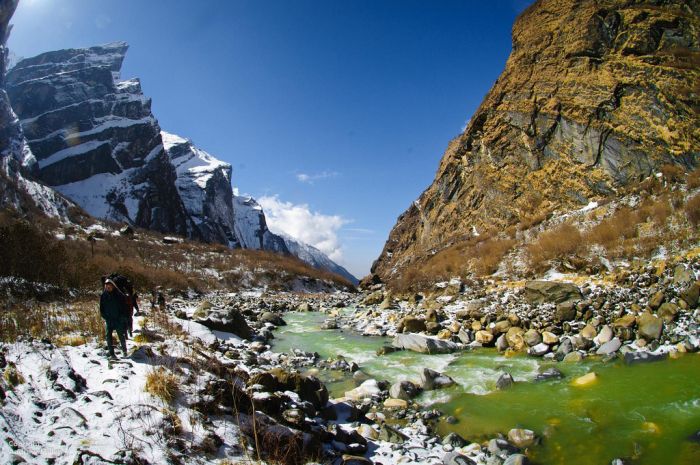 Photo: Andrew Miller
The Annapurna Sanctuary trek to Annapurna Base Camp is the shorter of two popular treks in the Annapurna region (the other being the famous Annapurna Circuit), but short doesn't mean it isn't spectacular.
In fact, it's really spectacular, offering views of the natural amphitheatre that is the Annapurna Sanctuary, plus the fish-tail-shaped Machapuchare – the Matterhorn of the Himalayas. With many trip providers you'll also get to experience sunrise over the famous Poon Hill, which is truly a once-in-a-lifetime moment. Mingle with Nepalese locals in remote mountain villages, unwind in natural thermal springs and ogle the awe-inspiring views around every turn as you tick this incredible hike off your bucket list. You won't regret it.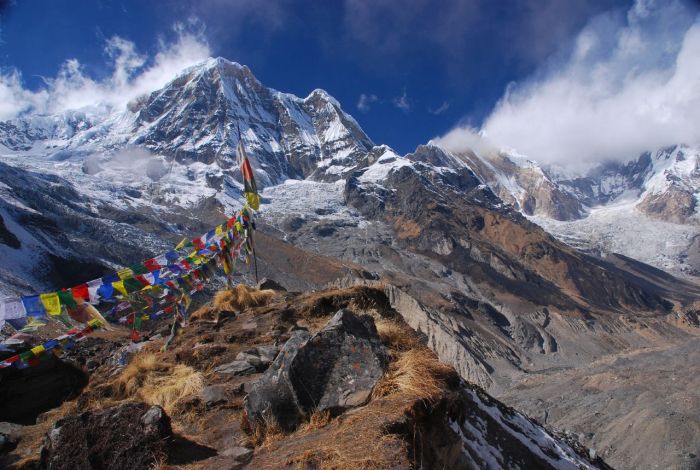 Photo: Vera & Jean-Christophe
It's worth noting that this is still a difficult trek, despite being shorter and lower than many other Himalayan hiking routes, but there are comfortable lodges along the way, so it's a great introduction to trekking in Nepal while still offering the chance to get close to jaw-dropping Himalayan giants. The trek takes an average of 11-13 days to complete, with the possibility of some long trekking days and altitude sickness to contend with, so make sure you are physically and mentally prepared beforehand.
The trek generally starts and ends in Pokhara, a delightful lakeside town with loads of other adventurous activities on offer such as paragliding and stand-up paddle boarding. Spending a few days relaxing in this scenic spot is the perfect way to bookend your trip.