www.leatherman.co.uk | £89.95
Just in for testing is the Leatherman Juice CS4, a medium-sized multi-tool which features 15 different implements, retails at £89.95 and comes with the Leatherman 25 year warranty. I've used various Leatherman products over the years and one thing that always stands out about their tools is the excellent build quality so it was interesting to try the Cs4 and see if it maintained the company's high standards.
Leatherman is marketing the Cs4 as a multi tool that's the perfect size for a pocket, a glove – or tackle box and even a purse and straight away, looking at the Cs4 it's the sleek, aesthetic design that is noticeable. For a tool that's made to do such un-glamorous work it's designed and put together in a way that makes it appealing to look at. The stainless steel body and the anodized aluminium handle give it an aesthetic appeal and it's the sort of thing that wouldn't look out of place on a display plinth on a modern art deco mantelpiece, such is the testament to its lovely design.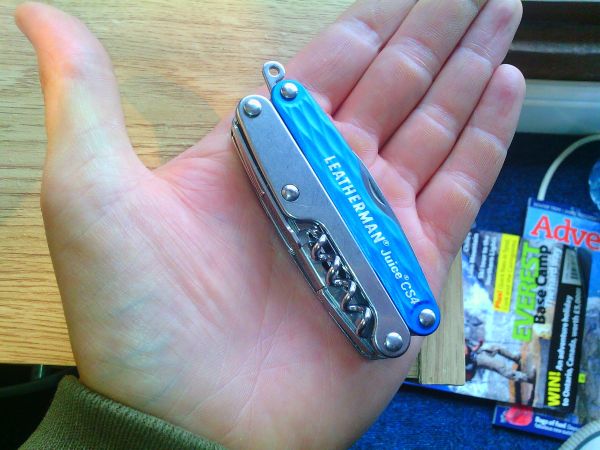 The Leatherman Juice Cs4 looks beautiful for a multi tool.
Moving on, at the end of the day we don't buy a multi-tool for it to look pretty, so does theLeatherman Juice Cs4 impress in functionality as well as style? Well, yes and no. I'll start with the good bits: it fits perfectly in the hand and for such a small multi-tool (3.25 inches long when closed) it holds a lot of tools, 15 to be precise. You get:
420HC Clip Point Knife
Awl
Bottle Opener
Can Opener
Corkscrew with assist
Extra-small Screwdriver
Hard-wire Cutters
Med/Lg Screwdriver
Needlenose Pliers
Phillips Screwdriver
Regular Pliers
Saw
Scissors
Small Screwdriver
Wire Cutters
Plus you also get a lanyard loop. So, the Cs4 has just about everything you'd expect a full featured medium sized multi-tool to have and the tools that it does have mostly function excellently for the jobs you'd expect to use them for.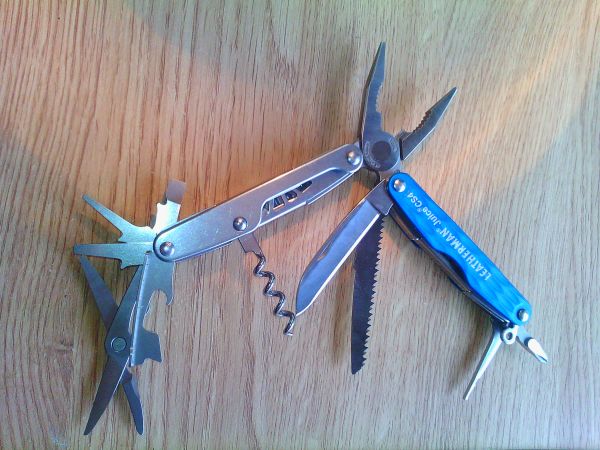 15 tools in one
Out of the box the 2.6" knife and saw are incredibly sharp and the scissors are a useful size and easy enough to use. The three different sized flat head screwdrivers offer enough variety to fit just about any screw you'd come across and they also double up as useful multi tools in themselves, I know people who use them to adjust gun sights when hunting and they're strong enough to use as mini pry bars – just don't overload them with weight as they will eventually snap. As you would expect with a Leatherman the pliers are exceptional.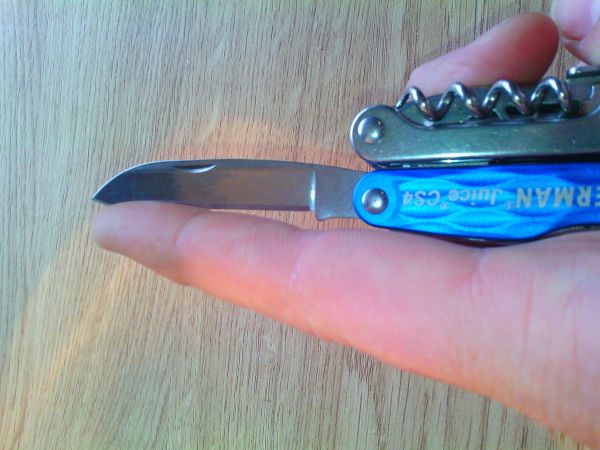 The 2.6″ knife is incredibly sharp out the box.
The Phillips screwdriver and the bottle opener work well and the cork screw features a very useful assist to it which helps you pull a cork out with ease – not overly useful in the wilds of Siberia but very nice to have when you're camping with friends and the wine is flowing.
So, for the most part the Cs4 features some very nice little tools, but there are one or two things which unfortunately let the multi tool down. Firstly the disappointing saw. In order to extend it you have to lift the awl up as well, and in order to put it back the awl once again has to come out. When re-housing the saw it seems misaligned and it doesn't quite sit straight meaning you have to physically push it over into its slot before you can put the awl away as well.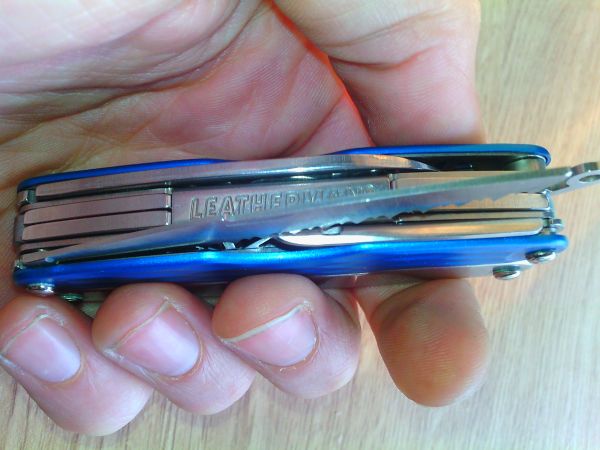 The saw won't go back in if the awl is in its place.
I initially thought that this was a problem unique to my tool, but on investigating it turns out to be something that happens on all Juice Cs4s, it doesn't ruin the functionality of the tool but it certainly gets annoying when you're putting your saw away.
Unfortunately it's not just the misalignment which lets the saw down. While I don't expect to be able to work through a tree trunk with the blade, when I used it on anything more than a stick it started to bend more than a saw should. Fortunately I haven't seen this problem on any of the other tools that Leatherman makes, in fact the saws tend to feel particularly sturdy so it's disappointing to have such a flimsy feeling implement.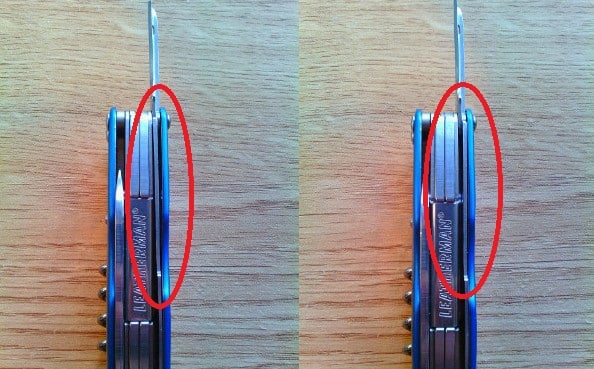 A demonstration of the poorly aligned saw, image on the right shows how it needs to be, image on the left is how it naturally sits if you don't adjust it.
But, saying that, I can't actually remember the last time I genuinely required the saw. Of course, you might feel differently and if you find yourself using that particular tool a lot then you might be disappointed with this Leatherman.
It's nice to have the tools feeling stiff in their positions so that they don't flap about when you're wielding the Leatherman Juice Cs4 but on some occasions they feel a little too stiff and if you're a nail biter you might find it hard to pull the various screwdrivers out. They will loosen up slightly after a few days of use but I've found myself having to use something sturdier than a finger to prise them out all too often.
In all, I find the Leatherman Juice Cs4 a bit hit and miss. If you're only going to be using it for weekend camping with the family and mates on a light adventure or you want a tool to stick in your glove box for the convenience of having one then it'll work fine and the nice looks will definitely appeal to the more casual user. If you're going to be putting it to more serious use, however, then there are far better multi tools from Leatherman that you should consider before this (I personally love the Leatherman Sidekick).
Leatherman Juice CS4 Verdict
The Leatherman Juice CS4 is beautifully designed, but let down by its poor saw.