Rob Slade heads to Tryfan to introduce his friends to a classic Welsh scramble…
This time last year, I was exploring the caverns and slopes of the beautiful Mourne Mountains in Northern Ireland. Our guide for the weekend was Andrew Parkes from Mac in a Sac, and he took great pride in showing me around his neck of the woods.
Determined to return the favour, this summer I invited him over to the mainland in order to take him on a classic scramble. As ever, we were both keen to bring some new gear along for the ride, and Andrew was eager to find out just how good a packable waterproof jacket could actually be. With that, he grabbed a few samples and jumped on a plane to Birmingham, where I picked him up in the Adventure Travel campervan and headed north-west to Snowdonia.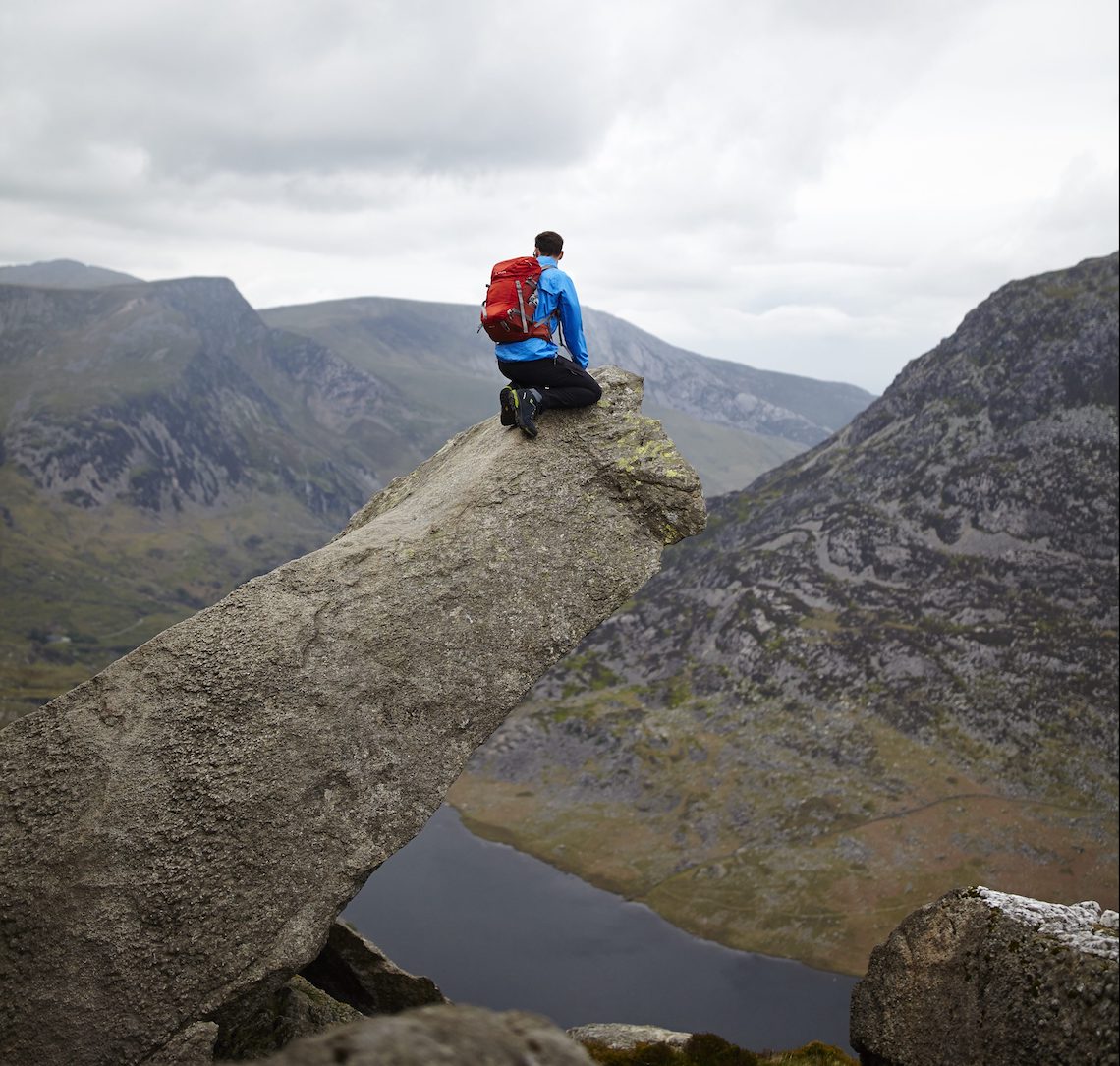 Our initial plan was to tackle the Snowdon Horseshoe, but as a bank holiday weekend was just hours away, we thought better of it, and went for iconic rocky peaks of Tryfan instead. As we pulled up to park opposite Llyn Ogwen, we were pleasantly surprised to discover that there weren't that many cars around. This welcome twist of luck continued and we hardly saw anyone on the North Ridge route to the summit, either. Don't you just love it when that happens?
From the road, we began our ascent, gaining elevation quickly. The going was steep and loose underfoot, but we were soon in scrambling terrain, and that's when the fun really started. We gradually twisted and turned our way over rocks and through narrow gullies, continuing whenever the mountain would let us pass.
Tryfan has a bit of a reputation, what with all of the mountain rescue callouts it gets, but it's such a fun environment to explore. We were blessed with clear weather, so the rock was dry and grippy, allowing us to really enjoy the scrambling.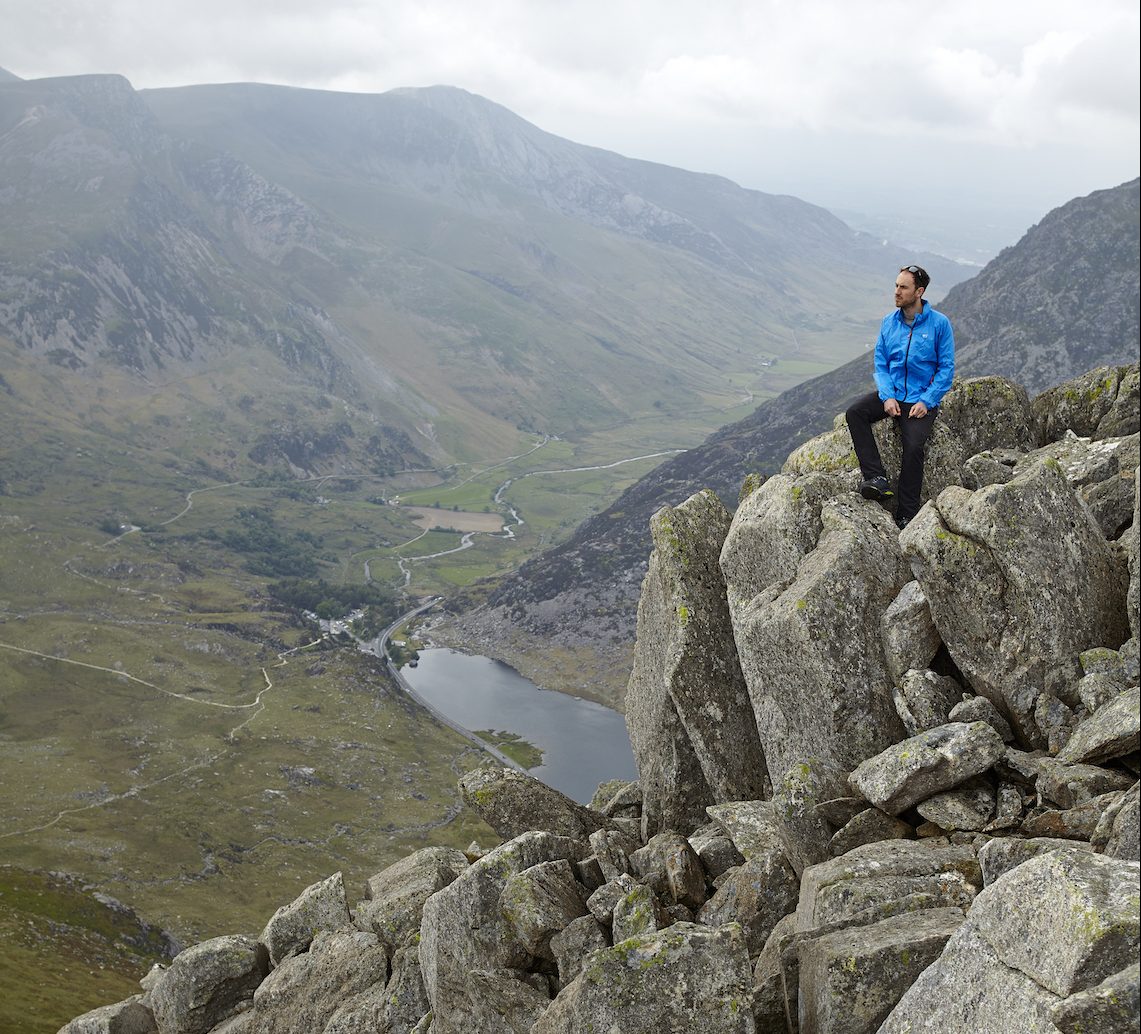 Behind us, the Ogwen Valley opened up, with its steep walls encircling the lake that already seemed far below us. Tryfan proved to be a great proving ground for a packable jacket, with the rocky terrain testing its durability and range of movement to no end. Honestly, it coped well. The raglan sleeves helped allow for unhindered scrambling and the waterproof fabric dealt well with the abrasions it faced on a few challenging scrambling moves.
Eventually, we reached the Cannon, an infamous pinnacle of rock that stretches out at 45 degrees from the North Ridge. We stopped here for a few photos, a water break and to enjoy the five-star views opening up below us. It's a great vantage point.
Onwards we went, constantly gaining elevation as we continued our way to the summit. The nature of the North Ridge route is that you really are working hard for the entire climb, and there aren't many sections where you can relax and potter along. The majority of the ascent demands your attention to ensure you're going the right way and placing your hands and feet in the right places, and it's so much fun to get really stuck into the scrambling.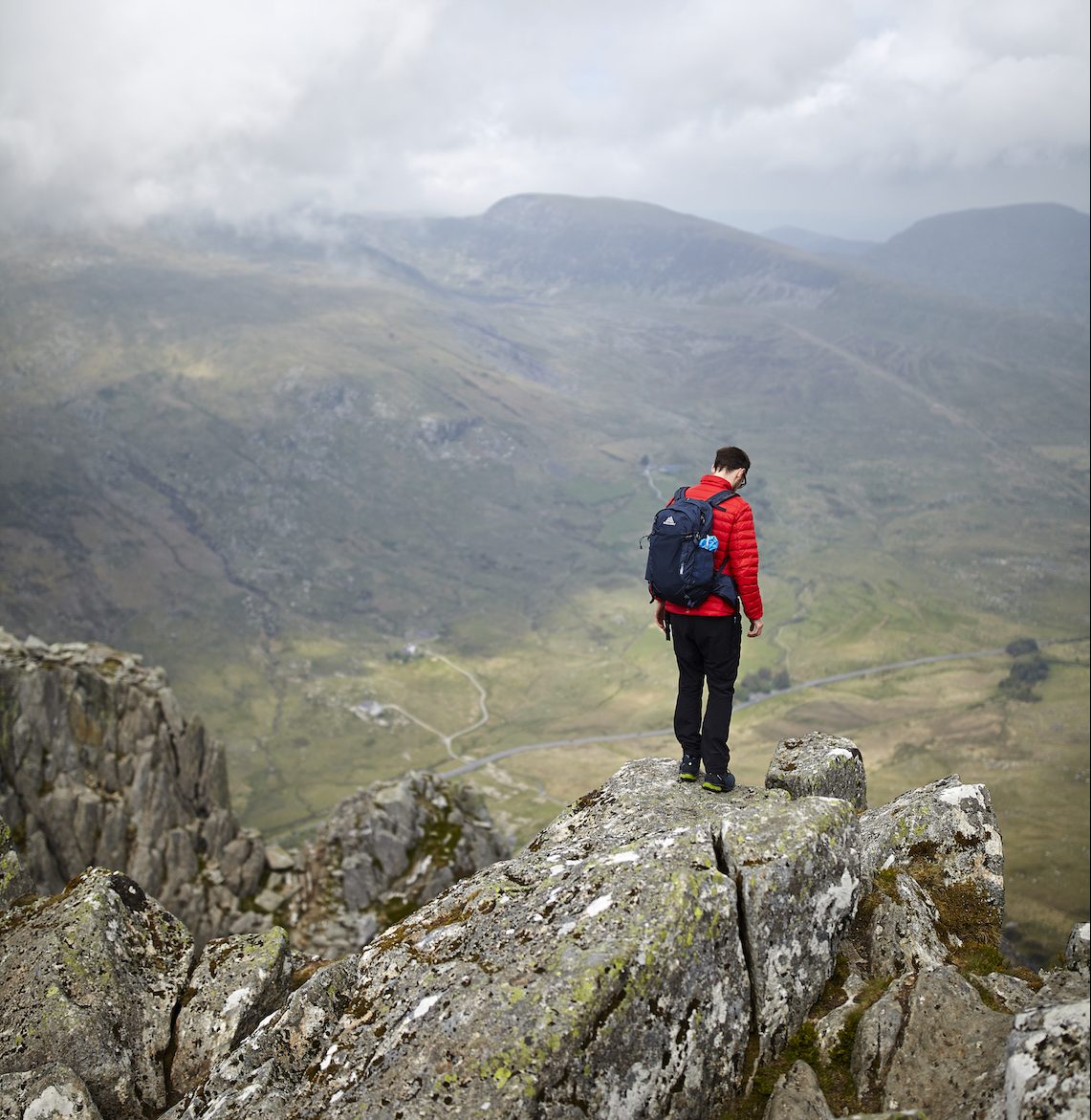 We soon arrived at the summit, which we were surprisingly sharing with just two other climbers. Being the Friday before a May bank holiday, I had expected there to be a small crowd waiting for us, so we were thrilled to be one of the only ones up there. Especially as it meant I didn't have a crowd of spectators watching on as I jumped from Adam to Eve, the two infamous rocks donning the summit. I wouldn't say I was the most graceful at getting onto and off the rocks, but I made the leap and gained the 'freedom of Tryfan' as people say.
Stopping on the exposed boulder-strewn summit gave us a chance to throw on another sample from Mac in a Sac, the Polar Down Jacket. It's by no means a heavy duty insulated piece of kit, but it packs away incredibly small and is lightweight, making it a fantastic, affordable option (it's available for just £84.95) for anyone that wants a down jacket without breaking the bank.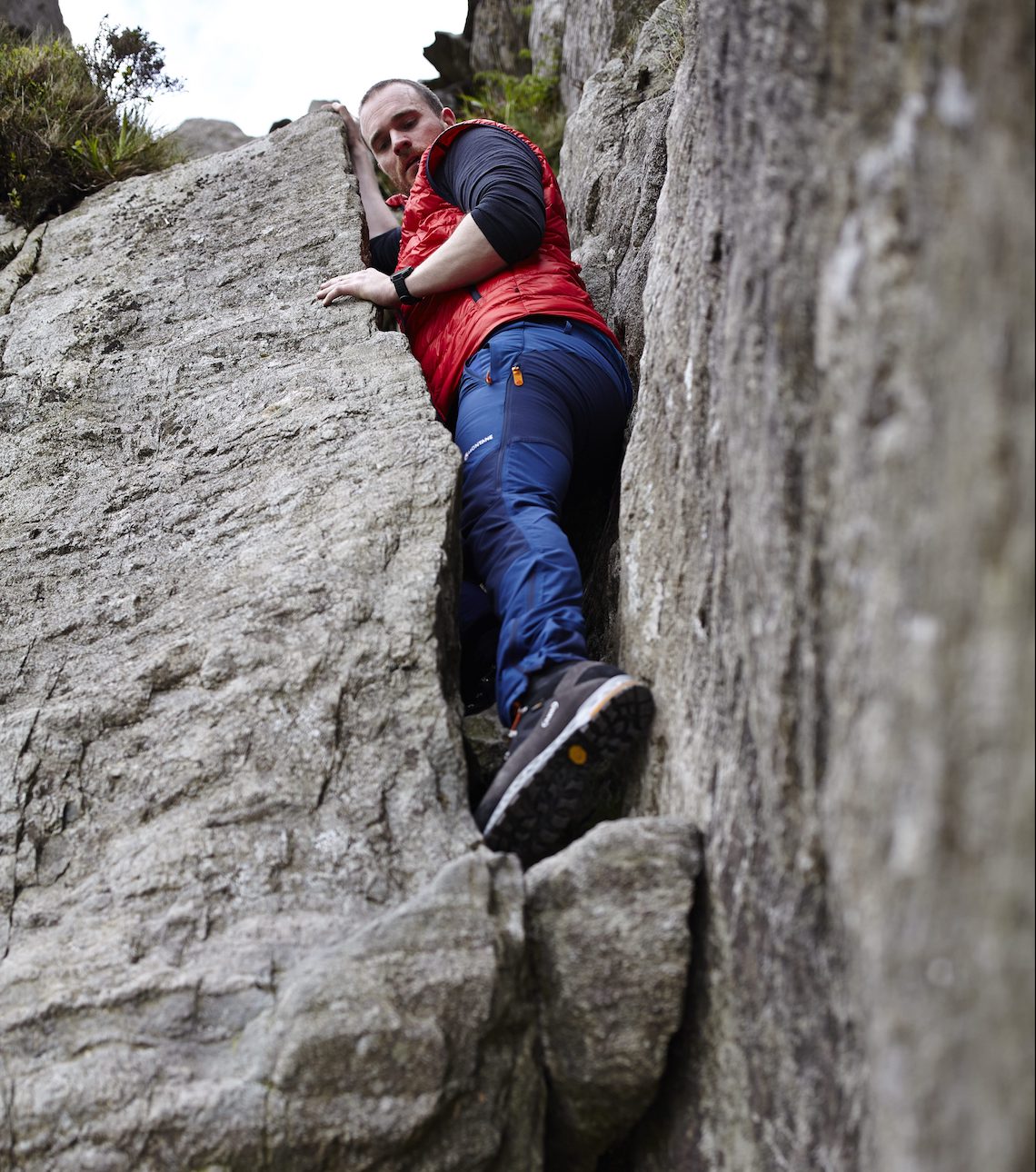 For us, it was a useful layer on the windy summit, and it was easy enough to sling it into our packs ahead of our descent of the South Ridge, once again forgetting it was even in the pack. It was hard to pull ourselves away from the summit, especially as we had so much fun on the scramble, but the pub was calling.
We slid down scree, hopped across rocks and hastily made a break for it, with the jagged peaks of the Glyder range stretching out before us. The grade one scramble of Bristly Ridge was incredibly tempting, but the evening was drawing in and some pub grub eventually won out.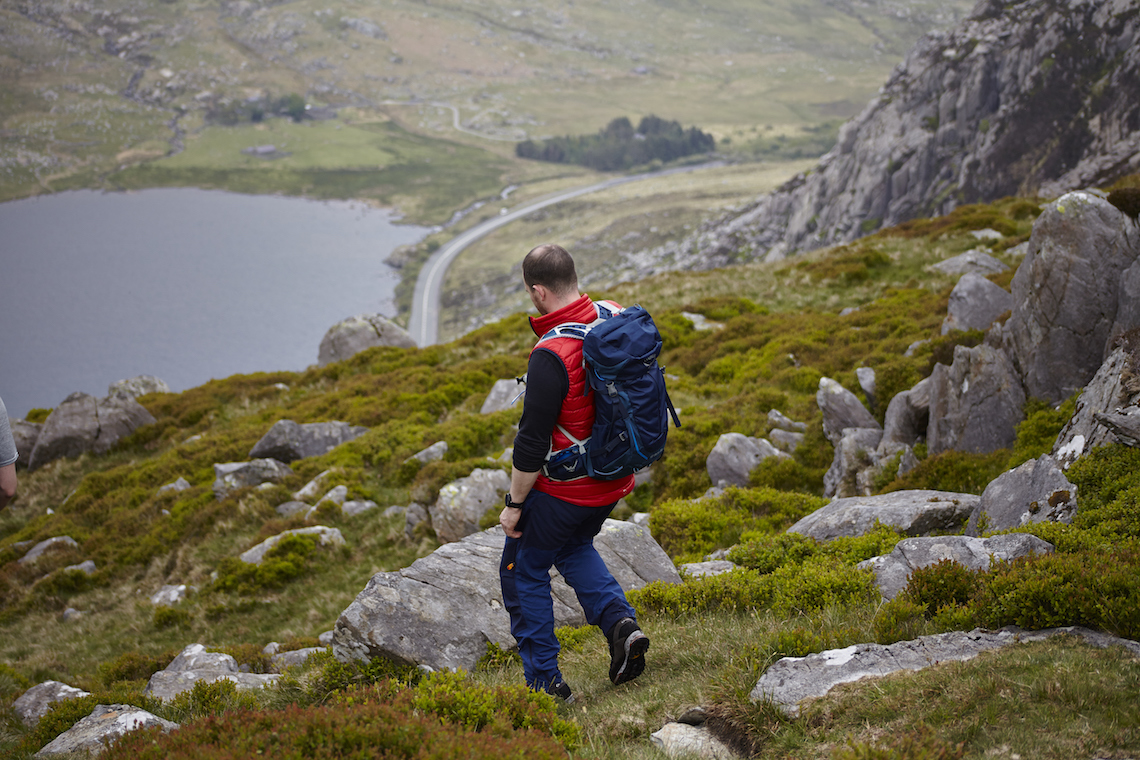 As far as descents go, the route back down Tryfan into Ogwen Valley is a beautiful one, with Llyn Idwal and Llyn Bochlwyd nestling majestically below. Apart from stopping to say hello to the resident ponies, it was a hasty retreat to the van and an even hastier trip to the pub, where we subsequently ate our bodyweight in food.
So, how did we get on with Mac in a Sac's Origin waterproof packable jacket? It certainly did the job for us as a windproof layer, coping well with any scuffs against the rock and allowing for a full range of movement. When it wasn't needed, it packed away very well into its stuff sack and hardly added any weight to our packs. It might not be the optimum mountain shell, and may have struggled in sustained, heavy downpours (it has a hydrostatic head rating of 7,000mm), but as a just-in-case layer, £34.95 is not a bad outlay at all.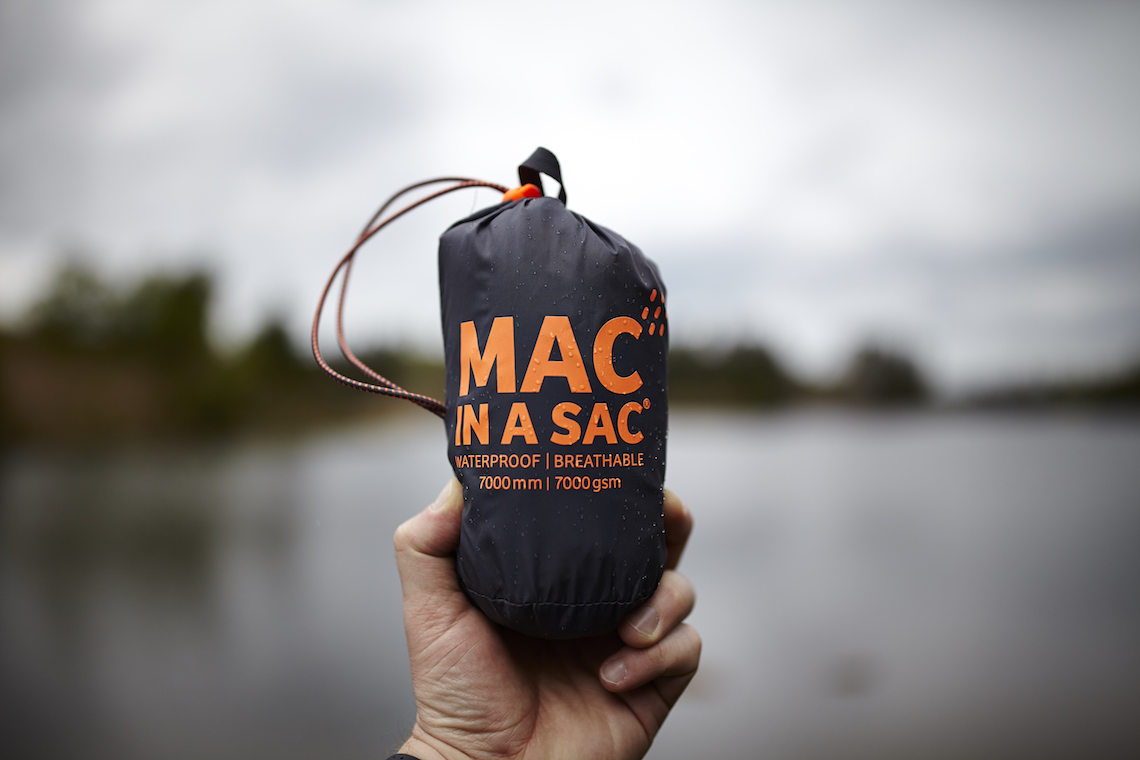 For more information about the Polar Down Jacket and Origin Waterproof Packable Jacket, click here.