With a friend in tow, Anna Blackwell takes to the waters of Loch Lomond for a wild camping adventure on a deserted island…
Usually, my adventures in Scotland are entirely land-based. However, having recently returned from a five-month kayaking expedition, I felt inspired to explore one of my favourite parts of Scotland by kayak.
After persuading my friend Molly to tag along on a weekend adventure, we headed to Balloch to collect the kayaks and equipment we had hired. Having somehow managed to fit everything into the watertight hatches in our kayaks, including our essential chocolate stash, we were ready to begin.
The chap from the kayak hire company briefly recommended a few routes and islands, before helping us to get waterborne. He watched, bemused, as Molly and I wobbled around momentarily, adjusting to our new mode of transport. It didn't take long for us to feel comfortable and, after quickly consulting the map, we paddled off into the grey morning.
We spent the first few hours of the day hugging the east shore of the loch, attempting to shelter ourselves from the gusts of wind that had picked up as the loch widened. Deciding we were ready for our first dose of chocolate, we battled across the choppy water to one of the islands. Once there, we perched on a fallen tree and discussed our plan. It didn't take long for us to spot that there was a pub in Balmaha, a short paddle away from where we currently were, and the thought of a plate of chips won us over.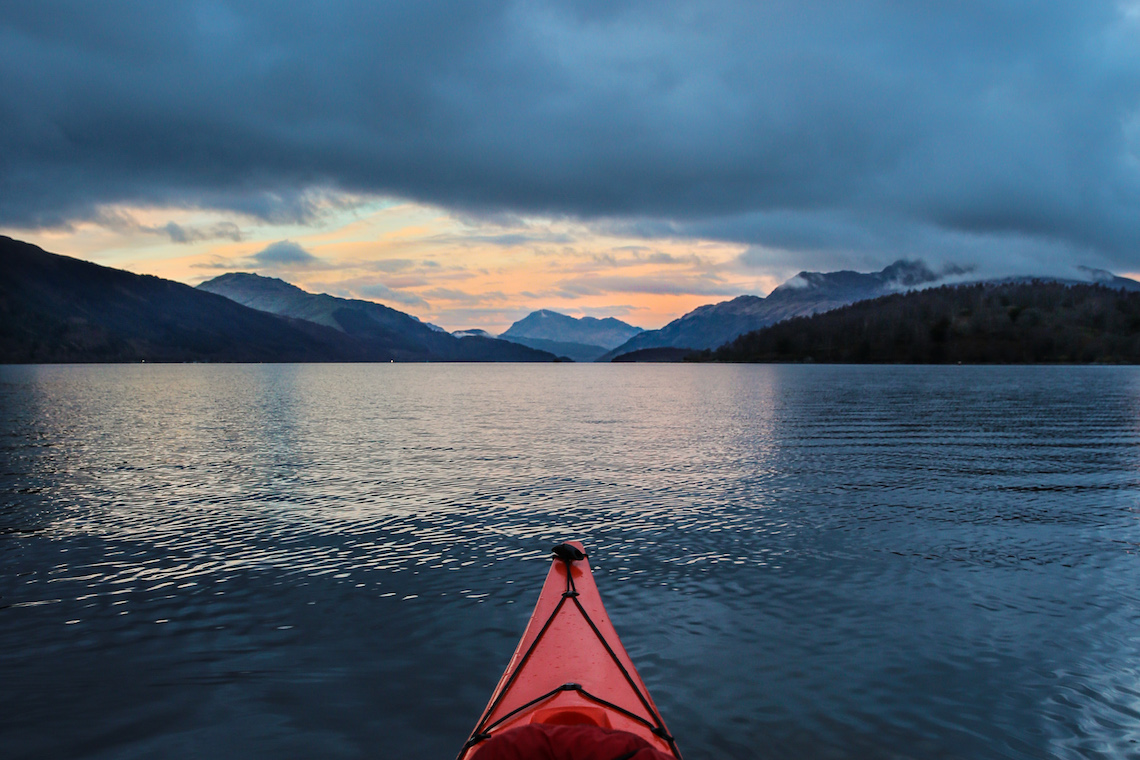 Sufficiently well-fed, all that was left on the day's agenda was to choose an island to make our home for the night. Pushing our kayaks back out into the water, we made our way to one of the larger islands clustered in the middle of Loch Lomond. As we neared it, the wind suddenly dropped. Gazing out across the now calm water, we watched as the sun began to make its way towards the mountainous horizon, casting a pink glow across the water as it did so.
We spent our Saturday night with an island to ourselves, occasionally peeking out of the tent to survey our moonlit land. After a good night's sleep snuggled inside our sleeping bags, we woke to a still morning. We breakfasted on our beach and reluctantly repacked our kayaks. The time had come to bid farewell to loch life and return to Balloch, our hearts utterly won over by our new-found way to explore Scotland.
Wild camping on Loch Lomond: How to do it yourself
There are direct trains from Glasgow to Balloch, where you can hire kayaks and equipment for a few days. It's possible to wild camp on most of the islands on Loch Lomond, or you can use one of the campsites onshore. We used the OS map Explorer OL38.
And for more adventure inspiration, be sure to order the latest volume of Wired for Adventure.