You're hiking along a mountain trail with stunning panoramic views laying out before you, there's not a cloud in the sky, the sun is beating down on you and all of the latter is ruined by the fact that you are overheating, your top is drenched with sweat and the seams are rubbing on your side. Having inadequate gear can turn a perfect day-hike into a bit of a nightmare, and base layers are where the foundations are laid for a good day out. So, choosing one of the best summer base layers is vital.
A decent base layer should be comfortable, wick away moisture effectively, dry quickly and look good. Oh, and if it has UV protection and doesn't break the bank, even better! Get this garment wrong and you'll throw your layering system all out of kilter – and we all know how important layering is right?
Well, to help you out, we reviewed 24 different base layers (12 men's and 12 women's) in Adventure Travel issue 130 to find out which are the best performers. We've already pulled together the seven best summer base layers for women, but below you will find the seven best for men. It's also worth bearing in mind that most of the garments are available in a women's version. Anyway, we hope this helps you avoid any uncomfortable days in the hills!
Rab Aerial Tee review
www.rab.equipment/uk | £30
The first thing you notice about the Aerial Tee is just how lightweight it is. Honestly, you might even forget you are wearing it because it is so light. It's comfortable too, and the material feels really nice against the skin which is important when you're in a sticky scenario with a rucksack on, as I was when walking on the Gower Peninsula. On that day it also did a very good job of temperature regulation and moisture wicking, ensuring I stayed comfortable on tough inclines and level coastal paths.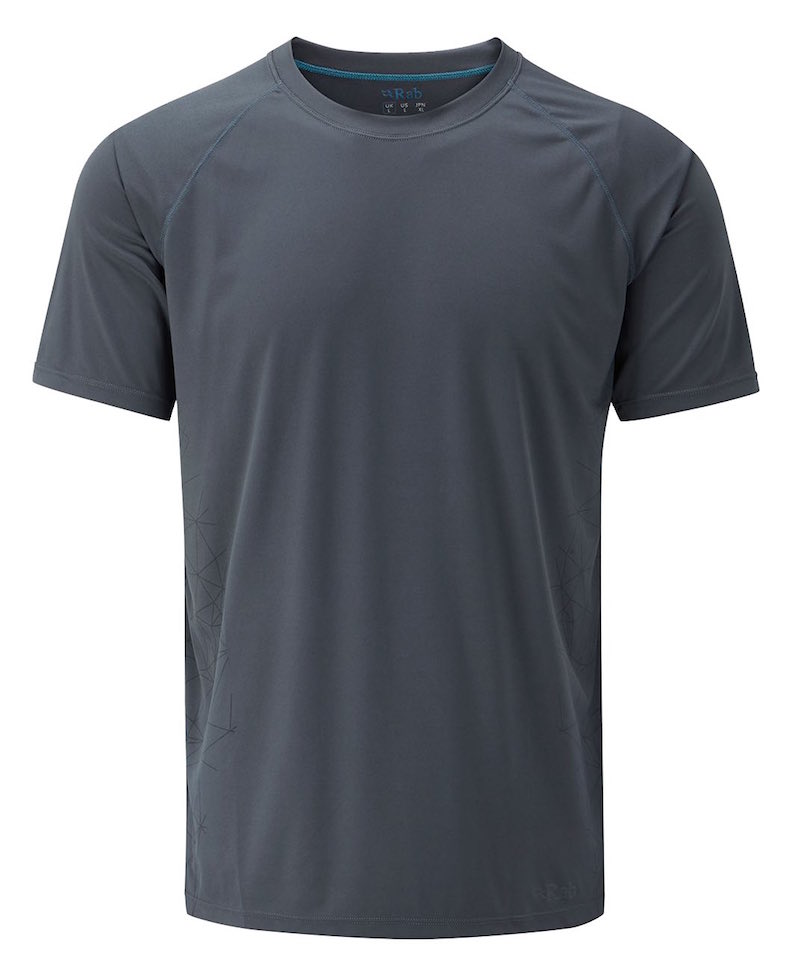 While the top generally dealt with sweat well, we did find others on test dried faster, but for the price we were pretty happy. At £30, the Aerial Tee represents great value and for that cash, you also get the inclusion of Polygiene's odour control treatment which ensures you won't be offending your fellow walkers. It also offers protection against the sun (UPF30+) which is never to be sniffed at.
In terms of fit, we were more than happy with the Aerial Tee. It's true to size and has an excellent amount of give which ensures not only comfort, but also a great range of motion. This stretch also helps the garment sit against the skin, offering more effective temperature regulation and moisture wicking.
In a line: The Rab Aerial Tee is comfortable, good value and a decent performer. Best budget buy.
Comfort: 9/10
Drying time: 7/10
Wicking: 8/10
Value: 9/10
Overall: 8/10
Patagonia Capilene Daily Graphic Tee review
www.patagonia.co.uk | £35
The Capilene Daily Graphic Tee is another product on test here that looks good and I would be more than happy enough to wear around town. In fact, I'd happily where it anywhere and everywhere. As well as looking good, it fits well too. Although, if we were being fussy we would like to see a slightly longer cut to avoid any riding up when scrambling or wearing a rucksack.
Patagonia has good form when it comes to social responsibility and it continues here with the Capilene Daily Graphic Tee being Fair Trade Certified and bluesign approved. This means the methods and materials used in the garment's manufacturing conserve resources and minimise the impact on people and the environment.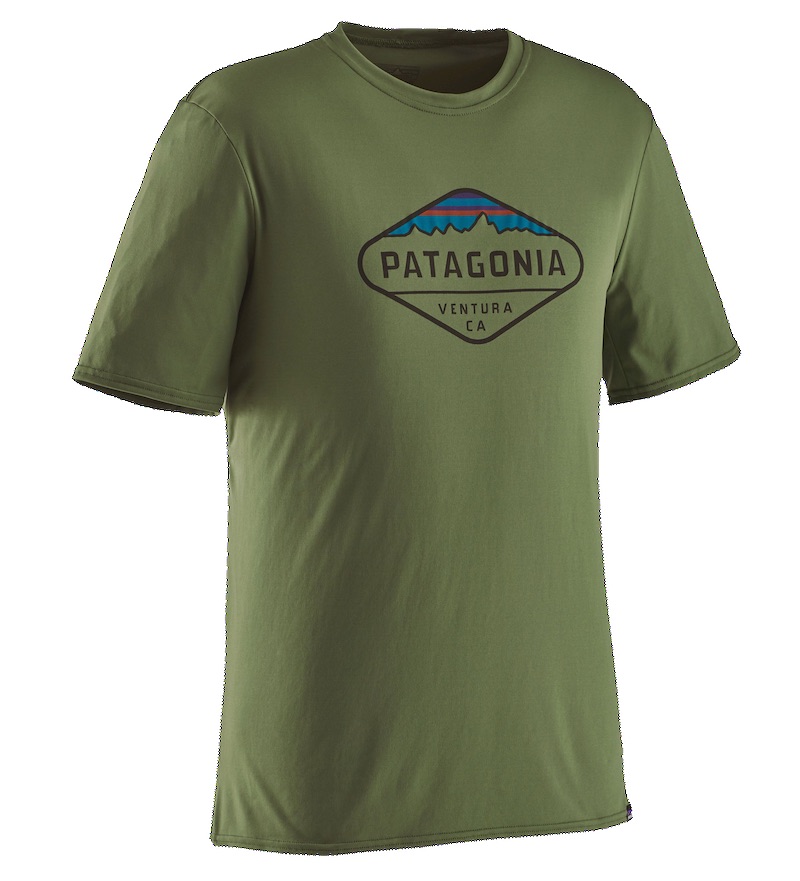 This top has been designed to do a job no matter what the situation, day in and day out, and while it does its job casually, how does it fare on the hills? Well, it's suitably lightweight and comfortable to wear, is stretchy enough to provide a decent range of movement and also comes with Polygiene's permanent odour control so you can stay fresher for longer. It feels cool and airy, and in our drying test it performed very well, being beaten by only Vaude and The North Face. It's not too bad at wicking either, though there are others better suited for serious action.
In a line: The Patagonia Capilene Daily Graphic Tee is a fashionable base layer that's a good all-rounder.
Comfort: 9/10
Drying time: 8/10
Wicking: 7/10
Value: 8/10
Overall: 8/10
Vaude Sveit T-Shirt review
www.vaude.com | £35
Another product which has a casual look about it is the Sveit from Vaude, which is a blend of polyester and wool and as such, combines the properties of both. It came out first in our drying test, beating thinner, more expensive options. This ability to dry quickly was also on show when I used the Sveit T-Shirt on a coasteering trip in Wales. It offered great temperature regulation and dried in no time at all, leaving me very impressed.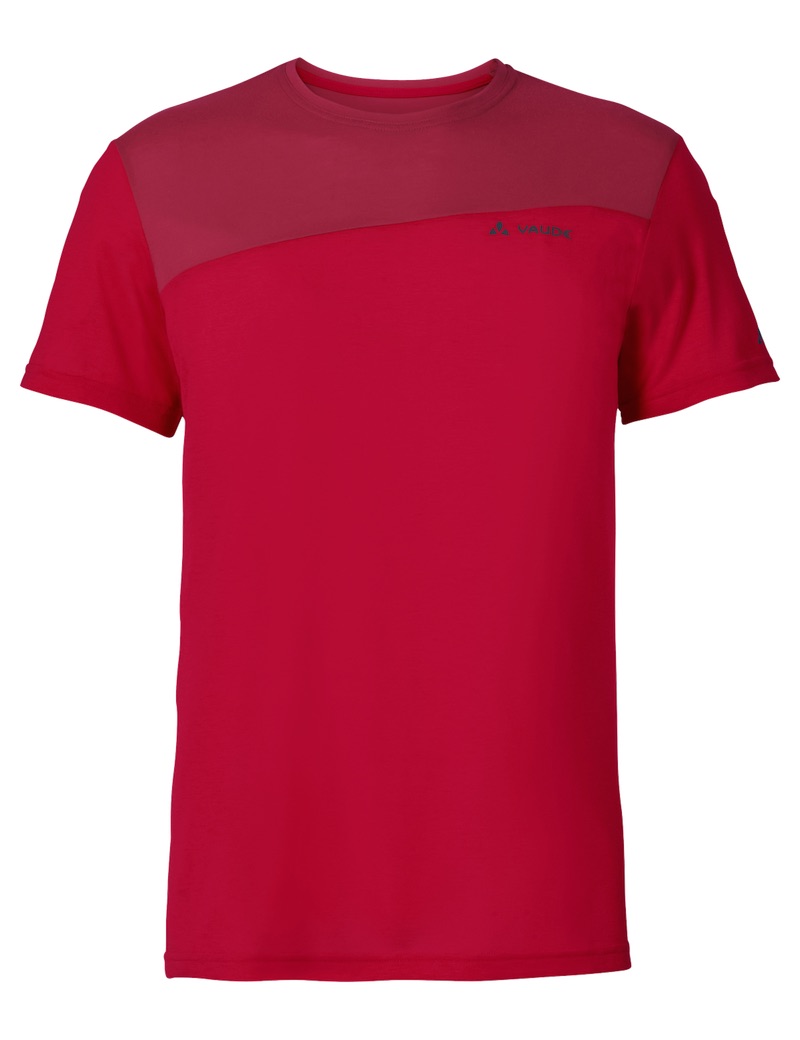 We love the two-tone colour scheme and found the garment to be extremely comfortable against the skin, while the fit was spot on too. It doesn't have flat-lock seams and they are not placed off of the shoulders, but this didn't affect the comfort, even with a rucksack on. It did a great job at wicking away moisture and was breathable in hot weather, while temperature regulation was also good.
>>> 40 adventurous things to do in the UK and Ireland this summer
The garment offers a pretty good amount of odour resistance, though it did start to smell a bit on the second day. We also liked the fact that the Sveit T-Shirt features Vaude's Green Shape label which means it is environmentally friendly and has been made from sustainable material under fair working conditions. All of this is on offer for a very respectable £35 too, which isn't a bad price at all.
In a line: The Vaude Sveit T-Shirt is a good-looking summer base layer that more than lives up to its billing. Best in test.
Comfort: 8/10
Drying time: 10/10
Wicking: 9/10
Value: 9/10
Overall: 9/10
The North Face Light Long-Sleeve Shirt review
www.thenorthface.co.uk | £40
Being that The North Face's base layer is long-sleeve, I was slightly dubious about how it was going to fare during the drying test, but it actually did really well, beaten only by Vaude's offering. Despite those long sleeves, I also found that it remained quite comfortable in warm conditions, which is likely down to how thin the material is and the hollow core fibres that make up its construction. It dealt with moisture pretty well, wicking it away effectively and the material proved to be very breathable.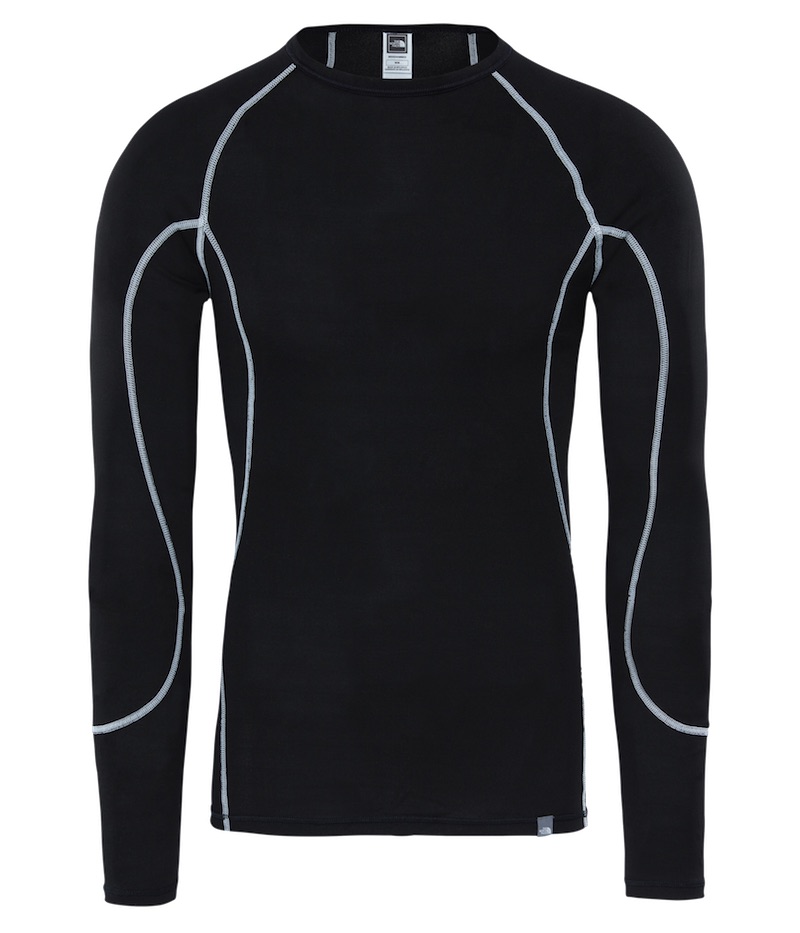 We found it to be comfortable to wear at all times with the flat-lock seams and 5% elastane doing their jobs well, while the material's stretch ensured we were never found wanting. One thing we were slightly disappointed about was that, as it is a long sleeved top, it would have been nice to have a zip neck to aid ventilation for when things really got heated. While it's not to everyone's liking, a collar would have also helped with sun protection. Style-wise, it's not really something I would want to be heading to the pub in and it does hug your figure fairly snugly, but on the hill it's more than acceptable.
In a line: The North Face's Light Long-Sleeve Shirt is a really comfortable, fast drying top that does well in warmer conditions.
Comfort: 8/10
Drying time: 9/10
Wicking: 8/10
Value: 8/10
Overall: 8/10
Finisterre Eddy Short Sleeve review
www.finisterre.com | £42
Unlike a lot of the baselayers appearing in this review, the Eddy Short Sleeve t-shirt almost looks just like a casual cotton t-shirt you would wear around town. As that's the case, we were more than happy to be seen wearing this in the mountains and in the pub, just as we have found with a lot of Finisterre's kit.
But how did it cope in action? Pretty well actually. A blend of merino wool (80%) and polyamide (20%) offer characteristics from both materials including durability, odour resistance and shape retention while offering a super comfortable experience. It dried really quickly and it was good on the moisture management, not getting saturated when exercising in warm weather. Having said that, with a full pack on we did start to find the back getting slightly sticky and clingy, but it was nothing too serious.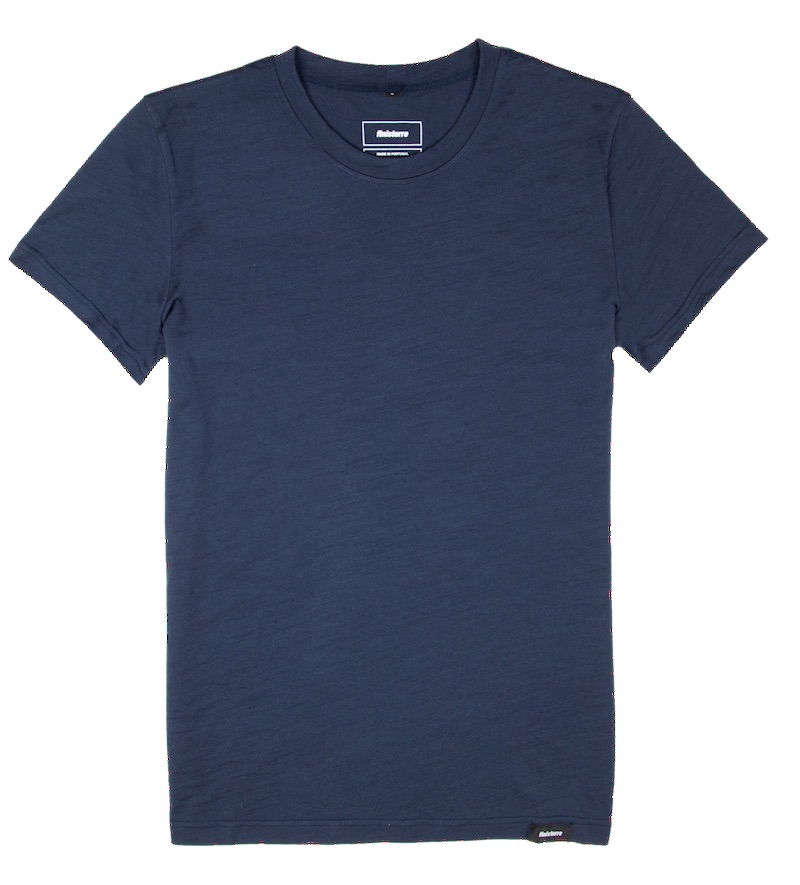 The fit was true to size, but it would have been nice to have had a slightly longer cut on the arms and body to stop the back from becoming exposed when wearing a rucksack or scrambling. While we found the Eddy Short Sleeve comfortable on the whole, we do feel that flatlock seams and could improve this during the activities mentioned above, and at £42 this is something we would have hoped to see.
In a line: The Finisterre Eddy Short Sleeve is a comfortable option that will look just as good in town as it will on the hill.
Comfort: 8/10
Drying time: 8/10
Wicking: 8/10
Value: 7/10
Overall: 8/10
Outdoor Research Echo L/S Zip Tee review
www.outdoorresearch.com | £45
This Outdoor Research garment might be long sleeved, but don't let that fool you into thinking it is any less suitable than the others for summer use. The material is both ridiculously light and incredibly soft to the touch, so comfort in warmer climes is not something you have to worry about.
>>> 5 activities in Austria that will make for the perfect summer adventure
The great thing about the Echo L/S Zip Tee is that it offers a really impressive amount of protection from the sun. It has a SPF rating of 15 and the long sleeves and high collar help to protect your skin from the sun's harmful rays. In terms of fit, the Echo L/S Zip Tee feels pretty loose and airy, so you may want to consider dropping down a size if you'd prefer it to sit closer to your skin. In practise, we actually quite appreciated it on the trail as it allowed air in to cool us down and didn't get too sticky.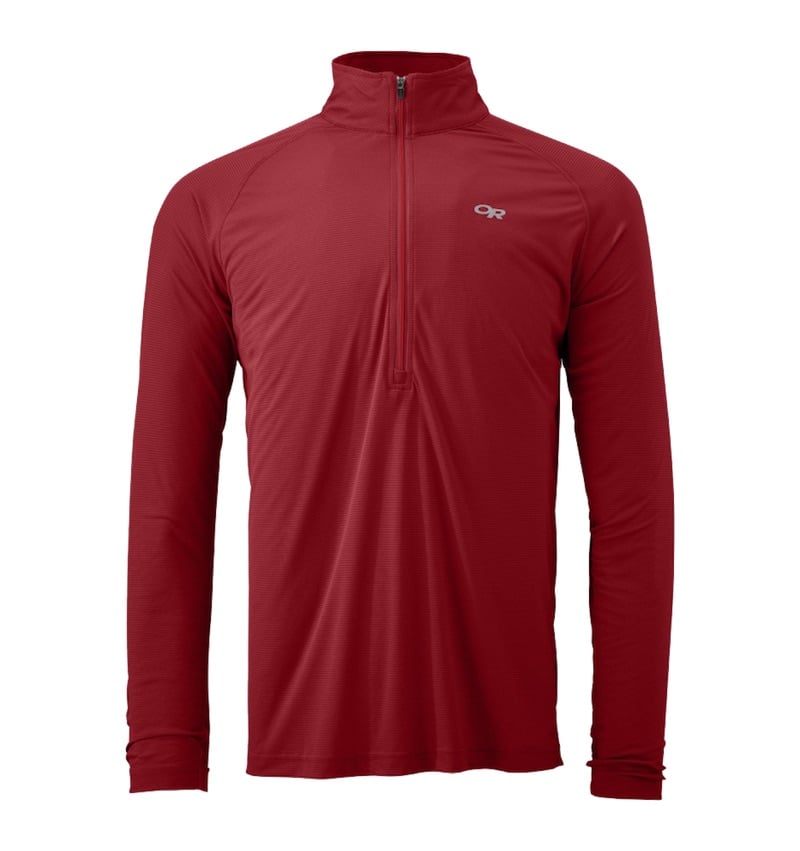 On the whole, the garment performed pretty well on the drying test, with only the sleeves taking a while, but we're confident this wouldn't be an issue on the trail. We also found that the long sleeves and high collar didn't lead to overheating and the AirVent fabric copes well on hot days, wicking moisture way really well. If you do find yourself overheating, a deep zip offers excellent ventilation. It is more expensive than quite a few of the others, but you do get what you pay for.
In a line: The Outdoor Research Echo L/S Zip Tee is a well-featured summer base layer that is perfectly suited to summer use.
Comfort: 9/10
Drying time: 7/10
Wicking: 8/10
Value: 8/10
Overall: 8/10
Salewa Pedroc Delta Dry Tee review
www.salewa.co.uk/en | £50
The Pedroc Delta Dry Tee from Salewa may raise eyebrows with its hefty price tag, but the truth is that it is probably one of the most technical tops on test, with plenty of impressive features on show. The inclusion of Polygiene technology inhibits the growth of microorganisms that cause odour, so you'll smell fresher for longer. This was definitely something we appreciated on a recent multiday trip to Snowdonia.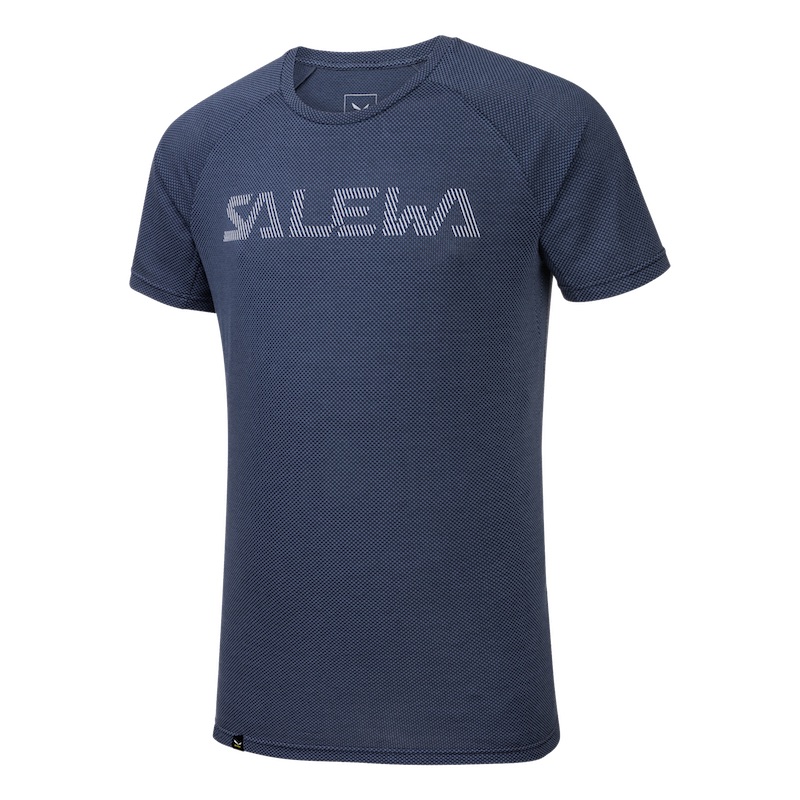 Beyond that, the garment also makes use of the new Polartec Delta fabric which does a great job of temperature regulation and moisture management, even with a close-fitting rucksack on. The garment's hydrophilic (water-attracting in normal speak) yarns absorb and distribute moisture around the fabric helping to provide a cooling response. In practise, we found the garment did exactly what it was supposed to and helped ensure a comfortable climb without things getting too hot and sweaty.
The fit is as you would expect, while a four-way stretch ensures excellent range of movement and offset shoulder seams provide added comfort. It's not quite as soft as some others on test, but that's not to say it's uncomfortable, while the style also drew attention in the office. At £50, it commands a hefty price tag, but if you can afford it you won't be disappointed.
In a line: The Salewa Pedroc Delta Dry is one of the more high-tech summer base layers, and it is one that is more than up to the job. Highly recommended.
Comfort: 9/10
Drying time: 8/10
Wicking: 9/10
Value: 8/10
Overall: 8.5/10
These reviews first appeared in Adventure Travel magazine issue 130 (July/August 2017). To stay up to date with the latest gear reviews, adventure inspiration and practical advice, check out our most recent issues.