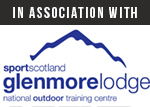 Scotland's mountain backcountry is a wild and exciting place to ski in the winter, as it's full of contradictions, challenge, adventure and the Wild Ski Festival. The Cairngorm plateau is the true jewel in the UK's skiing crown. Classic tours, stunning descents, gullies of all grades…. throw in our resident reindeer herd into the mix and you really could be forgiven for thinking you'd landed in Narnia. The best news? All of this can be easily reached from any major UK city for a weekend hit of Cairngorm air.
Nestled at the base of the mighty Cairngorm plateau is Glenmore Lodge, Scotland's national outdoor training centre. Just a 10-minute drive up the hill from Aviemore, Glenmore Lodge is surrounded by Scots pines, knock-out views of the slopes, oh, and the famous Lochain Bar, with its open fire and range of whiskies. The snow has already started to fall in the corries and back country of the Cairngorms, and the sense of anticipation is building.
Glenmore Lodge has been delivering back country ski adventures for 70 years, but 2018 will see something a bit special. Teaming up with Black Crows skis, the Lodge is hosting a celebration of Scottish wild skiing, the Wild Ski Festival. Join the craic for the weekend and spend the days exploring on skis the classic tours, descents and gullies of the Northern Corries and beyond, into one of the biggest ski wildernesses in Scotland.
Hosted by some of Britain's top ski guides, coaches, instructors this weekend will take you beyond the ski boundaries and into the Wild side for a truly memorable adventure. Oh and then back to the Lochain Bar for music, food and maybe some of that whisky? But don't just take our word for it. Join us on 17-18 March 2018 to experience the wild Cairngorms yourself.
Book yourself onto a level that is appropriate for your particular ski experience and if you aren't sure, call the Glenmore Lodge team for a chat, because if they aren't skiing, then they're talking about it!