Welcome to part two of the TomTom Great British Adventure Road Trip. In part one, we begun our three-part series detailing an epic journey around the UK that'll take you through some of the most stunning places on our shores.
That first instalment outlined the first three days of the nine-day route, starting on the dramatic Jurassic Coastline and taking you into Devon, before heading up to the beautiful Gower Peninsular and the glorious Brecon Beacons. Click here to see more of part one of the road trip. 
In this instalment, we took the adventure northward, to the mountains and valleys of Snowdonia and the Lake District. Along the way, we climbed several iconic British mountains, tried our hand at a via ferrata and explored the best that these beautiful regions had to offer.
We were guided every step of the way by our TomTom Go Premium, which gave us traffic information, speed camera alerts and clear directions mile-by-mile. With a lack of phone service in many of the places we found ourselves in, it was a godsend to have a predetermined route already mapped out on the brand's MyDrive app, as all we had to do was simply send it to our sat nav when we were ready to set off.
As ever, you can choose to tackle this three-day section over a long weekend, or for the full experience, hang on for the next post and embark on the entire TomTom Great British Adventure Road Trip in one go. Whatever you decide to do, happy adventuring!
The route
Hop onto the TomTom MyDrive app or head to the MyDrive website and plug in the following waypoints to follow part two of the Great British Adventure Road Trip. Once you've got the route mapped out, simply send it directly to your TomTom and you're off!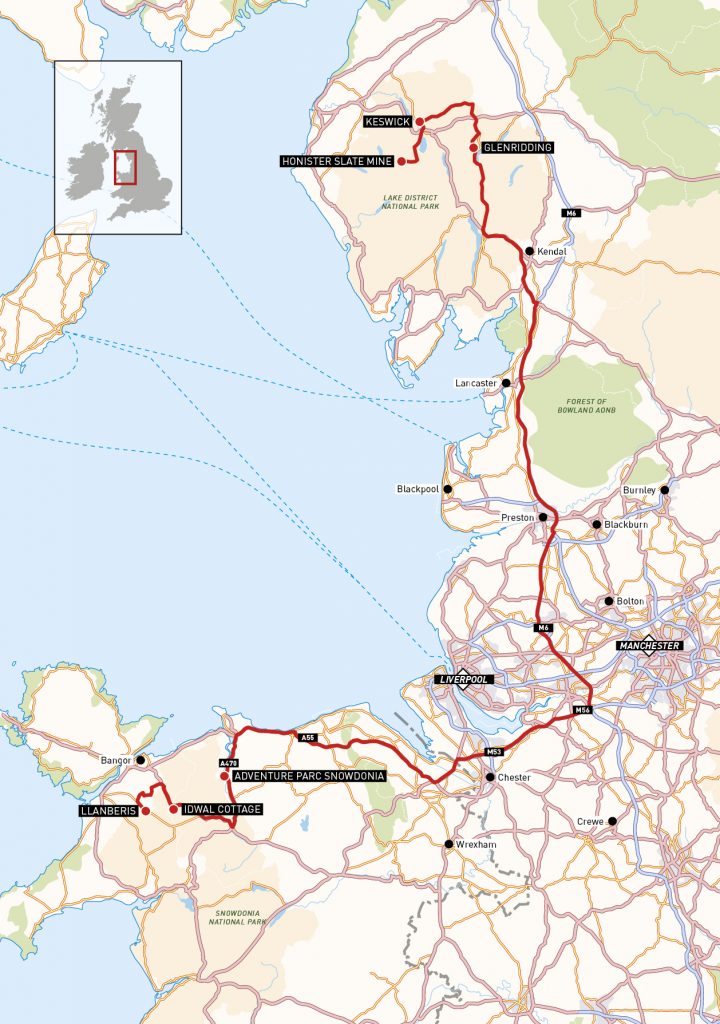 Llanberis
Idwal Cottage
Adventure Parc Snowdonia
Glenridding
Keswick
Honister Slate Mine
Explore the Glyders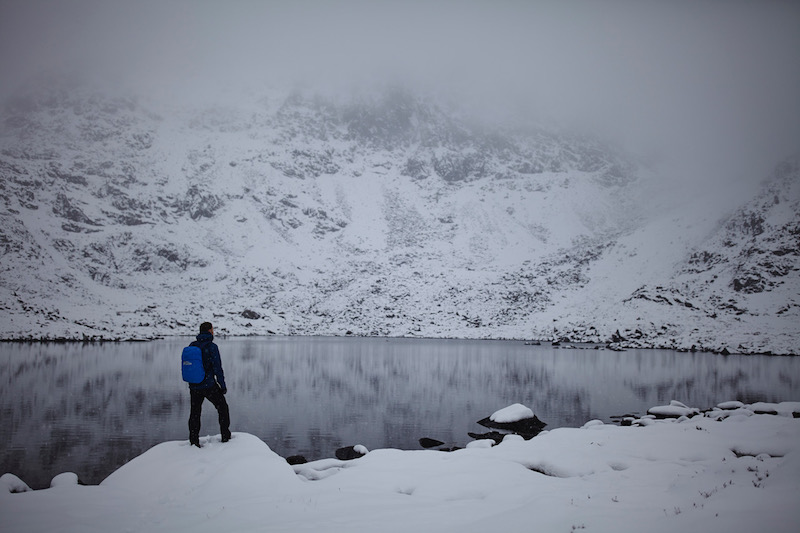 Being the highest peak in Wales, Snowdon is one of the most popular mountains in the British Isles, which is part of the reason we're leading you elsewhere. The Glyderau mountain group is an alternative that offers exceptional mountain scenery, smaller crowds and requires less time to explore, making it a perfect option for a road trip.
Tryfan reigns supreme in this part of Snowdonia thanks to its shark-fin shape and rugged reputation, and you can climb it via the north and south ridges within a few hours. If you do so, make sure to stop for a break next to Llyn Bochlwyd (pictured here on a snowy day during our road trip) or Llyn Idwal, which are both extremely idyllic spots. For something a little more challenging, we'd recommend the Bochlwyd Horseshoe, which is ideal for experienced scramblers. It takes in Tryfan, Glyder Fach and Glyder Fawr, plus the exposed scramble of Bristly Ridge during an epic route.
Surf and climb in Snowdonia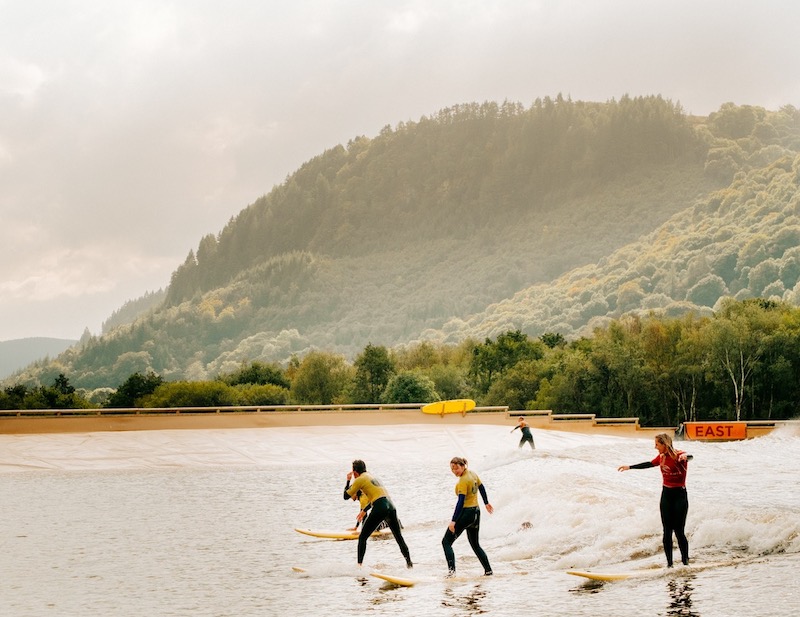 Located on the northern edge of the national park, Adventure Parc Snowdonia has evolved over the years to become a hotspot for exhilarating activities. Chief among them is an inland surf lagoon, giving you the opportunity to learn how to ride the waves with a stunning backdrop.
As of 2019, the centre also offers indoor climbing, gorge walking, a zip line, mountain biking and stand up paddle boarding, giving you a huge range of options for an afternoon of outdoor sport. The great thing about it is that the length of activities range from just 90 minutes long up to a whole day, so if you can choose what you want to do based on how much time you have free. Plus, there's even electric hook-up if you turn up in a campervan, like we did.
Discover epic mountain passes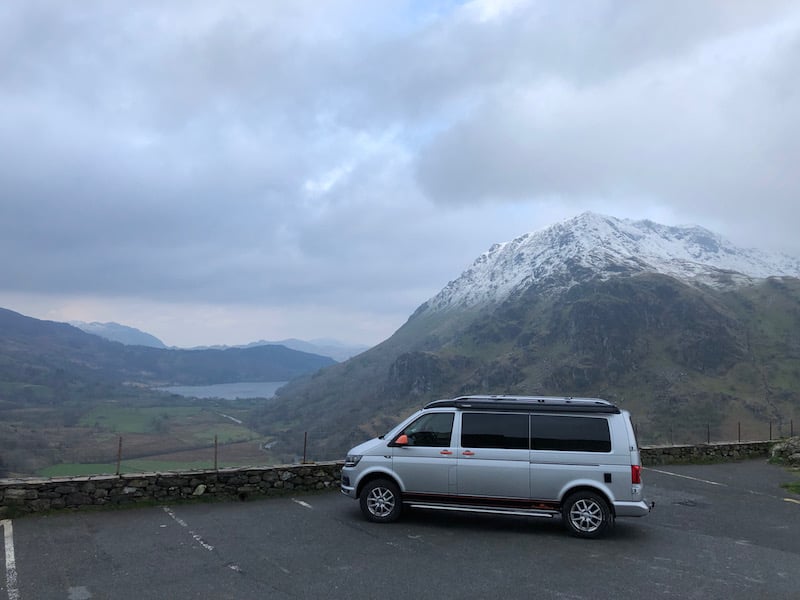 A huge part of any road trip is the drive, and during our nine-day adventure with TomTom we managed to explore some truly breathtaking roads. The two we want to draw your attention to in particular in this instalment are Llanberris Pass and Kirkstone Pass. The former (pictured here) takes you from the valley of Nant Gwynant, over Pen y Pass, where many people set off to climb Snowdon every day, to Llanberis.
Meanwhile, the Lake District's highest mountain road, Kirkstone Pass, leads you from Windermere to Glenridding, with the mountains of Red Screes and High Street flanking your every move. Both routes offer exceptional scenery and access to some truly enthralling hiking, but you'll have to plan your journey carefully to make sure you don't miss them. For us, this meant creating a route in TomTom's MyDrive software and then sending it directly to our Go Premium sat nav. Fortunately, it worked an absolute treat.
Hike Helvellyn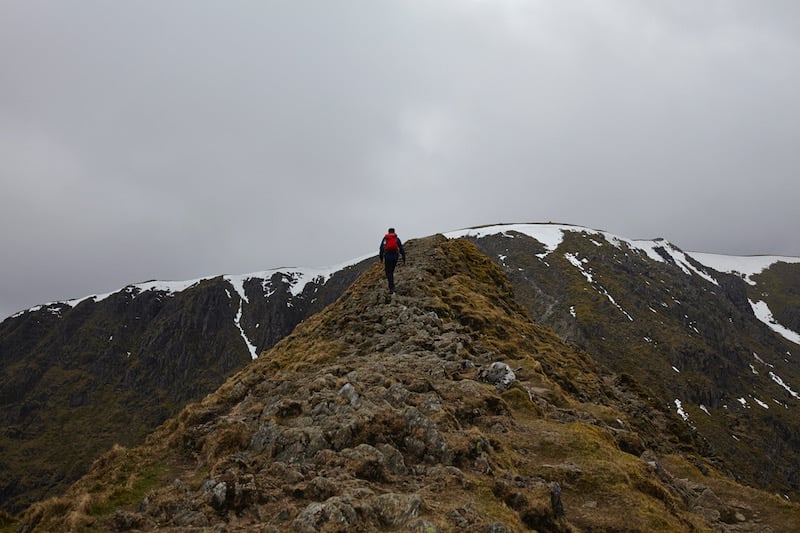 I experienced many firsts during this road trip, but this had to be one of the most enjoyable. Climbing Helvellyn via Striding Edge and Swirral Edge is a classic route that regularly plastered a smile across my face from ear to ear. It combines scrambling, airy ridges and stunning views to dramatic effect, making this walk one of the premier routes in the Lake District. Of course, this means it does get rather busy.
We walked the route on a spring afternoon and managed to avoid most of the day's ramblers. This allowed us to enjoy the scrambling and navigate the stubborn snow patch clinging to the mountain's edge in relative solitude. Regular walkers with a head for heights and experienced scramblers should be able to complete the 7.5-mile circuit in five hours or less, meaning you have half a day to dedicate to another activity or drive.
Mountain biking in the Lakes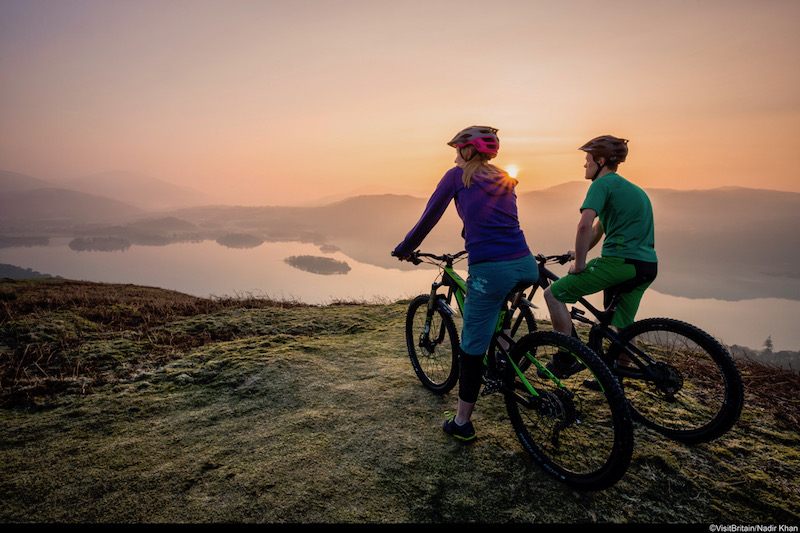 If you've got enough energy after a couple of days of hard hiking, the Lake District is a fantastic region to explore on two wheels, and your legs will probably be thankful for the change of pace. There are rental shops all over the Lake District, but we'd recommend picking up a bike in Keswick, which also happens to be the starting point for a classic mountain biking route called the Borrowdale Bash.
From Keswick, the route performs a full loop around the stunning Derwentwater and Borrowdale valley. It's known to be reasonably easy in terms of effort, but there are a few sections of technical singletrack that you may want to go slow for. Along the route, you'll be able to enjoy views across Keswick, Derwentwater and the fells beyond.
Visit Honister Slate Mine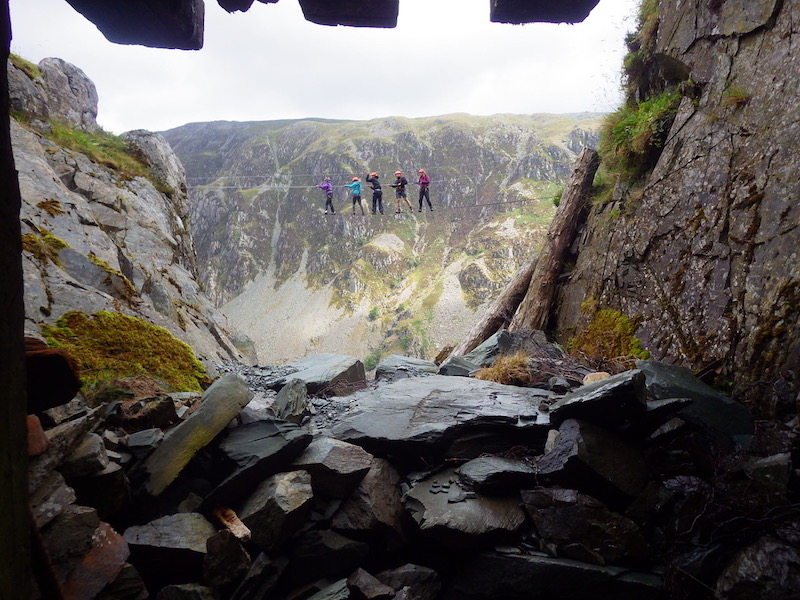 Our second stop in the Lakes is Honister Slate Mine. No, not because we think you should invest in some new roof tiles, but because we think you should have a crack at the UK's original via ferrata experience. For those that don't know, a via ferrata is a route that passes over often exposed mountain terrain with the help of a metal safety line, which you attach to with a harness, and multiple pegs and rungs for your hands and feet.
Essentially, it gives you the chance to enjoy the exhilaration of climbing in stunning spots while having a safety net. Honister Via Ferrata has been going for quite a few years now, and there are two experiences on offer that differ based on how challenging they are. Each one takes roughly three hours, giving you a heart-racing, unforgettable experience.
Win a TomTom GO Premium!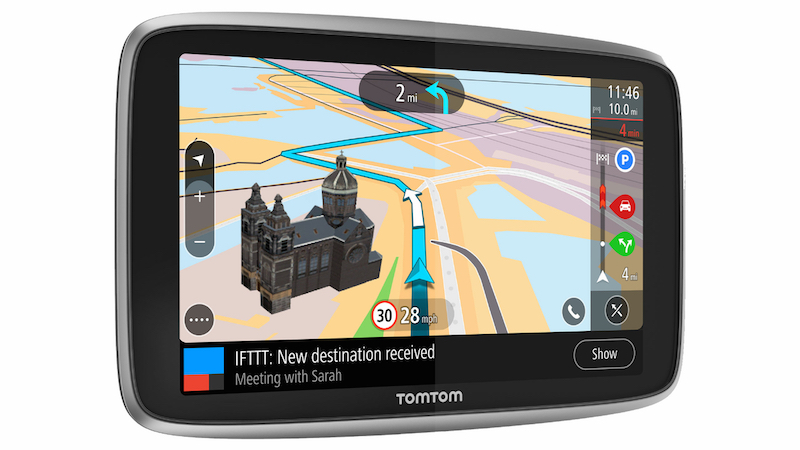 Over the course of the Great British Adventure Road Trip we covered 2,000 miles, many of which were away from towns and mobile phone signal. Google Maps just won't cut it on a trip like this.
TomTom's new GO range of sat navs does though, with lifetime maps, updates via Wi-Fi, lifetime traffic updates and smartphone integration. The TomTom GO Essential, which has six months of speed camera warnings, retails at £179.95. The GO Premium, meanwhile, comes with lifetime speed camera warnings, trip statistics and TomTom services via a built-in SIM, and is available for £299.99.
Click here for your chance to win a TomTom Go Premium!
Where to stay
During our nine-day road trip, we were driving and sleeping in our VW campervan, which has been expertly converted by the folks at Camper King. Based in the Midlands, the company sells and rents out beautiful VW campers, giving you the chance to adventure in style. As we found out on our nine-day road trip, there's nothing quite like rocking up to a stunning camping spot and chilling out in front of a perfect sunset with a beer in hand and not a flap of canvas in sight.