As the world shuts down in an unprecedented turn of events, many of us will be wistfully dreaming of adventures missed due to the extraordinary travel ban measures brought in to curb the spread of Covid-19. Whether you've had to cancel an upcoming adventure, or are simply trying to pass the excess time spent indoors, there's nothing like getting lost in the pages of a good book. Offering real-world escapism and inspiration for adventures of the future, these are the best adventure travel books to get stuck into right now.
Hidden Places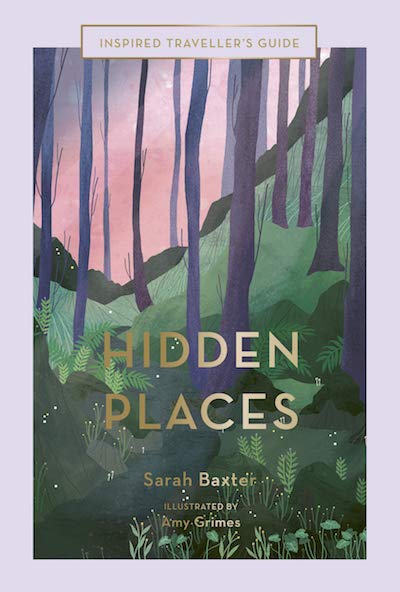 Sarah Baxter | www.amazon.co.uk | £14.99
This beautifully illustrated book by Sarah Baxter transports readers to lost worlds and secret spheres around the globe, from the mystery of the Mayans to the enigmatic story of Atlantis.
I challenge you not to get lost within its captivating pages, which detail familiar mysteries such as Germany's Black Forest to the faraway lost cities of Cambodia, which have been taken over by emerald foliage and tangled roots, concealing the secrets of an empire.
These so-called hidden places spark an enthusiasm for adventure that is hard to ignore, a burning desire to uncover all that is camouflaged, abandoned, or concealed in our strange little world. Just be sure you know how to get back…
Against All Odds: The Stories of 25 Remarkable Adventurers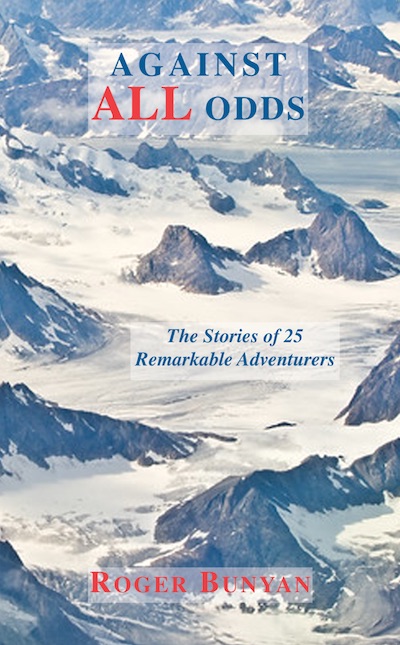 Roger Bunyan | www.hayloft.eu | £15
If the name Roger Bunyan sounds familiar to you, it's because he's been a long-term contributor to Adventure Travel Magazine, researching and writing fascinating profiles of adventurers from the past for our regular History's Heroes feature.
In his foray into the world of adventure travel books, Roger takes a more in-depth look at these remarkable people and tells their tales in wonderful detail. The amount of research and effort that must have been put into writing Against All Odds is astounding, and Roger does a heroic job of shining a light on people that may soon have been forgotten by history.
Split into 25 sections (one for each adventurer) and with a foreword from Adventure Travel's past editor, Rob Slade, Against All Odds is one of the most interesting adventure travel books I've laid my hands on, and it's great for dipping in and out of. Check it out, you won't be disappointed.
Kidding Around: Tales of Travel with Children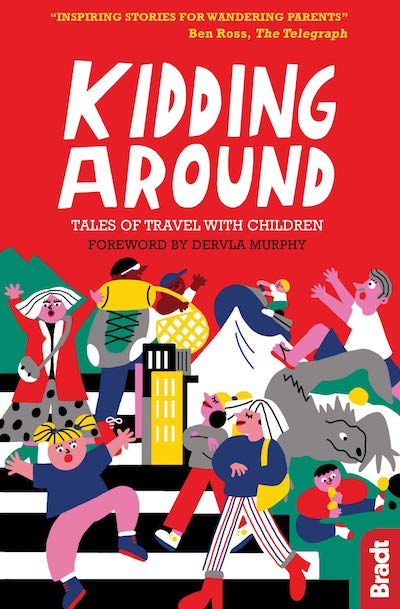 Bradt Guides | www.bradtguides.com | £10.99
A delightful collection of tales that can't fail to amuse anyone familiar with the trials and tribulations of travelling with children, from unwilling adolescents to over-inquisitive toddlers and everything in between.
A foreword by the no-nonsense Dervla Murphy sets the tone for the book, from which you can dip in and out of whenever you need a good laugh, or to feel better about your own disastrous attempts to woo your kids with a love of travel.
Join tiny tots as they traverse the Himalayas, families sailing across the Atlantic, and parents embarking on all sorts of extreme, amazing or downright bizarre adventures with their beloved offspring. You can even find out what happened when one unsuspecting father inadvertently took his daughters to a brothel – a cautionary tale indeed.
Many Worlds to Conquer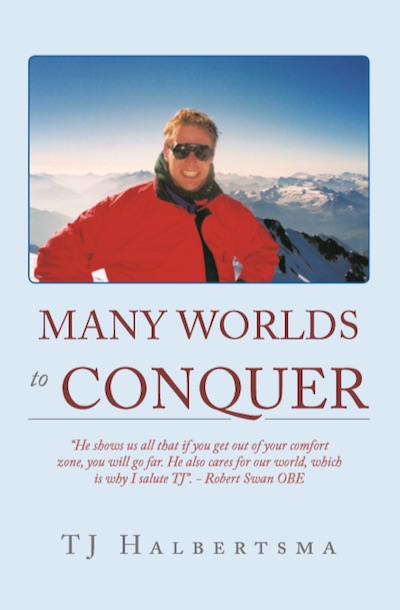 TJ Halbertsma | www.authorhouse.com | £19.99
I'll be totally honest here, when I first laid eyes on Many Worlds to Conquer I was sceptical. The cover can best be described as cheesy and I'd never heard of TJ Halbertsma before. But as the old saying goes, you really should never judge a book by its cover.
Delving into the story of TJ Halbertsma was a breath of fresh air. Despite his many amazing and adventurous feats (climbing Mont Blanc, the Eiger, the Matterhorn, walking to the North Pole, paddle-boarding the English Channel, amongst many others), TJ is a humble and likeable fella, and this shines through in his writing.
With a foreword by Robert Swan OBE (the first person to walk to both the North and the South Poles), Many Worlds to Conquer tells the stories of 10 of TJ's adventurous expeditions, all of which were undertaken while he was living a 'normal' life as a suit in London. Perhaps the best part about this book though, is that all of the proceeds raised from its sale go to the type 1 diabetes charity JDRF.
The Library of Ice: Readings from a Cold Climate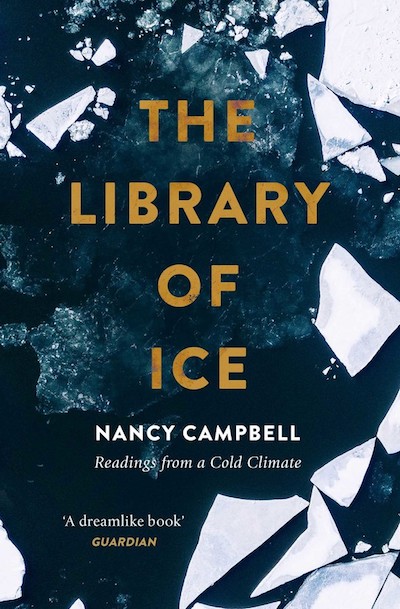 Nancy Campbell | www.simonandschuster.co.uk | £9.99
As the name might suggest, this is a book that's all about ice. On the face of it, that doesn't sound particularly interesting, but delve into the 300-odd pages and you'll discover a whole new world that's so beautifully described by Nancy Campbell.
The Library of Ice takes readers on a wonderful journey around the globe examining the impact of ice on our lives when it is under threat from climate change. I'll admit, whenever I visit the Alps it is the gigantic glaciers that steal my attention, when I hear about Shackleton's ill-fated voyage, it's the destructive power of the ice flows that excite me.
This is one of the most unique adventure travel books that does a fantastic job of transporting you to these icy frontiers and telling stories of times gone by. A worthy read, for sure.
Mind Over Mountain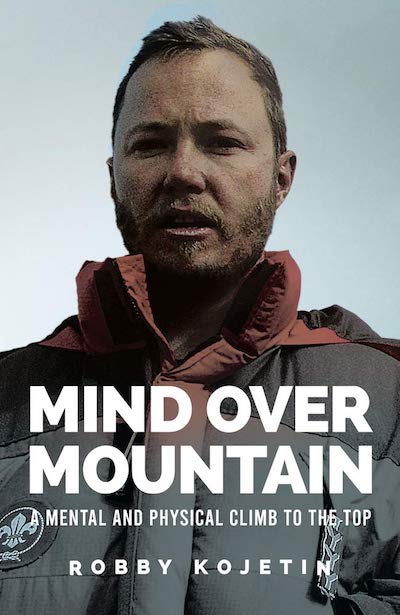 Robby Kojetin | www.amazon.co.uk | £9.99
Robby Kojetin is not the first adventurer to dream of climbing Everest. The roof of the world represents the ultimate goal for many, an accomplishment like no other, an adventure of extreme proportions. But what happens when that dream disappears from view, almost entirely?
In this most extraordinary of adventure travel books, we read how after breaking both his ankles during a routine indoor climbing session, Robby thought he'd never climb again. But, in an awe-inspiring feat of human endurance, he managed to keep the flickering ember of his dream alive and, despite grappling with depression, anxiety and self-doubt, he eventually stood on the summit of Everest. A tale as good as any about the parallels between a mental and physical climb to the top, and why the view is always worth the climb. 
Explorers: Amazing Tales of the World's Greatest Adventurers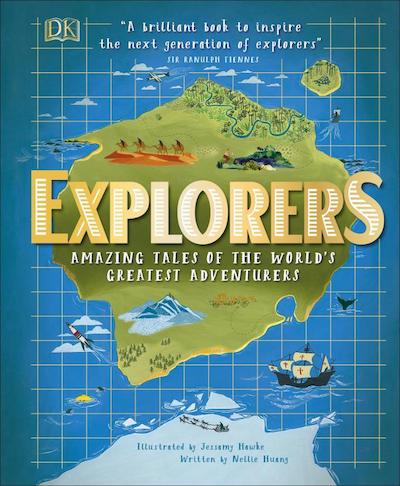 Nellie Huang | www.dk.com | £16.99
Inspiring the next generation of explorers is this beautifully illustrated selection of tales from a great history of adventurers. Explorers from all walks of life can be found inside the pages of this hardback book, from the wild tides of Viking exploration to Darwin's incredible discoveries and even space age explorers of the future, with fun facts, timelines, maps and pictures bringing the exceptional tales to life.
Readers both young and old will find themselves engrossed and entertained by the contents; I certainly found myself getting sucked into stories with each turn of the page, from travelling the world with Jeanne Baret disguised as a man, to uncovering ancient civilisations with Hiram Bingham. A treasure to read.
Scottish Bothy Walks: Scotland's 28 Best Bothy Adventures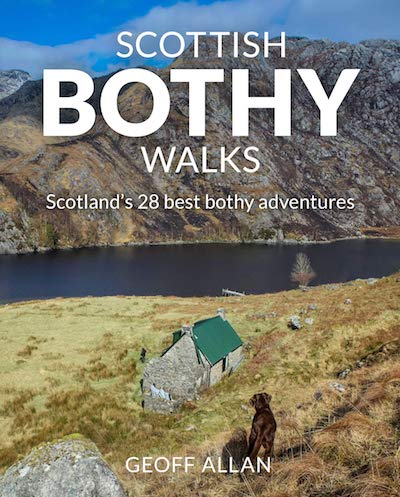 Geoff Allan | www.wildthingspublishing.com | £16.99
The bothy is a unique symbol of hill walking in Scotland. These free-to-use cabins and shelters are spread across some of the country's most spectacular landscapes, and the hikes to reach them are typically top-drawer.
There's plenty of information online about them, but in Scottish Bothy Walks, Geoff Allan does an incredible job of detailing the best of the best. With stunning photography tempting you, detailed maps and route descriptions informing you, and suggestions on interesting things to do around each bothy, this book is the perfect tool for discovering fascinating new places. So useful is it, that I'm planning to visit one of the bothies using the routes described.
The Man Who Discovered Antarctica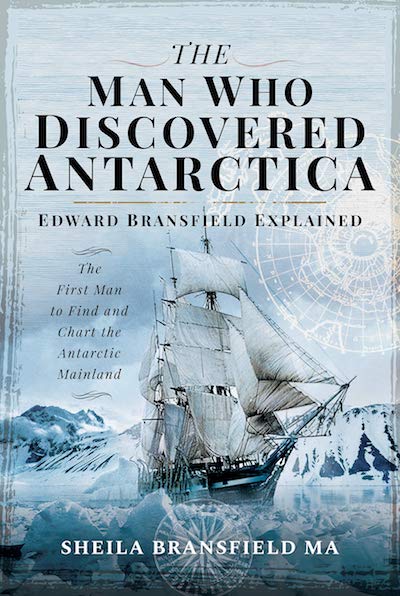 Sheila Bransfield | www.frontline-books.com | £25
When Captain Cook first sailed into the Antarctic Ocean in 1773, he declared the place devoid of all land, claiming there was no such thing as the Southern Continent. It was fifty years later when Irishman Edward Bransfield, a master in the Royal Navy, came to prove him wrong.
As one of Britain and Ireland's most prominent maritime explorers, it is surprising to learn that this biography is the first book to chart his extraordinary life and crucial discoveries, written with the most personal of touches by a woman of the same surname from the same region of Ireland.
While the relation of the two may be nothing more than pure coincidence, it certainly sparked Sheila Bransfield's enthusiasm for the story, which shines through on each and every fascinating page.
More adventure travel books to read
In the coming weeks, as many of us begin battening down the hatches, we will be updating this post with more fantastic adventure travel books to get stuck into, so keep checking back for more! And if you're after some more quality reading material, why not take a look at the latest copy of the magazine, which can be found here.