Two islands, two unique experiences representing the True Caribbean. This twin island republic has hosted adventures for all its existence. The lay of the islands' rich rainforest covered mountain ranges are the oldest protected in the western hemisphere and home to many thrill seekers.
Dominated by Mount Aripo (El Cerro del Aripo), it is the country's highest peak, rising to an altitude of 3,084ft. If you're passionate about outdoor escapades, the mountain has a 25 waterfalls, including Blue Basin Falls and Maracas Falls, both plummeting from 298ft.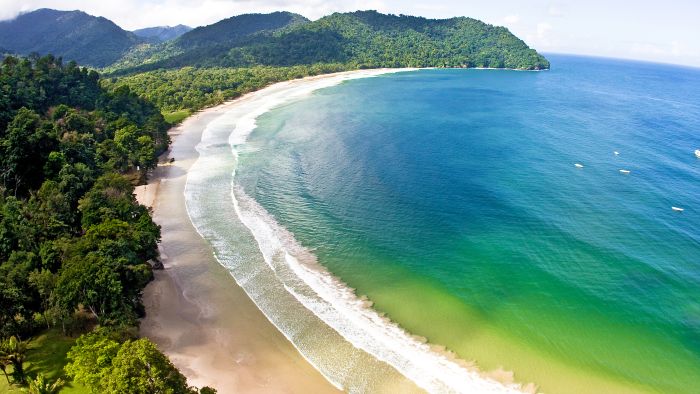 Photo: Trinidad & Tobago Tourism Development Company
Across Trinidad, there are roughly 30 hiking trails varying in difficulty. One of the more popular routes is the Brasso Seco to Paria Bay hike. It is five and a half miles along a coastal route interspersed with forest trails and beautiful views of the Caribbean Sea. Paria Bay has a wide white sand beach that is the nesting site for leatherback turtles during the months of March to September. A further 15 minute hike from this bay leads to the beautiful Paria waterfall, where there is a deep clear blue natural pool at the base surrounded by flora such as heliconia, fringed lilies, and philodendron.
For two-wheeled enthusiasts, there's plenty of action to be had on Trinidad's network of former oil field roads and hiking paths. Terrain ranges from flat land to rolling hills for the cross-country rider. Mountain bikers have forest trails to tackle, with fallen logs, bamboo and streams requiring navigation skills and dexterity.
Swapping handlebars for rope, try the zip lining course across the canopies of Macqueripe Bay, located in the north-western tip of the island. In addition, the wetlands of central Trinidad and the western peninsula of Chaguaramas offer coastal kayaking routes and boat tours past mangroves rich with fauna.
Trinidad's smaller sibling, Tobago is only a 20 minute and £15 flight away. This 115sq mile lush green island was the home to the real-life Robinson Crusoe who said to have beached on its shores in 1659, leading to his fictional adventures.

Photo: Trinidad & Tobago Tourism Development Company
Given its size, it packs a punch for adventurers with easy access to all levels of activity. Serious hikers should head for the hills — there are numerous trails through the Main Ridge Forest Reserve, with its waterfalls and wildlife (the three-mile Gilpin Trace being the most trodden). The island's highest point is also found in the forest — the 1,877ft Pigeon Peak. Reaching the summit takes around three hours, with different routes for all abilities. Guides are also available to point out birds and wildlife that might be missed in the dense canopy. Cycling tours last three to four hours around the flatlands, mangroves and waterfall trails that descend from the highlands of Moriah to the beach. Jump off the bike and onto a horse for trips through Buccoo Village, trot through the wetlands and mangroves and end up on the beach, where horses take riders for a swim.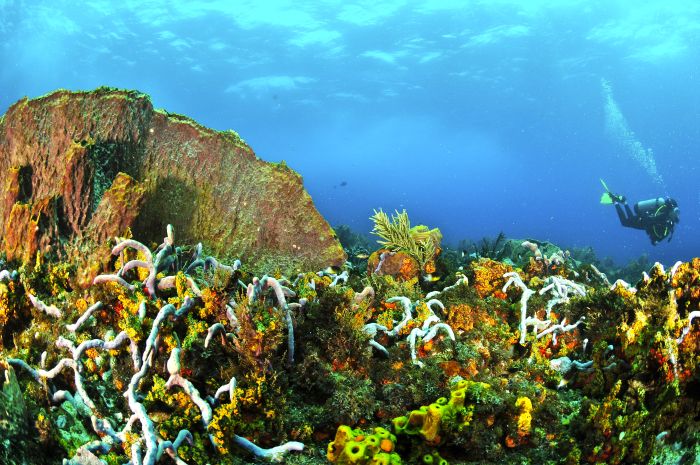 Photo: Trinidad & Tobago Tourism Development Company
Tobago's underwater ecosystems are equally as bounteous — covered by over 60 dive sites. Ringed with reefs, Tobago's underwater rainforests provide days of endless exploration, whether snorkelling, scuba diving or peering through a glass-bottom boat. The scuba diving is top notch, with options for experts and beginners, while those preferring to stay above water can try stand-up paddle boarding, sea kayaking, surfboarding, windsurfing and kitesurfing.
Intro photo: Christine and David Schmitt