Covering an area of 778 square miles, Gran Sasso e Monti Della Laga National Park is one of the largest national parks in Italy. This colossal park is located in Abruzzo, a region in southern Italy, and is relatively unknown to tourists despite its astonishing beauty. The national park is buzzing with fascinating plant life and wildlife, and in the summer months, you can expect to see many species of wildflowers along with the sweet scent of the forest's vegetation.
Gran Sasso e Monti Della Laga National Park is so large that it also contains three mountain groups, the Gran Sasso d'Italia chain, Laga massif, and the Gemelli Mountains. Not only this, but the park is also home to the highest peak in the Apennine Mountains, Corno Grande, which stands proudly at 2,912m. So, if you're an adventurous sort who's into hiking, trekking, skiing, mountaineering, climbing, or all of the above, then Gran Sasso e Monti Della Laga National Park is definitely going to claim its place in your heart.
Trekking in Gran Sasso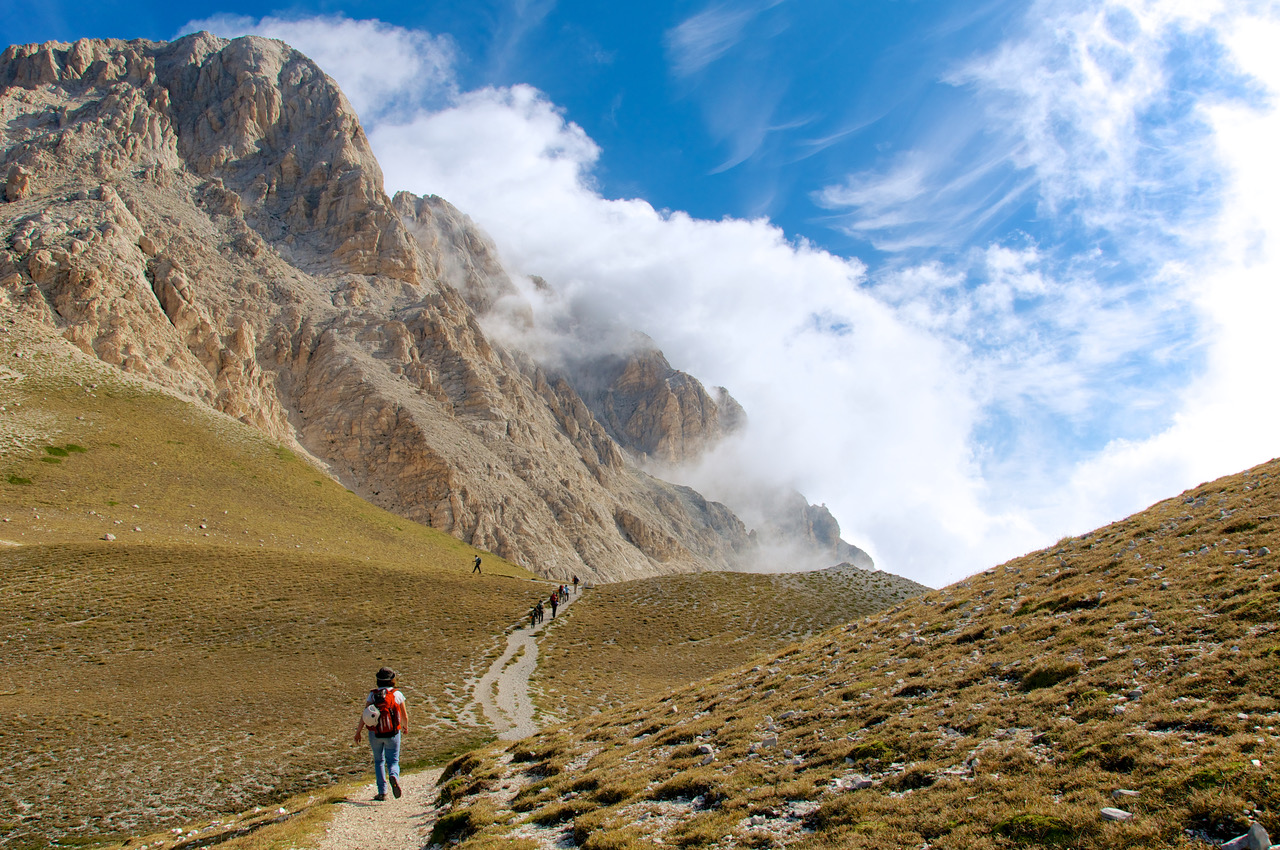 The best way to experience the true essence of this sensational national park is by foot. Trekking this vast and heavenly landscape allows you to slow things down to your own pace and soak in every last drop of its charm.
As brushed upon earlier, Corno Grande (2,912m) is the highest peak in the Apennines Mountains. Though it may look daunting in photos, the mountain actually has an easier route available which is accessible from the ski resort of Campo Imperatore (2,100m), so hikers who don't feel up to the whole shebang can still experience the magnificent views from the peak without the hard-graft of the whole mountain.
However, those who do wish to take the mountain on head first and hike the entire thing can start from the bottom of the valley. It's advisable to start at first light, as the trek can take around eight hours to reach the summit. The view from the pointed rocky peak is unbelievable and you'll be lost for words as you stand and take in the unspoilt 360-degree view of the surrounding landscape.
Snow often continues to fall until around late May and can remain thick on the ground into June. Therefore, if you are not experienced in trekking in the snow, you should seek the help of a local guide or alternatively, wait until the snow has cleared in the months of July and August.
Climbing in Gran Sasso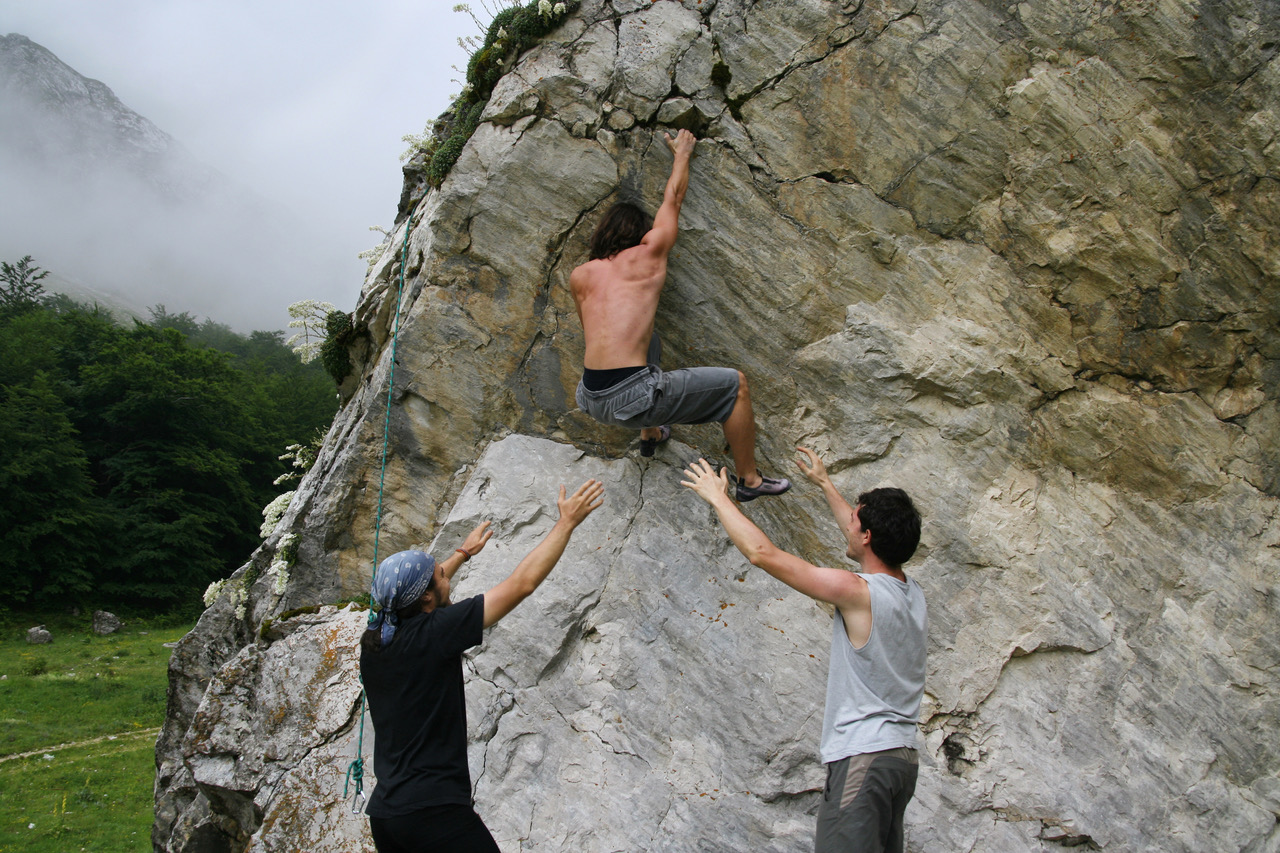 In the summertime, Gran Sasso e Monti Della Laga National Park is one of the best places to go bouldering in Italy, and probably even Europe. This is because not only does it have fabulous limestone rocks, which have been perfectly sculptured for your fingers by the rain, wind and other elements, but, you can find idyllic bouldering spots at an altitude of up to 2,500m. This means that you can enjoy scenery packing some serious WOW factor in between climbs.
So, if you're into your climbing and enjoy a spot of bouldering then you'll undoubtedly love what this national park has to offer you. The four main areas to go bouldering in the park are Monte Aquila, Val Maone, Vallone Delle Cornacchie, and Valle del Monte. Being such a mountainous region, the park is also no exception to sport and ice climbing.
You'll find many bolted sport climbing routes around the cable car stations, such as La Madonnina. The best rock for climbing can be found on Corno Piccolo and you can access this via a 15 mintue chair lift at Prati di Tivo which will take you to the north face. You'll need to be able to climb to a good standard to take on the climbing here and you can expect smooth rock with some very challenging yet beautiful routes
Lake Campotosto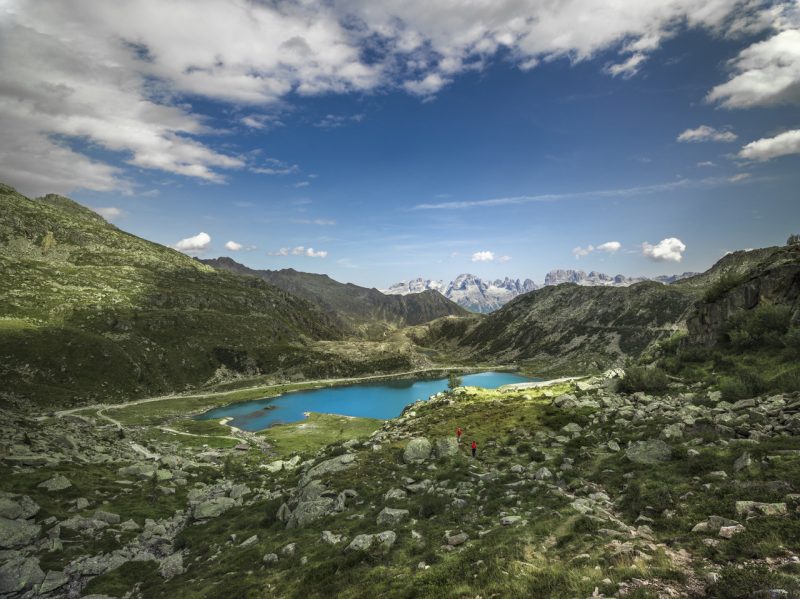 Lago di Campotosto is an artificial lake situated in the north of Gran Sasso e Monti Della Laga National Park, beside the Monti della Laga mountain chain, and is the second largest man-made lake in Europe. Buzzing with action and life, this lake is a landing pad for thousands of migratory birds, such as herons, waders and many types of duck, which flock to the shores throughout the year.
The lake's perimeter is framed by snow-kissed mountains and is scattered with an array of different species of trees such as willow and beech, plant life such as blackberries and rose hip, and colourful dragonflies, which makes it an idyllic place for a spot of walking and picnicking in the summer. When the winter creeps in, the lake transforms from that of luscious greenery to a magical icy scene, and the water has been known to freeze over of up to 80cm thick.
Lago di Campotosto is one heck of a good-looking lake at whatever time of year you decide to visit, but if you're really looking to be amazed, try to make sure you see it in the light of sunrise or sunset. As you stand at the shores and watch the light soften around them, the waters still and reflect stunning hazy pinks and reds which bounce off the shimmering snow on the mountain peaks. It's simply breathtaking and is the sort of place which would be a dream wild camping spot. Could you imagine waking up as the sun rises with this glorious view unfolding all around you?
Want to visit Gran Sasso e Monti Della Laga National Park?
Get here: Abruzzo airport.
Eat this: Maccheroni alla chitarra – pasta dish.
Stay here: Teramo.
Drink this: Genziana – a traditional liqueur made from gentian root.
Spot this: White-backed woodpecker.