Sometimes when people reach the summit of a mountain, there can be a feeling of pride and a sense that you have conquered that particular peak. But that sense of conquest is a misleading one and it gets shown up time and time again when lives are lost in the most tragic of ways. The 1986 K2 disaster is one such example.
The year saw both tragedy and triumph on K2. Wanda Rutkiewicz became the first woman to reach its summit, but 13 people also died on the mountain.
The 1986 K2 disaster begins
In August 1986, British climber Alan Rouse attempted to climb K2's difficult north-west ridge, instead of the conventional Abruzzi ridge. After several unsuccessful attempts his team decided to turn back.
Rouse however, wanted success and joined up with various other climbers on the conventional route including Austrians Alfred Imitzer, Willi Bauer, Hannes Wieser and Kurt Diemberger, Polish woman Dobroslawa Miodowicz-Wolf and Brit Julie Tullis in an attempt to reach the top.
On their descent from the summit, Imitzer, Bauer and Rouse found Miodowicz-Wolf asleep in the snow and persuaded her to descend with them. They could not however deter Diemberger and Tullis from continuing up, and the pair reached the summit at 7pm. But on the way down, Tullis fell and they were forced to bivvy out in the open.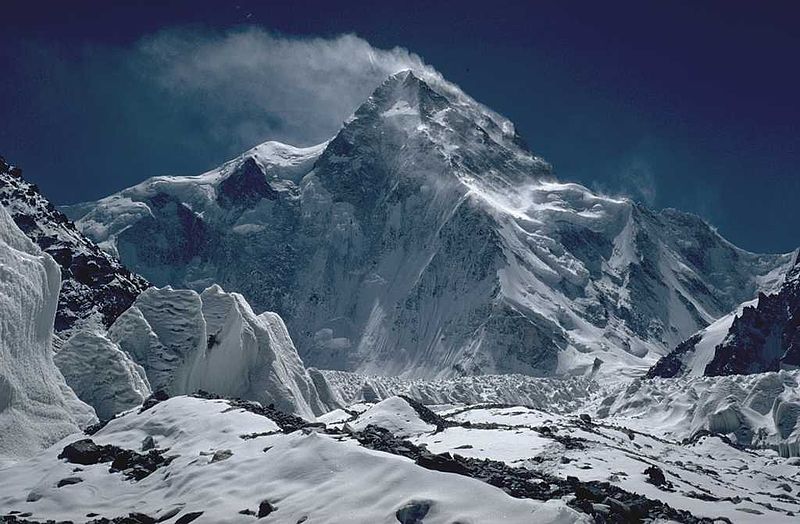 Photo: Kuno Lechner
By the time all climbers reached Camp IV there was a storm blowing and they decided to wait it out, with no food or gas to melt snow. On the night of 6-7 August, Tullis died from high altitude pulmonary edema (fluid on the lungs as a result of the altitude), becoming one of the first casualties of the 1986 K2 disaster.
The rest of the team needed to move sharpish in order to survive. They left on 10 August at the first sign of a break in the storm. Rouse (who had become the first Englishman to reach the summit of K2), was in severe pain whenever he was conscious and was left behind in a tent to die.
Imitzer and Wieser also collapsed and died not far from camp. With just Bauer, Miodowicz-Wolf and Diemberger left, Miodowicz-Wolf passed out on a fixed rope section and fell to her death.
Diemberger and Bauer were the only two that survived, with hands and feet ravaged by frostbite.
Other mountain tragedies similar to the 1986 K2 disaster
On Friday 13 July 1930, Lenin Peak saw a deadly earthquake wreak havoc on the mountain.
The tragic story of the Eiger in 1936 is another worth reading about. In an effort to create Nazi propaganda, a group of climbers attempted to tackle the north face of the Eiger. However, not all went to plan.
The Everest disaster of 1996 is one of the most widely-known tragedies in the mountains. Up until recently, these harrowing events were thought to be the most deadly in the mountain's history.