The Alpe Adria Trail is an incredibly diverse hiking route that runs through some of the most alluring and culturally vibrant regions of Austria, Slovenia and Italy. As you can probably guess by the name, the trail begins among the strikingly rugged mountains of the Alps and finishes at the dazzling turquoise waters of the Adriatic Coast.
This 466-mile trail is sectioned into 43 stages, each totalling around 12 miles and varied in easy/moderate terrain. So, it's super easy to pick 'n' mix the sections you'd like to hike should you, like me, not have the time to walk the entire thing (which would probably take around six weeks to a month to complete, dependent on your pace). Created only four years ago, the Alpe Adria Trail is relatively new to the scene. This unique gem is still unknown to many travellers, so I found, more often than not, I had the exquisite scenery and awe-inspiring views all to myself. The trail begins at the foot of the Grossglockner, the highest peak in Austria (towering at 3,798m) and on its journey to the Adriatic Coast, dips into green valleys, passes through vast forests, winds beside glorious rivers and meanders through the great wine region.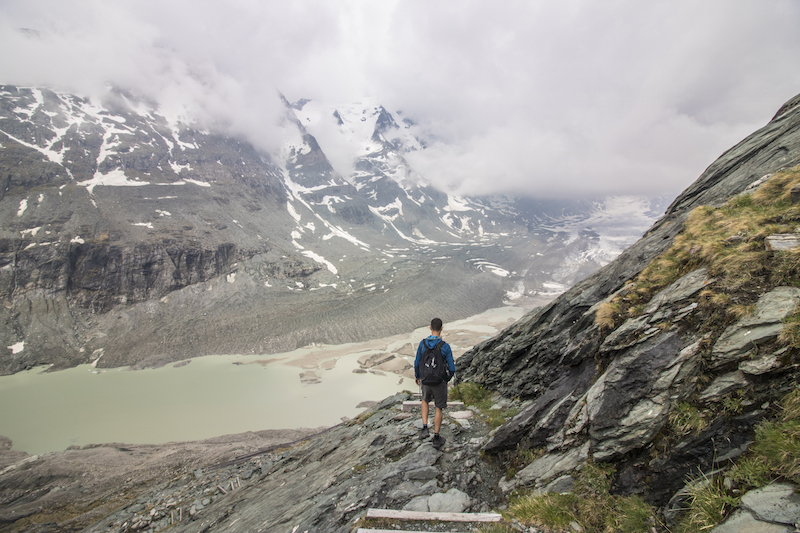 As much as I would have loved to, I didn't have the time to hike the entire thing. So, I picked four of the good'uns, varying in region and terrain, to give myself a flavour of what this trail really has to offer us adventure travellers. I must say, the small percent I have sampled has left me craving more. I've completely fallen, heart-eyes emoji, in love with the beauty and soul of this trail. In fact, I've slapped it straight onto the bucket list to tick off many more of its sections and hopefully, one day, to complete it.
Not only does the Alpe Adria Trail offer fantastic trekking opportunities, but it's just dripping in local attractions, activities, culture, quaint villages and fine dining to explore. Which is ideal for slotting in between hikes or simply enjoying on the days you want to give your feet a well-deserved break from the trails.
The Alpe Adria Trail: Section One
Kaiser-Franz-Josefs-Hohe – Heiligenblut, Austria
I was driven to the start of the trail via the High Alpine road, which as roads go, is pretty darn epic. The road, which many bikers and cyclists flock to each year for its awesomely curvy character, twists and bends up through the valley. The entire way up, it flaunts nothing but breathtaking views of the surrounding mountains – seriously good views that made the hairs prickle up on the back of my neck.
The official starting point of the trail is at an altitude of 2,396m, but it's pretty easy-going. It's mostly a downhill trek which gradually fades from the magical scenes of snow-capped mountains, views of the magnificent Pasterze Glacier and the Sandersee glacial lake to luscious valleys and rolling hills, thick with pine forests and not to mention the impressive Leiterfall waterfall that tumbles through the trees. Not only were the views spectacular, but when I looked a little closer to the path I was fascinated to find white granite glittering in the sun and rocks with beautiful flecks of green running through them.
>>> Here are five more adventure's you can't visit Austria without trying…
If like me, you're always ready for a snack, then you can stop in the little refuge hut which is situated on the trail, about half way down the valley. This tiny little hut is a great pit stop for hikers and, if you go, I recommend getting yourself a good old slice of their hot apple strudel with whipped cream (my mouth is literally watering at the thought).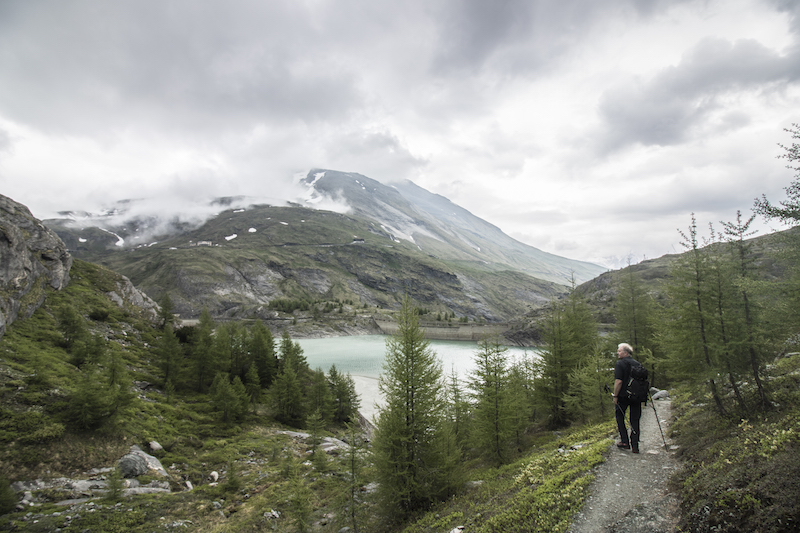 Fuelled and ready to go, I continued the last part of the hike down to the village of Heiligenblut, which lead me through thick forests, bridges over gushing waterfalls and meadows jam-packed full of wild flowers and butterflies. I also stumbled across a friendly family of mountain goats who's kid came over for a sniff and seemed very intrigued to find out what kind of strange looking goat I was. The path took me past the cutest little church and a peculiar carved wooden sculpture of a pair of pants (I didn't ask!).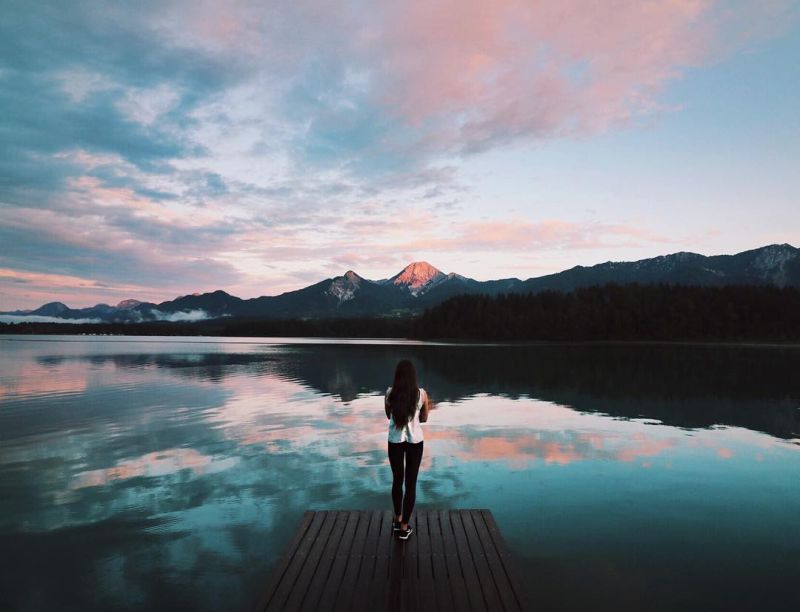 Buzzed after an incredible day's hiking, I decided to visit the stunning Faak See lake. It was a beautifully still lake and was perfect for taking a late afternoon dip. I thought the lake was something special then, but boy, was I in for a treat. I was enjoying dinner in my hotel restaurant when all of a sudden I realised the clouds from earlier had finally buggered off to reveal an incredible sunset. A sunset that transformed the lake from 'damn, that's a good looking lake' to 'HOLY MOLY LOOK AT THAT LAKE'. With absolutely no hesitation I partook in what I can only describe as some sort of restaurant parkour, scrambling my way over waiters and chairs to go grab my camera from my room, followed by a quick sprint down to the outstanding scenes taking place at the lake which again, I had all to myself.
The Alpe Adria Trail: Section 25
Bovec – Dreznica , Slovenia
I wasn't hiking for long until I stumbled upon Virje waterfall – an outstanding waterfall which spills down the high and craggy rocks and plunges into a vibrant lagoon. It was an idyllic little spot to sit down and soak in the breathtaking scenery around me. It was one of those tranquil moments that'll probably stay with me forever, dipping my feet into the water, listening to the water cascade down into the lagoon below and watching busy fish go about their day.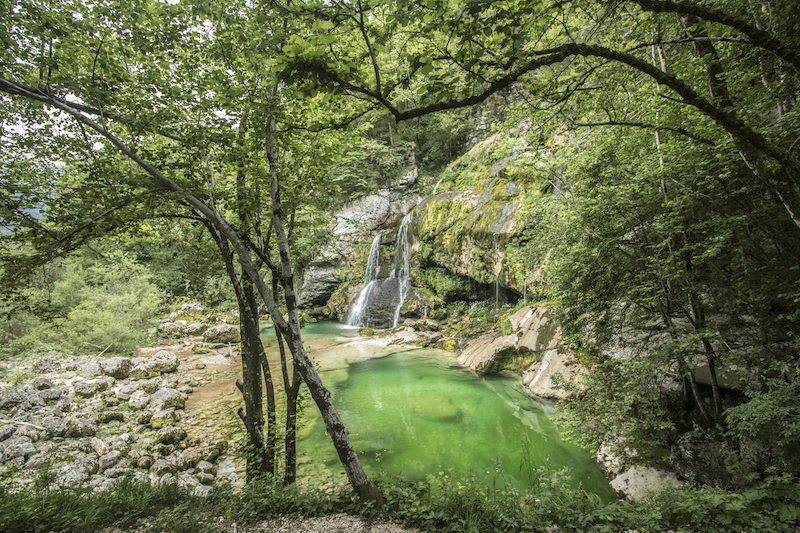 Back on the road again, I found that this part of the trail mostly follows the winding River Soča, which is probably one of the bluest rivers I have ever witnessed, my mouth fell open when I first saw it and I couldn't stop gawping at it all day. As I hiked the paths, I enjoyed the sound of splashing and laughing from nearby kayakers and swimmers. Along the trail I was also met by the magnificent Boka waterfall, measuring a total of 144m tall in all its glory with falls around 18m wide – a truly spectacular sight.
>>> 7 amazing one day hikes in Europe you need to know about
It was a very peaceful hike and like most days on my trip, I had the trail pretty much to myself, with the only sounds being my footsteps, the rustling trees above me, the rushing of water and the gentle ambience of cuckoo birds. It had rained in the morning too, so the rich woody smell of the forest floor combined with the fresh smell of wild flowers flooded my nose. 'Not one single sense gets left out in this place,' I thought to myself as I wandered on through the trees only to be greeted by another stunning meadow.
The Alpe Adria Trail: Section 30
Breg Near Golo Brdo – Smartno, Slovenia
This part of the trail was one of the highlights of my trip (and it wasn't just because of the wine tasting I did at lunch, promise). It winds through the wine region of Slovenia and takes you through some truly staggering landscapes. As one of the easiest terrains I chose, this part of the Alpe Adria Trail was a gentle hike through vineyards, fields of olive trees and fruit trees such as cherry and apricot, that stretch for miles and miles until the horizon hits the deep blue sky. Gentle streams meander through small forests and the path winds through quaint villages. Along the way I stumbled across the historic Dobrovo Castle. Dating back to the 1600s it's a great little pit stop for some cherry pie and interesting history.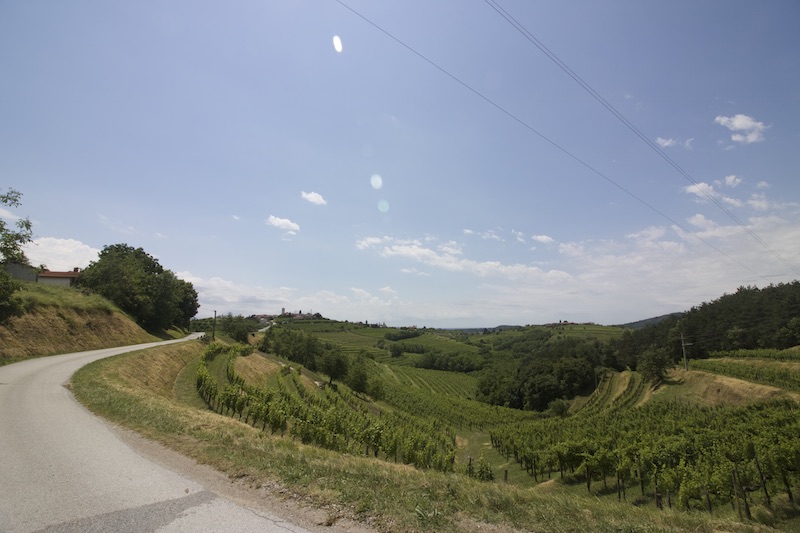 I liked this section of the trail because it was fascinating to watch farmers harvesting their bountiful crops all around me. I stopped to talk to one lady (who much to my delight handed me a big handful of cherries) who explained they were preparing for the region's famous cherry festival that weekend. A popular event which attracts a whopping 30,000 visitors from the local and neighbouring Italian and Austrian regions each year.
The Alpe Adria Trail: Section 34
Duino – Prosecco, Italy
After sampling an irresponsible amount of Slovenian wine the night before (I was like an unsupervised toddler at a buffet), I set off early in the morning feeling, err… slightly delicate. However, as soon as I was on the trail, up on the cliffs, the hangover was blown away by the fresh sea air. The views out to sea and overlooking the picturesque Duino Castle were unbelievable and as the sun shone down, it sparkled on the crystal blue waters below.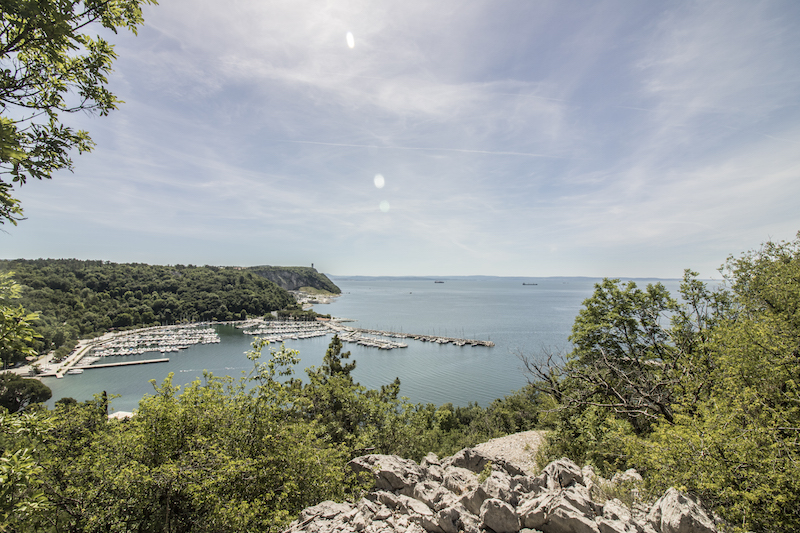 This part of the trail is spectacular for unspoilt coastal wildlife and, being a nature reserve, the cliffs of Duino are an area of great scenic, historical and natural importance. As I walked along this trail I found myself immersed in the panoramic views and the intriguing nature that surrounded me: the hustle and bustle of bees and butterflies busy at work, lizards darting from shrub to shrub and magnificent peregrine falcons gliding in the coastal winds.
This feature first appeared in Adventure Travel magazine issue 130. If you liked what you read, why not head to our online shop and try out our next issue for more adventure inspiration.