John Muir had a love of wild places and a desire to protect them, which ultimately led to the creation of the first national parks. As part of our ongoing History's Heroes series, Roger Bunyan has his story…
Who was John Muir?
John Muir (1838-1914) was a Scottish-born American naturalist, mountaineer, explorer, farmer, writer and conservationist.
Early life
At the age of 11 John's family emigrated from their home in Dunbar, Scotland, to a Wisconsin farm in the United States. He had a strict religious upbringing and laboured long hours on their farmland. Aged 22, John entered the University of Wisconsin, partly because of his ability to make extraordinary practical inventions such as his 'alarm bed' that tipped out the occupant at a given hour.
After university, while working in Indianapolis, John suffered an eye injury leaving him temporarily blind. Following weeks of recuperation, he resolved to spend time travelling, so walked 1,000 miles to the Gulf of Mexico.
Yosemite Valley
John's travels eventually took him to the Yosemite Valley in the Californian Sierra Nevada mountains, a place he became completely enchanted with. For six years this was his home. He had a variety of jobs but more importantly, he spent a great deal of time travelling alone in the backcountry, exploring, writing a journal and sketching. At night he often sat by his campfire reading and reflecting upon his discoveries.
During these lone wanderings, he ascended many of the region's mountains and made first ascents of Cathedral Peak, Mount Ritter, Mount Hoffman and a new route up Mount Whitney, often having to extricate himself from precarious situations. John became well known throughout Yosemite as a respected naturalist and often guided visitors; in 1871 he became widely appreciated across all America after writing a series of articles about the Sierra.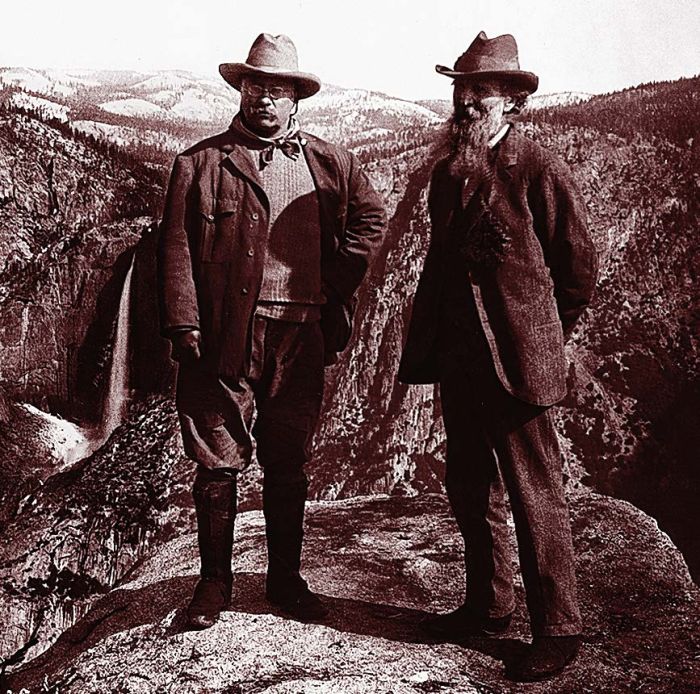 Later life
Eventually, John left the Sierra Nevada. He travelled to Alaska where he explored and studied glaciers. In 1880 he married Louie Wanda Strentzel and managed her family's fruit farm in Martinez, California. They had two daughters named Wanda and Helen. But years of working on their ranch did not stop John's desire to explore the wild. He continued to visit his beloved Yosemite, made further trips to Alaska and travelled to other untamed areas around the world. He wrote many more articles and several books, all reflecting his passion for the natural world, especially the unique environments of mountainous and wilderness locations. His writing considered the fragility of nature and its difficulty to withstand human exploitation.
John became a central figure in the formation of the Sierra Club, whose aim was to protect outstanding natural areas of the United States. Through his writing and by other means, he lobbied people of influence including President Theodore Roosevelt. Eventually, the Yosemite, Sequoia, Mount Rainier and Grand Canyon areas were granted national park status. John died in 1914 but his memory lives on: the very name 'John Muir' is now synonymous with wilderness travel, nature and conservation.
An extraordinary 'adventure traveller'
John Muir is famed for his wilderness living and his explorations. His love of nature, his writing and his ideas on protecting unique environments have greatly helped in the preservation of wild places. Undoubtedly, his ideas and actions enabled national parks to eventually flourish worldwide for us all to enjoy. He is often referred to as the 'father of the national parks.'
Find out more about John Muir
Recommended reading includes My First Summer in Sierra by John Muir and The Wild Muir edited by Lee Stetson. Also, watch the film biography of John Muir by the National Park Service on YouTube.