www.ospreyeurope.com | £75
The Osprey Talon 22 is a more technical pack than some others you may see in shops, and the price begins to reflect that, but is it worth your hard earned cash?
Osprey says that the Talon 22 will cling to your back like a 'frightened monkey.' I like the expression and the pack's fit; the waist strap is wide and stretchy as well as easily adjustable and the chest strap can move up and down the pack as well as being tightened and loosened.
The flexible AirScape back panel is comfy against the body; it has foam ridges for ventilation with a mesh panel in front of it. The pack comes in two sizes and then you can adjust the back length via strong Velcro – an usual bonus in a daysack and useful for fine-tuning the fit.
At 22 litres, the pack is towards the smaller end of bags on test here but it will still have room for everything you need for a day out in the hills. The main compartment is accessed by a huge zip that goes almost right round the pack, making it easy to pack and unpack. Inside there's a zip-up mesh pocket for valuables.
Interestingly there's an external sleeve for a hydration bladder, just in front of the back panel, so you don't need to unpack and re-pack the bag whenever you want to add the bladder. As filling up and packing my water is one of the last things I do before a hike, for me this is very sensible.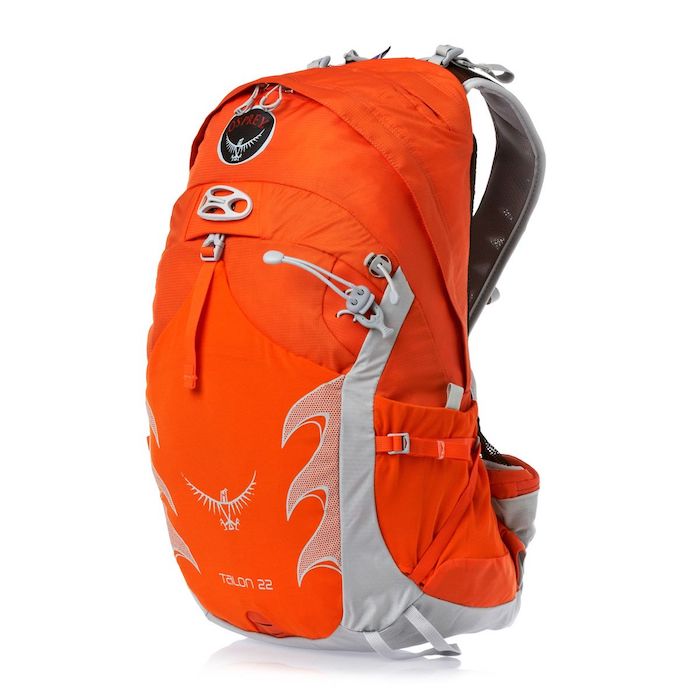 Other pockets on the outside of the bag are a small zip-up pocket on top, including a key clip, useful for things that need to be kept handy. Then there's a stretchy front pocket, great for stashing a layer in, and stretchy wand pockets on each side for bottles or similar.
There are large pockets on the waist band, easily big enough for a smartphone, compact camera or chocolate bars, and there's even a small pocket on one of the shoulder straps. There are loops so you can hook trekking poles out of the way without having to take the bag off, and there's an ice axe loop too. For cyclists there's a clip for a bike light and Osprey's LidLock system that allows you to clip a bike helmet to the outside of the pack.
The Talon 22 is made from a tough, light and water-resistant material although there's no rain cover so make sure you put your kit in dry bags if the weather gets bad.
Osprey Talon 22 Verdict
The Osprey Talon 22 is a great little pack for hiking, cycling, travelling and more.