We may have moved into October now (unfortunately) and Christmas might be just around the corner but that doesn't mean it's time to stay in the warmth and comfort of your own home. Not one bit.
To prove that point, along with a group of other hardy souls, we headed to the wilds of North Somerset to learn some bushcraft skills and sleep out under the canvas. Who said summer was over?
After a frantic drive from the Midlands through arduous traffic jams the starting point of our journey was in sight. From here we left civilisation behind and, as the sun began to set, we ventured into the woodlands where we would stay until the next day.
Over the course of the night we skinned rabbits, built our own shelters and slept under the stars. Here's what we learned.
Going lightweight is glorious
Investing in a bivvy bag is something that has been on my list of things to do for a while, so it was great to actually have a reason to do so. Teamed up with a lightweight sleeping bag and a compact self-inflating mat, I was able to take a 20-litre rucksack for my overnight stay.
Carrying such lightweight kit offers a freedom enabling you to travel faster, further and easier than if you had to lug around a larger rucksack. If you're looking to upgrade your kit, consider lightweight options, you won't regret it.
Survival shelters can actually be pretty cosy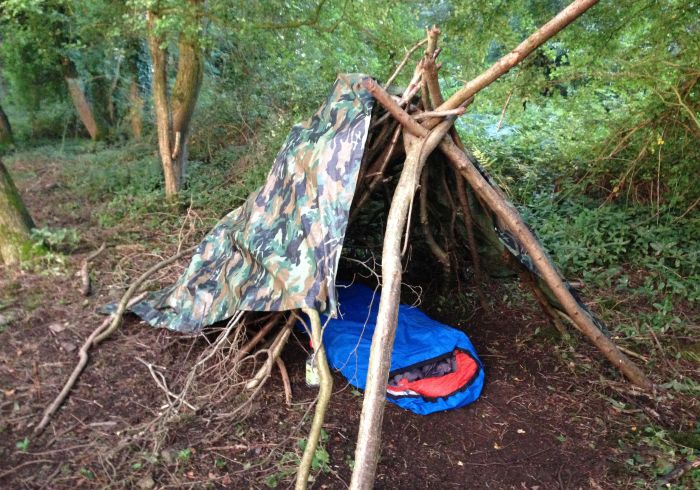 Once night had fallen and we set about to build our shelters. With little time left in the evening, our shelters were basic, but the foundations were there. A long branch formed the backbone of the shelter and was propped up by two interlocking forked branches at one end.
>>> Be sure to check out our guide to building shelters by clicking here
Limited time meant we had no time to waterproof our shelters and instead laid a tarp over the top. Surprisingly, my first night camping without a tent was actually extremely comfortable and freeing. It's liberating to be operating with such minimal kit and with more time our shelters would have been like a home away from home.
How to tell if an animal is dead
Poke it in the eye. No seriously, it might sound a bit harsh but any mammal that is alive will respond to a poke in the eye, even if it's just unconscious. Remember this before you start slicing up your dinner.
Skinning a rabbit is actually pretty straightforward
Admittedly the rabbit had already been killed and gutted, but from here on out things are actually pretty simple. Here are five handy steps (expect graphic detail…).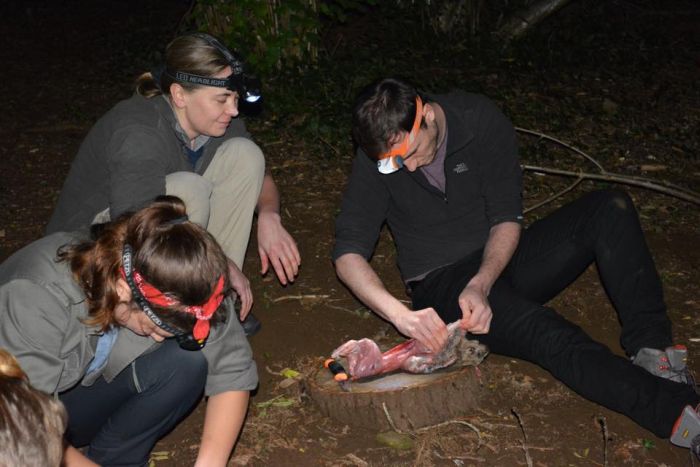 1. Start pulling the hide away from the rabbit itself – it should come away fairly easily. Continue separating the body from the hide until you get to the hind legs.
2. You'll need to break the legs at the joints before following through with a knife to separate them completely. By pushing the remaining parts of the leg forward towards the rabbits stomach, they should separate from the hide.
3. Continue pulling the hide away from the rabbit towards the head and carry out the same procedure on the front legs as was needed on the hind legs.
4. With the legs popped out, you'll need to carry on pulling the hide towards the head until you get to the neck and it will go no further.
5. Now you will either need to cut the head off or perform the act with your hands. To do this take a grip of the head with one hand and with the other hand grab the upper body. Then you'll need to twist and pull. Dispose of the hide and then you're ready to strip the rabbit of meat and cook it.
Flatbread makes a great breakfast
Needing only flour and water, flatbread makes for a great breakfast option. Team it up with some bacon and it's even better!
To make flatbread all you need to do is add a modest amount of water to a handful of flour and work it into a patty. Place it onto a pan over a heat source and you have a simple, easy-to-make, lightweight-to-carry breakfast.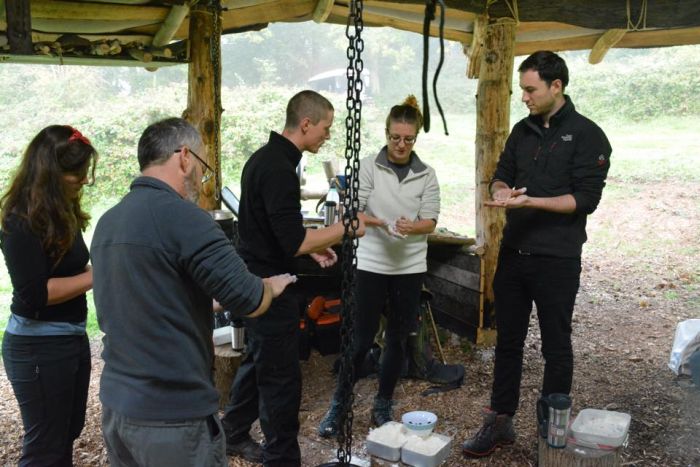 Nothing beats a fire for entertainment
As a nation, in fact, as a species we often tend to spend too much time sat in front of a television screen. That feeling is only hammered home more when sat around a fire with a group of people you don't know, and yet the conversation flows freely.
Not only does sitting around a fire bring out social interaction that is often lacking in our society, but there's also something extremely therapeutic about it. Plus, as the nights grow colder, is there anything better than being warmed by the heat of a fire?
Our bushcraft training was provided by Survival School Bristol as part of an evening organised by Explorers Connect, an organisation that brings adventurous people together in the same place.
Intro photo: 정훈 서