Meet the 1930s alternative adventurer, who holds the distance record for walking backwards
WHO WAS HE?
Plennie Wingo holds the distance record for walking backwards. He completed this unusual feat during the 1930s when he walked in reverse for almost 13,000km (around 8,000 miles) across North America and Europe.
EARLY LIFE
Wingo was born in Texas, USA, in 1895. He was an enterprising boy from a very early age. One of his first money-making schemes was catching rattlesnakes using a stick and selling them to people either as food or for their skins.
Wingo married Della Richards in 1915 and not long afterwards they had a baby girl called Vivian. In 1924, he opened a cafe which soon became a success. These were boom years in the USA, where businesses were springing up all across the nation. However, it was also at the time of prohibition that Plennie Wingo was caught and fined for selling liquor on his premises. Then, when the Great Depression struck in 1929, Wingo was declared bankrupt.
ACROSS THE UNITED STATES
The Great Depression hit a lot of people hard — the nation was in shock. But it inspired a few creative thinkers to come up with novel ways to make some money through things like sponsorship and bets.
There was one man who decided to sit on top of a flagpole for 49 days. Then, there was another who took 21 days to push a peanut up the 4,302m high Pikes Peak in Colorado using only his nose. Wingo came up with his own plan; to walk backwards around the world. He hoped this alternative adventure would secure him both fame and fortune.
Wingo began practising each day but, unsurprisingly, found walking in reverse difficult and slow. By luck, he found an advert in a magazine for some newly invented goggles with rear-view mirrors. These instantly made the process much easier.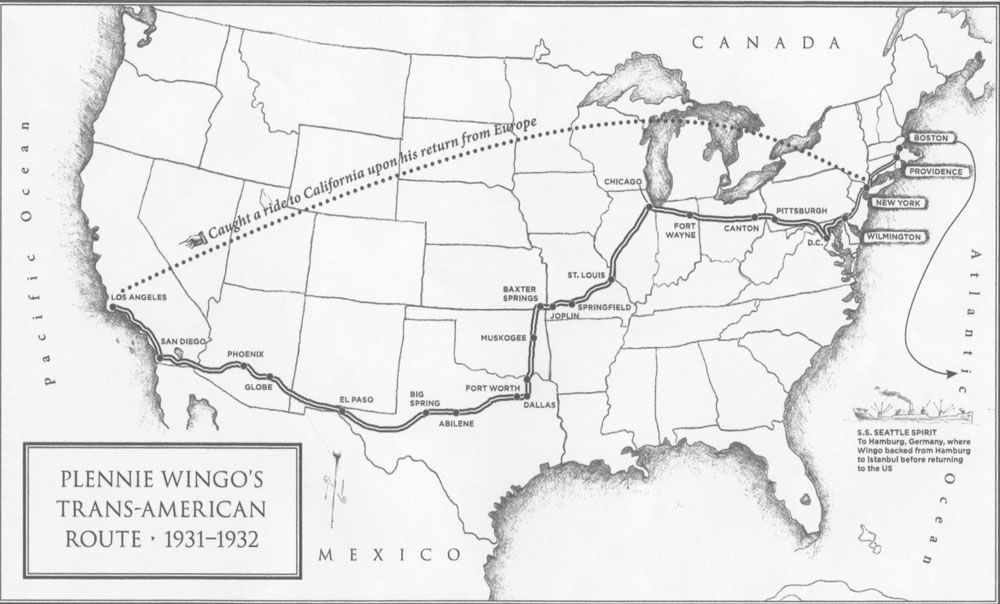 Wearing black shoes, a smart suit, necktie, a hat, his rearview glasses, and holding a walking cane, Wingo walked backwards towards Dallas. On reaching the city, he obtained an official city stamp. He decided to carry a notebook where he would collect endorsements from every place he visited. Wingo also had some picture postcards produced which he intended to sell during his journey. Each night, he would find a cheap hotel or would be invited into people's homes for food and to rest.
Wingo found those he met along the way to be very friendly even though they were all suffering from the financial crash. He had a sign made for his back: WALKING BACKWARDS AROUND THE WORLD. He often found people were waiting for him as he entered their town because they had read about him in the national newspapers.
A major problem travelling along main highways and within urban centres were the ever-increasing numbers of automobiles; road accidents were on the rise all across the nation. There was also a rising degree of lawlessness throughout the land and Wingo had to watch out for police, who regularly questioned him about his unusual walking. While walking through the town of Robertsville in Ohio, tragedy eventually struck Wingo when he stepped backwards into a hole in the road. He had broken his ankle and spent the next three weeks in hospital.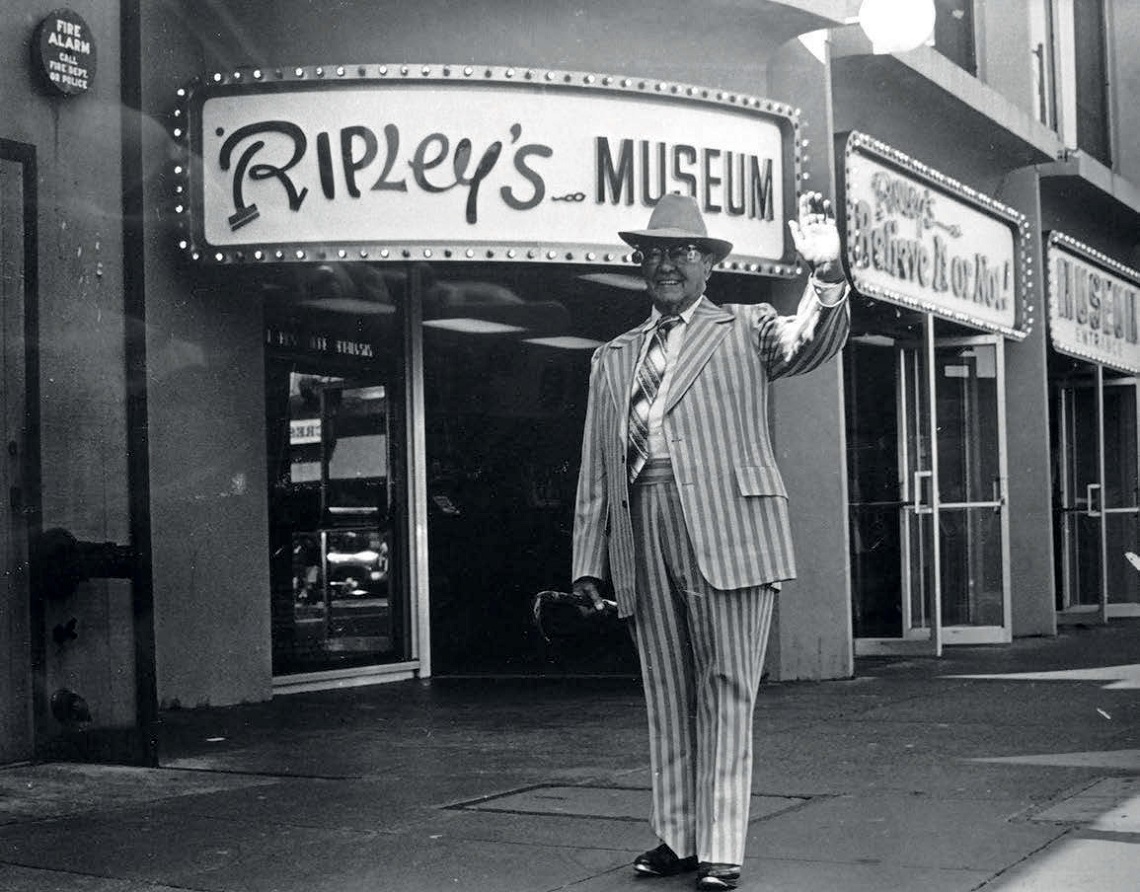 Once his ankle healed, Wingo continued to New York where he found the city feeling the full force of the economic downfall. He made enquiries about finding a ship which would transport him to London but was told that most vessels remained idle due to the Great Depression.
Wingo made his way to Elizabeth in New Jersey where he was offered some advertising work. He was asked to walk backwards on a 45-cm, 12th-storey ledge around the Hersch Tower. This he did and was promised a $43 payment ( around £32). However, after being swindled by the man organising the stunt, a fistfight ensued and Wingo was taken to jail. He was later released and told to move on.
While reading through his forwarded mail, Wingo received divorce papers from his wife who wanted to be rid of her absent husband. He made his way to Boston where he was offered a place working aboard a ship sailing to Hamburg in Germany.
ACROSS EUROPE
Life was hard for Wingo on the ship: he suffered terribly from seasickness and was continually bullied by his boss. Eventually, the vessel reached Hamburg and Plennie walked backwards down the gangplank. The German authorities required proof that he was capable of walking in reverse. He demonstrated his reversal skills to port officials in a room full of obstacles.
One of the first tasks Wingo undertook was to have his sign changed on his back to: RÜCKWÄRTS Rund um die WELT.
Wingo had been warned that Germany was being hit hard by the worldwide financial collapse. However, as he walked backwards to Berlin, he was welcomed into farmhouses along the way. There he received nothing but kindness, assisted by a German newspaper cutting which fully explained his unusual journey.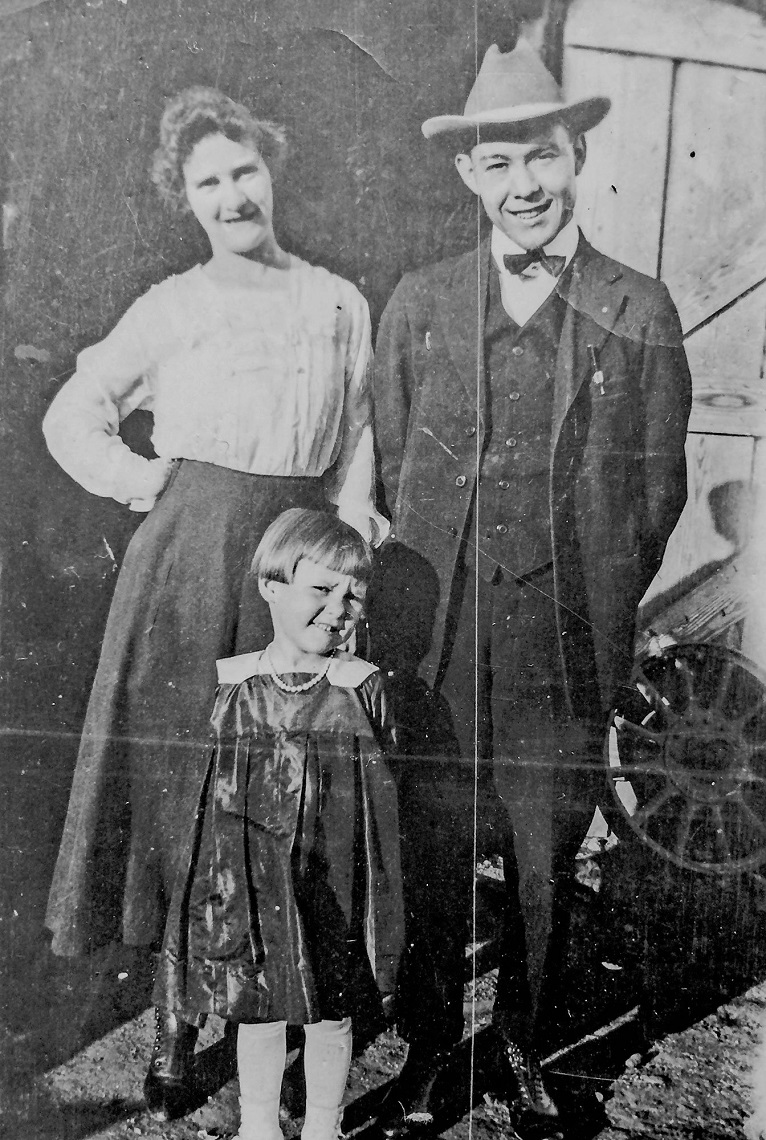 After two weeks he reached Berlin. On his way to Dresden, he suffered greatly when walking backwards in the snow: it was difficult to always see clearly what he was walking over and took him a lot more time. On one overnight stop, the locals felt so sorry for the cold and bedraggled traveller that they kitted Wingo out with a much warmer set of clothing.
After crossing the Czechoslovakian border, he continued his journey and walked to Prague, Vienna, and then Budapest. Reaching Bucharest in Romania, a large crowd followed him around the city centre as he walked backwards trying to find a cheap hotel. In Sofia, Bulgaria, he was briefly arrested by the police before the US Consulate intervened.
Wingo shuffled backwards into Greece next, and then continued along very dusty roads with little traffic to Turkey. At the Turkish border, he was thrown into jail once again before being released. However, when he eventually arrived in the outskirts of Istanbul, he could see a number of Turkish police officers walking towards him in his wing mirrors!
Once again, he was arrested and taken off to jail. There he remained for many days until he was finally released into the care of the American Embassy. It appeared he would be going no further. Both the officials at the US Embassy and the Turkish authorities refused to sanction Wingo's request to travel any further east-wards. His plan to walk backwards around the planet had come to an abrupt end.
FINISHING HIS JOURNEY
After considerable reflection, Wingo decided he would return to the United States and head for California. From there, he would walk backwards and return to Texas. At least he would be the first to person to walk in reverse across the North American continent as well as across Europe.
After sailing to New York via France, Wingo had good fortune and managed to hitchhike all the way to California. Backwards walking from Los Angeles he followed the Pacific coast road to San Diego then on into the heat of the Arizona desert. Not for the first time, he ended up in a jail in Phoenix, this time for simply walking backwards through the city. Further on, he was forced to spend the night in a phone booth to escape a pack of coyotes!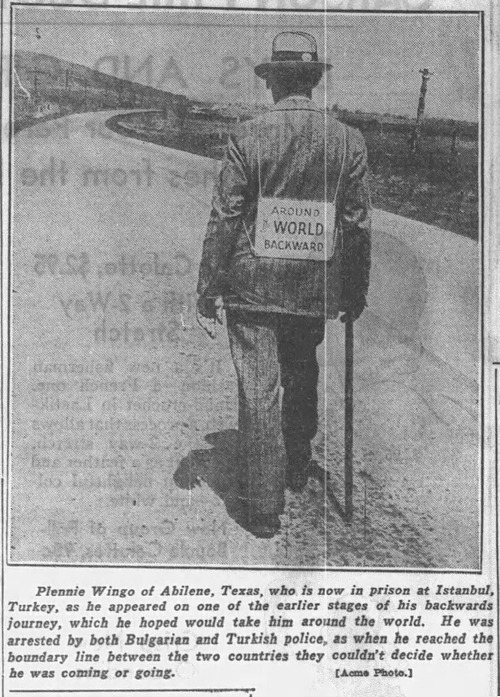 Eventually, Wingo returned to Texas and made his way to Fort Worth. It was October 1932, his reverse journey had taken 18 months and he had walked backwards for around 13,000 kilometres. He had been in jail many times, worn out 12 pairs of shoes, developed unusual muscles in his legs, and had lost weight.
He was also much fitter. The entire adventure hadn't earned Wingo the fortune he had hoped for, finishing with just $4 in his pocket! As he walked backwards into Fort Worth, many of his friends and family were there to greet him, including Della and Vivian.
LATER LIFE
After his reversed trek, Plennie Wingo returned to work as a cook and eventually re-married Della. However, their second marriage didn't last long and they divorced soon afterwards.
To celebrate the bicentenary of the United States in 1976, Wingo once again took to walking backwards. This time he reversed from San Francisco to Santa Monica, covering around 650km (404 miles) at the age of 81!
As time's moved on, his name and his 1930s journey have largely been forgotten. Wingo lived his final years in obscurity and, aged 98, he eventually died in Texas in 1993. In 2015, his extraordinary achievement was finally recognised by the Guinness World Records and Plennie Wingo was named as the record holder for the 'greatest extent of reverse pedestrianism.' Worthwhile acclaim at last for a very deserving, determined, and unusual adventurer!
---
WHO'S WRITING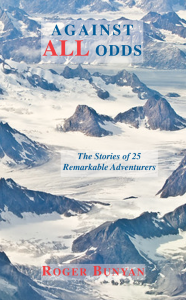 Roger Bunyan has been contributing to Adventure Travel magazine for many years. Always fascinating, insightful, and entertaining, it was only natural that the stories of these adventurers were compiled into a book. Against All Odds: The Stories of 25 Remarkable Adventurers is Roger's first Book, and in it he takes a more in-depth look at the adventurers he writes about in each issue of this mag. The amount of time, effort, and research that he has put in is astounding, and it makes for captivating reading. To get your copy, head on over to www.hayloft.eu.