WANT
SCOTT TRAIL STORM WP JACKET
I love the springtime. The days get longer and the sun shines more, which means it's time to dust of my mountain bike and head back out on the trail. But then I remember this is the UK, and a spring shower is never far away. I think we can all agree nothing feels worse than being battered by unexpected rain when in the saddle.
Thankfully, that won't be an issue if you do the smart thing and get your hands on Scott's stylish Trail Storm WP Jacket. Because believe me, when Scott says its Trail Storm is waterproof, you better believe it!
This is where the jacket's innovative fabric, known as Dyosphere, really comes into its own. Scott describes Dyosphere as a 'waterproof, windproof, breathable barrier'. But I like to think of it as more of a shield. One that allows sweat to escape at the same time, keeping you cool when you're working hard on two wheels.
Built with mountain bikers in mind (and boasting some seriously good looks), the jacket also provides supreme levels of comfort. That's because the clever boffins at Scott has designed the jacket with what's called a 'pre-shaped fit'. This means the material stretches to the shape of your upper body and offers enough flexibility to cope with just about anything a mountain biking adventure can throw at you.
At 460g, the Trail Storm WP Jacket is lightweight too – something you'll certainly be glad of on those inclines. And with a helmet-compatible hood, you can add an extra layer of protection for heads and necks from the wind and rain in super quick time.
If, like me, you're getting ready to dust off your mountain bike this spring, you'll want to check out this jacket.
£207.99 | scott-sports.com
---
NEED
VANGO AIRHUB HEXAWAY II LOW AWNING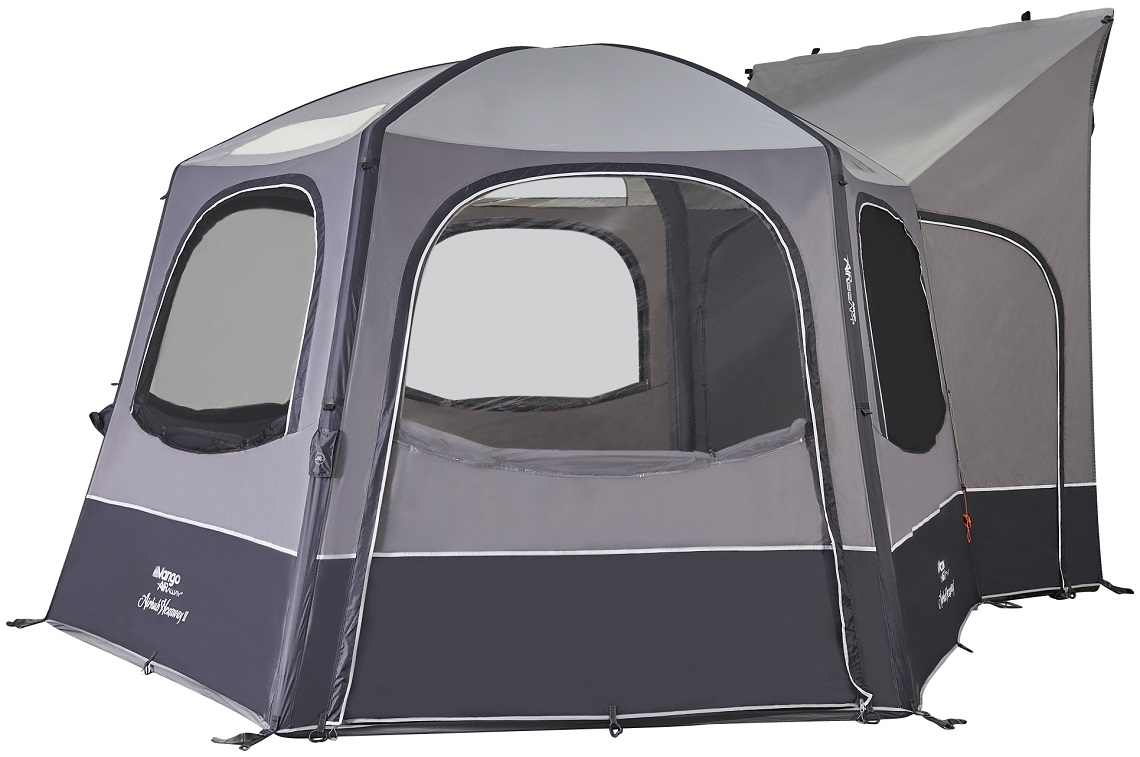 One of the best things about vanlife is chilling out with your mates back at the camper. You want to share photos, get your favourite tipple in hand, and stick on a few tunes. It really is the perfect way to unwind…
But to do that, you need a bit of extra indoor space. Fun though it might be to think about, cramming five or six adventurers into your campervan can get pretty crowded. What you're after is a place to socialise; a place guaranteed to be the envy of all your vanning buddies.
Well, outdoor brand Vango reckon they've found the answer with the Airhub Hexaway II Low Awning — a nifty hexagonal hub that adds over 3m to your campervan and turns you into the perfect post-adventure host.
Ideal for all kinds of campervan excursions, the Hex-away II benefits from being pole free, where faff-free installation is achieved in a matter of minutes using what Vango calls AirBeam technology. Here, a handy double-action pump rapidly inflates your awning, so you can put it up without having to wrestle with any poles.
Fully wind and rain tested, the Hexaway II is built to last with tough, durable Sentinel Pro Fabric that features a whopping 420 double ripstop threads. Looks like you've just found yourself the perfect awning to take on adventure after adventure.
If you're a campervanner seeking out a stylish extension for your pride and joy, the Vango Airhub Hexaway II is well worth checking out.
£795 | vango.co.uk